Top 6 Cam Sites to Find Cam Girls That Can Humiliate
When it's time to face the dirty nasty fact that being belittled is one of the biggest turn-ons for some of us - there's no other option but to get demeaned and degraded by a divine dom who'll put you in your place and have you begging for forgiveness for all of your sex sins. The following six sites have the mistresses that know exactly what you're all about, will tell you to your face and make you plead for some porn absolution.
CamSoda

With over 800 rooms streaming 24/7 there's no chance you're not going to be debased and abused within minutes at CamSoda. At this freemium cam site - hundreds of amateur wannabe porn-stars fight for their share of the XXX spotlight against some of the biggest names in the live cam universe. Discover how to get straight to the humiliation cams at CamSoda in just a couple of clicks.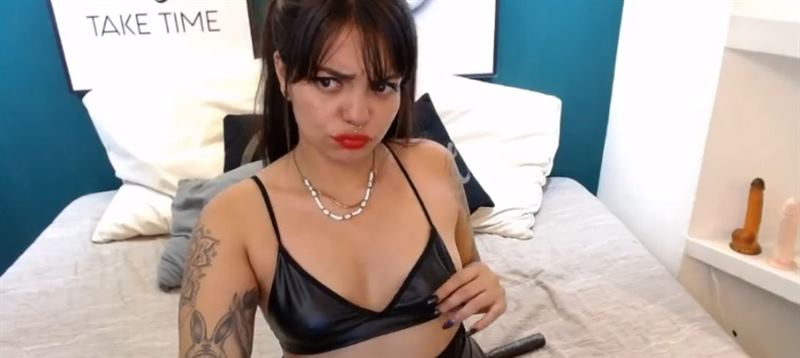 The girls at CamSoda push the boundaries in everything they do, so be prepared to whimper as you wank under the strict instructions of your cam madame. Prices at CamSoda are some of the cheapest you'll find, but to get to the humiliation sex chat rooms can be painful in itself - unless you know a few shortcuts. On the homepage select the view all tags button on the top right above the snapshot preview gallery. This brings up over 700 pages of results - but if you know where to go - it's just one click away.
Looking for a mistress or BDSM expert who specializes in humiliation talk? Go directly to page 4 of the results. JOI teacher - she's on page 6. Is dirty talk is more your thing? Then find them on page 7 of results and on page 8 of the results it's all about the SPH and the cam2cam sessions.
Once you've found the porn princess that knows what a sissy you are at heart, it's time to take things into the closet and close the virtual doors to the outside world. For a private cam session expect to fork out around $2.75/min - though there's usually a few aficionados that are doing it for their kinky kicks and are charging a rock bottom $0.55/min.
If you want to start a cam2cam session (which is highly recommended - after all, she needs to see what's slithering around in front of her) then once you've started a private session, click/tap on the Share Cam button which will appear under her video feed. My final words of wisdom - check with the ma'am before you go private that she allows cam2cam - not all do.
---
LiveJasmin

LiveJasmin has around 1,500 rooms streaming 24/7, but what makes this an award-winning premium cam site, isn't just the number of rooms, it's the fact that each and every one of them features a cam model that is at the top of her game. The strictest and sexiest dommes hold court, ruling with a rod of iron (or leather or latex) with the sweetest and kinkiest slaves waiting in the dungeon shadows to do your bidding.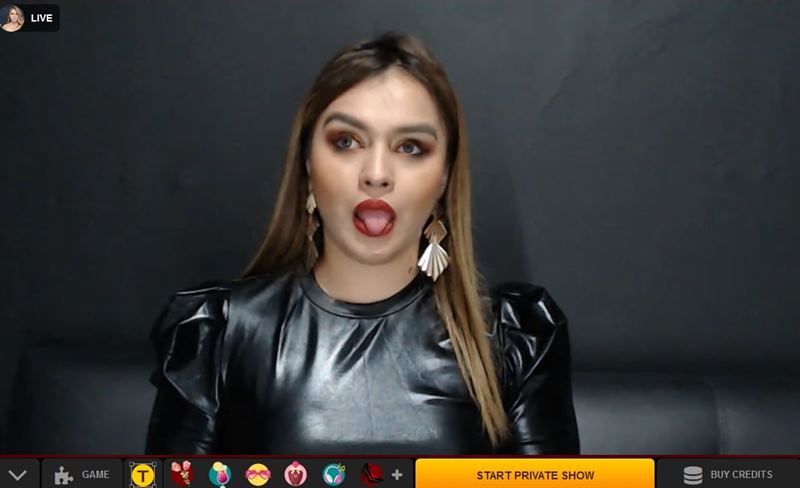 To get to the ladies who are going to lick you into shape is just one word (or one click) from the homepage. Once the homepage loads - you just go the magnifying glass icon on top right of the screen, click/tap on it and in the white search bar that appears, write in humiliation - and voila - you're transported to gallery of gorgeous gals who are all looking to find a sissy they can slash you with their iron tongue.
Another option is to go to the Willingness category on the left nav bar and select Dominant. This brings up every vicious vixen that wants a man to be crawling at her high-heeled feet. Be prepared at LIveJasmin to be dehumanized the minute your session starts - these babes know their business and have all passed a stringent vetting process not only for their looks, but for their proficiency and skill in their designated genre.
Humiliation sex chat - well you're not really chatting - rather being berated by a nasty nympho - starts at around $1.00/min but on average you'll be whipping out around $2.40/min. While every kinky cave at LiveJasmin is cam2cam friendly, it will cost extra on top of those rates. If you want (and it's really a must) a cam-to-cam sissy training porn session, you'll have to put out an additional $1-$2/min for the privilege and that much again to activate 2-way audio.
Kicking off a kinky cam2cam session is super-easy. Once your private chat show begins, just click/tap on the webcam icon that appears on the left of the live feed and that'll start your webcam broadcasting. To start 2-way audio, just do the same on the microphone icon.
---
Flirt4Free

Flirt4Free is a leading private sex cam site, but for cam lovers around the world, it's synonymous for one thing - Fetish (albeit fetish light). While it's not a fetish-centric site (like FetishGalaxy which is next in this top 6 list) Flirt4Free has a hardcore home for all things spicy. The sites micro-site - Fetish Community - welcomes fetish and kink lovers from both sides of the cam world (performers and viewers) in an all-inclusive platform where ideas, information, tips, education and a crowd-powered forum brings the dark side to light.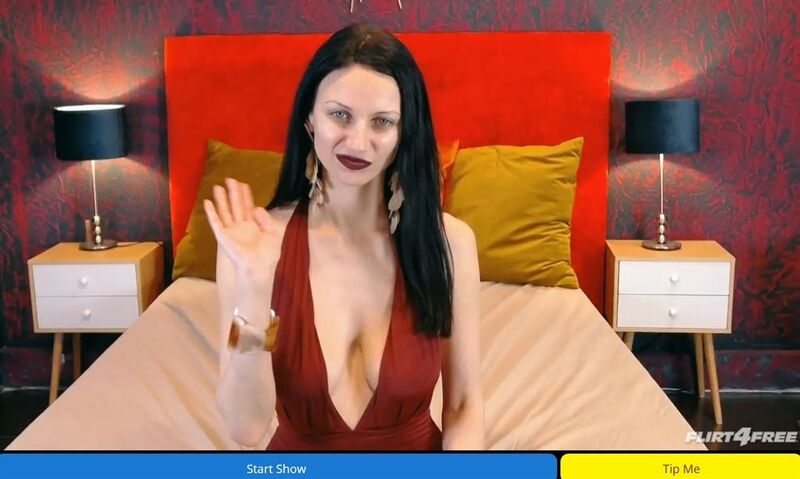 Flirt4Free has around 600 rooms broadcasting at any one time, but what's really going to get you grovelling to attention are the 54 sub-groups located on the Fetish page - which can be reached by going to Live Cams on the home page and clicking/tapping on Fetish. If you're looking for a cam task-master to take the lead and show you your place on the podium then crawl on over to: JOI / Domination / Small Penis Humiliation / Sissy Training / Collar & Leash & Corporal Punishment. If none of those meet your fancy - well there are over 40 plus more categories to choose from.
Now I know you're looking for a humiliation cam chat session, but take a few moments dudes and check out the Fetish Forum / Articles and Education. There's a lot to be learnt here and you can pick up tips that can take your next sissy session to the next level.
Big Tom Tip: You want something specific? Post about in the Forum - the models will contact you asking to be your porn partner for the game, and more often than not, give lower rates than usual.
When it comes to rates though, Flirt4Free is all over the place. For example, you can find some mistresses that charge an unbeatable $0.45/min and others are nearer to a painful $10.00/min, but on average most stand around the $4.10/min. On the upside, all cam costs are inclusive of cam2cam and dual audio.
If you're gearing up to be seen as you're humiliated, all you have to do to switch on your cam is start the private cam session and then select the small webcam icon on the right of the live video feed.
---
FetishGalaxy
There's no click or searching at FetishGalaxy to get to the lewd ladies that like their adult games to be extreme and kinky. This webcam wonderland is all about fulfilling deviant desires and perverted passions. Every cam host is an expert educator or a professional sub/slave. Some may be amateur cam performers, but they most definitely are not amateur at their art.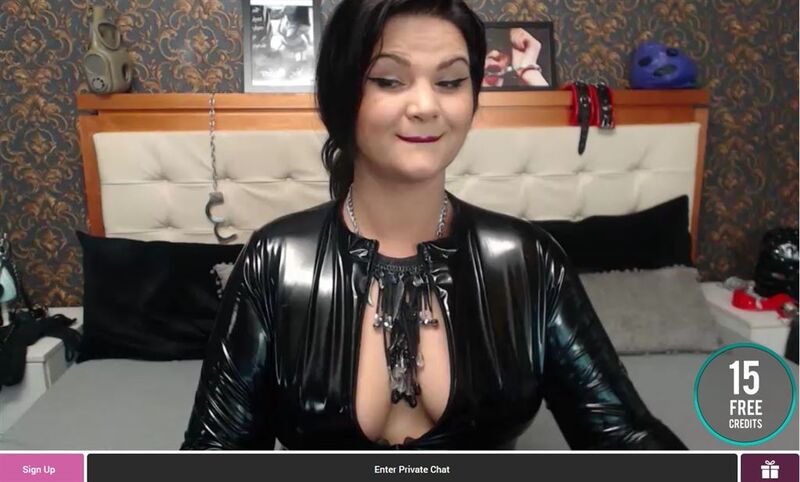 FetishGalaxy is a kink-centric site, which means every room is geared to the spicier side of seduction. Humiliation sex chat is a major category and prominent on the homepage. On the top nav bar above the library of X-rated images - you simply select Humiliation and the screen is filled with desirable dominatrixes looking for a partner to caustically abuse at their whim.
On each photo it's clearly labelled on which wind these witches and angels fly with - Professional Dominatrix / Professional Educator / Professional Submissive or simply an Expert (and Expert is normally a professional switch who can flip from one side to the other of the fetish fence depending on their mood).
The only pain you're going to feel here is the verbal berating you're about to get from your chosen sexpert. Price-wise, it's going to warm your warped soul. The cheapest humiliation cams start at $1.00/min, but most come in nearer the $3.00/min mark. And, when it comes to cam2cam and 2-way audio - there are no hidden extras - it's an all-inclusive rate.
If you're still rather shy and don't want the madam in front of you to see what a sissy you really are, all you have to do is click Enter Private Chat in your chosen cam room and let the games commence. If you're prepared to take the vocal thrashing that's awaiting you face to face - then once you've started your one-on-one show, on the top left corner of the live video feed select the small icons depicting a webcam and microphone, turn these on and man up to what's coming your way.
---
Stripchat

Like CamSoda, Stripchat is a freemium chat site, which means two things: 1) you'll find over 2,000 sex cam rooms streaming at any one time and 2) a lot of them are hosted by amateur sexhibitionists who love anything X-rated and are waiting for a pervy partner to join them in some naughty fun and games. And, when it comes to finding a mistress to cut you down to size - be prepared to be used and abused from the get-go.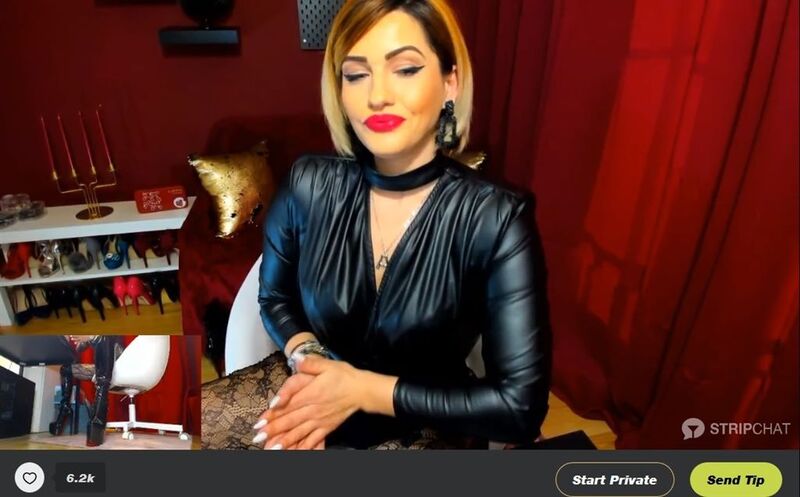 The homepage is a clear indication of what's going down (and up) at this mega-muff porn palace. Most of the photos are extreme and explicit, so if you like to take things slow and gentle - take a deep breath 'cause from the first click it's in your face XXX action. To get to the madams that'll show what you're really worth, just go to the left hand nav bar and scroll down to the Popular tags. While there isn't a dedicated humiliation or sissy training option, the BDSM and Dirty Talk sub-categories bring up all the wayward women who are going to show you who really has control of your cock.
Now, Stripchat has something that no other live cam sex site has and that's the wildly wanton virtual reality (VR) shows. Yep, horny homies, if you own a VR headset, you should first try searching for rooms that are VR enabled. Take a gander at these kinky caves and once you find a babe that bounces your balls, go into her free open chat room and see if it's listed in her bio whether she's a lover of humiliating your hunk of horniness. If she is, your VR live sex show is going to be a sexperience of a lifetime.
Price-wise a private cam session can start at as little as $0.75/min - hitting an average rate of some $3.00/min. These charges may or may not include cam2cam - it's up to each individual performer. You should be aware too that some of the cam girls won't agree to go private with you unless you commit to a minimum time-block of at least 5 to 10 mins.
To kick off a kinky cam2cam chat simply click/tap on the Start Private button. A pop-up box then appears with two options Private and Cam2Cam. It's now up to you if you'd like her to witness your kowtowing to her command.
---
LivePrivates

If you yearn to be derided and disparaged by the most desirable dames in the land - then LivePrivates is going to make you a very horny humbled homie. The site prides itself on being the best of the best in every aspect of a live cam experience. Almost all the 1,000 plus rooms broadcast in HD (or at the very minimum, high-quality SD). Every cam model is a stunning sex-crazed cutie that loves live porn as much as we do, and the site itself has one of the most user-friendly interfaces around that makes your search for the perfect partner a pleasure in itself.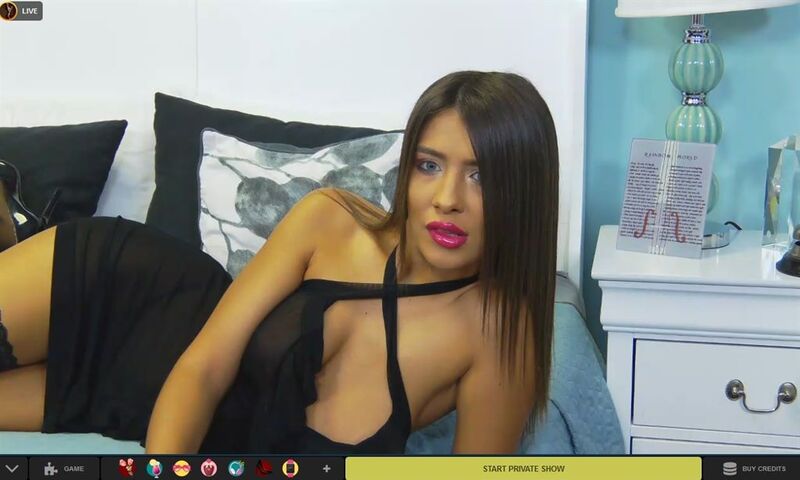 The most accurate way to filter your results to only those bawdy babes that love to belittle is to go the search bar on the top right of the screen and type in humiliation. Make sure though that you select Show all results for Humiliation - otherwise it will only bring up models who have that within their display name.
Another way is to just go to the left hand menu bar and select Dominatrix and take it from there. This will bring up a great selection - but some of the cam chicks that love to diminish your dick and squelch your sex may not necessarily tag themselves as dominatrixes.
If you're cam2cam shy and would rather her not see you squirm like a worm then private cam sessions can come in at a basic $1.00/min - though average out at around $2.60/min. If you're not camera-shy and are prepared for the full taking down treatment then expect to pay an additional $1-2/min each for c2c and 2-way audio.
To kick off a webcam-to-webcam humiliation sex chat you just click on the Camera button under the live video window once you've started your one-on-one private performance, and let the fun begin.
---
Conclusion
The models you'll find on these video chat sites know what it takes to cut your cock down to size and scorn your fragile ego as it deserves to be. The cam girls take no prisoners, so prepare to be bullied and berated until you cum in heavenly humiliation.
Now while these sites will make a wimp of the most manliest of men - what they won't do is shatter your security - and by that I mean your actual physical and financial security. They all operate under the strictest privacy codes and all information you give them is protected by multi-layer encryption software, ensuring what goes on between you and your mistress - remains between you and her.
For me, well if I wanna be bad-mouthed by a babe that takes control of my cum, I head on over to CamSoda. So many choices, great streaming options, and best of all - some super cheap rates if you plan to prolong the panning you're getting for pretty much as long as you can take it.