ImLive.com Review - Go Live With ImLive.com - Lots of Live Sex Shows to Enjoy
Well, hello! Glad you could join me! It's that time of the week again when I unleash a few hundred words of my bestest, most thoughtful words on the internet about the latest Top Rated Cam Site I've wandered into during my trevails around the internet.
Tom's trusty tongue is going to wrap itself around the deliciously and definitely sexy words I'm going to be using to describe the deliciously and definitely sexy goings on at ImLive.com, which is a super hot site literally exploding with super hot sexy ladies.
It's another xxx cam site that seems to have been around for absolutely ages - since 2002 in fact, which means it's very close to becoming a teenager. The site has plenty of x-rated chat fans, with well, well, well over 10 million members all paying for their credits and seeing what the voracious vixens who have registered as sex cam models at the site have to offer. ImLive must be doing something right, as the lucky devils won the award dished out by the people in the know at AVN (Adult Video News) for the best live chat website in both 2011, and 2012. I bet the awards are not the only thing that the folks at ImLive polish on a regular basis!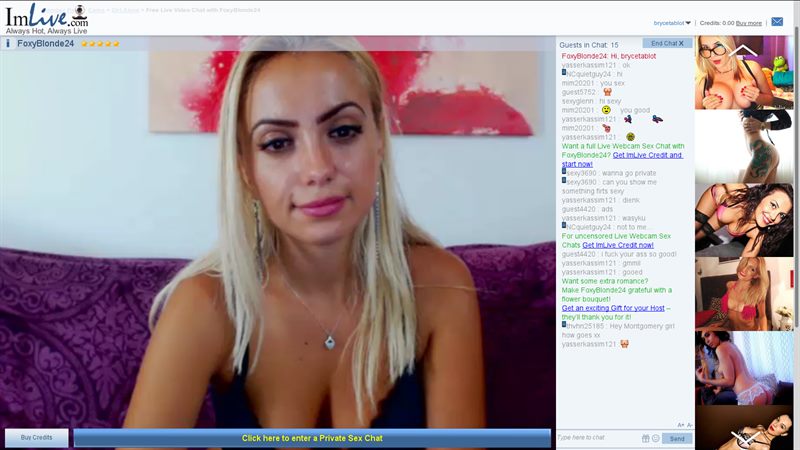 My Initial Thoughts ...
Well, you know me my sexy playthings, and I know what I like, and I know what I like to see, and I lurve to see lots and lots of scantily clad models all purring and pouting and waiting to show me all those bits that you ain't likely to be talking to your mum about (I'm actually scared that one day I'll end up in the MILF category and will see something of someone that I definitely do not want to see!). Anyhow, the first screen at ImLive is configurable, and I quite liked the tiled display you could choose. As usual, if you hovered your mouse pointer over a sexy babe who was offering free chat, you pop right up and see what the x-rated model is up to - not that she's going to be up to much when it's freebie chat, but you never know your luck - some of these busty ladies are real show offs. Still, if you've got the goodies, why not show the world what the world wants to see - that's my motto!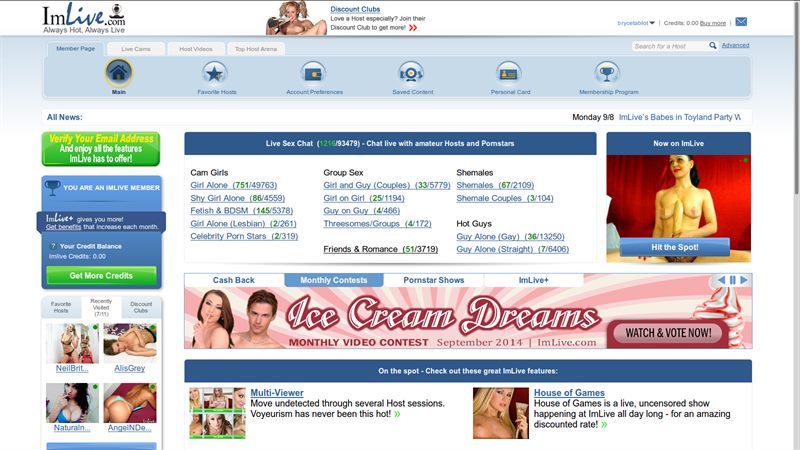 It's free and easy to sign up at ImLive.com (more on that later) so you can do the business and get searching. There's plenty of scorching sexy fun to be had, especially if your place on the sexual spectrum is a multi-coloured one! There are lots of hot guys and shemales, if you're into that kind of thing. If you're the very un-shy and very un-retiring type there's Group Sex, which personally I'm not in favour of as I ain't paying to watch people having more fun than me! I headed for the door marked "Cam Girls" and there was plenty to pick and choose from when I got there - solo girl alone, "shy" girl alone (WTF?), and for those kinky connoisseurs, Fetish and even BDSM for Fifty Shades of Grey fans.
The next thing to do is to find a lovely lady who really gets your blood pumping and have some free chat with her. One thing to note (and which I don't like) is that as soon as you enter the chat room a message pops up from the model saying hello. This is a geek programming thing and really gets annoying after the nth time - I'm paying (maybe) to speak to a sexy babe, not a code snippet! Sheesh. Lots of the models have sizzling galleries to wade through, and for some credits you can even watch a video of a super sexy show the model has performed in the past. There's the private chat option of course, as ever.
Those Extra Features ...
ImLive is groovy when it comes to the extras to keep your interest and your pecker up! You can win extra credits if you sign on the dotted line - every couple of hours someone is randomly selected from the lucky dozen or so members ... okay, 33 million (!) members to win. You have to be in it to win it, I suppose. There's a bit of a social networking vibe as you can vote for your favourite sexy ladies, and videos they have entered for ImLive's latest raunchy popularity contest. You can view the past winners - for a fee of course. Finally, you can watch little video "trailers" of the hottest babes in action at the site. These little teasers won't get you really going (unless you have a low porno threshold) but they're pretty groovilicious for free.
How to Register ...
Hey, I bet you've got an email address. If you have then great, as that and a username and password is all you need to register at ImLive.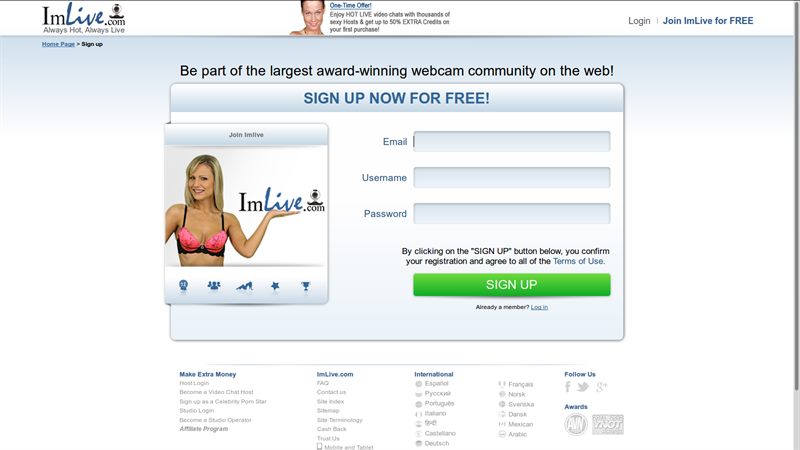 The Ways You Can Chat ...
You can chat one of three ways. Free video chat is 100 percent free, as you might expect, and as you also might expect if you want to get carnal with any of the x-rated cam girls you need to acquire some credits. There is the "House of Games" as well - you get to see the models for a cut-price fee, and the first 20 seconds of your sexy show won't cost you a cent.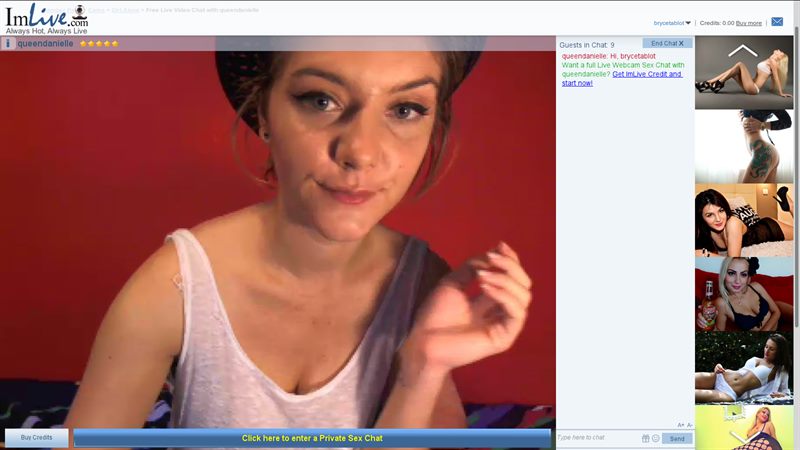 Quality of The Videos ...
Most of the x-rated lovelies will stream in HD, so if your ISP can blast you speeds over 1.8MBps, then you're in HD heaven!
How Much It'll Cost You ...
Now here's a thing. It may cost you a bit extra, but you can tip your babes when they perform. I hear that ImLive.com takes a whopping 70 percent of the money you pay, giving the x-rated lovelies the beans that remain. That seems a bit tight to me, so tip and the models keep all of that. Also, there's this thing called "ImLive+" at the site, which is nearly $30 a month, and DOES offer you plenty of extras, but whenever you make a purchase at ImLive, this offer is chucked in as well - if you don't (yet) want to make the regular payment, then always uncheck the check box. You have been warned. Normal prices are as follows:
USD $
Price
Credits
$25
25
$50
50
$100
100
I'm also glad to point out for you, that being the nice guy that I am, I managed to get you - my readers - an exclusive deal on your first purchase. You can now get 25 credits as a nice bonus for your first purchase of a credit package. Any credit package.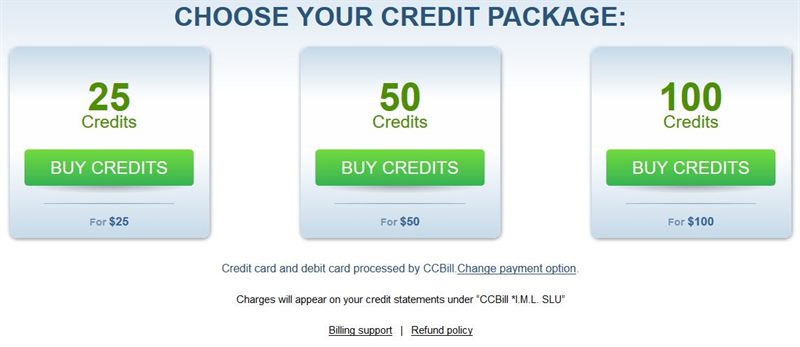 The Ways You Can Pay ...
If you've got a credit card, then you're okay, as long as it's one like Mastercard or Visa or JCB or Discover. If you haven't, it's nil credito for you, my lad!
How Many Models ...
Upwards of 80,000 x-rated models of all sexy sizes and shapes are registered with ImLive, but you'll only ever see a 1,000 or so online at any time.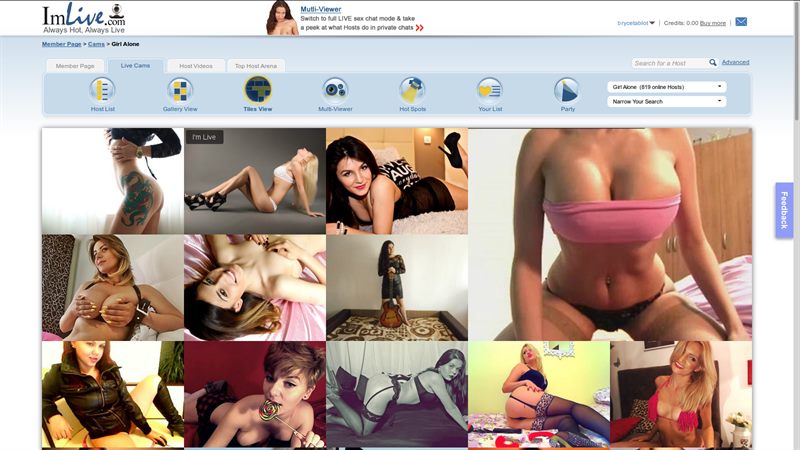 The Support You Can Get ...
If you like to chat for real, then that's good as support is over the phone, oh and there's email too. You could try the FAQs first, though.
The Good & The Bad ...
Good
✔ - Signing up is a breeze and it takes about ten seconds
✔ - Plenty of extra goodies to enjoy, such as the videos and the contests you can vote on
✔ - Some ... exotic ... interests catered for, such as kinky stuff like BDSM
Bad
✖ - Every time you hop into a chat room, it looks like the x-rated cam girls is being friendly when she ain't
✖ - You have to be careful not to fall into the ImLive+ trap
Winding Things Up ...
Right, well I do like to educate myself a little about sites by gathering a few other opinions from elsewhere about a site, and that's what I've done for ImLive. Now, ImLive seems fine for the punter, like you and me, but for the babes who put their wares on show, it just don't seem so fine. Lots moan that ImLive don't pay them that well, and not often enough. Ho hum - well, look honeys, no one's forcing you to be on ImLive, so if you don't like it, go somewhere else. I'm not going to take that much notice about a few internet moaners and groaners - instead I'm going to concentrate on the moaning and the groaning that could be going down at ImLive.com! ImLive has a lot going for it, and very little to hold against it, so if x-rated adult chat is very much your thang, then head over to ImLive with my blessing, and tell 'em Tom sent ya!
Review of ImLive.com
- Reviewed by
topratedcamsites.com