Chaturbate TS Review - A World Of Tempting Trans
Last updated
January 10, 2021
Pros
HD+ and 4K video
Tips fuel action
Mostly amateurs
Big variety
Cons
No categories list
C2C setup difficult
If you're not interested in enjoying the XXX-rated company of a humongous amount of horny trannies pleasuring themselves, then you may not want to carry-on reading. Though, why wouldn't you want to know more? Chaturbate is the world's largest live porn site for one very good reason - it's a Freemium site - that means you get to see loads of gorgeous trans girls enjoying some hardcore humping in glorious HD, without paying a penny.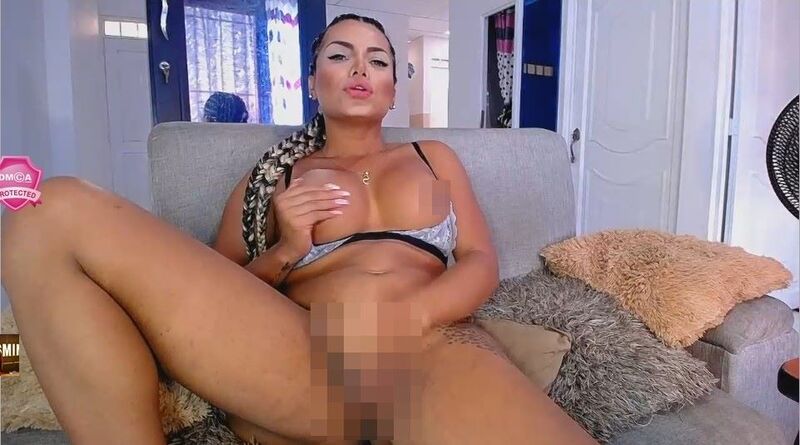 With so many live shows fighting for your attention, it can be frustrating to find the one that's going to get your pecker prancing. But never fear, Tom is here with insider tips and weather warnings that'll make smooth sailing on your Chaturbate cruise. Discover how to seduce Chaturbate's tempting transgenders, score the the hottest deals and get straight to some hardcore hand jivin' without beating around the ball bush.
Webcam Performers
The sheer number of stunning trans girls that call Chaturbate their live video chat playground can be overwhelming. This mega webcam site has at least a few hundred sexy shemales online at any one time. On average around 350 cuties will be grinding for your attention during your Chaturbate travels, with hundreds (if not a thousand plus) registered as Chaturbate hosts. With so many tgirls online it's hard to really 'nail' down the ones that are going to get your dick dancing.
When I say there are trans of every size, shape, color and creed - boy do I mean that. There are babes with balls that have the face of an angel, the body of a super-model, the boobs of a pornstar and are hung like Hercules. Or maybe you're more into the chicks that are just starting out their transformation and are happy to really get in your face and satisfy you anyway you want.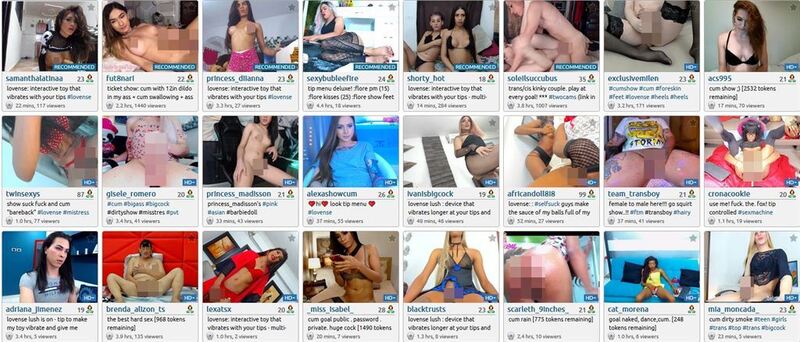 Unlike the more upmarket premium adult webcam sites where the models are vetted for their looks and sexy staging, on Chaturbate anyone (as long as they're over 18) can broadcast themselves. While this means you've got the whole gamet of live porn and wanna be sex performers to check out, it also means there's a lot of time-wasting wankers that'll be testing your patience. But my friends, that's why you're reading my review. Later on, I'll show you how to skip past most of these duds on your tranny trails.
It's not just the boobs, the balls and the boners that you've go to decide upon - there's also the options of what they're doing with them. And believe me, there's everything on offer and more. Two trans with a funky version of a 69? Boy riding a trans train? Girl getting pounded by a cherubic shemale? Gender benders showing you up close and in HD their hairless holes? Or maybe you're more into the ladies to lads categories? Take it from Tom - it's a mind-blowing (yes, yes - and cock blowing) adventure that'll expand your horizons.
And if you're starting out on your transformation and want to show what you can do, then Chaturbate is the perfect starting point. A few simple steps and a webcam is all you'll need to become a fully-fledged live porn persona.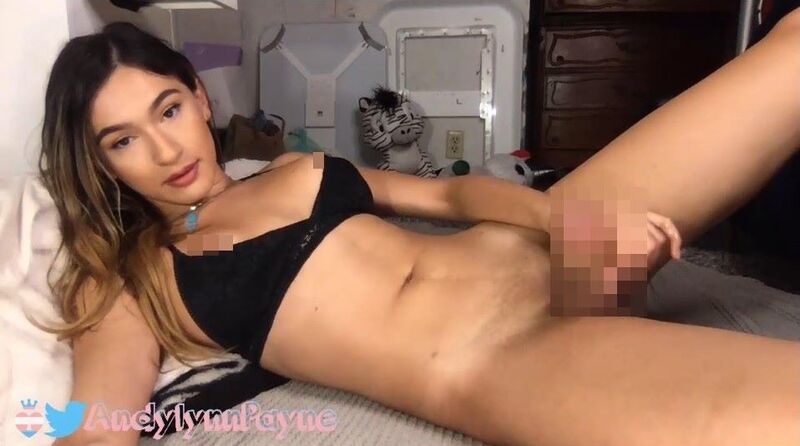 On The Menu
F2M and M2F models
Most rooms stream stream in up to HD 1080p. Some offer 4K
FREE X-rated action across the Chaturbate board
Full screen layout
Full range of fetish options
Broadcast yourself
Models with Fan Club exclusive material
Spy Shows
Exhibitionist Shows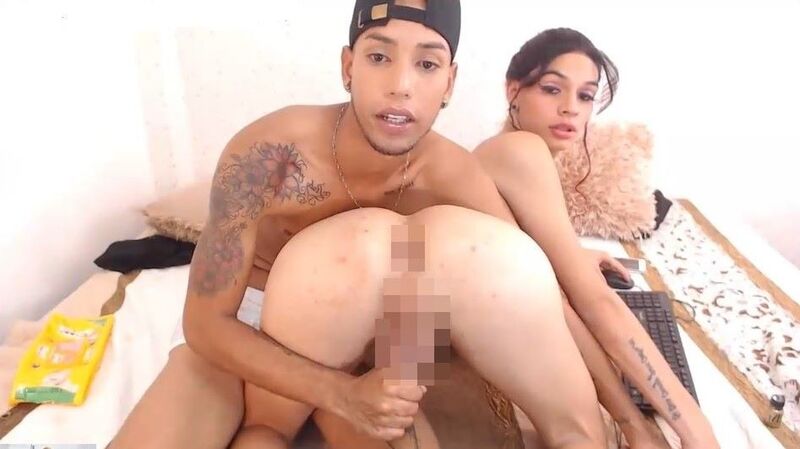 Chaturbate Trans Feature Highlights
As I mentioned earlier, finding what floats your tranny boat can be a bit of a hit and miss affair on Chaturbate, but as always - I've got some time-saving tips that'll help you trim the bush and get to the cock and core of things.
Models tag themselves with the keywords relating to their looks, fetishes and any other info they think will make them appeal to your pervy persuasions. Problem is, many of them just add these keyword hash tags regardless of whether it's related to them or not, in the hopes it'll get you to knock on their dirty doors and cough up some cash. My advice, use these search tags, but don't rely on them. Most of the models in the trans category are up for everything - you don't really need to drill down for example to find anal, toy, masturbate, etc... In my sexpert experience, most of them get to it at some point during their cam time on your screen.
What I do like is that you can see on the Trans homepage gallery of snapshots, the amount of time the sexy show-off has been online and more importantly - how many voyeuristic visitors are enjoying the entertainment in the room.
A top Tom tip:
The more visitors there are generally the better the babe and her bounty. Trust the wisdom of the crowd my friends.
So guys, listen up...
Most of these chicquitas are literally working their asses off in front of your face and you don't have to throw down a dime if you don't want to... but dudes - not cool. If they're deserving of your time, then show them you care. Tip out of love. tip out of appreciation or tip because you'll get your fetish fulfilled. It works like this - the performers get paid in tips (tokens). They set their own tipping rates for things like: Lovense vibration, dildo action, cumming, butt plug and finger in the ass play, etc - give them the tip amount stated and sit-back and enjoy the show.
Getting Started
Getting going initially on Chaturbate is super-quick and easy. To start browsing the hundreds of online hotties - you don't even need to sign up. You can enter a room without registering but you won't be able to interact with anyone. The first sign-up step is simple - a username, a password and an email address is all you need and you're all set to start chatting to the chicks with dicks.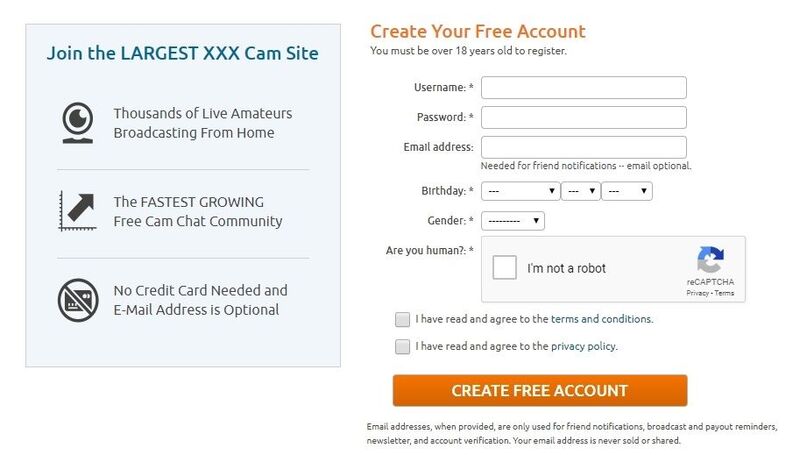 Chat Options
Open Video Chat
So the trans girls are not shy when it comes to having X-rated frolicking in the open chat rooms. Basically, you can see everything and anything you want here. The more you tip them, the more they'll interact with you. Some of the more popular tootsies draw in over 1,000 viewers when they're online - so unless you're taking out the tokens, don't expect much attention.
A note of warning:
Some of the models ban users from chatting to them if they haven't already purchased tokens. It's not that it's going to cost you to talk, but if you haven't got those tokens at the ready - they won't even let you say hello.
Private Chat
Now I'm talking about the Private Chat option cause it's a possibility, but in my experience, if you're looking at the girls with gonads section you probably won't be needing (at least at the beginning) the Private Chat Option. Many of the tsgirls will fulfill your kinky kicks for a set number of tips. Many have a sheet in their profile or a list in the chat window that shows the price for each act. (And trust Tom on this - many have an extensive menu of fetishes). Though, if you don't want others getting their kicks for free off the back of your paid-for kinks - then Private Chat is the way to go.
Wait a sec - there's a big fat but...
There's no automatic cam2cam option in Chaturbate. Unlike almost all of the premium sex cam sites that include cam2cam in private chat rooms, at Chaturbate it's not only not included, but is a pain in the proverbial ass to turn on - in fact, you have to register yourself as a broadcaster/performer in order to be able to use it.
Spy Shows
The Spy Shows are a cheap way to get your rocks off but not so applicable in the trans section - purely because these pretty princesses with peckers are often happy to entertain their fans for little more than tips and temptations. A Spy Show is when the cam cutie will let you spy on her private chat/show at a cut rate cost (around 30 tokens/min). If you don't have any desire to actually interact with the performer but wanna see some hardcore action for cheap - then a Spy Show is definitely a match in horny heaven for you.
Chaturbate Prices
You tip and pay for private shows with tokens. The bigger the token package you purchase - the less you'll pay per token. For example, if you buy one of the largest token bundles - $49.99/500 tokens - this works out at just under 10 cents a token. You can also get free tokens by getting a friend to sign up. For every new user that lists you as their referral - you'll get a ten-token bonus gift. But... if your buddy decides to broadcast - you'll be in the black with an additional 500 token courtesy of the Chaturbate coffers. (But reading the fine print on this bundle - it points out you'll only get those 500 tokens after they've earned $20 in tips during their sessions).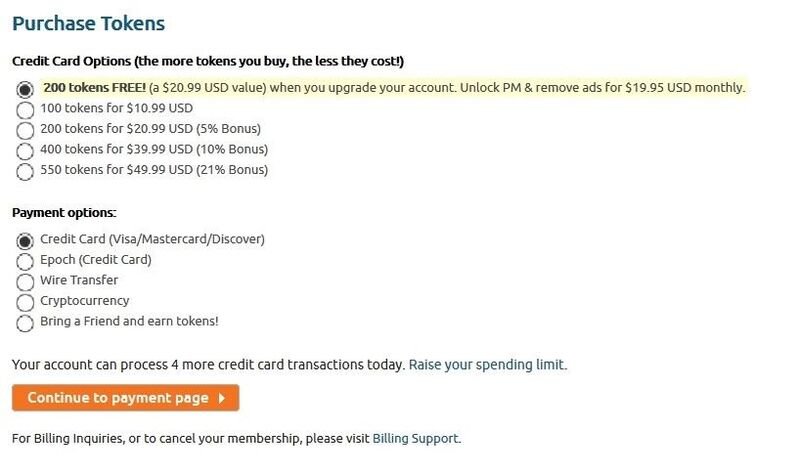 In the Private Show options, prices vary wildly, anything from 6 tokens/min to 90 tokens/min but on average you're looking at around $2.30/min - with the cheapest shows starting from just $0.60/min.
Payment Options
Payment on Chaturbate can be made via any of the following methods:
Visa
Mastercard
Discover
Epoch
Wire Transfer (instructions included in the payment page)
Cryptocurrency (to many options to list - click on cryptocurrency on the payment page and they'll all appear in a scroll down box)
VIP Membership Program
Chaturbate has a monthly membership program. For devotees of the site - you can become a premium Chaturbate Supporter for a $19.95/monthly fee. The first time you pony up for this - you'll get a sweet 200 free tokens as a thank you - but that's a one-time gift only. There are a few minor benefits to being a premium member (see in the box below) - but between you and me - it's not the best sex chat site membership deal around.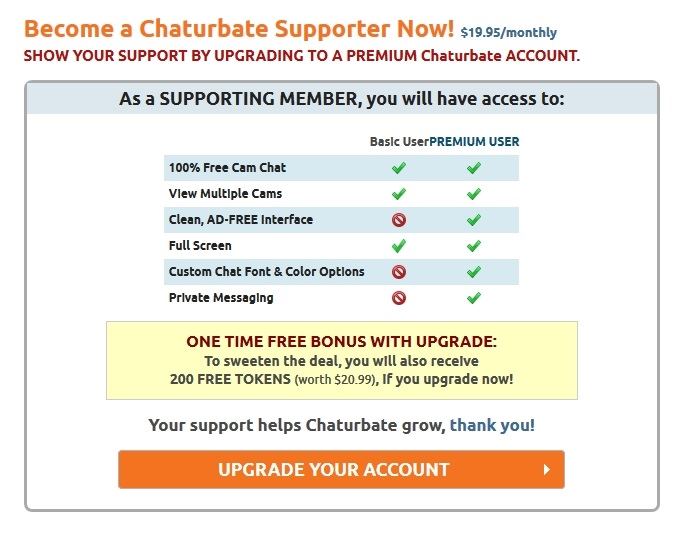 Mobile Experience of Chaturbate
The site is optimized for mobile devices so if you're on the go and want to get an eyeful of some tempting trans - Chaturbate won't let you down.
Video Quality
So here's the thing folks, when it comes to the video quality - it's all in the hands of the host/model/performer. Video steaming can vary from SD to HD 1080p, and the rare 4K. Once you're in a room - go to the bottom of the live video feed and a small toggle with HD will appear. Select this and choose your preferred streaming quality. Not all the ladies have HD, though.
If you want to narrow down your party friends to those that do have HD - you can simply click on Prioritize HD Cameras in the search filter options, and then all those broadcasting in HD will appear at the top of your search results. Genius I know!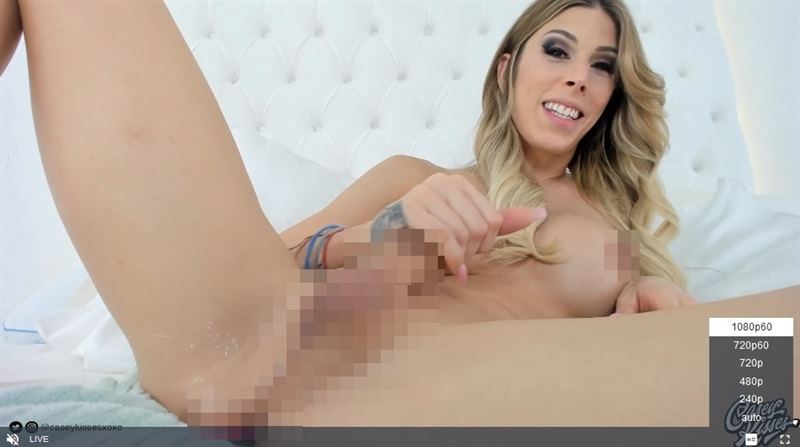 The Pros & Cons
Pros
✔ A huge selection of trans models/performers
✔ Hardcore action and full on nudity in free chat rooms
✔ An ever increasing number of HD shows
✔ Wide variety of languages spoken by the tgirls
✔ A large number of girl/trans, trans/trans, boy/trans and threesomes
✔ The price!!!!
✔ Broadcasters/cam hosts can kick out annoying visitors
✔ If you're into amateurs - there's no better site than Chaturbate
Cons
✖ Messy search filters
✖ Performers use hash tags which you search by - many add tags that don't apply to them
✖ Difficult to use cam2cam video chat
✖ Strong on amateurs - but most hosts are not very professional
✖ Customer service is via email only
Before You Go
If you want to have an ocean of FREE trans-fun then Chaturbate beats all other live pon video chat platforms hands-down. The sheer number of live video feeds at any one time is mind-blowing - so are the kinks and kicks you'll get to see without paying a penny. Saying that, Chaturbate really is for the voyeuristic aficionado - the cam2cam chat option is a major downer - and so are the site's search capabilities. But hey, when you get so much temptation for nothing - who really cares. If you haven't trans-chatted on Chaturbate get over there now and see how long it'll take you before temptation takes over.