Stripchat Transgender Review - Babes With Bonuses
Last updated
February 02, 2021
Freemium
Nude Free Chat
Hourly Giveaways
Pros
Big model selection
Active chat rooms
Virtual Reality cams
Affordable privates
Cons
Static previews
Limited CS options
C2C may cost extra
If she's got more than most, you know you're in for a wild sex cam session. The steamy shemales at Stripchat are famed for their raunchy live cam shows. While some of the tempting trans models that perform on Stripchat are demure and delicate dames - others like to kick up the kinks with some low-cost, hardcore live video chats that'll leave you panting with pleasure.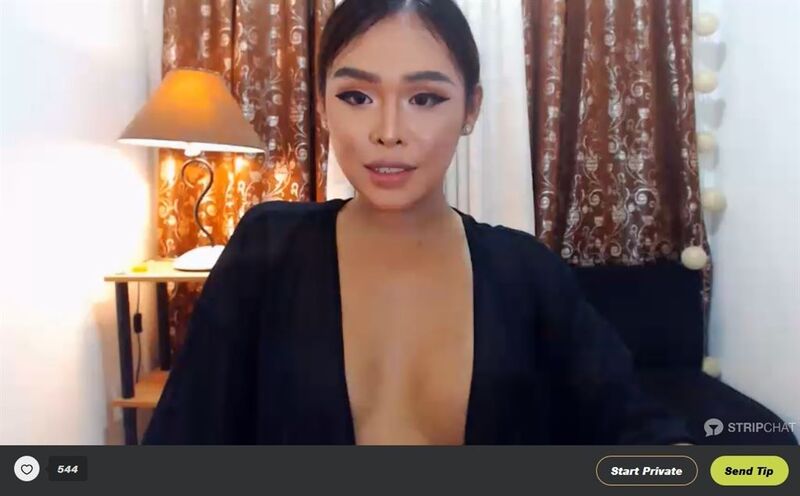 Stripchat is first and foremost about having fun. This site isn't trying to push unwanted features, videos or photos in your face. They want you to do one thing - and one thing only - get down and dirty with one of the hundreds of sexy shemales streaming live from around the world.
On the homepage, you simply select Trans on the left of the page, and snapshots appear showing all the transgender cam models that are online and waiting for you to enter their wonderful world. The models you'll see cover every appearance, age, fetish and ethnicity of the trans world. From amateur girls just starting out on the their trans transformation to experienced extremists that have perfected the art of getting your privates to dance to a tranny tune.
Unlike many other free sex cam platforms, Stripchat is all about the cams - that means no annoying ads trying to make you buy / go / or do something. The site is about the sex chat and nothing else.
Tranny Models
You want it? They've got it.... well almost.
As a freemium live sex cam site, Stripchat lets anyone with a webcam set themselves up as an adult live sex cam performer. That means it's a wonderland if you're looking for exhibitionists and lovers of the XXX, but it also means there are quite a few less-than-talented tgirls trying out their luck. No matter, read on and I"ll soon tell you how to whittle these out.
Stripchat isn't a trans-focused X-rated webcam platform, while there are many trannies that call Stripchat their cam hideaway, you're not going to find as many as you will at the trans specific live sex chat sites. On the other hand - if you're somewhat new to this tantalizing world of chicks with dicks - Stripchat is a great place to wet your toes, so to speak, and get to know what really wakes up your woody.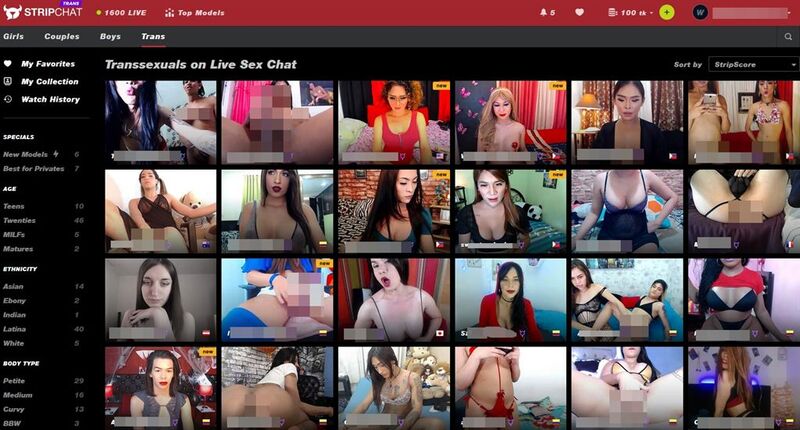 One thing these ladies do all have in common is the eagerness for the extreme. This means nothing seems to really be off-limits and in the free public video chats you'll see pretty much everything going down (and up).
On the preview snapshot of each performer there's a small flag which indicates which region they're from. The majority are based in Latin America, with a strong showing of trans girls located in Asia. There are some from Europe and the USA and always a few of them online at any one point. But, if you're looking for White or Ebony in ethnicities - you're not going to have that much of a selection to choose from.
Stripchat Feature Highlights
If you're looking for a particular appearance or a certain kink or fetish then this where Stripchat really shines. The site's search engine and categorization features are extremely user-friendly and well thought out. The girls state which acts they're into and like to perform, along with their looks (big boobs, mega cock, blonde, brunette, curvy, petite, age etc.) and you can filter down your results accurately till you get to the deviant diva of your dreams.
Simply go to the menu of categories on the left of the homepage and select your preferences. If they're listed there - scroll down the menu till you come to Show All Tags. Click/tap on this and all the major kinks / features / specials etc., are listed alphabetically. So if you want, for example, a curvy, blonde, dominatrix with a big cock in her twenties - just a few clicks and up she'll come.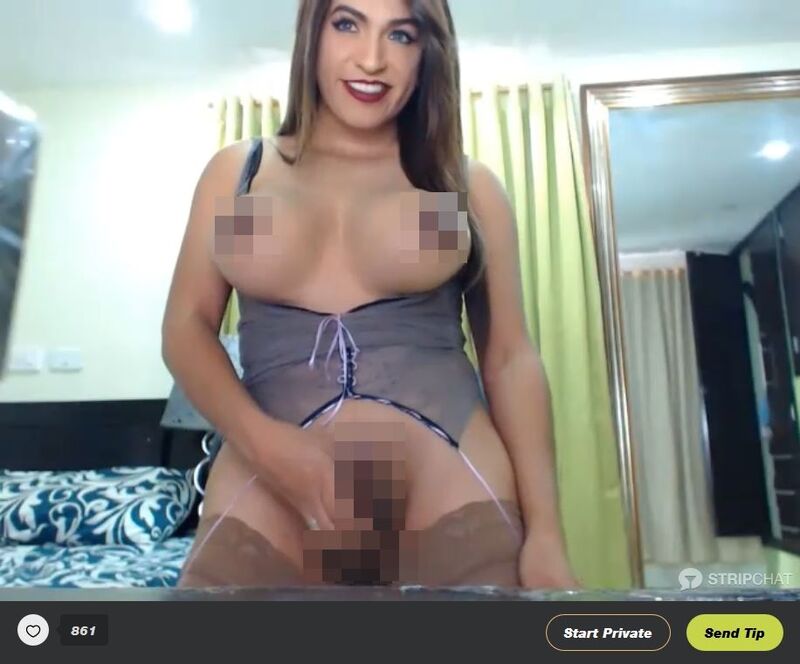 One great way to get your girl begging for your attention is to tip her and get her squirming for more via her interactive sex toy that you control. Many of the M2F models use hardcore sex toys (Lovense and Kiiroo).
To find those that use the toys, just select Sex Toys under the Popular Tags heading in the search menu. Once you've chosen your cam cutie, inside her room select Tip Menu in her message box and this will bring up her rates for specific sex acts, including how much to tip to get her toy to shake and shiver. Tip the t-girl, get her toy to vibrate, then just sit back and watch her squeal with pleasure.
Other fun Stripchat features include:
Watch History (automatically shows which cam rooms you last popped into)
Search by price option
Hourly token giveaways
Create a Favorites list of tranny cam hosts
Blog, Twitter and Snapchat
Getting Started
Signing up is quick, simple, safe and secure. You just need a user name and an email address. They'll send you an email which will contain a unique password for your account and a link which you'll need to open and verify - so a fake account won't cut it guys). To make sure your details remain secured away under lock and key, the site implements a two-factor authentication (known as 2FA) - this adds an extra layer of protection making sure the only thing you'll catch from the site is a good tranny time.

Chat Options & Prices
Rather than actually pay the X-rated cam chicks you 'tip' them with Stripchat tokens. You buy tokens from the site and can use a variety of different payment methods, which I"ll get to in a second. One token is worth approximately $0.08 (I say 'approximately' because I got to that equation by buying the largest token package offered on the site and seeing how much each token had cost). But, the bigger the bundle you go for, the cheaper a token will cost you.
In addition to the free public live cam chat rooms the girl hosts, you also have the option to take her into a Private Chat Show, a Cam2Cam Private Show, a Ticket Group Show, or a Spy Show.
Free Chat
Start out your shemale adventures in a free cam chat room and get a feeling for the fetishes, kinks and pervy pleasures the lady with the load likes to dish out. And, while a few of the babes won't get naked or explicit without being tipped or taken into a private cam session, many of them are more than happy to get down and dirty for your free viewing pleasure.
And between us, even if your princess with a penis starts out clothed - be patient. Before you know it all will be revealed. Now, hanging around for free is fun - but these girls have got a living to make. Some have tip rates in their messaging box and you can see how much you've got to tip them if you want to see some anal fisting, pussy licking or dildo action. Others will only do actions by request, so you have to ask upfront how much they want in order to perform a specific kink.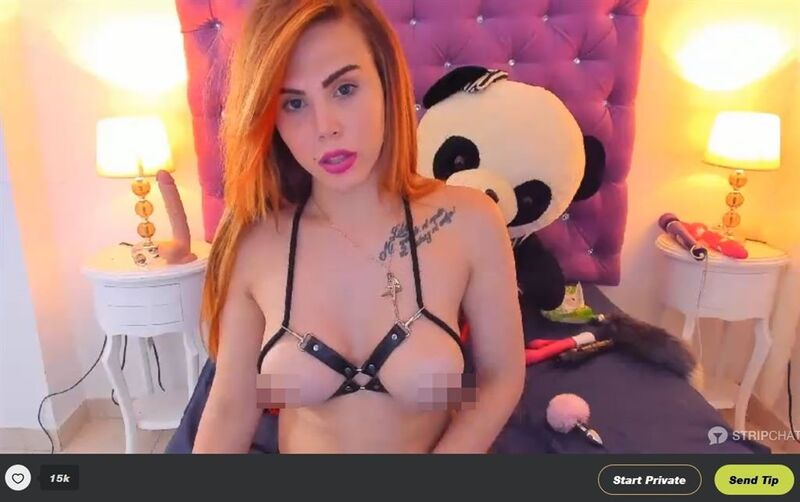 Private Show
This is where you and you alone are in charge of what goes up and down. You'll probably take the leap into a private show after spending time in your boner buddy's public cam chat. Make sure before selecting Start Private, that you know the girl is into the same fetish fun that floats your boat. You can find that out by either clicking on Profile which appears on the top of her video feed or just send her a private message for confirmation she's willing to perform your perv.
Prices for private chat start at a bargain of just $0.75/min. The average, though, goes for around $3.00/min.
A quick heads up here... Some of the tgirls won't let you start a private session if you don't commit to a minimum amount of time to spend in chat (generally around 5 to 10 mins).
Cam2Cam Private Show
If you want a cam2cam show - then many of the models charge more to enable this feature. Once you select the Start Private show feature - the rates appear and you can choose which type of show (Cam2Cam or regular) you prefer.
Now, I say many charge more, but not all. Unfortunately there's no way to know which ones will let you have c2c one-on-one sexcapades for the same rate/min as a private chat.
Another benefit of the cam2cam experience is that no-one else is allowed to spy on your show, where as in a private cam chat, they can silently observe the same model as you.
Spy Show
If you don't want to commit to a minimum time in a private show - then try out the Spy Show option. Some advice here...
I'd only recommend a Spy Show if you're not 100% sure about taking a particular cam babe private. Spying is simply a way to enter someone else's private live sex show to see the same tgirl in action. It's a voyeuristic form of extreme entertainment and you have no ability to interact with the model in any way. The prices are generally the same rate/min as a private show, the only difference being is that you don't have to commit to a minimum time spend. You can enjoy just a minute or two and leave - so in that way, it can be cost-effective.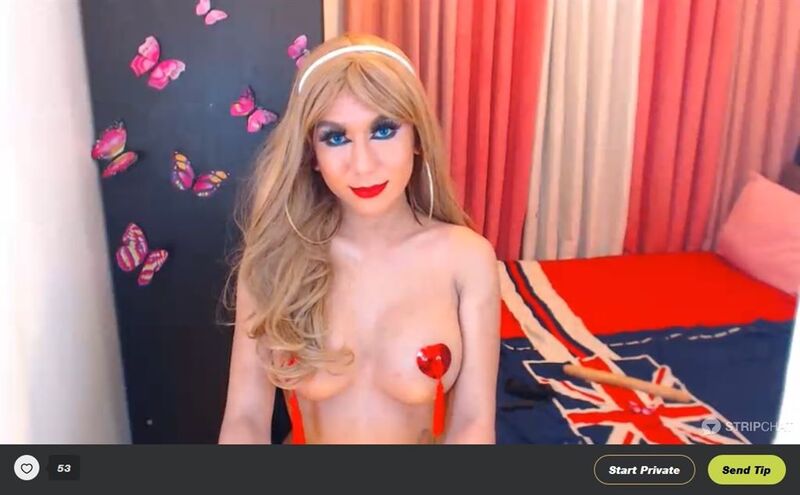 Payment Options
Before I hand over my payment details I want to know that my financial info is going to be kept safer than Fort Knox. Stripchat is a veritable Fort Knox when it comes to this aspect, implementing stringent encryption layers. The site uses leading billing providers ensuring your info is kept secure and the site's name won't appear on billing statements, rather the charge appears under the name of the payment provider service.
The site accepts the following payment methods:
Visa
MasterCard
Discover
Diners Club
JCB
Maestro
Store / Brand Gift Cards
Skrill
Cryptocurrencies
Bank Transfer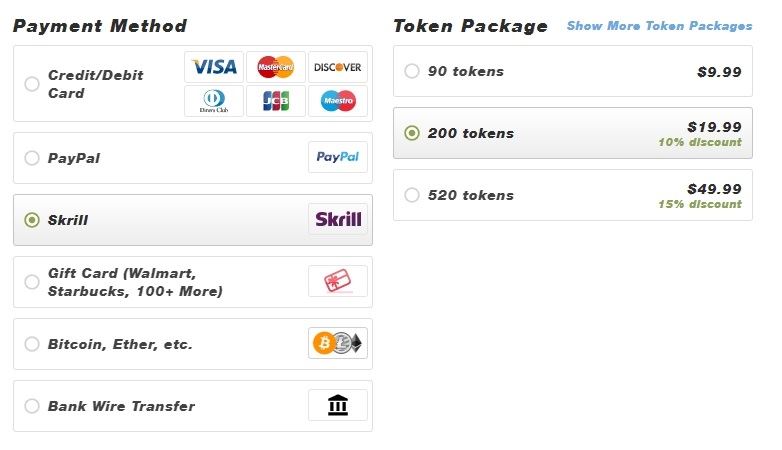 Membership Benefits
The membership package at Stripchat doesn't really make me warm and gooey all over (only the hardcore hotties steaming up my screen do that). The site has just one paid-for membership program. To become a Gold Stripchat member you fork out $20/month and in return you get:
Emoticons in chat
Knight Status - a model can elect you to be her knight. You can mute harassing grey users in her room for 24 hours
Invisible mode - move around rooms without being seen
Send anonymous tips - tip the models, incognito
Private messages - send and receive unlimited private messages
Special Promotions - get discounts and exclusive offers during a time-limited promotional period
Mobile Experience of Stripchat
The site has a mobile optimized version for use on any smartphone or mobile device. I'm going to be honest here dudes - I don't love it. It is user-friendly and intuitive for searching models, kinks, fetishes, etc., but if you're in a model's chat room, the messaging section takes over around one third of the screen so the live video stream is minimized. You can watch in a full screen mode which is clear and streams well, but that means you don't have the messaging option. I suppose it all depends on whether you're a viewer or a texter.
Be aware... there is no Cam2Cam chat option on the mobile version.
Video Quality
One downside of Stripchat's shemale cam models is that not many are yet streaming in HD. To find the few that do, you'll probably have to go to the search menu and choose 'HD' in the alphabetically listing. If the models are broadcasting in HD, it's indicated in their preview snapshot by a small HD icon on the top left of the photo.
A little Tom tip to help you get the best stream possible... Not many people know this but at the top of the right of the video feed, there's a small wheel icon - hover over this and the broadcasting options appear - manually select the best video quality it offers. This way you don't get stuck with an automatic low-res feed.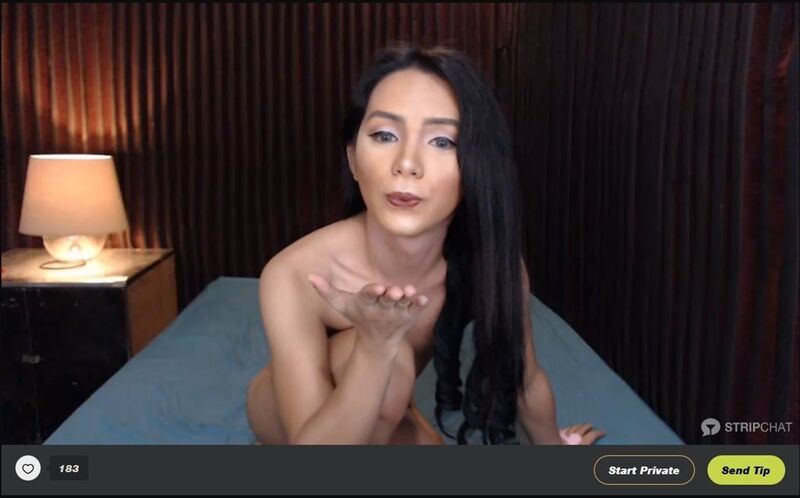 The Pros & Cons
Pros
✔ Score 500 FREE tokens in the hourly token giveaway
✔ See at a glance where the model is from via the flag on their photo
✔ Lots of FREE hardcore action in public chat rooms
✔ Cheap chat rate/min
✔ Annoying visitors can be kicked out of rooms
Cons
✖ Very limited number HD streaming rooms
✖ Often there's an extra charge for cam2cam
✖ No live chat support
Before You Go
If you're a newbie in the titillating transgender sex webcam world then I'd definitely recommend Stripchat as a starting point. There's a enormous amount of hardcore action and full on naked trans nymphos looking for pervy playmates in the free public cam boudoirs. It's much easier to navigate than most of the other free sex cam platforms, and on average, the private chat rates are extremely cost effective. The only real negative is its lack of HD rooms - but hopefully this will quickly improve as more trans-girls come online and many are already HD prepared.