RandomGirlsOnCam Review - X Rated Roulette
Last updated
February 13, 2021
Mix
No Free Chat
Cam Girl Aggregator
Pros
100% free
Fun mobile site
No registration
Thousands of models
Cons
No chatting
No prices listed
Just a landing page
We all know by now the typical formula of a live cam site. A gallery page full of thousands of girls to choose from, countless categories or tags to sort through, and any number of bells and whistles to distract you from the actual cam girls on the sites. If you're like me, you've been going through these motions for years, and enjoying it, too. But what if there was a way to just sit back and randomly scan through all online girls from the best cam sites online.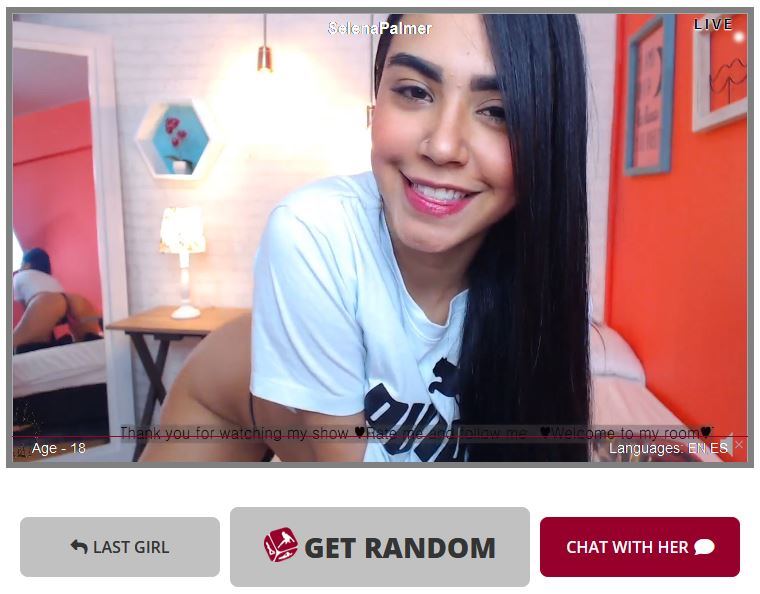 Sometimes, not being in control is the best thing for us. It freshens up our routine, gets us out of our comfort zones, and opens up brand new things we didn't even know we were looking for. As such, this review covers the best site that does just that - It surprises you, titillates you, and introduces you to a whole new world of random strangers.
RandomGirlsOnCam Features
The site is extremely simple and streamlined, which is part of its charm. While regular cam sites offer features, countless tags to make your head spin, and can also be unreliable as far as model quality, RandomGirlsOnCam houses the best of the best. As such, there are no features in the conventional sense, as the site itself is one giant, beautiful search tool. A journey to your surprise live cam lady, if you will.
On the left, you'll see a filtering system, to aid those that prefer ladies who are Mature, Curvy, and perhaps Asian. It's up to you. Either leave things completely up to the gods of live porn, or help yourself to a couple of filters to narrow things down.
Here are a couple of features worth mentioning:
Keyboard - At first, while using your mouse, you may be confused why clicking on these buttons produces no results. But this is no accident. These fun buttons work with your keyboard, which is a hoot for anyone who loves the clicking sounds more than the clinical, office type of sound of the mouse. You can click to your hearts' content and get going on your random ride.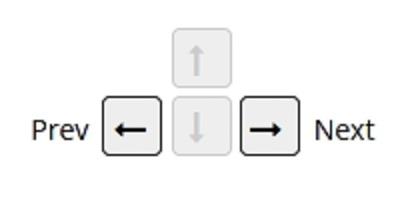 Live Feed Follows - As you read all the info on the site, a small window will appear and will follow you down the page, as you scroll. This is a fun feature because even though you want to learn about the site, you don't want to miss the action. This way, you're still in it, while also getting informed.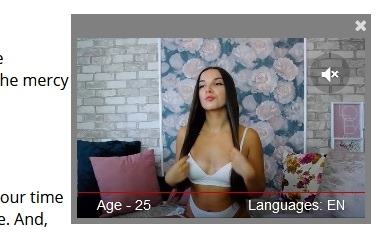 Models & Sites
RandomGirlsOnCam offers 10,000 girls from all over the world of all ages, ethnicities, locations, physical attributes, and fetishes. Just like a game of roulette, it's a completely random wonderland which relies on "luck" alone to bring up ladies you can admire and perhaps choose to chat with.
The way it works is really simple. You click on the big Get Random button, and start rolling the red die. Each room will show what the girl is doing now on her webcam, and present her age and what languages she speaks. The die will lead the way to each performer, until you reach one that you want to explore further. Then, click on Chat With Her and her webcam room opens up in a new browser window.
Once you're in her room, you can explore and figure out her private chat rate, see what chat room features are available, and then decide if you're sticking to your choice... Or perhaps rolling the die again.
You can rest assured that the sites these girls are performing on are not just any live porn ones, but they are among the best live cam porn sites available today. So, you're guaranteed a safe and secure chat experience no matter where you land.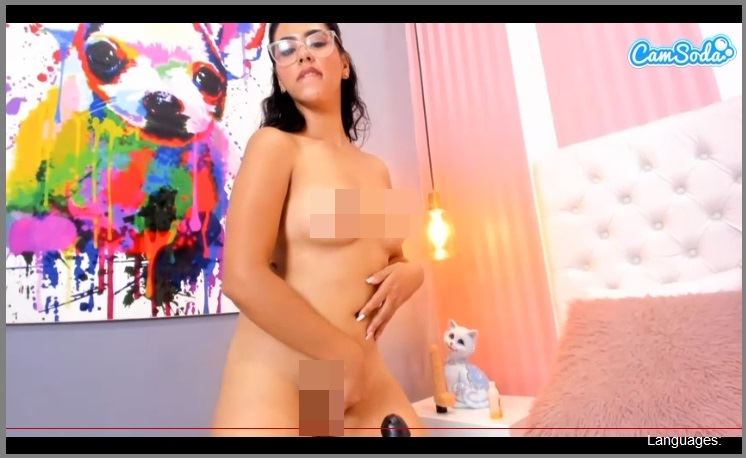 Mobile Experience of RandomGirlsOnCam
RandomGirlsOnCam is compatible with any mobile device, tablet or smartphone. Just like browsing online to shop for some new threads, you can flip through these gorgeous models anywhere, and chat with them even in naughty places which are NSFW. On the sites themselves, the same features and possibilities are available on the mobile version of the cam site, but if you want a cam2cam experience, this depends on the lady you land on. Some ladies will have this feature, and some won't.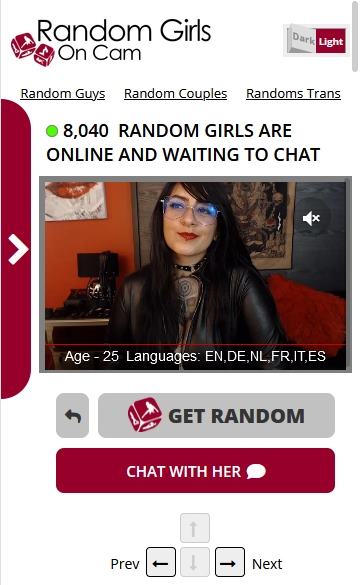 Video Quality
RandomGirlsOnCam is, clearly, random. And though the sites covered in the random rotation are many and superb, not all models have the same type of camera, and streaming quality. So just like the game of luck you play to reach your dream girl, so is the luck of the draw regarding HD quality.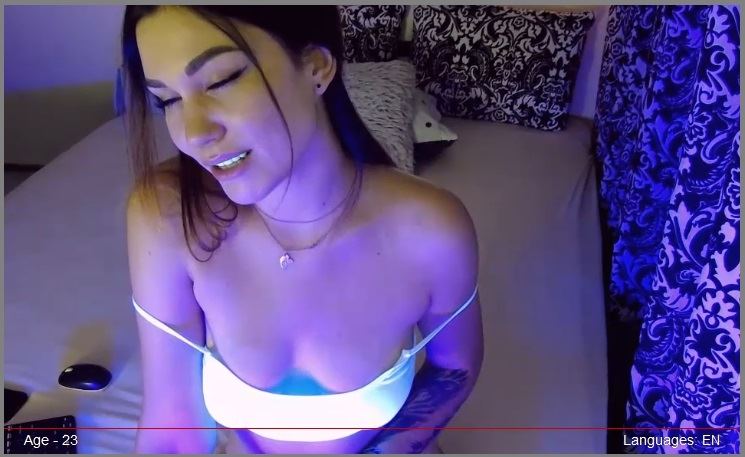 The Pros & Cons
Pros
✔ A wide variety of models
✔ Excellent mobile version of the site
✔ The site is 100% free
✔ No need to register
✔ A basic filter to aid your search
✔ You can use your keyboard as well as your mouse
Cons
✖ It's a gamble!
✖ Streaming quality is a gamble, too
Before You Go
RandomGirlsOnCam is a great site, and a great tool to spice things up in your normal daily live porn routine. Instead of going to your old standbys, why not roll the dice and get random? The sites which converge on RandomGirlsOnCam range from freemium to premium, amateur and pro models, all colors and all sexual proclivities. This fresh approach to meeting random girls might just be what you need to spice things up.