Streamate Review - A River Of Deviant Desires
Hello beautiful people! As you're reading this, I guess you've gotten bored with all the many sex cam sites I've already reviewed, and are waiting for old Tom to come up with another site to review. Well ... as long as you say purleez, I might just go ahead and review Streamate.com for you. Have you said purleez yet? Well, great, cause here I go ...
Let's get down to it then (oo-er, 'ark at him!). Streamate.com is ... go on ... guess ... yes, it's a live sex cams site for amateur models who want to waggle their bits here there and everywhere, and for polite punters who want to see the tasty wares they can get for a bit of their hard-earned cash. The site is around the clock, all year, which doesn't really set it apart from any of the other sites I reviewed so far, so I don't really know why Streamate.com mentions it. I guess they haven't got a lot else to shout about. Anyway, I tried to do a bit of background work on the site as I always do, but I guess I'm not Bendy-Dick Cum-berpatch as I couldn't find out much at all. The earliest version I found of the site went back to 2003, and it was instantly an amateur cam site from the off - no mucking about, then.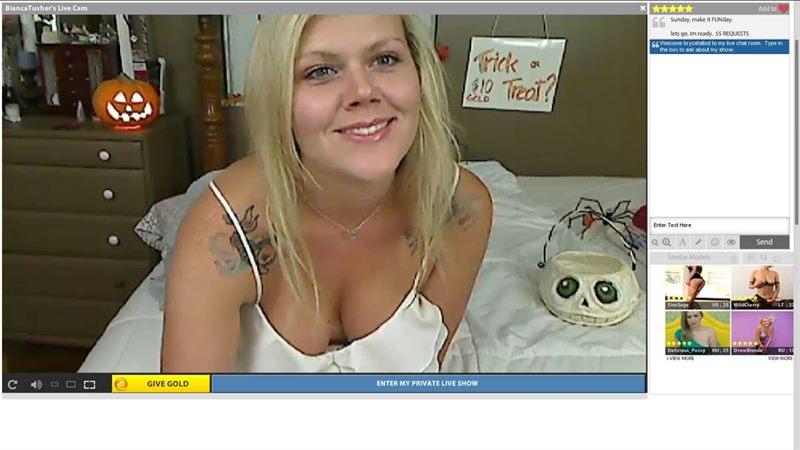 My Initial Thoughts ...
You can have a pit of a poke around Streamate before joining, and the home page pops up with a tidy selection of the hottest amateur cam babes that are online and are hoping to arouse your interest. If the hot cam babes you see ain't enough, there are plenty of lovely and interesting categories on the left hand side of the screen that you might be interested in ... and if you're into GILFs (work it our for yourself lol) then you're going to have very sore wrists at Chaturbate. There's nothing too outlandish like trannies or chicks-with-dicks, but I think most "cum-ly" perversions are nicely covered. Oh and there's plenty of lovely stuff for those naughty boys who like naughty boys as well. Getting around the site is nice and simple, just how I like it, although I must say a lot of finger-findling goes on while you're waiting for the site to do its stuff. I'd much rather be fiddling with something else!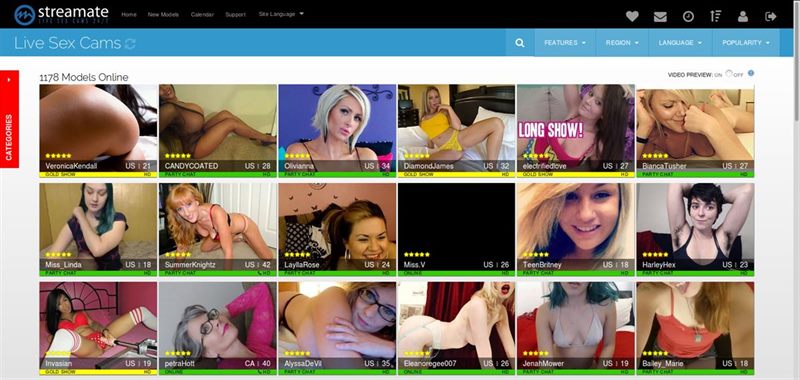 Aside from the categories there's nothing much else you really need to know about the site if you're used to amateur adult chat sites. The menu thumbnails of the girls has a little more information about the kind of stuff you might need to know, such as their location, their age, the standard of their cams and the type of chat they are willing to participate in (more about that later). If you hover your mouse over the thumbnail, you get a little two-line bio about your chosen sex cam babe. There's also a star rating for each x-rated cam model, which is voted upon by paid-up members of the site, so you can see which of the babes on offer is the most likely to be accommodating. The babes are also listed by their rating, so the horniest get top billing.
Those Extra Features ...
The only real extras you're likely to find of interest at the site are the special shows put on by Streamate.com which can be accessed by taking a look at the Calendar at the top of the screen. Even these are not too much to get excited about, as they are just timed shows put up by some of the top xxx cam babes. You might find them interesting though - such as the "Cock Sucking Challenge" in which two sexy girls go head to head and give head to head to see who can suck on the most fleshy love snakes!
How To Register ...
Registering with Streamate requires two fingers and a credit card. The first stage involves typing in a few bits of information about yourself, including the usual username, password and email address. The second stage involves whipping the old plastic out and wapping in the old numbers. You need to register a card at Streamate as all moneys come straight out of your account - you don't prepay credits or tokens as you do at any other sites. Once you've completed your registration, you get emailed your random password (which you can change) and you can then sign-in.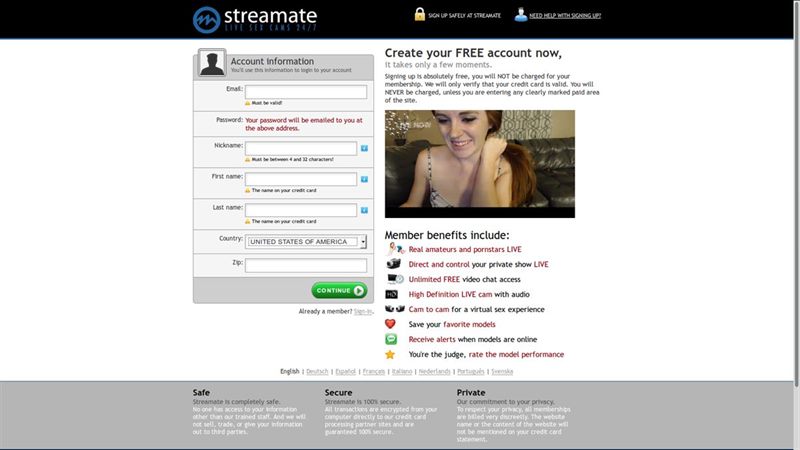 The Ways You Can Chat ...
You can of course chat for free, but be warned, if the sexy cam girl finds you too boring or you ain't tipping, she can kick you out of her freebie chat. There are two other levels of chat: "Gold Shows" and the usual private chat. Gold Shows are where a model promises to "put on a show" if she gets enough "Gold" (I'll explain about "Gold" in a bit) in a certain time limit. To join in with the "Gold" show you need to tip the performer before the time limit is up. If the x-rated model doesn't get enough tips before the time limit is up, her show won't be as sexy as she had promised. The other option is private chat where you just pay for a little 1-2-1 time per minute (the amateur cam model sets her price). You can also cam-2-cam during private chat.
Quality of The Videos ...
According to some reports out there in internet-land Streamate is pretty picky about streaming and only accepts models who can prove their have the necessary bandwidth the stream at least 2MBps, which is gorgeous news for us sex cam lovers. The HD and high-quality feeds do look pretty amazing, and the standard ones ain't too bad either.
How Much It'll Cost You ...
There are no token or credits at Streamate. Everything you pay comes right off your registered credit card. The "Gold" I mentioned earlier is actually just £1, €1 or $1 per piece, depending where you are. If you're worried that your credit card spending might get away with you, you can set spending limits on the site via your profile.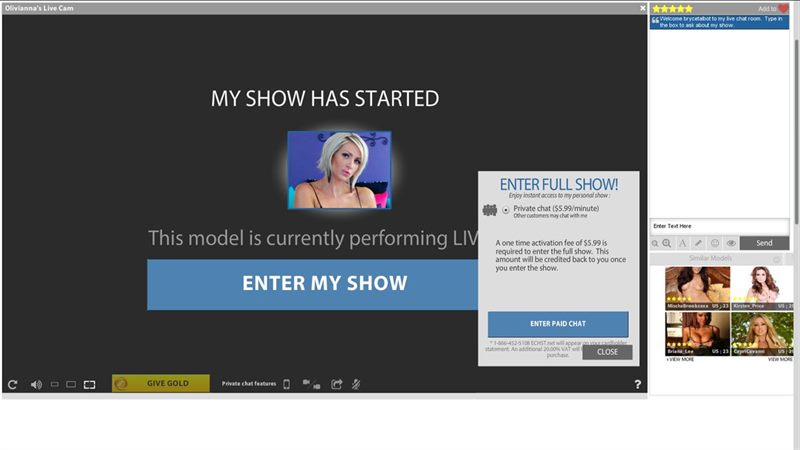 The Ways You Can Pay ...
Any type of plastic with a Visa, Mastercard or Discover logo on it should be accepted by the site.
How Many Models ...
Streamate claims to have nearly 50,000 models, but I assume that's just because it's been up and running for over ten years and that's the number of models who have signed up in that time. Having said that, there always seems to be a fair number of models online - over 1,000 at all times.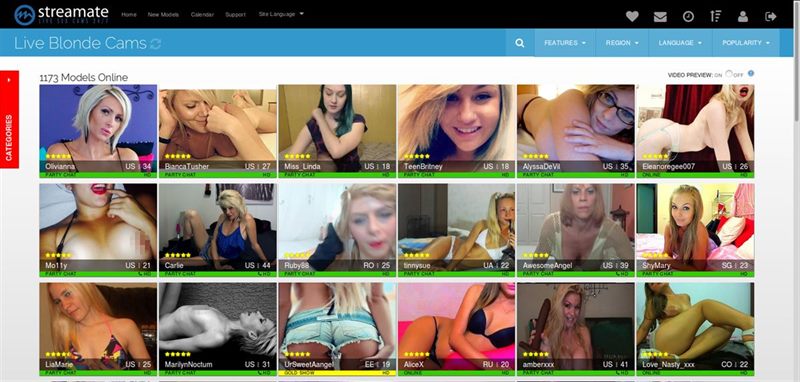 The Support You Can Get ...
You'll find a number of moans on the 'net about the lack of support at Streamline, but old Tom here must have a silver tongue as I didn't find any problems. The instant chat applet I used was great. There's FAQs, and a phone number and email address as well.
The Good & The Bad ...
Good
✔ - The cams load smoothly and quickly, and you're soon chatting away like a good 'un
✔ - The bios are pretty expensive, so you can see what your chosen x-rated babe might be willing to do for you
✔ - The "Gold Shows" can be pretty entertaining, and you can get to see them very cheaply!
Bad
✖ - The chat screen is too large and you can't minimise it if you only wanna watch
✖ - The models can kick you from free chat if you're not willing to tip
Winding Things Up ...
I don't think Streamate is going to make it as my number one choice of an adult sex chat site, but it might certainly find its way up to the top when I've grown bored of all my favourites. There are a lot of hot models at the site, and most of them are quite chatty and flirty, and willing to show a few sexy bits to lure you into their gold shows. Streamate has a decent look and feel to it, and aside from the need to register a credit card to join, I can't find much for old Tom to moan about. Why not pop across yourself and see if you like what you find.
Review of Streamate.com
- Reviewed by
topratedcamsites.com