There Are Plenty of Sexy Babes at Sexier.com, And You Can Pay By PayPal
It's Friday, Friday, gotta get down on Friday. Everybody's lookin' forward to the weekend, weekend, especially me of course, my lustful buddies, as weekends means time to peruse the latest lovies available at another adult chat cam site. So which site is going to be judged by yours truly this week? Hmmmm ... how about Sexier.com? Does it really deserve that title? Is it truly sexier than the rest. Keep reading, horny folk, to find out.
Sexier.com has been around quite some time - since 1997 in fact. I didn't even know they had the intenet in 1997. What did they do, connect all the computers together with cables? Oh yeah, that's exactly what they did! Anyways, I digress. Sexier.com was founded in New York, in America, which you shouldn't let put you off. You watch porn, don't you? Most of that comes from the good old US of A (the United States of Ass). So, Sexier's been up and running for ... oh ... a long time, so they must be getting things right, don'tcha think? Maybe? Anyway, as you shall soon find out by learning from my ineffable wisdom, there's a lot of good at Sexier.com (and lots of gorgeous x-rated cam models of course), and only a couple of things that leaving you feeling a bit flaccid.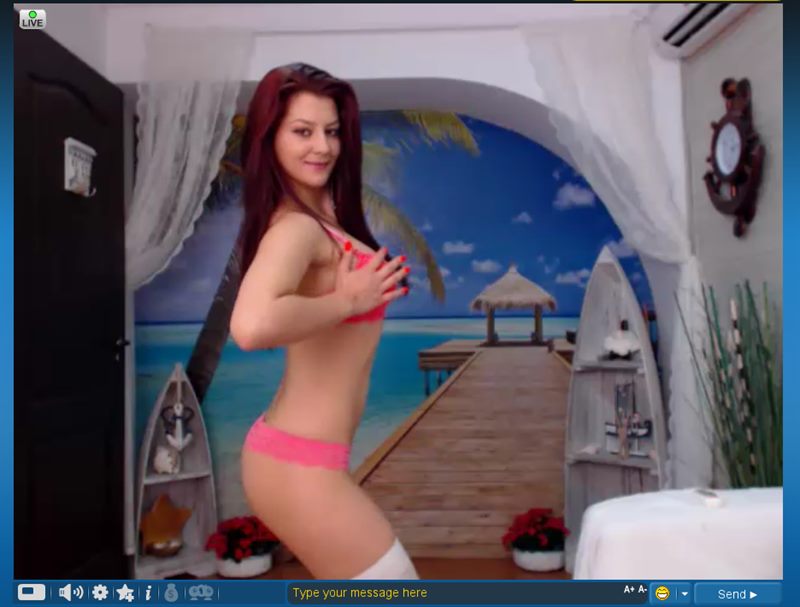 My Initial Thoughts ...
First things first, Sexier.com looks pretty cool. The first time you go up there (and whenever you've cleared your cookies) a huge banner pops up asking if you're over 18, because if you're under 18, then you shouldn't be going there, and I'll tell you why in a bit. I'm sure all those under 18 boys are going to click "No" and then go off and play Minecraft instead ... really. The reason you have to confirm you are over 18 is because there's quite a bit of titillating sexual content on the site that under 18s shouldn't be popping their peepers at. There's nothing that's really raunchy of course (that comes later) but you can certainly play "join the dots" with the nipples. You can access the site and even enjoy a few chats with some of the xxx girls for free without registering with the site. It's certainly helpful for a lookaround, and to see the kind of quality of sexy babe the site hosts ... and there are lots, I can tell you! Free chat means no registration, and if you want to see things turn a little dirtier, you're going to need to sign up and you cannot sign up without registering an account and sending a few beads of cash in Sexier.com's direction.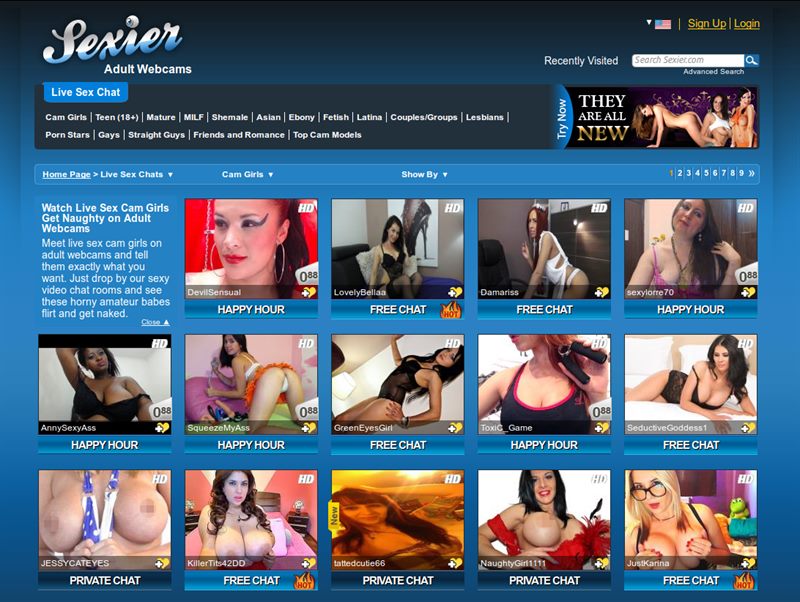 There's lots of lovely ladies (and a few ... handsome hunks I guess) all over the site, and they're all categorised by ... categories, such as Girls, Couples/Groups, Transsexuals, Porn Stars (yes, Porn Stars!), Fetish ... you get the kind of thing. There's also sub categories for more ... individual tastes such as Mature, MILF, Asian, Ebony, Latina and Shemales. There's something for everyone, it's the porn equivalent of Walmarts! Pornmarts?!
Naturally, the most populated section on Sexier.com is "Girls", which has nearly 60,000 cam girls registered. Yes, you read that right, 60,000! That's about the same as the population of Bermuda! I wonder how "accurate" those stats are, as when I last looked of those 60,000, less than 1,000 were online. I wonder what the other 59,000 were doing? Anyway, if you head over into the "Girls" section you're suddenly knee-deep in potential pussy. Lots of lovely ladies all ready to do whatever it is they're willing to do, and you want them to. Only some of the xxx babes are available for free chat - some you can ONLY see if you start a private chat with them, but you can get a little idea of what sexy goodies may be in store when you select their pic, as you get a sweet little video that may just tempt you to explore a little further!
Those Extra Features ...
There's nothing really special about Sexier.com, aside from one aspect that's positively awesome ... Sexier.com is the first web cam site to accept PayPal! That's right, you can pay for the extra special services from the dirty honeys using your PayPal accounts. That's very useful if you have a shared bank account or credit card with someone who might not take too kindly to see you've spent $50 at "Sexier.com" ! Aside from that, the site runs special shows with extra lovely babes - when I last checked it out you could sign up for a special erotic chat with the exotic Jayden Lee!
How to Register ...
You have to register at Sexier.com if you want to see anything more thrilling than a few nipples or a few tactfully place hands in front of some very naughty places. No horny chat for you if Mr Plastic isn't going to play ball! Registration is NOT free - you HAVE to buy at least $/£/€25 (for which you get 35 Sexier.com credits to spend) in order to become a full member of the site and get to meet those sexy babes on a more personal level. As I said before, you can pay for everything on Sexier.com by PayPal, although this isn't made clear on the site. When the moment of payment truth comes, click on "Pay Via Epoch" and as if by the magic the option to pay by PayPal shall appear!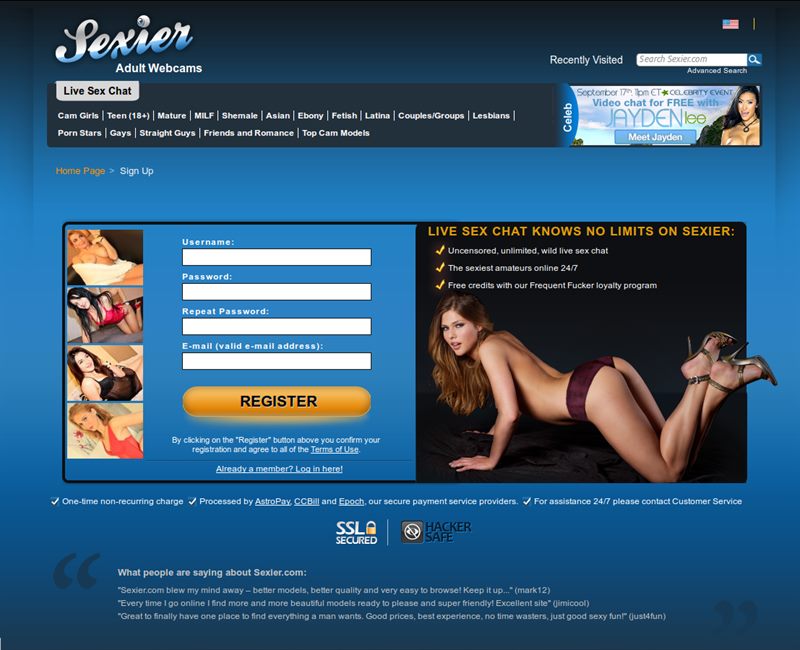 The Ways You Can Chat ...
For the free chat you can just browse around the site. If you have registered, and you find a dishy babe who's gotten your blood pumping through your veins, and you want to get something else pumping, then click on "Private Chat" to take things to the next carnal level. "Happy Hour" is where you can peek into a "private" show for a few minutes for a cut price deal, though you can't talk to the xxx model (or the client).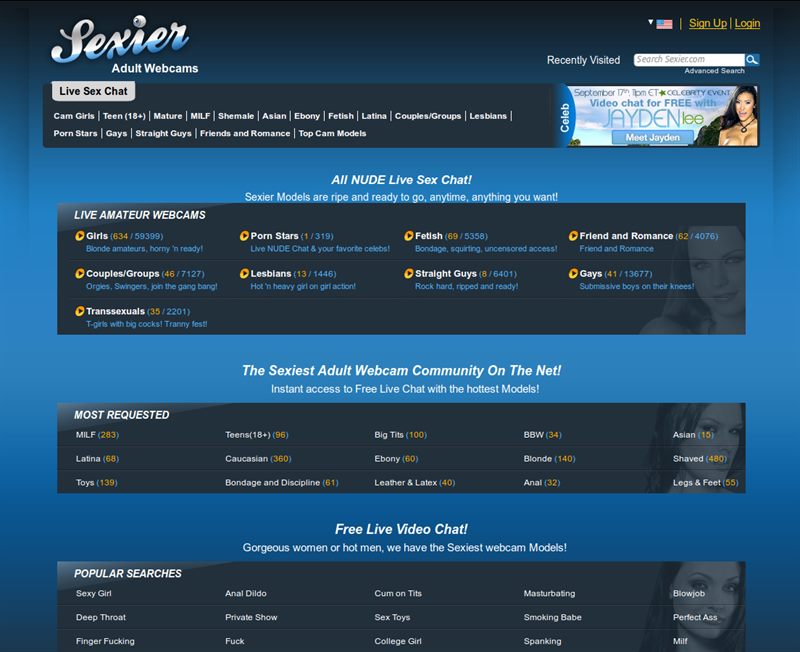 Quality of The Videos ...
Lots of the lovely ladies can stream in HD, and you can too if your bandwidth permits. If not, it's dull old SD for you, my boy!
How Much It'll Cost You ...
... that depends on the model, as they choose how much you need to pay to play, so to speak, and the sexier ones charge the most, as you might expect. You can buy Sexier.com credits as follows:
EURO €
GBP £
USD $
Price
Credits
Price
Credits
Price
Credits
€25
35
£25
35
$25
35
€50
60
£50
60
$50
60
€75
85
£75
85
$75
85
€100
110
£100
110
$100
110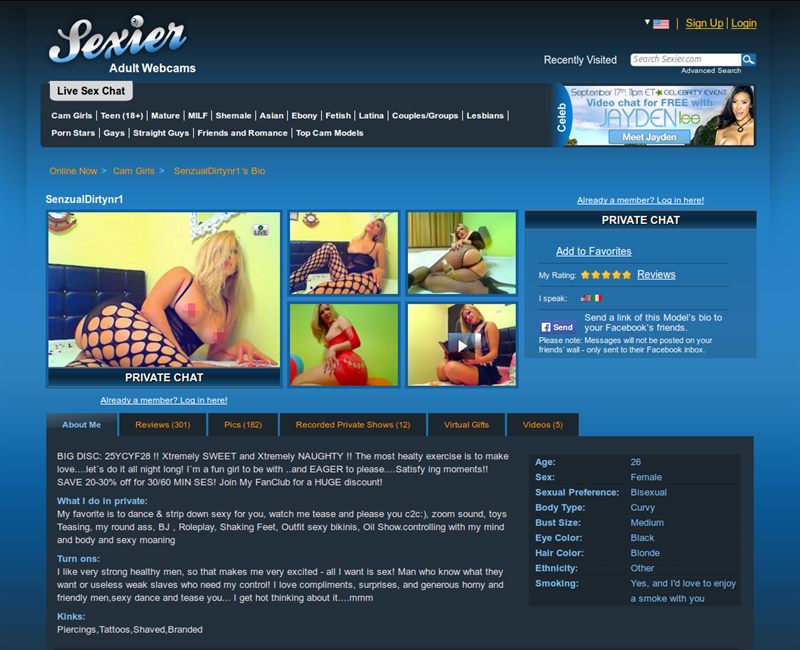 The Ways You Can Pay ...
As I may have mentioned earlier, YOU CAN PAY BY PAYPAL! Also, fantastic plastic like Visa, Mastercard, Discover, Switch, JCB and Maestro. You can also use eWallet transactions like UKash & PaySafe card. And PayPal!
Every transaction gets ten bonus credits, so it's better to buy smaller multiple packages, than one big one. It's the only time lots of smaller packages trumps one big one, I think!
How Many Models ...
Well, the site says 100,000+, but I think that's just how many have registered. I think 10,000+ is a better estimate. That should keep a smile on your face for a while!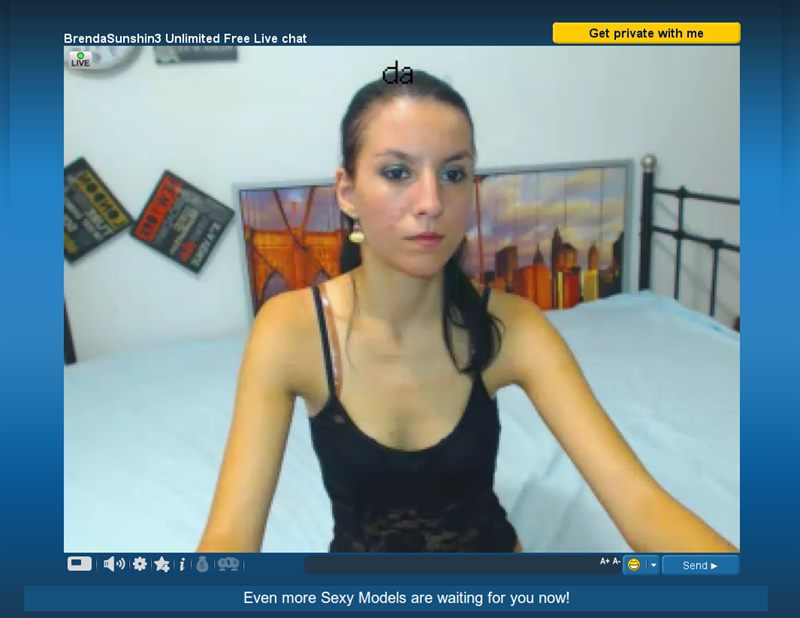 The Support You Can Get ...
Shock! Horror! Email only! I'm sorry, but no matter how speedy those emails get answered, I think live chat is a necessity.
The Good & The Bad ...
Good
✔ - PAYPAL!
✔ - I love the raunchy little preview vids, I really do!
✔ - Live shows with the lovliest, sexiest porn star babes!
Bad
✖ - The site's a little too easy to access for people who shouldn't be accessing it
✖ - The "minimum spend" to join ($/£/€25) is a bit steep.
Winding Things Up ...
Is Sexier.com "sexier" than the rest? Perhaps not quite, but it's certainly well on the way of getting there (although it has had seventeen years to get it right!). There's a lot I like, such as the sexy live shows, the preview vids and the way you can browse without paying a cent. But I think some things need a little bit of an alteration, like the minimum spend ($10 would be much more reason for a tasty titbit). I'm going to sit on the fence with Sexier.com, but when I do fall off, it will be on the "Sexier.com" side!
Ciao!
Review of Sexier.com
- Reviewed by
topratedcamsites.com