XLoveMatures Review - X-Rated MILFs Await
Cheating wives or slutty soccer moms – just give me smoking hot MILF sex day or night and I will say thank you and take it. Obviously, beautiful older women are not always easy to find – especially not ones that will pay attention to guys like me, but luckily for guys like me, there are MILF webcam sites that allow you to meet as many horny moms as you can handle. In this XLoveMatures review I will offer some info and stats, trying to establish if this is one of the best mature cam sites and deserves a spot on my list – or not. I will look into costs, video chat rooms, spend time with the amateur housewives and basically have a wonderful time – all in the name of research. What are you going to do? You're going to follow my lead and together we will discover what this sexcam site is about.

My Initial Thoughts ...
Entering a new MILF webcam site is a bit like a blind date. You have no idea if you're going to encounter a has-been supermodel with a huge bust and long legs or a fugly chick with a mustache and a drinking problem – all bets are off. So, why even do this to ourselves? Because we all want that excitement, that amazing sensation that feels us when we enter a mature webcam site that is just right. Well, as soon as I saw X Love Matures for the first time, I knew it was love at first site, and I am not just saying it because the word appears on the name of the website. Well, maybe 'love' is a bit much. I didn't want to marry anyone. What I did want was to get in bed with every single sexy mom that sat there – plump and wet and ready. I seriously didn't know who to start from. What did I do? I started from the first one and worked my way through.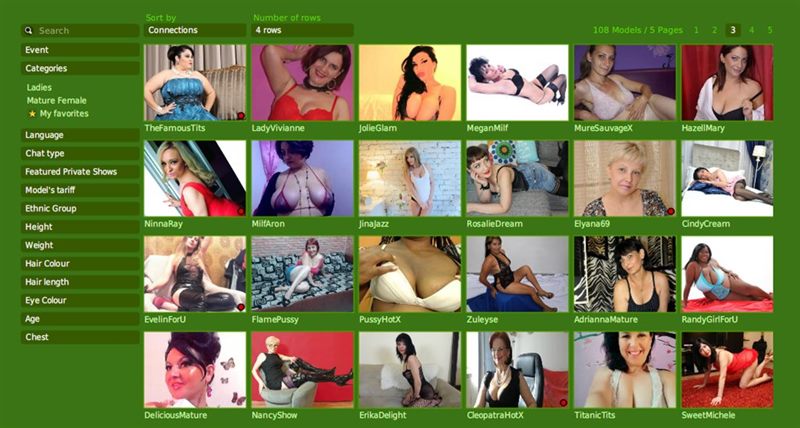 This website has a lot of live MILFs. I was going through the video chat rooms and there were always more and more of them to explore. Chubby moms, long-legged wives, redhead mature women and older Ebony babes – they're all available, although maybe not as many Ebony hotties as Caucasian. This is a mainly European cam service. I don't want you to get the wrong idea: This isn't MaturesCam.com, yet there are enough live sex chat rooms to make sure that you have a nice selection and many of the options are extremely appetizing.
Those Extra Features...
I won't spend much time discussing the features on this live sex cam site. Not because I'm busy – I have no plans whatsoever and I never get enough of talking about webcams, nope the reason I am not going to talk much about this site's features is that there aren't many of them to begin with. Two way webcam – sure, audio – definitely, videos – clearly, but that's it. You can join the VIP club of any model, which means you can watch all of her amateur porn videos and pics, but this is where it ends.
How To Register...
XLoveMatures.com is one of those adult webcam site that I can easily recommend to novice chatters because, in all honesty, it requires no previous knowledge of webcam chat services. You click the register now link, fill in details such as username, password and email and can then start chatting for free as an official member. No investment, no time wasting – sign up and then figure out when you want to buy credits.

The Ways You Can Chat...
Do you know how to chat in real life? You make eye contact with some sexy older woman who you thin is gorgeous and if she looks back and kind of gives you a sign, you come over and ask her some questions about herself and she tosses her hair back and laughs and asks you a few questions about yourself… sounds familiar? Even if you have never actually got to talk to a hit mom in real life, I have no doubt that you have fantasized about this moment often enough and you know how it's supposed to work. The free chats on XLoveMatures are exactly like those chats that I just described, only the babes will be cooperative and nice instead of telling you to fuck off. Had enough flirting? Start a private porn chat – it's NUDE.

Quality of The Videos...
I didn't especially care for the video chat windows on this site – there are way too small in my opinion and image quality isn't all that great. Streaming is fine – this website has a satisfactory platform, but the women's cams are only okay and there are no High-def options.
How Much It'll Cost You...
XLoveMatures.com has low cost chat rooms for less than 2 credits per minute. This is a very good price and it means you can watch long sex shows without ending up with a second mortgage and a credit deficit. The VIP clubs are also not particularly costly and their average monthly-fee is 15 credits, give-or-take a few credits. Notice that unlike some of the leading MILF webcam sites, here a credit costs more than a dollar, so weigh that in when you calculate the cost, because it can be a bit confusing.
Here the web cam credit packages that I found when I joined, but remember that sometimes different adult cam sites present different packages, depending on your location.
| | | |
| --- | --- | --- |
| Number of Credits | Cost in USD | Cost Per Credit |
| 25 | $31.20 | $1.24 |
| 50 | $62.41 | $1.24 |
| 100 | $124.83 | $1.24 |
The Ways You Can Pay...
When you want to add money into your XLoveMatures account, you will need to buy credits by using one of several payment methods. The standard Visa, Maestro and MasterCard are all accepted by this website and you can also pay with PayPal, Bitcoin and a regular Bank Transfer. I have no idea what a Paysafecard is – but it's a prepaid card, and you can also pay through the phone or with DirecteBanking.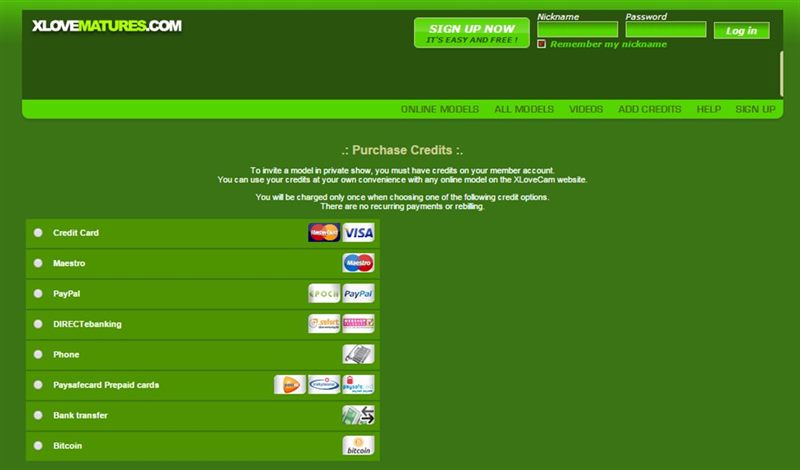 How Many Models...
X Love Matures has around 9,000 mature webcam models. I was determined to provide my readers with the most detailed XLoveMatures review that ever was, so I have ventured into the web pages of offline models and am proud to say that out of the hundreds of babes I've checked – the vast majority were hotties. There are some busty curvaceous ones and some skinny chicks – but I was more than pleased with all of them. How many live chat rooms will you encounter? I'd estimate this number at around 130 to 180, depending on when, exactly, you login.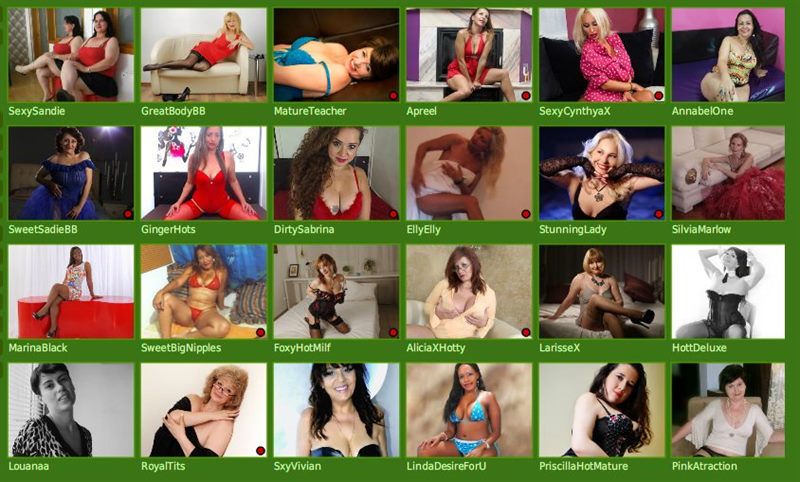 The Support You Can Get...
One click on the Help tab and you will find all the assistance you could hope for – including links to the Customer Support. This mature cam site also has a nice FAQ page. Care to guess where it is? That's right! Click the same Help tab.
The Good & The Bad...
Good
✔ - Many sexuality-starved hot MILFs
✔ - Efficient search tool
✔ - Cost for nude chats is pretty low
Bad
✖ - Small and unimpressive chat window
Winding Things Up...
XLoveMatures.com, at least in my opinion, is a fantastic MILF sex chat community. It manages to serve up a big portion of lusty, sexy older women and a big choice of stay at home moms and they are all, evidently, senselessly bored and equally horny. You can chat without overspending and while the streaming and image quality could certainly be improve, I feel that this is only a single disadvantage and it pales in comparison with the many advantages that this site has. The next time you want to get personal with 'Moms I'd Like to Fuck', this is a webcam chat community you should consider. In fact, why don't you try it now? It doesn't hurt to get a taste.
Review of XLoveMatures.com
- Reviewed by
topratedcamsites.com