TSMate.com - The Place to Go For Your Erotic, Transsexual Enjoyment
Last updated
January 19, 2021
Pros
Mostly HD rooms
Exclusive models
Big variety
Pay-as-you-go
Cons
Pricey top models
Tame free chat
Hello my sex cam darlings again. It's your old pal Tom, ready and raring to go with another super sexy top rated cam site review. Once again, I've locked my "tit-loving" Tom persona back in the cupboard, and out of my closet comes "tranny-loving" Tom! Yes, transsexual lovers, I'm going to be telling you all about another top rated shemale site, and this time it be TSMate.com that I am going to tell you all the juicy details about.
So, what does TS stand for? Tranny Sex? Transgendered Shemales? Turquoise Slippers? Well, the site isn't letting on, but my money is on "TransSexuals". If you've been paying attention, then you'll also know that the "mate" part of TSMate.com is very like the "mate" part of the main porno cam site, Streamate.com. "Are they connected?" I am sure you are asking yourself. Well, no head-scratching is necessary as I can reveal the deal between TSMate.com and Streamate.com is exactly the same as the connection between MyTrannyCams.com and LiveJasmin.com, so the two sites share the same models, and kind of the same functionality, and have been doing so since September 2007. I was okay with Streamate.com, so I am thinking I ought to be the same with TSMate.com.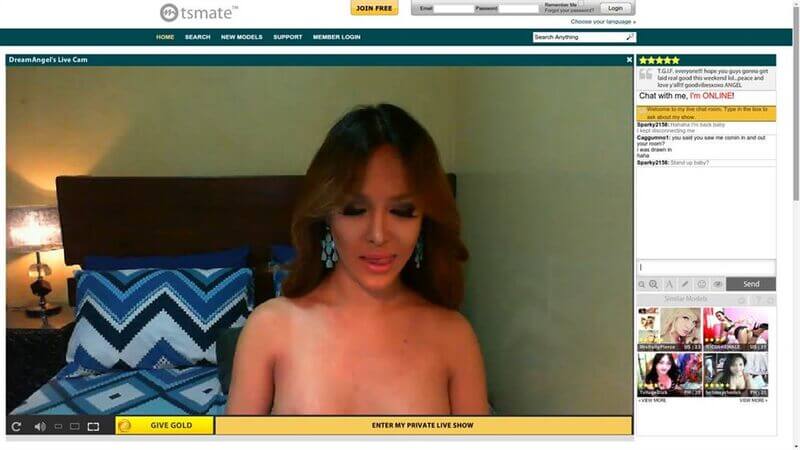 My Initial Thoughts ...
Ah, okay. My first steps into TSMate.com were a little disappointing, to be honest. Unlikely MyTrannyCams.com, which is basically LiveJasmin.com painted a different colour, TSMate.com looks like an earlier version of Streamate.com, and isn't really up there with the very best-looking sex cam sites, tranny cams or not. You get the typical cams-choice menu, with chunky big thumbnails (which gets a thumbs up from me), and a couple of menus - speciality cams like Big Cock and Small Tits (I wonder if those two things go together?). The other menu applies just a bit of filtering - language, location, rating - that sort of thing.
The menu thumbnails of the steamy shemale models have a little tiny bit of info underneath them so you can see if the trammy model of your choice will be accommodating in the special sexy way you might expect them to be. There's no sneaky cam views here - the thumbnail stays a thumbnail no matter how many times your roll your mouse pointer over the pic. You can see the tranny cam model's info, their age and five star rating. You can rate the tranny models if you become a paid up member at the site and go 1-2-1 with them. I must say, a lot of the tranny models were very eager to show off their interesting bits in free chat, so if you're a fan of free cocks and tranny tits then TSMate is very definitely for you!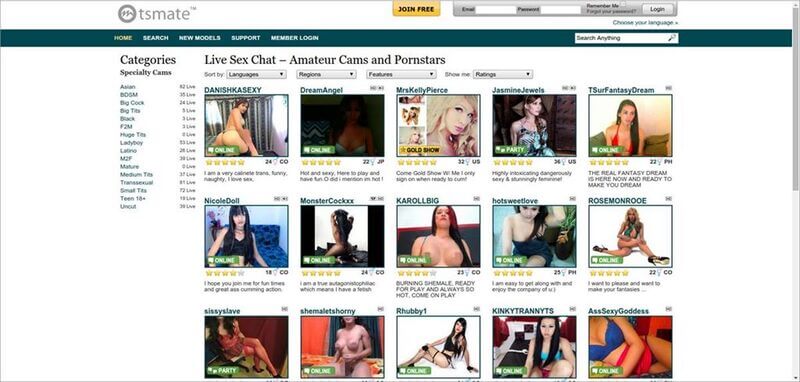 And that's about all I can tell you about the site, as there's not much else to it! It's a stripped-down version of Streamate.com for those folk who just want to watch trannies in action and to dictate what the simmering she-males get up to!
Those Extra Features ...
Uh-ho ... nothing extra for you to worry about!
How To Register ...
You need four things to register at TSMate.com - a username, a password, a valid email address and a credit card. Yeah. I am afraid just like Streamate.com you can't become a full member at TSMate.com unless you can register a valid rectangle of punched plastic. This because there's no pre-buying of credits at the site - everything you pay for comes straight off of your card. One more thing - if you're a member of Streamate.com you're automatically a member of TSMate.com, so there's no need to register for both sites.
The Ways You Can Chat ...
There are four ways to chat:
Free chat, for which you don't need to be registered. You can only see what you type, and what the model types back to you, so it's a bit like private ... but not.
Party chat, this is more like the "public" free chat at other top cam sites. You can see what everyone else is saying.
Gold Show. The sex cam tranny will set up a show, detailing what she is prepared to do, and the price that has to be reached for her to do it. Anyone can chip in "Gold" at $1 a time, and if the total is reached within a certain time limit, the show must go on! If the total isn't reached, everyone gets their gold back.
Private chat, the usual 1-2-1 for which the sex cam model can charge what they like on a dollar-per-minute basis.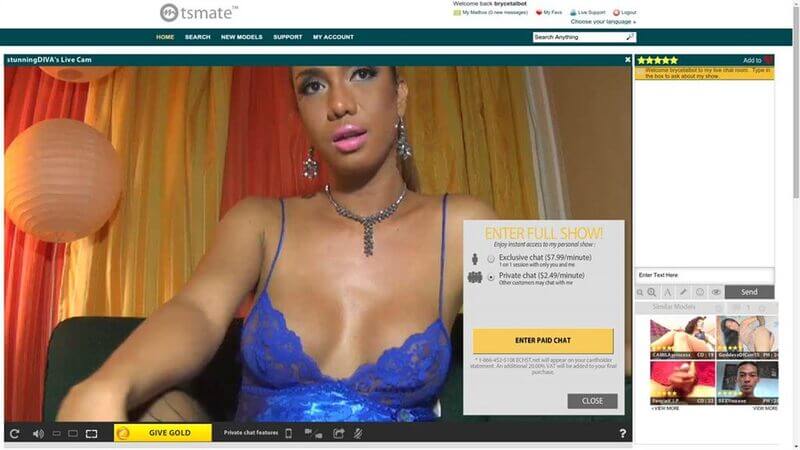 Quality of The Videos ...
... is not too bad. It streams very smoothly, but sometimes that takes the definition down a peg or two. I've seen better HD, but then again I've seen a lot worse. The SD is okay as well.
How Much It'll Cost You ...
Everything is taken off your card as you watch. The models can charge from between $0.99 and $9.99 a minute for a show, but most charge between $1.99 and $3.99 a minute.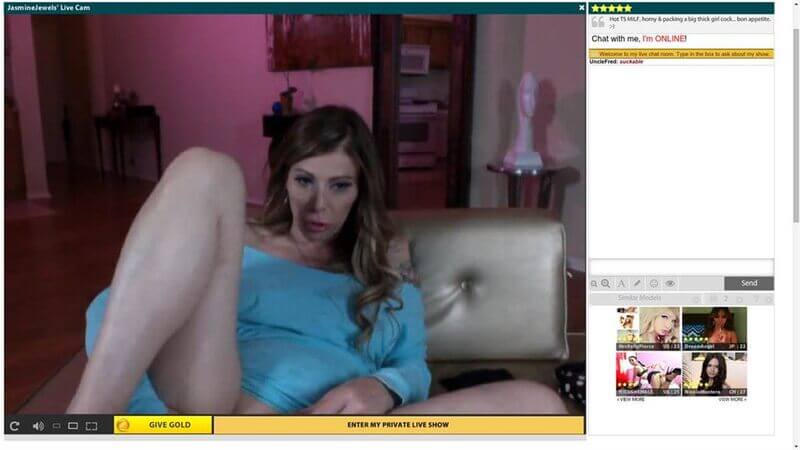 The Ways You Can Pay ...
Nothing but plastic. If you have a card with MasterCard, Visa or Discover, then you will be fine. If you don't want to hand over your precious card details, then TSMate.com will be only be for free chat for you.
How Many Models ...
These tranny cam models are the shemale models available at Streamate, so as you can guess there's a decent number at 1,400 or so. You can usually select from a fair few whenever you arrive at the site.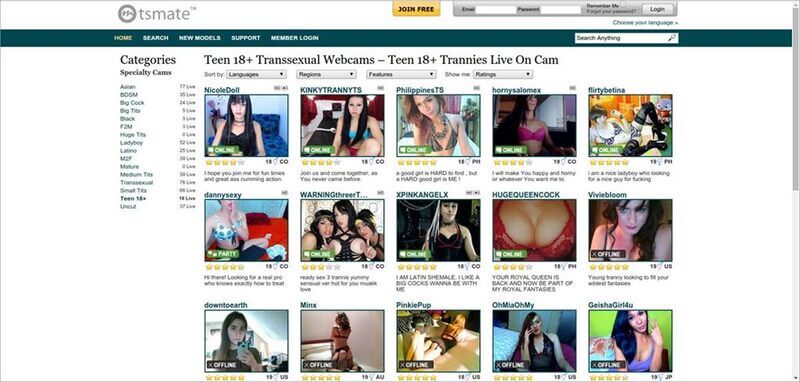 The Support You Can Get ...
You can help from live chat (I have used the Steamate.com version and I'm guessing it's the same guys, and I was more than satisifed with the experience), and there are contact details for email and phone.
The Pros & Cons
Pros
✔ - The shemale models - they get very raunchy, even in free chat!
✔ - No need to buy credits.
✔ - A decent selection of shemale models to choose from.
Cons
✖ - Hmm ... well a few extra items to spice things up would be an idea!
✖ - You can't do anything other than free chat unless you register a credit card.
✖ - Most of the models beg you to go private as soon as you enter their cam room.
Winding Things Up ...
The best thing about TSMate.com is definitely the sexy tranny models! They are certainly pretty keen to get up to some pretty raunchy stuff, even in free chat. Of course, you can't dictate the action if it's free, and the model will quite often beg you to go private (although I did meet a few nice ones) and then kick you if you refuse. I don't like the fact that you have to register a credit card to register at the site, but then again the only reason to really register at the site is to pay for gold or 1-2-1 shows, so it does make sense! Anyhow, enough from me ... why not go and explore TSMate.com yourself and see if you agree with me?