Streamen is a Popular and Naughty Gay Webcam Site
Last updated
January 14, 2021
Premium
Clothed Free Chat
Pros
Mostly HD rooms
Exclusive models
Big variety
Pay-as-you-go
Cons
Pricey top models
Tame free chat
There are many different styles of gay webcam sites. I am not just talking about good ones or bad ones, although the industry has plenty of both, but about the character, the feel and the atmosphere. Some sexy cam arenas are 'serious' – business like, focusing on providing the highest quality of webcam sex and nothing but. Others are goofy – packed with fun features that are about creating a community, not just a place to view shows and leave. As this Streamen review is about to demonstrate, this is an amateur webcam site that takes 'kinky' seriously. It's a sexcam site for guys who enjoy dirty activities and the amateurs online do whatever it takes to keep their crowd happy and coming back for more.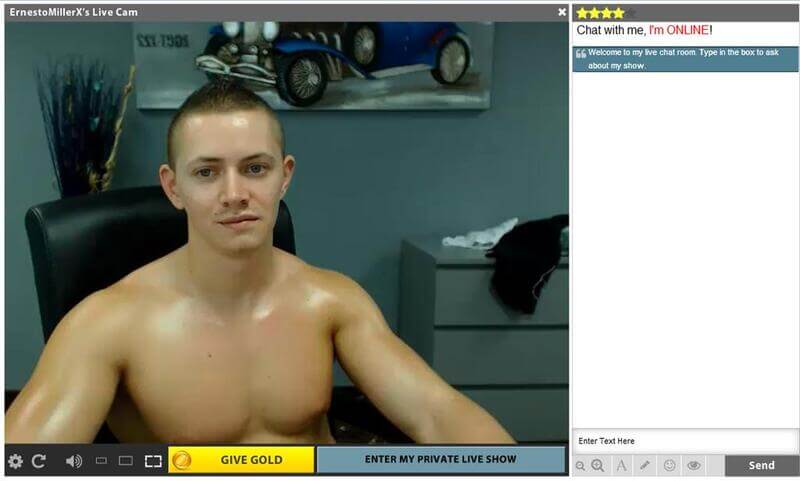 My Initial Thoughts...
I was very happy that I finally got around to writing this Streamen review. I have heard quite a bit about this gay webcam arena, which has numerous fans from all over the planet. This is an amateur sex chat community, which is very clear to anyone who visits it. The men are hot, but they're also diverse – Ebony, Caucasian and Latin gays and plenty of them. When I visited the website for the first time, I started with a few free chats, and they were nice. Not amazing – most of the men were just sitting there and typing, but they were very friendly and some were dancing and teasing, which was even better.
I was disappointed though when I decided to sign up and found out I had to use my credit card. I didn't need to buy credits (which are called "gold" here), but the free membership still demanded that I enter my cc details. The porn webcam shows were of course very different from the free chats. The men on Streamen.com are known for being a kinky, filthy bunch and I have participated in a couple of group shows and several 1-on-1 sessions and was totally satisfied by the intensity, rhythm and style. I am sure you will feel the same. There weren't too many activities to try between the shows the shows though – just gay porn videos, which you need to pay for.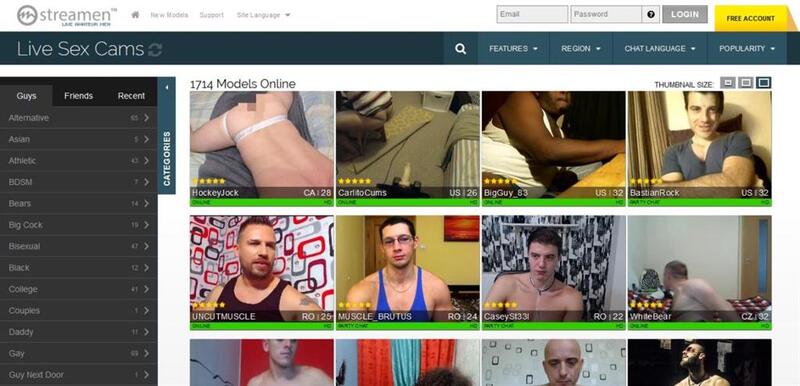 Those Extra Features...
Don't expect any exciting features on Streamen – you won't find any, but the standard ones are available and you can chat, watch and even show off your own stuff on cam without any difficulty.
How To Register...
You must list your credit card details in order to become a member of this gay webcam sex site, something which I don't approve of, but can hardly do anything about. Membership is free though and it doesn't take long to sign up.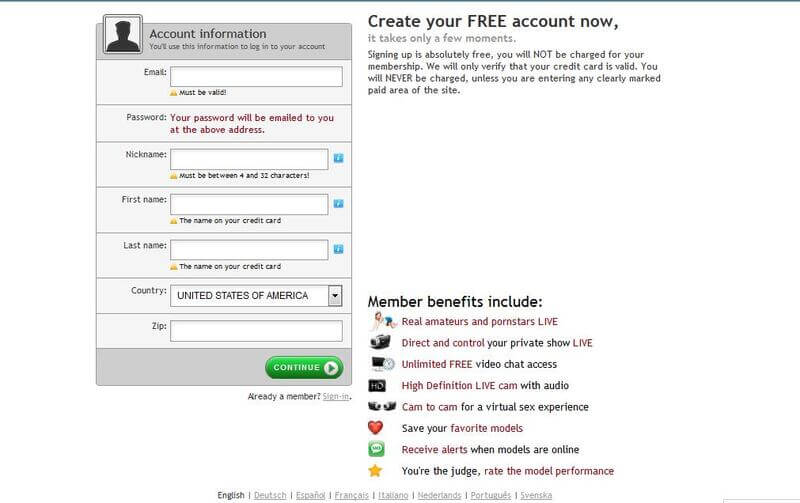 The Ways You Can Chat...
You can chat for free on Supermen.com, but the kinky things only happen during paid chats. Most of the chat rooms feature one guy, but there are a few with couples. Happy Hour is a group show, where a few guys watch one performer and "share" his attention. Men can direct in turn – three minutes each, and the price is much lower than a regular nude chat. This can be fun, or a mess, depending on the model and the other guys who watch, so it's a bit f a gamble.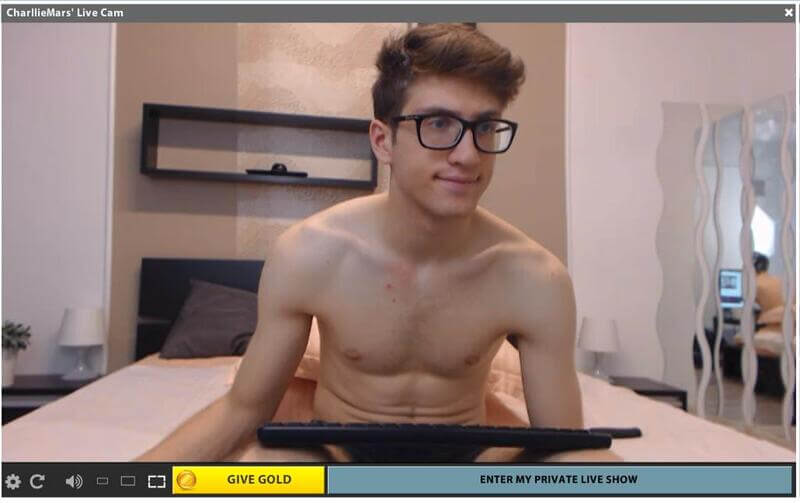 Quality of The Videos...
For the most part, the men on this sexy cam arena do have good web cameras and the website itself has very good streaming – it is a professional and advanced platform after all. I would advise that you check each guy's cam before you launch a paid porn show though. A few of the guys I chatted with could do with a better web camera.
How Much It'll Cost You...
If you haven't had a lot of experience with adult webcams, you should know in advance that amateur chat sites have an advantage: The guys set their own rates and a disadvantage: The guys set their own rates. The fact is that many amateurs charge a very low fee, meaning you can watch cheap porn shows, which is great, but some overcharge, and you need to watch out for exaggerated rates. Streamen.com has a reasonable average cost of 3.99 credits per minute, but some men will charge as high as 9 – way too much. Also note that if you want to lower costs, join Gold Shows. They tend to cost much less than standard sexchats and can be as cheap as a credit or two per minute.
One credit by the way, which is called Gold on this adult web cam site, costs either $1 or €1, depending on where you are from. Sorry guys, it's more expensive to be Europenan.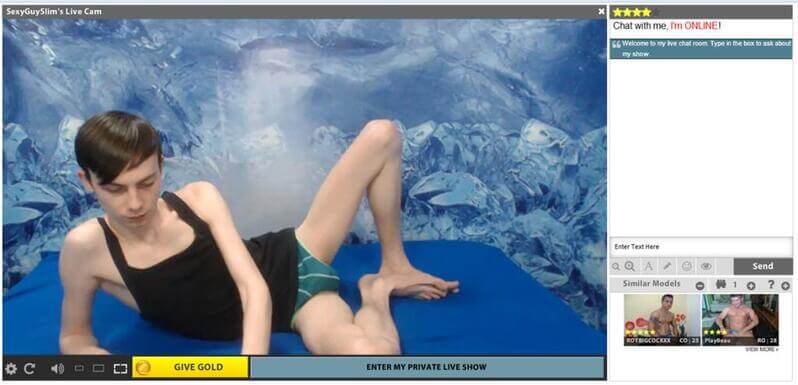 The Ways You Can Pay...
There are no special payment options on Streamen, and when I say 'special' I mean PayPal, Bitcoin, etc. Nope – here you can only pay using MasterCard, JCB, Discover or Visa. Hopefully, you can work with that. Who doesn't have a Master or a Visa nowadays?
Memberships
As I mentioned earlier in this Streamen review (at least I think I did, if not – I do now), the basic membership on this gay chat community is totally free, but requires that you type in your credit card details.
How Many Models...
I would estimate the number of registered sexy gays at around 9,000 or so, and you will meet about 80 or 90 of these studs online when you come by for a sexy visit – although of course some times are much more busy than others. Although this is an amateur webcam service, many of the men look like models, or at least hot enough to work in modeling, and I am sure you will very much like your options.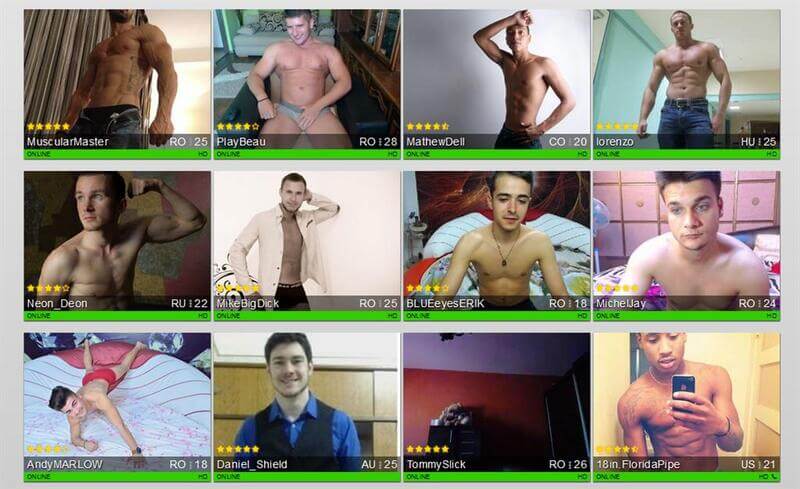 The Support You Can Get...
At the bottom of every page you can find the links to the Customer Support and FAQ page. You can receive assistance via email, phone or even live chat – which is great if you're like me and don't have patience to wait for someone to get back to you.
The Pros & Cons
Pros
✔ - Simple navigation and easy access
✔ - A smoking hot variety of live porn shows
✔ - Enthusiastic amateur models
Cons
✖ - Some of the guys charge more than they should
✖ - There are no special features available
Winding Things Up...
Streamen is a nice gay web cam site – not an unbelievably good one, but certainly one with some clear advantage. The quality of the shows is not always consistent, but you can easily find a nice-looking man who would give you a live porn show you will enjoy, and chances are he won't be shy about getting extra kinky, if that's what you're into. If you still have any questions after reading this Streamen review (I always do my best to cover all the basics, but some folks have some very peculiar interests), just go to the site and do some real-time research. You can enjoy some free chats, even before you join, and if you discover that you're having some fun, join and start watching some XXX shows.