Flirt4Free.com - Flirt Away, Then Get Your Wallet Out For X-tra Fun!
Howdy howdy howdy! I'm sat here on my settee with a lovely big glass of red wine, my cat at my feet (the online pussy I'm close to at the moment I am afraid) and my laptop on my lap ... I'm all snuggled and ready to bring you yet another (yes, another!) one of my ace top rated cam sites reviews. Aren't you lucky!
Okay, let's go. My friends, the site I am reviewing for you this time is the very hot and sexy site Flirt4Free.com. Of course, the immediate question you're likely to ask is, can you flirt for free? Well, of course you can my darlings, flirting at the site is completely free, but if you want to see things that are beyond flirting then you're not got to get much for free. In fact, you'll be surprised at how much you'll be paying to see SOME of the models, I can tell you! Anyway, Flirt4Free.com has been around since 1996. It's hard to believe the internet was around then - nearly two whole decades ago. Really? Oh well, I guess so - I wasn't even in school in 1996, and I definitely thought girls were horrible, icky monsters. Good thing I eventually changed my mind, eh? Anywho, Flirt4Free.com has been doing okay since 1996 (like me) and has won several awards for bringing the best and the sexiest camgirls to the attentions of sex cam fans every since!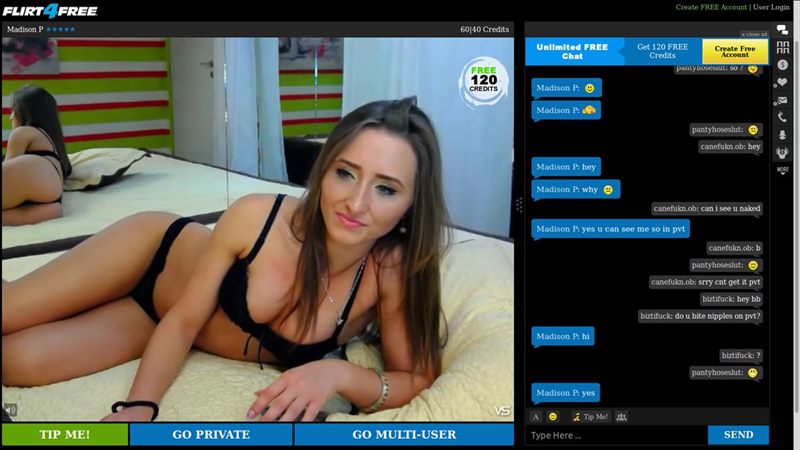 My Initial Thoughts ...
Pop over to Flirt4Free.com and it's deja vu all over again. If you've been following my brilliant reviews you'll no doubt be familiar with the kind of layout these kind of sites all seem to go for, and Flirt4Free.com has not decided to buck the trend. There's the usual array of tasty camgirl pics for your to look over, and if you see someone who gets you tingling "down there" then all you have to do is the usual "mouse trick" and you can see what the devilish devil is currently up to. There's also a very useful gadget in the top right of every pic that lets you know some extra info, such how much the sex cam lady charges for private, and a convenient link for her profile. Finding your way around is easy-peasy.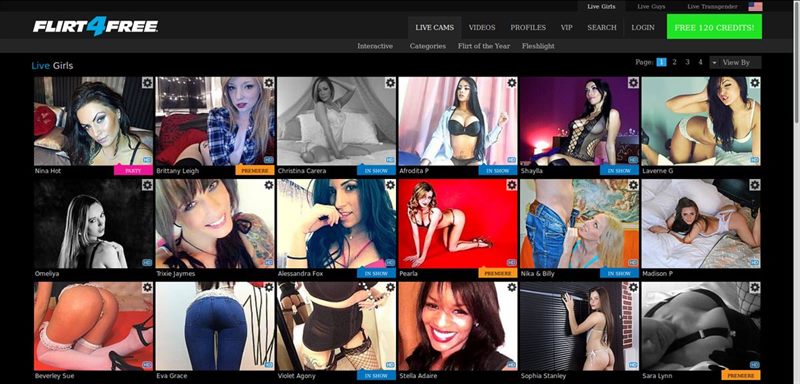 If you arrive at Flirt4Free.com with a special need that needs attending to, then you can take a look at the special menu where all the lovely ladies are presented in a number of distinct categories. You can also see how many of the camgirl models are available to attend to your secret-most desires at that moment in time, which sure is groovy. I am liking what I is seeing so far. If I was making a list of sex cam must-have boxes then after a few moments on the site I'm giving them all a nice juicy tick. The site has plenty of lovely babes and for those who like their own sex, there's lots of (supposedly) hot guys. Oh, and if you're one of those folks who simply cannot make their minds up, then you can pick from the "transgender" section as well. It takes all sorts, and all sorts are definitely covered at Flirt4Free.com.
Those Extra Features ...
Flirt4Free.com hasn't really gone overboard on extra features I must confess. You can save a top hotties list if you're a Premier member and send and receive messages offline as well. There's also a selection of videos of recorded live shows you can watch as well, for a fee of course (there's not a lot of free stuff at the site - it's all money money money). You can vote for your fave camgirls, and at the end of the year the winner gets the "Flirt of the Year" award, which is cool. One extra thing I like - becoming a paid member gives you access to a very well populated forum where you can exchange posts with all your fellow adult sex cam fans.
How to Register ...
This was so easy even my cat could have done it. You'll see a button floating around the site saying "FREE 120 CREDITS" which you need to click. You'll see a screen that takes two shakes of a lamb's tail to fill in, and you'll all set after you've replied to an email the bots at Flirt4Free.com will send you. No need to register a credit card - hurrah!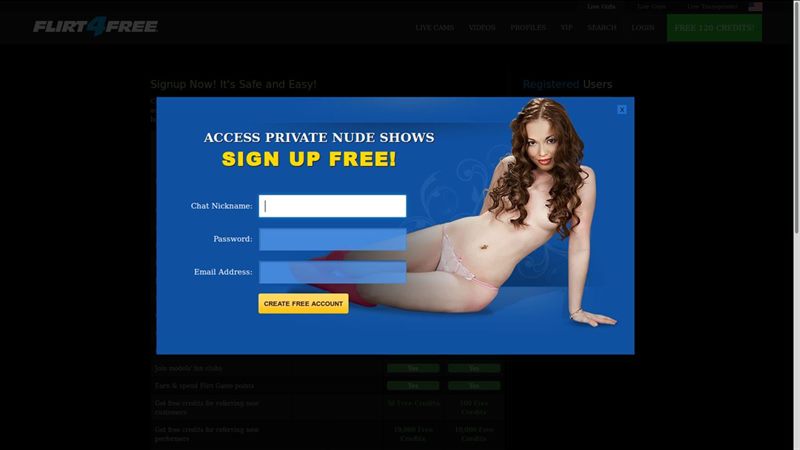 The Ways You Can Chat ...
Lots of chatting options. There's the freebie chat that you know so well, plus the 1-2-1 private sex cam chat that you know so well as well. You can also pop into a private chat that's already started for a discounted fee, but you cannot access the chat window when you do this. You can get together with a few other members for a joint chat if you want, and you can even have a spot of negotiating with your chosen adult cam amateur to see what she's willing to do for the money your willing to pay.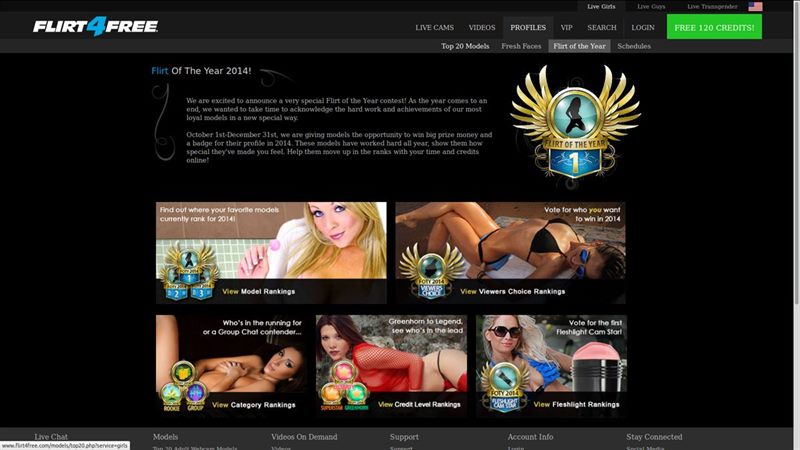 Quality of The Videos ...
It ain't bad, but it's not great either. Some of the HD is so pixelated I swear it's even worse than SD. Some of the models do have genuine, lovely, pixel-sharp HD, so don't just jump into the first cam you come across. Even the hottest girls disappoints if she's stopping and starting and going all blurry every couple of seconds.
How Much It'll Cost You ...
You can get 120 credits for free when you join, but trust me, they're not going to last that long at the site at all! You can buy additional credits at approx 10 cents per credit. The girls can set their own prices and I hear that Flirt4Free.com likes to take a sizable cut of their money, which probably explains why some girls charge 90 credits ($9) a minute!
First time buyers have the following Credit package options: $10 - 240 Credits (90+150 free) and $25 - 415 Credits (225+190 free). Should you choose VIP, this will cost $49.95 per 30 days (includes 300 Credits once off).
For additional Credit packages, mouse over the 'head' icon (top right of the homepage). Select My Account. You are redirected to an accounts information page, situated on the left is a menu bar. Click Billing. Select Add Payment Account. Choose EPOCH.
Additional Credit packages: $25 gets you 225 Credits, $50 gets you 500 Credits, $100 gets you 1000 Credits and $250 gets you 2500 Credits.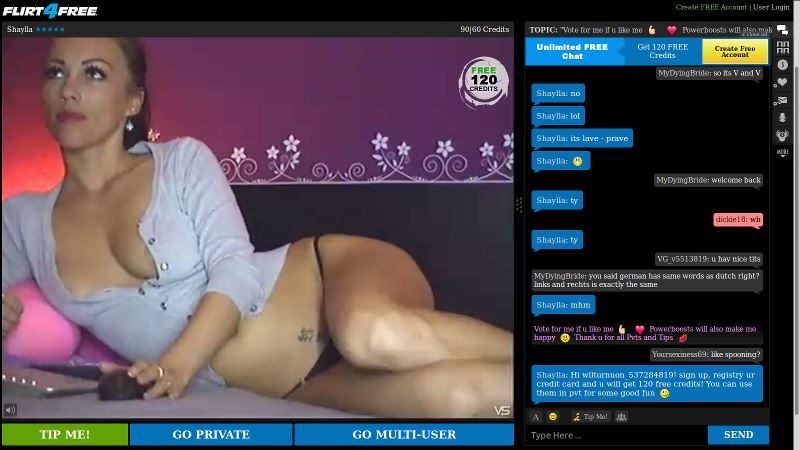 The Ways You Can Pay ...
Another site that only takes credit or debit cards. As long as your piece of plastic has a Mastercard, Visa, Discover, JCB or Diners Club logo on it, then you'll be fine.
How Many Models ...
Only around 5,000 models are active at the site, and typically around 100 or so are online.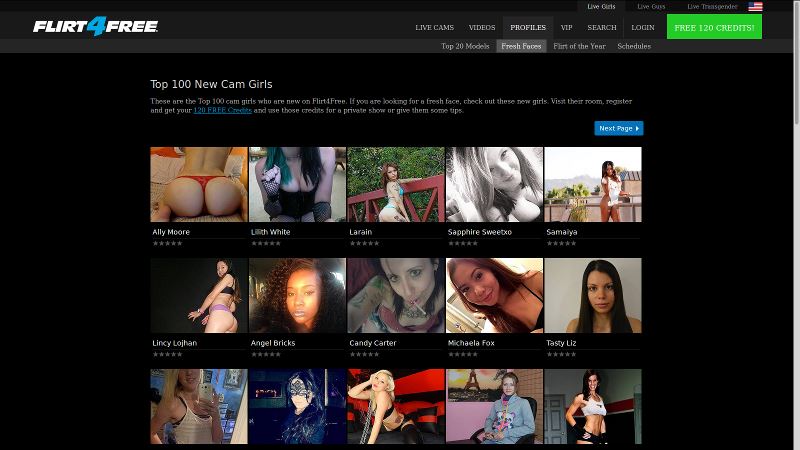 The Support You Can Get ...
The forum will be your supporting friend, plus you can get help from an email address and phone. You can also try the live chat function, but keep those fingers crossed!
The Good & The Bad ...
Good
✔ - You don't need to register a credit card to become a member, although you won't see much if you don't pay
✔ - I like the forum. You feel you're really part of a community.
✔ - Some nice chat alternative which means you can still have fun without spending the Earth!
Bad
✖ - The hottest xxx camgirls charge a great deal. I mean, $9 a minute! COME ON!!
✖ - The quality of the cams is a little hit and miss
Winding Things Up ...
I really want to love Flirt4Free.com, and there's absolutely nothing wrong with the site, but there are other sites that offer the same but are MUCH cheaper. I must admit, the camgirls who charge the top prices are absolutely scorching hot - porn star standards, but I'm not going to pay $9 a minute to get one of them to flick herself off! I can have more fun watching a HD porn movie! The girls who charge smaller amounts are still "mighty fine", so I guess you get what you pay for if you're willing to pay top dollar. I don't have much of a problem with Flirt4Free,com, so I recommend you hop over there and form your own, naughty opinion!
Review of Flirt4Free.com
- Reviewed by
topratedcamsites.com