LiveSexAsian.com - All You Need to Know About The Top Asian Cam Sites
A huge HELLLOOOO!!! Did you think you'd gotten rid of me, eh? Old tit-loving Tom, king (or queen!) of all those fantastic, top rated cam sites that are only ever a search engine and a few clicks of a mouse button away. This time around, my treks have made my poor little footsies sore (and some other things!) as I am now focusing my complete attention on Asian cam babes. So, if you like your adult porn cam sites with a definite oriental feel, then please, keep reading!
Okay, so for my first review of my new Asian undertaking, I'm going to be reviewing LiveSexAsian.com. Hmmmm ... can't help but feel those words could have been re-arranged into a more appropriate sequence, as it hardly trips off Tom's old tongue. I'm just guessing other domains had been snapped up and the guys behind LiveSexAsian.com were not willing to stump up the cash to buy them. Well, LiveSexAsian.com has been around since 2007 as a complete solution for those of you who love to chat (and much, much more) with the delicious cam babes available at the site. Now, if you ain't already scrolled down to sneak a peek at some of my sexy screenshots from the site, then perhaps you ought to as you're going to find you're in very familiar territory already. Yup - you've guessed it! LiveSexAsian.com is owned by those very same folk who provide such lustful naughtiness at Jasmin.com and MyTrannyCams.com!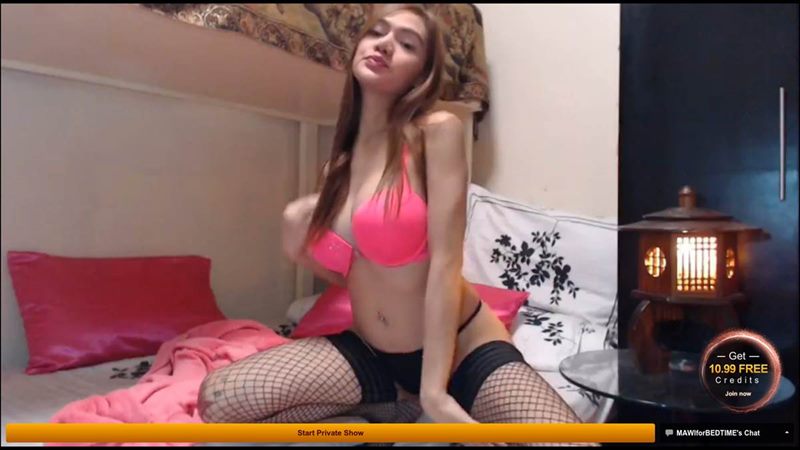 My Initial Thoughts ...
Well, I can't really have any initial thoughts I suppose as I'm such an expert when it comes to these kind of sites I really know what to expect, especially when I come to a site that's basically a clone of one that I already know and love. It is indeed true - LiveSexAsian.com is a version of Jasmin.com where all non-Asian cam performers have been stripped away. Aside from that, and a bit of a stripping of all the functions the main site has, the only real difference is a very lovely colour scheme, which matches my own! Shows they must have great taste!
Anywho, as I said, the site is a very stripped down version of Jasmin.com - a little too stripped down, to tell you the truth, as aside from the cams there is very, very little that has survived the cull! There are a couple of menus - one for girl, boy or tranny, and the other for more detailed selections concerning the type of Asian cam babe you want to be put in touch with - such as hair colour, build, the languages they speak and what they are prepared to do as long as you ask very, very nicely!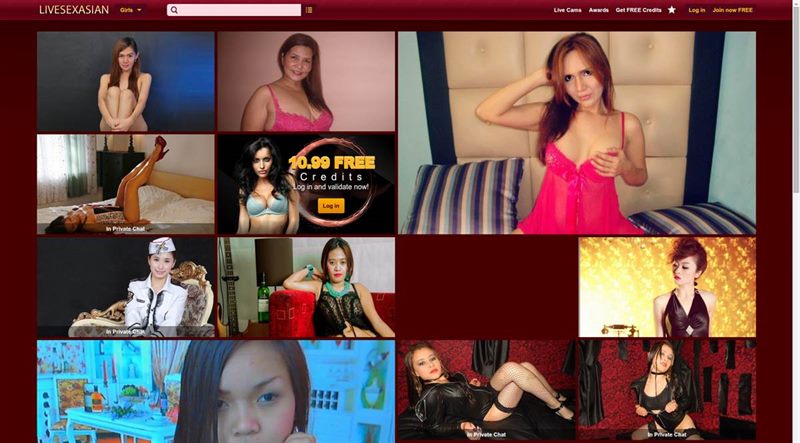 The menu screen is presented in the usual Jasmin.com way, with thumbnails of various sizes depicting the lovely Asian porn cam models. As you will know if you have ever been on a live adult sex chat site before, you can sneak a look at a model's current activities if she's not indulging a punter in private chat at the time. When you enter the cam you do get a few options, such as looking at a model's photo gallery, but not really a great deal else!
Those Extra Features ...
Oh ... well, I suppose you can create a favourites list if you're registered at the site, but that's really all there is too it. The only other "frilly bit" is a list of the top 100 Asian cam models currently on the site.
How To Register ...
If you're a member of either Jasmin.com or MyTrannyCams.com then there is no need for you to register, as your membership to either of those two sites automatically means you're a member of LiveSexAsian.Com. Conversely, register here and you get membership of those two sites thrown in gratis! To register, enter your username, your chosen password and a valid email address you can use to validate your account. All newbies can grab themselves 10.99 worth of credits if they validate a credit card at the site. You can't claim these if you've claimed them elsewhere though, or your freebie sneak peeks.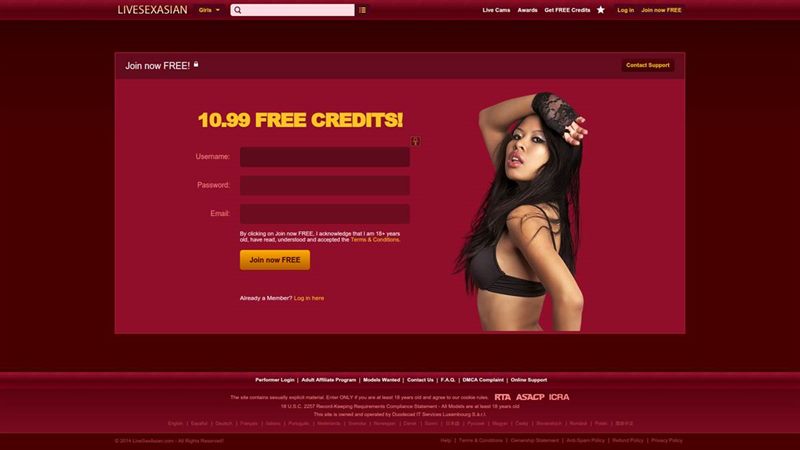 The Ways You Can Chat ...
Only two and a bit, really. There's free chat which comes without any restrictions. If you're happy with what you are viewing and you don't mind paying, then you can move into private chat as long as you can meet the model's payment requests. There is also the "sneak a peek" teaser option where you can pay one credit to sneak a look into a private show where everything is already in motion, for a grand total of twenty seconds!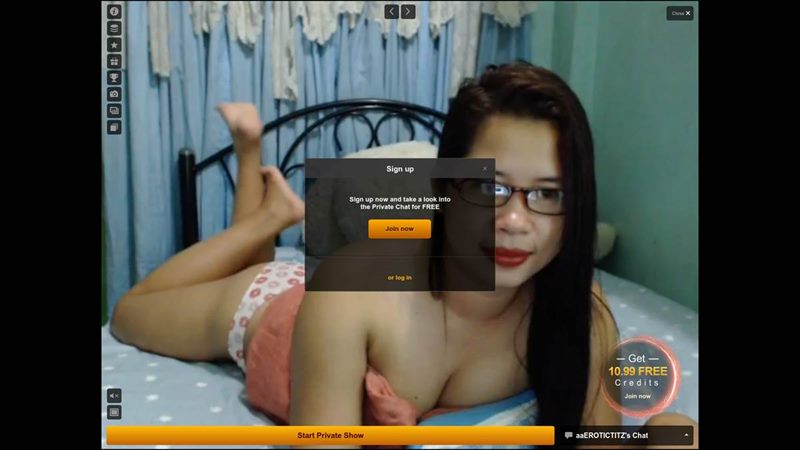 Quality of The Videos ...
Hey, as this is Jasmin.com in all but name, you'd expect high quality cams - and that's what you're going to get! The HD cams are truly HD - all shiny and smooth. The SD is better than the HD I've seen at lots of other sites!
How Much It'll Cost You ...
Same as Jasmin:
EURO €
GBP £
USD $
Price
Credits
Price
Credits
Price
Credits
€29.99
28.99
£18.99
29.98
$29.99
29.99
€69.99
58.99
£27.99
43.97
$69.99
75.98
€99.99
98.99
£65.99
86.97
$99.99
108.98
€159.99
158.99
£93.99
118.97
$159.99
169.98
-
-
£149.99
180.97
Please note that these numbers are fixed for dollars, but fluctuate depending on the exchange rates for euros and pounds.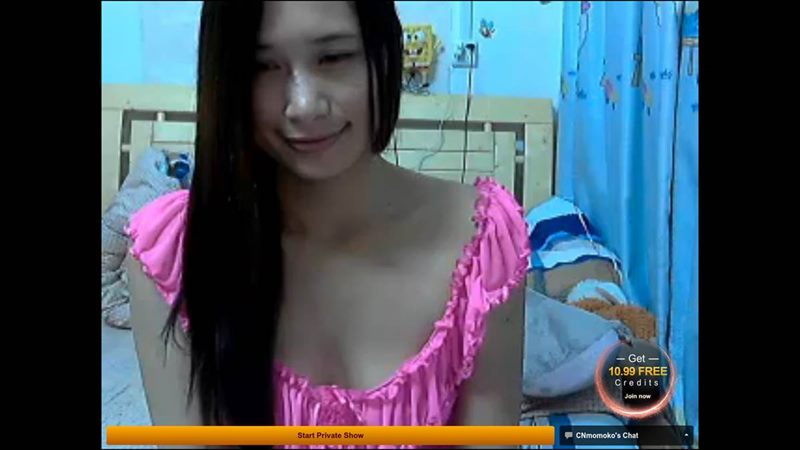 The Ways You Can Pay ...
Lots of lovely payment options - Plastic (of course - Visa, MasterCard, JCB, Diner's Club, Discover, Solo and Switch), plus you can set up payments direct from your bank, and even direct debits if you are a European. Finally, you can "pay by phone" to fund your account - you've given a premium rate number to ring that adds credits to your account the longer you hold.
How Many Models ...
A surprising few - I think there are less than 100 sex cam models of all creeds registered here.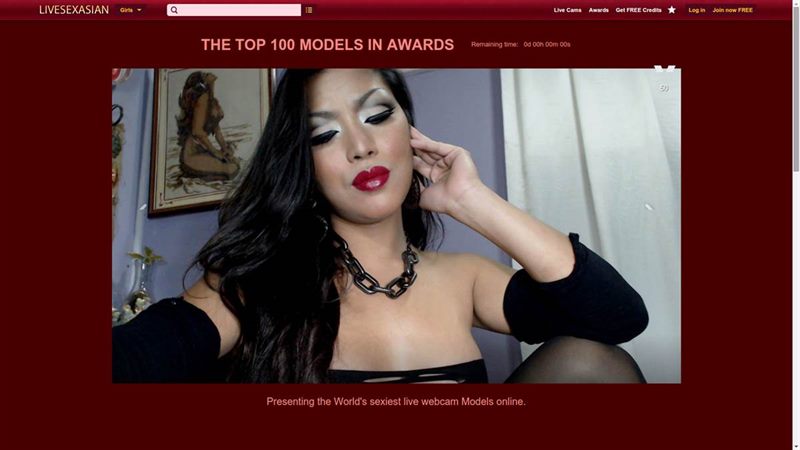 The Support You Can Get ...
Very good as you would expect from a site that has anything at all to do with Jasmin.com. There's a live chat function, and an email address you can use, plus there's a nice FAQ section. Finally, there are a pair of phone numbers you can try calling - one for technical issues and one for billing enquiries.
The Good & The Bad ...
Good
✔ - The standard of the cams is as good as you'd expect from a Jasmin-related site.
✔ - Lots of very lovely models
✔ - Good looking site full of good looking Asian cam babes
Bad
✖ - Not much at all in the way of extras
✖ - Really could do with a lot more cam models
Winding Things Up ...
Well, what can I add? It's a Jasmin-run site, and you should know how positive that makes me feel! All the usual Jasmin-goodness is here, although I still feel the site could do with a lot more in the way of development to really bring it up to those normal high levels of Jasmin brilliance. Sign up and log on if you love Asian cam babes, as there is more than enough to keep you busy and happy at LiveSexAsian.com!
Review of LiveSexAsian.com
- Reviewed by
topratedcamsites.com