LiveSexAsian Review - Erotic Eastern Delights
Last updated
January 15, 2021
Premium
Clothed Free Chat
First Purchase Bonus
Pros
Exclusive models
Great video quality
Time-saving search
Live chat support
Cons
More expensive
C2C costs extra
Tame free chat
The seductive sirens of LiveSexAsian are one of a kind exotic treasures. These pretty Far Eastern princesses combine a demure demeanor with a passion for porn, cementing their place at the top of the rankings for erotic eastern live entertainment. Read on to discover some secret tips and insight on how to get to the most in-demand Asian adult live cam performers when booking a private cam show.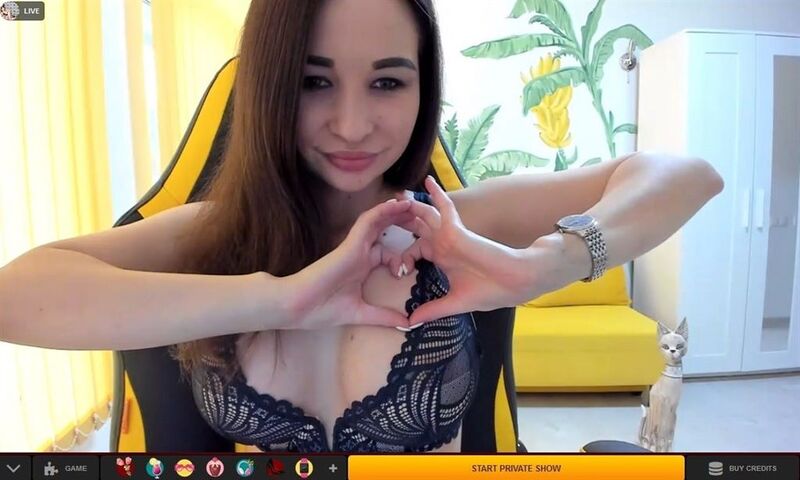 The hundreds of models at LiveSexAsian don't just cover the Asian content but they represent every age group, appearance, fetish and level of live cam experience. From amateur housewives to models trying to make a name for themselves, LiveSexAsian wants them all - but with caveats. By this I mean, even if the horny homemaker is streaming from her futon, she's gotta be streaming in HD or at least high-quality SD. And, if the babe professes to be a dominatrix - LiveSexAsian makes sure she's a fan of the lifestyle and knows how to rule a rod. What the site doesn't have is girls that'll waste your time - and I thank them from the bottom of my horny heart for that.
Now, as you'd expect for a truly inclusive Asian-centric adult cam site, it's not only girls that steam up the screen. Yep - land on the homepage and you'll quickly see an option to look at the shemales and even guys.
For the girls, when it comes to their sexuality, these Asian babes are far more open and flexible than you may think. The site has a strong selection of lesbians, bi-sexuals and at any one time, you'll find the ladies hosting their own group parties that you can join in on.
Cam Models
Apart from the gorgeous cam babes, there's another obvious reason why LiveSexAsian is deservedly one of the most popular adult cam sites for those of you looking to party with an Asian sweetheart, it's the site's clean and easy-to-use interface. The site knows what we want and makes sure we can get to it in as few clicks as possible.
The homepage brings up a library of snapshots featuring all the girls currently broadcasting. The snapshots are posed glamour-style photo shoot images (for the most part). If you want to see more of what the girl really looks like on camera, you'll have to either hover over the image with your mouse for a few seconds to activate a live feed from her room. You'll get a look at what she's doing in real time without having to enter her chat room. No patience to wait those few seconds? You don' have to, just click her image and head right on in to her free chat.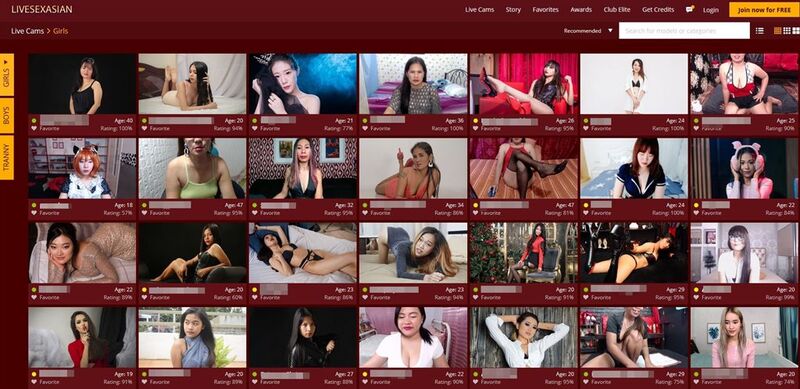 If you know exactly what you're looking for in your new exotic playmate the left hand nav bar on the homepage offers around 39 different subcategories including everything from big tits and hairy pussies to finding chicks that are into blowjobs or anal. But, if you want a big tit, hairy pussy girl that's into blowjobs and anal then you'll need to go elsewhere, as this nav bar only lets you search one group at a time.
If you're more pedantic with your preferences, go to the top right icon featuring three lines and three dots located to the right of the small magnifying glass. This brings up all the 39 subcategories (and a few more). Using this you can click on every search title that you want your new babe to have and only those girls that correspond with all your filters will appear.
LiveSexAsian Feature Highlights
While you're scrolling through the hundreds of photos showing the Asian angels beckoning you in to their world of exotic extremes, you'll see a small circle to the left of their names. A green circle means she's online and hanging out in her open room, waiting for you to pop in and who knows, a quick chat may end with you in a private party.
A yellow circle indicates she's online but someone else has already squirreled her away into a private show. In this case you'll have to draw on your reserves of patience until she's back in her room - could take a minute- could take an hour - first come first served dudes.
If there's an orange circle around the dot, this symbolizes she does an instagram-type story if you follow her, and finally, that dastardly grey dot means she's not at home so you'll have to come back another day to check if she's online. You can also Favorite her, to get notified when she turns on her webcam.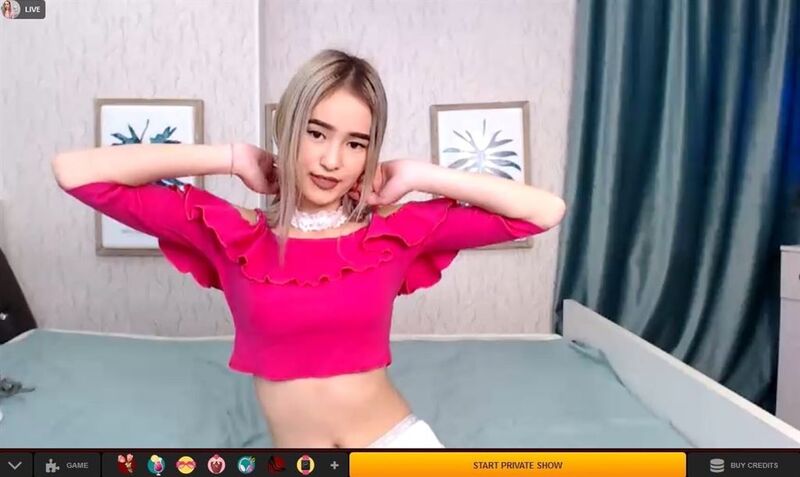 But enough of the info - how about a secret saving secret?
FREE stuff... we all like free stuff, so make sure you get your hands on the freebies at this XXX cam site. When you sign up to the site for free (which I'll explain how to do in a bit), you'll get 10 FREE Sneak Peeks as a welcome gift. If a babe is busy in a private show, you can use a peek and take a 20-second perv at what's going on behind her virtual curtain. Now it's someone else's show, so you can't talk or message her - you're a silent voyeur but it's a great way to get an insight on what to expect if you decide to go 1on1 with her.
Other great features include:
Spin the Wheel for a chance to double the credits you receive on each credit bundle you purchase.
There's generally around 100 Asian live porn performers streaming at any one time.
When you validate your credit card (without having to make a purchase) the site gifts you 10 FREE credits as a thank you.
SALE - girls slash their chat rates for a limited time in pop-up sales.
The site can be viewed in 19 languages.
Most rooms stream in HD or a minimum high-quality SD.
Getting Started
To become a member of LiveSexAsian, the only thing you need is a valid email address. It's a free, quick and simple process. You choose a username. a password and put in a email and you're ready to rock n' roll. Once you've registered the site gives you those peeks I talked about earlier and lets you 'favorite' models so you don't forget who caught your eye and who you want to revisit. It also keeps a My History record of the recent rooms you've visited, which is extremely useful for those of us with memories like sieves.
Another good reason to take advantage of the free registration process is that if you are browsing around as an unregistered guest you only get a minute or so inside an open chat room before a pop-up appears asking you to register. Either you have to go out of the room and then go back in for another minute, or try another room.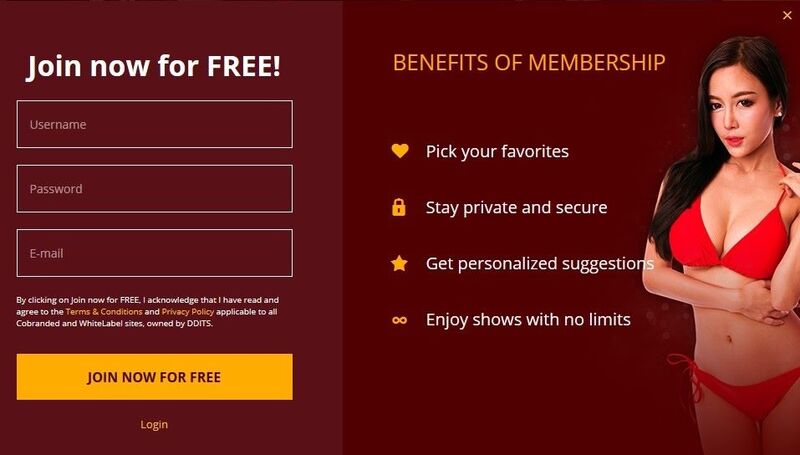 Chat Options & Prices
Making a connection with one of the horny honnies at LiveSexAsian can be done in one of three ways, but only one (Private Show) guarantees you an intimate 1on1 experience.
Free Chat
Visiting a babe's open chat room is obviously the first step in your Far East totty trip. In these rooms you can get a sense of who she is, what she's into and whether she really looks like her snapshot in the gallery. When you hover over the live feed a small info icon appears on the top right of the window, by selecting this you can read more about the girl - what kinks she's into and how highly other users have rated her shows. Many also have more media to look through, such as photos and short video clips. Don't go into a room expecting anything naughty to be going on though, these rooms are strictly non-nude.
Private Show
Now this is what it's all about. When you start a Private Show (a box appears at the bottom of the window that you have to select to enter a Private Show) is when the action heats and you get to really see what you've come all this way for - a naked, naughty nympho. This also brings up the models' prices for a private 1on1 XXX cam show.
There are two types of Private Shows - regular or a cam2cam show. Prices for a regular cam show vary from model to model. The cheapest rooms start at just $1.00/min - with the most in-demand cam babes pulling in $12.00/min (but they are truly the exception). Most of the rooms stand at an average $2.40/minute. Before you get super-excited, I gotta give you a big heads-up... yep, all is not as it seems, if you want to have a cam2cam show - then that's going to set up back an extra $1.00/min on top of the rooms regular rate. And, if you're going all in and want a 2-way audio show, factor in another $1.00/min.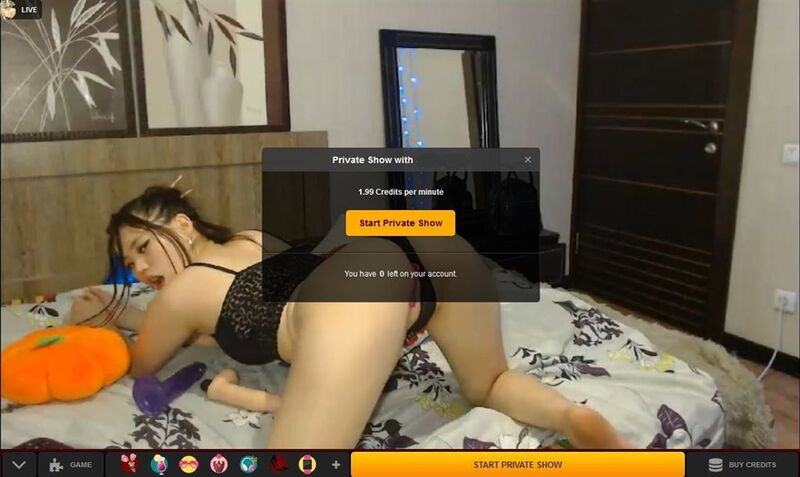 VIP Show
VIP Shows are my personal pervy faves. In fact, if I see a girl is hosting a VIP show I'll probably pay to get a seat to it whether the girl is on my list of lewd lovelies or not (some of the shows start from as a low as $0.50/min. How VIP shows work is that the model announces she's going to start a VIP Show in 'around 10 mins'. She has that time to get enough people interested in seeing and paying upfront for entry to the closed X-rated sextravaganza. If she reaches her target (Credit Goal) the show begins. These shows can get really explicit. And if you ask nicely beforehand, for her to do something specific (they're fond of dildos by the way...), she'll probably oblige during the show. These are one-way shows, you can't use your webcam or open 2-way audio - it's a see and not been seen type of entertainment. By the way - if she doesn't reach her goal, the show won't happen and of course you immediately get your credits refunded.
Payment Options
Before you start any type of show, you've gotta to have the credits in your LiveSexAsian online coffers. Stocking up on these keys that'll open a world of wanks is easy, with the site accepting almost every major payment method. For example, for you guys based in the U.S., it'll even take brand/store gift cards and convert the dollar amount on your card into LiveSexAsian credits.
Don't forget before every purchase you can Spin The Wheel and win up to double the amount of credits you get in your chosen bundle. You can only do this once every 16 hours and watch out - if you spin the wheel but don't claim your prize within the hour - the deal go away.
The site offers varying packages of credit bundles depending on how you want to pay for them. When you select Get Credits (the link for this appears on the top right of the homepage) the site automatically brings up a box featuring options based on credit card payments. However, if you want to use a different method you have to select Payment Methods at the bottom of the box and manually choose your preferred transaction process.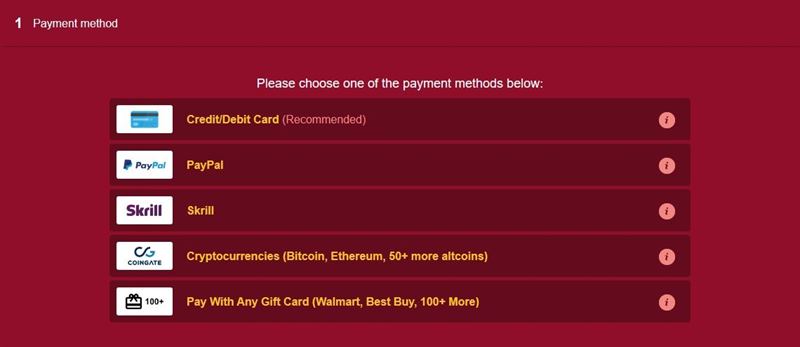 The site accepts:
Major credit/debit cards
Cryptocurrencies
PayPal
Money Orders
Cashier Checks
Wire Transfer
Personal Checks
Brand Name / Store Gift Cards (only available in the U.S.)
LiveSexAsian uses multi-layer encryption technology ensuring all your information and financial details are secured and safe. In addition, if you're paying with a credit/debit card, the site's name LiveSexAsian will not appear on your billing statement, instead purchases are listed under the payment provider's name.
Membership Benefits
LiveSexAsian has a membership program they call Club Elite. Once you register to the site you automatically become a basic member, and then, for every credit you spend on the site, it gives you back membership points. The more points you accumulate, the higher you rise up in the program, climbing up to the top rank they call Casanova.
I'm not a huge advocate of the site's membership program. Ultimately, you don't really get any practical benefits - just a swollen ego (but I suppose LiveSexAsian is all about getting something to swell up). And, if you don't keep accumulating points, your position in the program goes down.
Mobile Experience of LiveSexAsian
Smart phones, tablets, whatever mobile device you have, LiveSexAsian is optimized for a great on the go sexperience. The mobile friendly layout gives you all the features the traditional desktop version has, as well as the ability to practice your swiping skills going from one live cam room to the next.
It's also one of just a handful of live sex cam sites that offers mobile cam2cam private shows. The layout and ease-of-use for a 1on1, C2C mobile sex chat is great. Here to, adding the cam2cam features into the sex cam show costs another $1.00/min for both turning on your mobile device's camera, and microphone.
Video Quality
One of the major advantages LiveSexAsian has over many other Asian-centric live sex webcam sites is that the majority of the sex stars stream their twerks and twinks in HD. If a room isn't HD enabled, then at a minimum it will be broadcasting in high-quality SD.
A Tom Tip here: If a rooms says it's HD friendly and yet the feed doesn't live up to expectations, you may have to manually switch it over to HD. This is super-easy. Just hover over the video feed and a small HD icon will appear on the bottom left. Select the optimum streaming value available.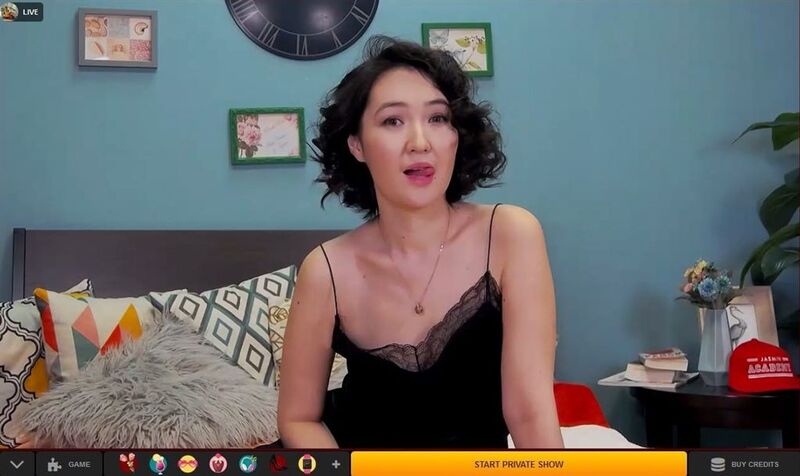 The Pros & Cons
Pros
✔ Great video streaming quality in all rooms
✔ 10 FREE credits when you validate a credit card
✔ 10 FREE peeks into ongoing private shows
✔ 'Spin the Wheel' to win extra credits before every purchase
✔ A wide variety of payment methods
✔ Cam2Cam on mobile devices
Cons
✖ Advertised rates don't include cam2cam and 2-way audio.
✖ No nudity or X-rated action in the open chat rooms
✖ Weak membership program
Before You Go
This is my favorite site if I'm in the mood for a Chinese takeaway to go with my Pad Thai. The flavors of these fabulous femmes range from spicy sex sirens to sweet buttery babes with a heavenly hardcore center. You'll find Chinese, Japanese, Vietnamese, Korean, Thai, Malaysian, Filipinas, and more. While prices may be a bit on the high side, if you take advantage of the extra credits you can win on a daily basis, along with waiting for your fave cam cutie to host a sale (which they do quite a lot), you can end up with some seriously hot HD live sex chat with some of the best Asian babes in the business.