The Tasty Asians-only Site Where 1-on-1 Chat is Only $0.99 a Minute!
Last updated
January 13, 2021
Premium
Clothed Free Chat
Pros
Strictly Asian girls
Very cheap privates
Cons
Small player window
SD video quality
No categories
Cor blimey, as they say in my neck of the woods. Is it really time for yet another top rated cam site review? Well, as I am sat here with my laptop on top of my lap, typing away, I guess it's time! Welcome back to the special section of my site that will appeal to all you cam lovers out there who enjoy watching cam sex shows with Asian perfomers. The site I'm going to review for you today has Asians available every day and every night, 24-7 in fact. Okay, so most cam sites can say that, but this site goes as far as naming itself Asians247.com, just to prove a point methinks!
Anyway, as I am sure you are aware by now, some sites are clones of other sites, streamlined to produce a portal that appeals to lovers of certain naughty niches. An example of course is LiveJasmin.com, coupled with MyTrannyCams.com and LiveSexAsian.com. Well, here is another example, although I realise I've gotten things arse about tit (pretty typically me, although I am much more of a tit man than an arse man) in that in this occasion I've reviewed the clone site here - LadyboyCams.com - before I reviewed the site it is cloned from. I did say that the sexy shemale performers at LadyboyCams.com seemed mostly Asian, after all. Anyhow, Asians247.com has been around 2007, and has been providing live Asian sex cams ever since.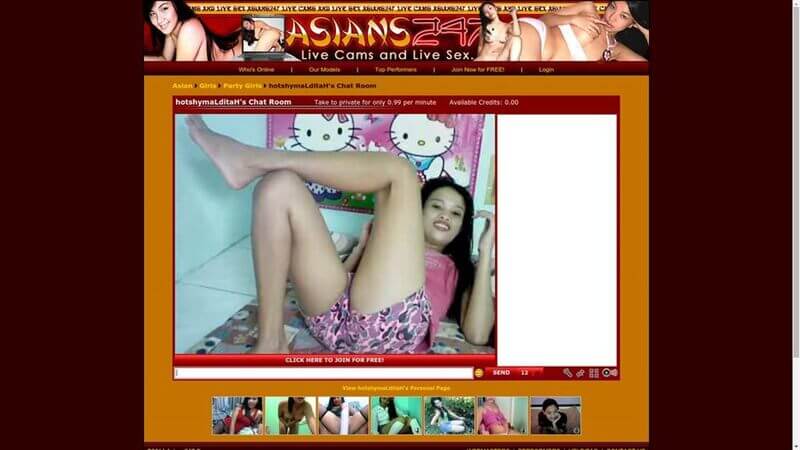 My Initial Thoughts ...
Unlike that shemale site I keep mentioning there is no paucity of models here. Although the site says that there are over 32,000 models registered at Asians247.com, I think that is just how many models have completed a profile at this sex cam site, and that 32,000 count includes models who haven't performed for months, or even years. Despite this, there does always seem to be a good number of Asian porno cam performers at the site whenever you log on.
I must say the site does look a little bit behind the times. It was designed in 2007 and when I checked to see how the site looked back then, it was a very familiar appearance, as it hasn't changed much at all. You know I like my cam sites to look good, because if the effort is there it's much more appealing to do the things you need to do, like punch in your credit card numbers. I think the site would benefit from a bit of a re-design.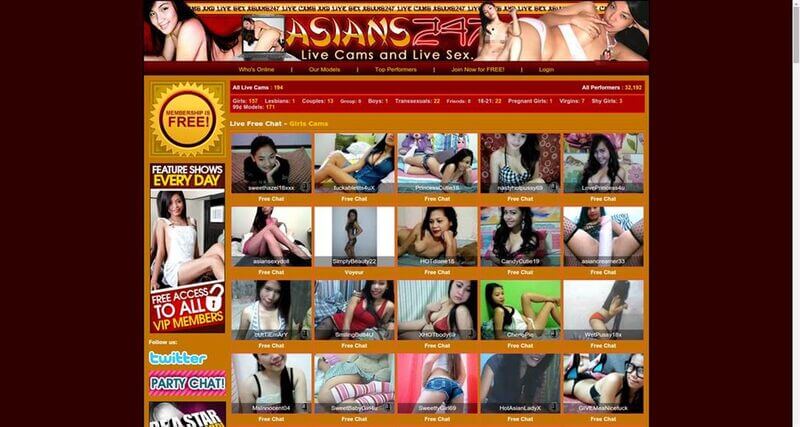 The menu under the banner give you a link to all those "active" profiles, and they include all kinds of sex show performers, not just Asian girls, although the vast majority of them are Asian girls. There's also a quick list of the top performers as voted by the good folk who use the site. The only other useful options are a link to the video archive (which has just under 400,000 videos which you can peruse for a fee), a place where you can snap up those credits you'll need for exciting chat, and a link where you can sign in, or join up.
The thumbnail views of the models are not the most revealing. You can see the model's performer name and the type of sexy chat (or otherwise) she is currently available for. If you try the "mouse hover" tactic here a little camera icon will appear. Click on that and you get a still image of the Asian babes cam. Clicking on a thumbnail takes you through to the model's cam room where a lot more detailed information is available, and some pics and vids if the Asian sex cam babe has uploaded any. Most of these are only available to registered members, and some models will refuse to chat to punters who haven't completed the registration.
Those Extra Features ...
If you do register you'll get a few more options and the ability to enjoy a little private chat action. You can also use the message system to send messages to models. If you go VIP you can also benefit from many little extras such as VIP members-only pics and vids, and a 10 percent discount on all your purchases.
How To Register ...
This is one site where you'll find the registration process is not very taxing, thankfully! All you need is an email address and a chosen username and password to go with it. Once you've replied to your confirmation email, you're all set!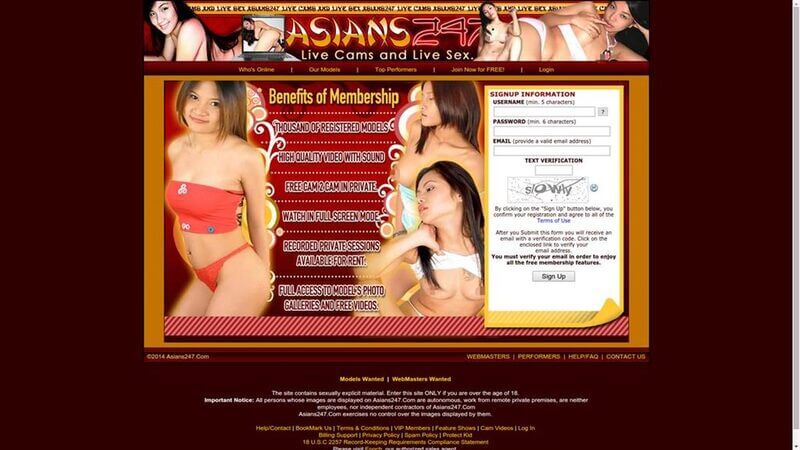 The Ways You Can Chat ...
You don't need to register to chat, but as I mentioned in passing some models don't allow non-members to chat, and to go private you need to be registered and to have some credits in your bank account. Most of the models seem to only charge $0.99 a minute, and indeed there's a selection on the menu screen for "99c models" ... although it must be said that seems to be the default rate anyway! You can also take a sneaky look into a xxx cam show that's already in progress, again for 99c per minute.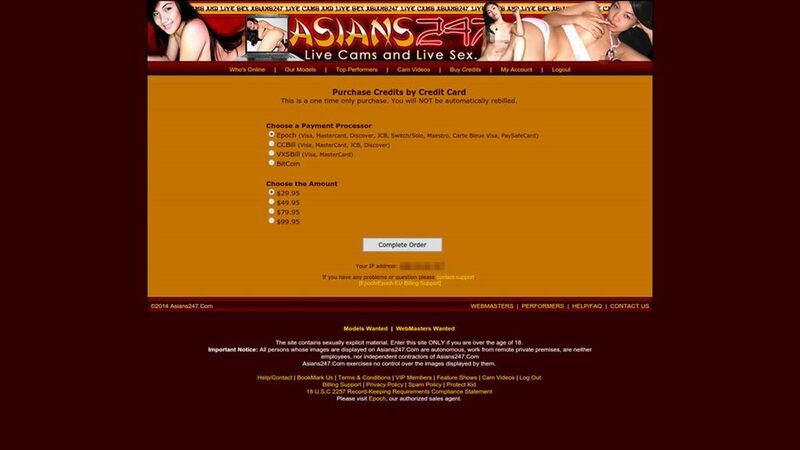 Quality of The Videos ...
I'm afraid if you only like the very best in HD quality cams, then you're largely going to be very disappointed here, as the quality of most of the cams is not brilliant - quite blurry in fact.
How Much It'll Cost You ...
It's practically $1 per credit, and credit packs are available for $29.95, $49.94, $79.95 or $99.95, and don't forget that if you're a VIP (a monthly charge of $29.95) then you get 10 percent off of all your credit purchases at Asians257.com.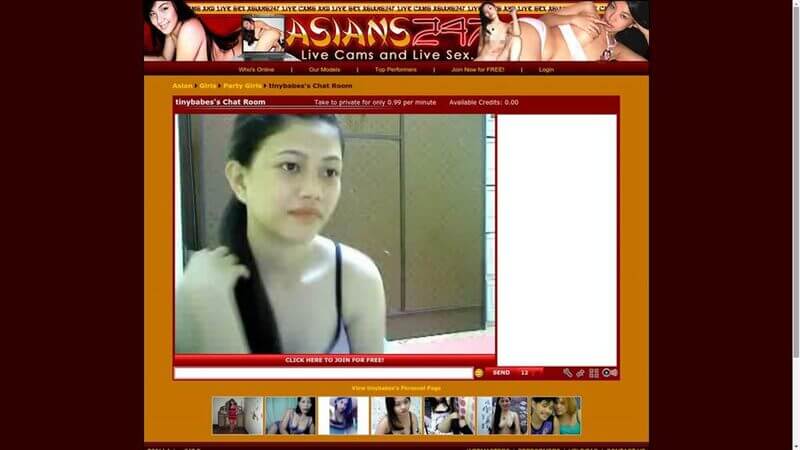 The Ways You Can Pay ...
This is another site where you have to use plastic if you want your experience to be fantastic. All major credit cards (Visa, MasterCard, JCB & Discover) and debit cards (Switch, Solo, Visa again). If you understand BitCoin (unlike me) then you can use them. All financial dealings are dealt with by Epoch, CCBill or VXSBill.
How Many Models ...
As I mentioned, the site says over 32,000, but I don't think that's a realistic approximation of the number of models available - just how many have registered over the last seven years or so. There's usually a good number (a couple of hundred or so) online when you pop into Asians247 for a visit.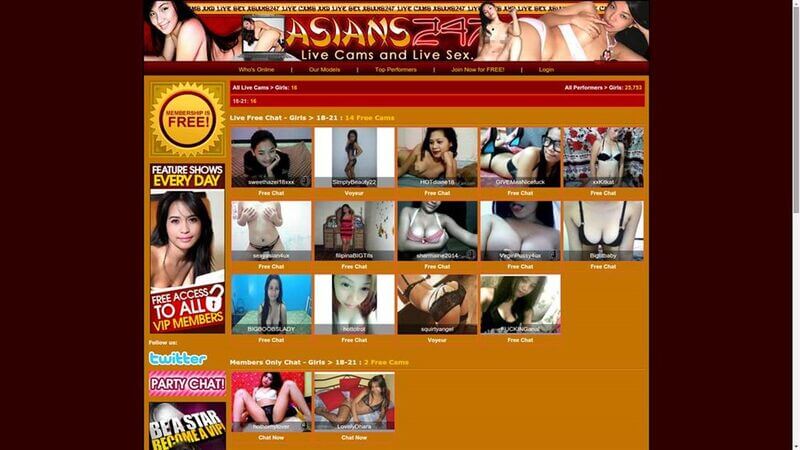 The Support You Can Get ...
There's a phone number given, plus email addresses and a contact form. No live chit-chat with support personal here.
The Pros & Cons
Pros
✔ - Enough models online at all times to keep most Asian sex cam lovers happy
✔ - If you want to while away the time watching videos, then there's lots to waste your time with!
✔ - Not very expensive at all, and plenty of "99 cents" models
Cons
✖ - No stars here for web cam quality
✖ - Site's design looks dated
Winding Things Up ...
I wasn't completely impressed with LadyboyCams to be honest, but I'm generally more excited by Asians247, as there are plenty more performers to choose from than at the clone site for shemale-lovers. Things are nice and cheap here, and some of the models are of a very high quality indeed - I just wish the cams themselves where better quality, but then what do you expect for 99 cents a minute? Tatty-bye!