MyDirtyHobby Fetish Review - Fetish is King
Last updated
February 15, 2021
Premium
No Free Chat
Registration Bonus
Pros
Exclusive models
Extreme fetishes
Community based
Model Fan Clubs
Cons
Low model count
Static previews
Limited HD rooms
You can get a lot from a name, and MyDirtyHobby is no exception. This site is all about fetish, and the amateur ladies that employ any and all ways of showing, recording, and exhibiting their kinky skills. As any premium site, everything costs, and there are no preview to the videos you buy. However, having the largest library of sex videos and pics, the wildest European live chat hosts and a thriving adult community make this site a fetish lovers dream.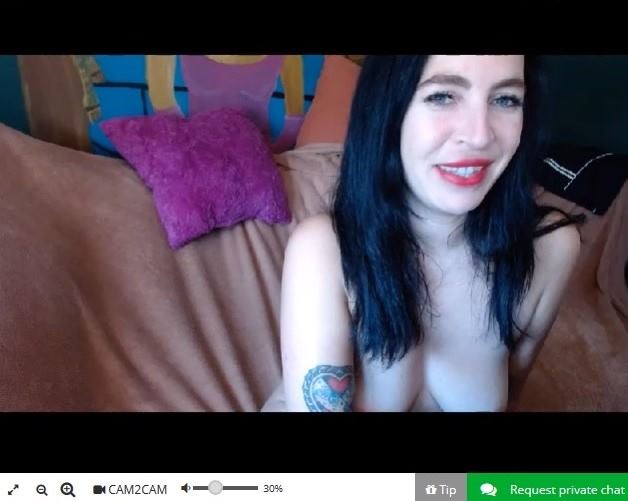 For users who are looking for a communal experience, MyDirtyHobby is made for them, with a social media look and an "Online/Offline" bar on the right of the screen to message hosts. Most models make countless videos and take pictures that you can pay to acquire, and in general, the site is based on sharing, from both sides. Hosts and members can both create and upload content, and can both profit from it. This is what makes MyDirtyHobby unique - Sure, there are fetish inclined stunners to have a live cam session with, but the site offers so much more than that.
The Fetish Cam Models
The site originates in Germany, and so the majority of hosts are European as well, speaking multiple languages, and proudly demonstrate a more "Euro" type of an open mind. Over 50 fetish categories, not to mention tags that only add to the naughty xxx nature of the live cam chats, make MyDirtyHobby fabulously fetish. And don't forget, unlike other sites, live cams are not the only draw - The enormous gallery of videos and pics is in the hundreds of thousands.
It's important to mention, in case our English speaking readers are apprehensive about the language barrier, that there's direct translation in the chat - So even if the lovely lady speaks German, that's not a problem. You'll be able to know where the performers are from by the little country flags on their profile pics.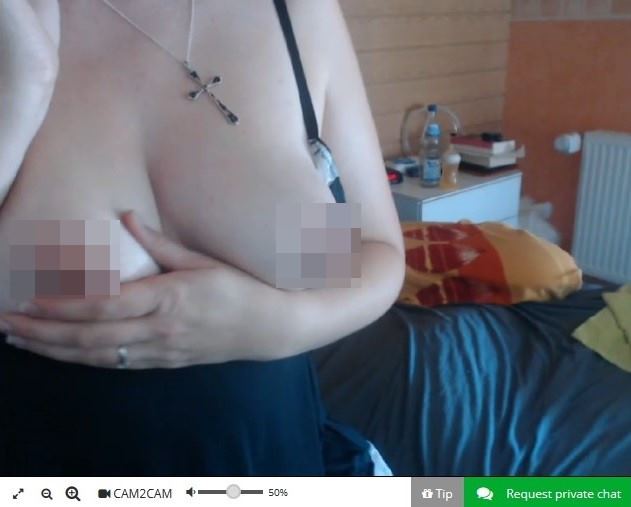 To find the model that tickles your fancy, the search engine and filtering system are extremely effective. You can select by gender, and then other filters, such as body, tattoos, ethnicity, sexual orientation, and countless sexual preferences. From foot fetish to bondage, this is a fetish level rarely seen online. The fetish models' profiles are an excellent resource to get information from - It shows you other pictures, detailed personal information, likes and dislikes, and more. Much like social media, you too can tailor your own profile page, and join the communal x rated fun.
MyDirtyHobby Feature Highlights
Who's online - On the right of the screen you will see which of the hosts are online, and which can message chat vs. live cam chat. At times, hosts that are not in the Webcams section will be available within this section, and though each chat costs, as everything does on this site, it's a great way to contact your favorite kink queen, or meet new ones. The social media feel adds a texture of things always being new and exciting - You never know who will be online when you log on, and you never know who you might meet.
The porn community - Located on the left bar on the primary landing page, there's a section of uploaded users' section. That's probably the most fun you can have without spending credits, with plenty of funny, sexy, erotic posts from actual users of the site, and the hosts too. However, the actual videos do cost money, which brings me to the fact that you can become a part of the money making performers by posting your own content.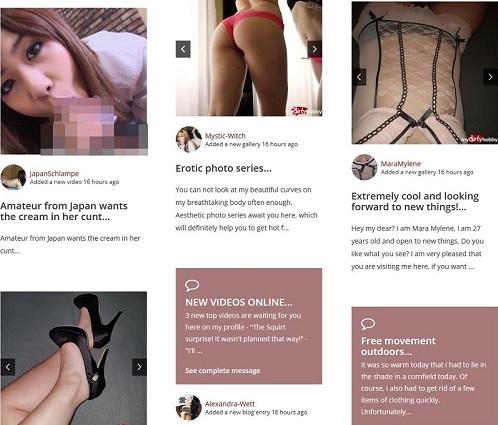 Other great features include:
Hosts and members post on different boards
Top Amateurs - Movies and live cam
Library - All the pics and videos you bought
Getting Started
Easy as pie, this registration process is simple, using a username, password, and a real email which you will need to validate - Which will get you 100 free Dirty Cents (The site's currency).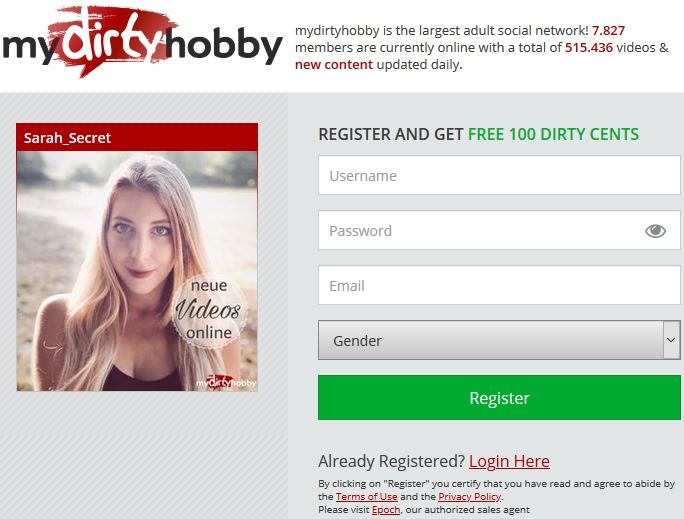 Keep in mind that you cannot do anything without validating a credit card, and also purchasing DirtyCents. You can look at the static profile, but that's it without some site currency.
Chat option & Prices
Unfortunately, nothing is free on MyDirtyHobby. Now, that's not such a bad thing as far as the quality of content and all the features you can choose from as a paying member, but you won't be able to find free xxx chats here. Every second you are in a private cam room, you'll see the DirtyCents (DC) counter count down your total DirtyCents.
Private Chat
As with most sites, the models decide what to charge, and how many DCs they are worth per minute. On average, private cam sessions go for 250 Dirty Cents per minute, which equates to $2.50/min. The site charges you by the second, so you can leave at any time. A nice plus is that cam2cam doesn't cost anything extra. It's important to note that even the "cheaper" rooms are no less kinky or full of fetish glory, sometimes even more so. Don't rush to the most expensive host. Peruse the profile and pics, and you will easily discover if she meets your level of kink.
Voyeur
When you go through the Webcams sections, you'll see that many of them are green (Open for private cam chat), and some are Orange with a "Voyeur" button. This means the model is already in a private session, but you can have the pleasure of entering her room, without interaction, and become a peeping Tom.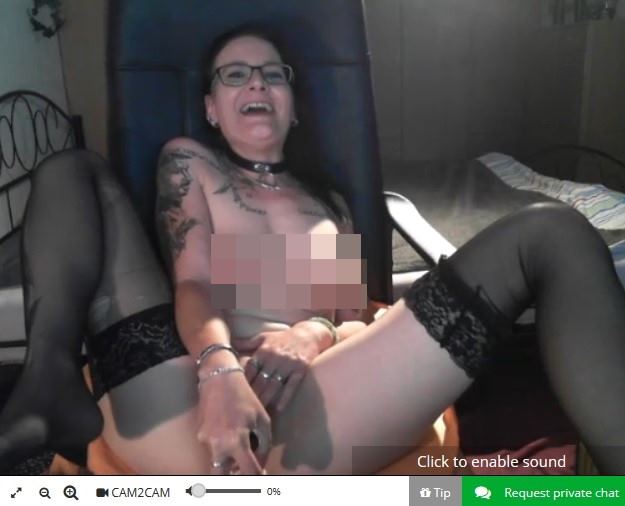 Payment Options
Your personal details are completely secure with MyDirtyHobby and will not be passed on to third parties. All payment methods are secured through "https" protocol. Also, the site uses discreet billing names to keep your payment details anonymous, so you can use your payment method without concern.
The following payment methods are available on the site:
Cryptocurrency
SEPA
Paysafecard
Online bank transfer
Bank transfer
The basic bundles are as follows:

Membership Benefits
This site is one of the best premium adult sites online, where even the simplest chat message or explicit picture views costs DC. For members that want to upgrade to a VIP membership with added benefits, the rate is $19.95 a month for a monthly subscription, or $12.95 a month for a yearly subscription.
VIP members receive:
Special customer support for VIP members
Your VIP messages will be seen before other members
Notifications before the other members on special events
Exclusive live VIP shows
VIP parties and trade shows
MyDirtyNight Parties - meeting amateur European cam girls in person
Special Bonus Days - 10% off, and other promotions
On The Go
The site has a decent mobile version, pretty smooth and easy to navigate, just like the site itself. However, there is a huge disappointment in that regard, because the mobile version does not offer cam2cam activation. For a site that offers so many paid services, it is surprising that this feature is not offered, even for a price.
Video Quality
Partly because MyDirtyHobby is completely amateur based, the cameras the hosts use differ in quality from SD (480p) to top-tier HD (1080p). If you don't mind giving up a few stunning ladies for great quality, filter out the SD hosts and choose only HD.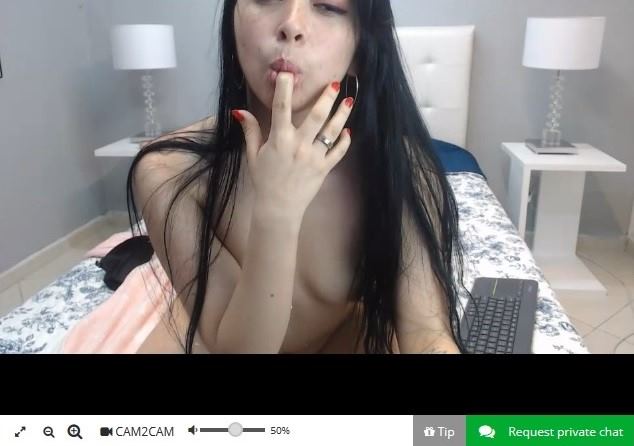 The Pros & Cons
Pros
✔ Fetish is the main attraction
✔ Community based site
✔ Excellent search engine
✔ Pics and videos in unlimited supply
✔ Multiple payment options
✔ Comprehensive customer support
Cons
✖ - Everything explicit costs something
✖ - Many rooms are not in HD
Before You Go
I've praised the site quite a bit in this review, because the connection between MyDirtyHobby and fetish acts is simply inseparable. Maybe the name of the site should have been an indicator, but I would add that kinky, pervy, weird and wonderful are better adjectives, because there's so much to see. I realize many users that love live cam adult sites will be disappointed because of the costs, but sometimes you need to decide between a free XXX chat room with a host who will probably stay clothed, or a European fetish goddess that loves spanking. I choose to whip out that wallet, take the plunge and float around the sea of beautiful amateur performers that share my proclivities.