Top Rated Cam Sites for Foot Fetish Enthusiasts
Some of the these adult cam sites will give you access to some foot room for free, others - just a quick sneak peek until you shell out some cash for full access to a webcam girl in high heels. Here are my favorite sex cam sites for getting up close and personal with a model's feet. I cover each site's high definition video streaming quality, private sex chat prices, and show you how to find the girls most ready to give you a foot fetish cam show.
---
LiveJasmin

LiveJasmin is one of the most popular premium sites in the adult cam universe. Despite being a paid service (you won't get an access to any nudity for free) it has a huge membership base due to the quality of its sex models and video streams. The girls are all pros - all look like high end escorts - and the quality of the video streaming is superb - all in HD of at least 720p. The navigation on the site is fairly easy and your favorite kink is just couple of clicks away.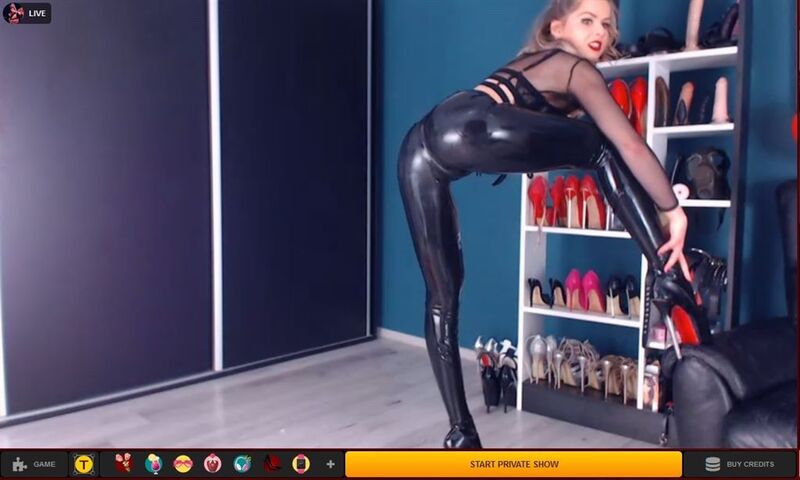 So getting your foot fetish sex fantasy is fairly easy. The navigation can be done either through the categories on the left side of the screen (there is a fetish button), through other separate categories or through a quick search, looking up 'foot fetish'. Also, bear in mind that feet are one of the more popular fetish porn actions and basically all girls do it, no matter what category they're in.
So how much will it cost you for that foot to get your cock hard? The cheapest rate for private sex chat will be around $1.00/min and the average $2.40/min. Cam2cam will set you back an additional $1.00/min, and so will the 2-way-audio feature. But hey, the experience may well be worth your while. The site accepts all major credit cards and many alternative methods, like PayPal and 100 different cryptocurrencies.
As mentioned, the HD video streaming is stellar, as befits the site's high-end performers. By default, rooms stream in 720p. When you see an HD toggle switch in the webcam room player, this will boost the stream up to 1080p.
Tip of the heel: precisely because it's an 'expensive' premium site, the standardization of the models (to the top level) allows you to get some of the best sex performance ever. "You get what you pay for" has never been more true than here.
---
CamSoda

Well, CamSoda is one huge fuck fest of unlimited amateur porn. Being a freemium site, means you get access to full nudity for free. And this platform is certainly not stingy on that. Private shows are for pay, but hey, until you get to that point, you can feast your eyes (and cock) on so much free hardcore action, that you may not need to shell out to jerk off. Anyway, it's up to you how you get it hard.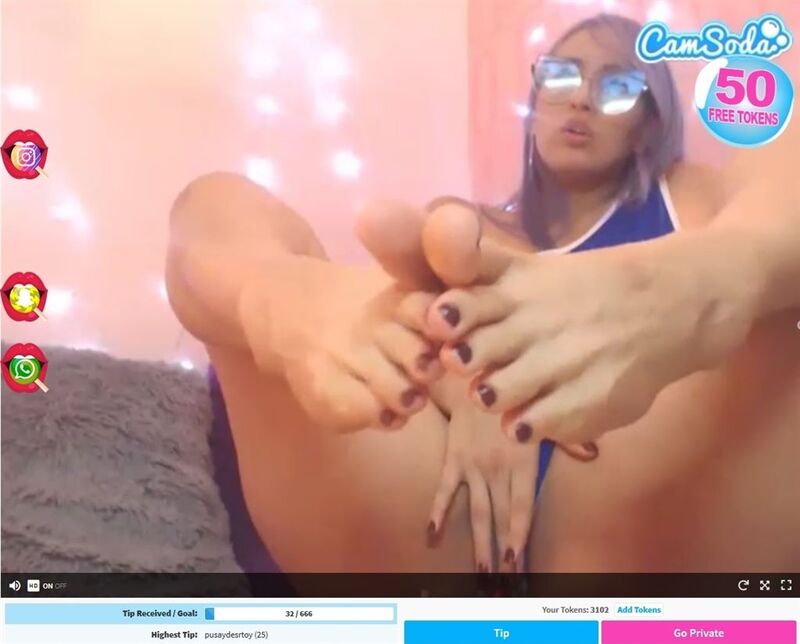 Getting to your favorite foot fetish might be a bit tricky on this site, because the navigation is not really user friendly and intuitive. The platform relies more on tagging system, and it may take you a while to scroll through everything. My best advice - go into the search box and type 'foot fetish' and get all the sex babes who are into it. Alternativly, because this kink is rather popular, is to just watch girls do their stuff, as feet always get invovled in the show.
Being a freemium site, you can easily watch tons of live porn for free. But if you still wish to have a private chat, with cam2cam, the cheapest rate starts at $0.55/min and the average is around $2.70/min. 2-way cam and audio are included, so no need to pay extra for them. If you decide to go private with a model, CamSoda accepts all major credit cards and some alternative, like PayPal and crypto, as well.
Many girls are streaming in HD. Each webcam room has an HD toggle swithc to turn on and off the hi-rez stream.
Tip of the heel: just go there, enjoy yourself and get off. Paying is optional.
---
Flirt4Free

Flirt4Free belongs to the premium porn sites category, meaning you get very little access to free nudity, if at all. However, you get an amazing sex show experience for your money: the settings, the models - everything to get your schlong up hard and throbbing. While the offering of models is not huge, the hardcore action they put up is superb.
On Flirt4Free, there is a nice selection of feet of all shapes and colors - as all ethnicities are represented and you can choose any toe you wish. The models will get foot massages to dildos, or even some cock-smashing with their high-hells.
One of the things I like about this site is the easy navigation. First off, you can search for models according to Price - they're sorted in price groups on the main page. Also, the category button on the upper bar is helpful and opens a menu of all categories. And if "worse comes to worst", there is always the search box.
The prices vary widely and it all depends on the action and popularity of the sex performer. Private sex chats chat can start from as low as $0.45/min and go all the way up to $20.00/min. If the girls room has an icon saying "Premier Chat", it means she's one of the most in demand nymphs out there and may charge even higher. Though, on average, most girls ask for around $4.00/min. The site accepts all major credit cards, as well as alternative methods, like exchanging brand name gift cards. You can use your Best Buy, Target, or Walmart gift cards and exchange them for Flirt4Free credits.
Video streaming quality is high, and most of the girls stream in HD. The lowest being 720p, but many stream in 1080.
Tip of the heel: nice, clear, and sleek adult site. Good models and action. Not the cheapest, but defintely worth it.
---
Chaturbate

Chaturbate is one of the most highly trafficked sex sites for a reason - being a freemium platform, you get lots of hardcore nudity for free. And it's very generous about that - practically, you don't have to pay a dime to watch xxx live porn shows free of charge. So naturally it's one huge sex fest. Most of its models are amateurs. At any given moment there are thousands of models online, and even you can become a broadcaster. Despite 99% of the nudity being given for free, if you do want to take the cam girl private or turn cam2cam on, you'll need to shell some tokens out for it.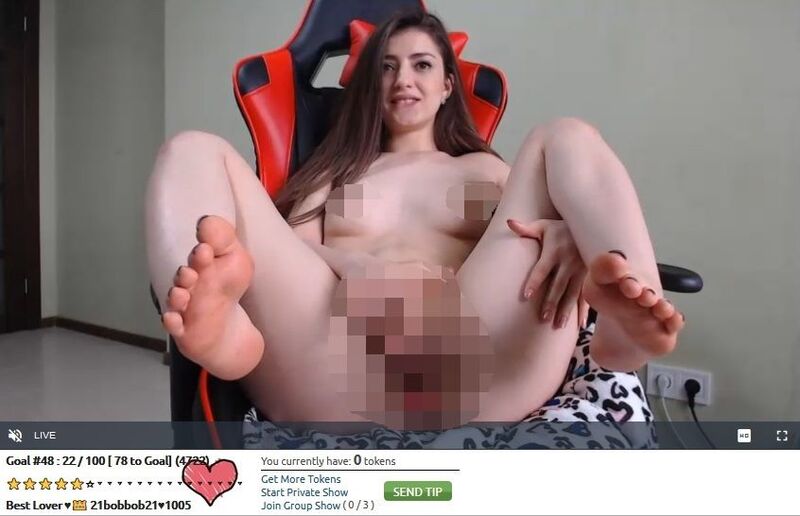 Foot action is very popular and is practically part of any show the models do. Although you can try to search specifically for that, I would advise that you to just stroll down the live chat cam rooms and peep inside - chances are you'll 'stumble' upon some delicious feet. The navigation on the site is not very intuitive - apart from 6 major categories on the upper bar, there are lots of tags that may help direct you to the sex show you desire. And of course, the search box. I would advise you to just try your luck in the rooms. With the nudity being free, you're not restricted to screw around.
The cheapest private chat starts at $0.60/min and the average is around $2.30/min. Popular models may charge higher. It depends on the type of action and duration of show. Spy shows are in the range of $1.20-1.80/min. The site accepts all major credit cards, and alternative methods like PayPal and Bitcoin.
Most cam rooms stream in HD quality, with 720p and 1080p being somewhat standard. And occasionally you'll find a room that is offering up a 4K video stream.
Tip of the heel: the coolest thing about this site is that you can use it for free, unlimited. Seriously!... You only need to pay if wish to get that special private treatment from your favorite cam girl, including taking her 2-way. Moreover, if you have an exhibitionist streak, you can become a broadcaster yourself.
---
Streamate

Streamate is a premium adult site, with little free access to substantial nudity. Maybe an occasional tit here and there. However, it stands out in its unique payment model - you pay as you go. No fixed pre-paid packages here. After you enter your credit card details, you're billed only for the actual time you spend in the sex show.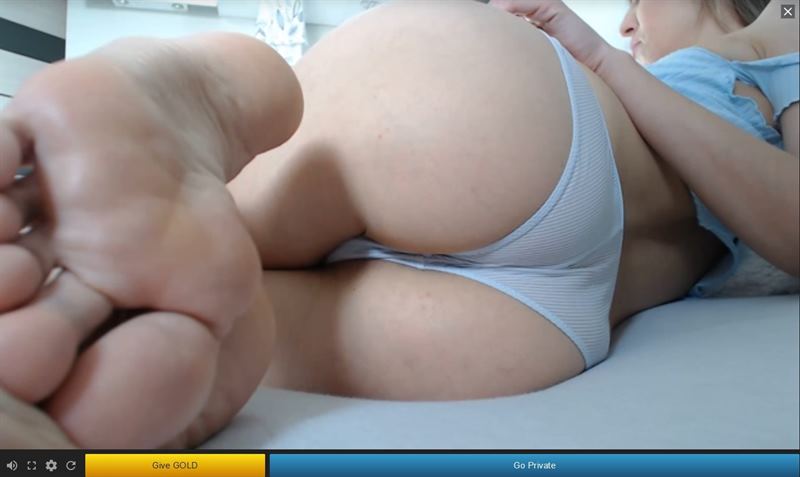 The navigation on the site is legible and easy. The categories bar breaks down the host types and actions performed, so you would be able to immediately get into your desired sex cam action. Alternatively, you can wander from room to room until you zoom in on your favorite model or do a basic search in the upper box above the screen. With 'foot action' being popular, you won't have a problem to get to it quickly.
Streamate's unique thing is its pricing model, which is pay-as-you-go. Prices start at $1.20/min and on average, are around $3.20/min. But you're not required to shell out on any pre-paid tokens/credits packages. Which is good because you can freely control your spending.
Video streaming quality is adjustable and there are low quality options, along with HD 720p.
Tip of the heel: great user-friendly premium site with many fetish categories.
---
Stripchat

Stripchat is a freemium porn site that offers you a unique feature of streaming in VR. The site has managed to combine the best of both free and premium hardcore platforms, allowing an amazing selection of diverse action. The models are amateurs and pros, and at any given moment you can find over 1500 of them online, sucking, massaging, shoving their feet, and playing with gadgets.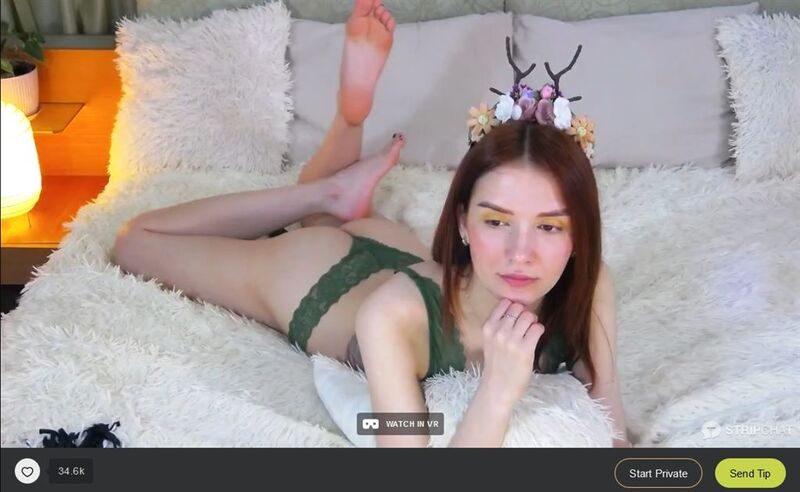 Foot fetish is something many girls do irrespective of their categorization. Finding a foot specialist is easy on hand, and then a bit cumbersome. The latter because the navigation on the site is a bit effort-full: you can use the categories to the left of the screen and also ones on the upper bar, to do a more effective cross-search. Alternatively, you may just roam the live sex rooms and find the feet action desirable to you.
If you wish to find a virtual reality foot show, you need to have the right equipment (in addition to your dick of course) like the proper VR headgear. After you're all set, both you and your dream girl can drift off to your sex fantasy paradise. And if we are speaking of VR, it goes without saying that the babes stream in HD of all kinds: either 720p or often 1080p, so you get the best experience possible.
And now to the "sensitive" part - how much all this hardcore costs: don't worry, you won't need to pawn your loyal dog for that. Private chat rate starts at just $0.75/min, and the average goes for around $3.00/min (excluding 2way cam). Some models may request minimal time (like 10 mins) to secure desired fees. You may stay longer, but if you decide to cut short, you won't get a refund. VR rates are similar to those of cam2cam, but models who play with it, are usually on the higher end of the performers.
Tip of the heel: great site for porn oriented gadget lovers.
---
Conclusion
So I have reviewed 6 adult sites to give you my impression of their foot fetish section. All 6 are worthy of both your money and attention. Each has its pluses. So why did I single out LiveJasmin as the best, despite it being premium site? Well, mainly because its overall clean and up market ambience, no-nonsense attitude and clear idea of what exactly you get for your buck.
The basic feature that tipped the scale for me was the user-friendly navigation. No need to waste time on extensive searches to find your dream porn action or model. And the studio atmosphere really gives you that high end feeling of a date with expensive escort. So whether it be sexy toes, BDSM, dildos, heels, toys or anything else, the crown goes to LiveJasmin.