Cams.com Review - Where You Might Just Find A Sexy Adult Friend!
Hello my lovelies! I'm sooooo glad you've found a free five minutes or so to join me here at Top Rated Cam Sites to read another of my excellent adult chat sites reviews. This time I'm twizzling my pen(is) and sucking the end of my biro as I peruse all the sexy shenannigans at Cams.com.
Now, I don't really know how Cams.com ended up as a sex chat site, because it's the result of a kind of natural progression from a site called "FriendFinder" way back in 1996. I'm kinda guessing the founder of FriendFinder, Andrew Conru, was well ahead of his time, because he invented Facebook a full eight years before Facebook was invented. Talk about being in the right place at the wrong time! If he'd just waited eight years he would have been a multi-multi-billionaire and not that bloke what got played by Jesse Eisenberg (or was it Michael Cera?) in that film. Anywho, the naughty people soon took over FriendFinder and started to use FriendFinder as "FuckFinder", and posting naughty pics of themselves to see if they could score any hot and sexy action. Well, maybe Mr Conru wasn't too happy about that, as he started a new website "AdultFriendFinder" for people who wanted to use his site to find dicks and pussies. The next logical step, I suppose was Cams.com, which that nice Mr Conru eventually sold to Penthouse for $500million! Not bad, eh? Apparently that didn't work out well for the Penthouse people, and Mr Conru is now back and running Cams.com. Perhaps he spent all that lovely money?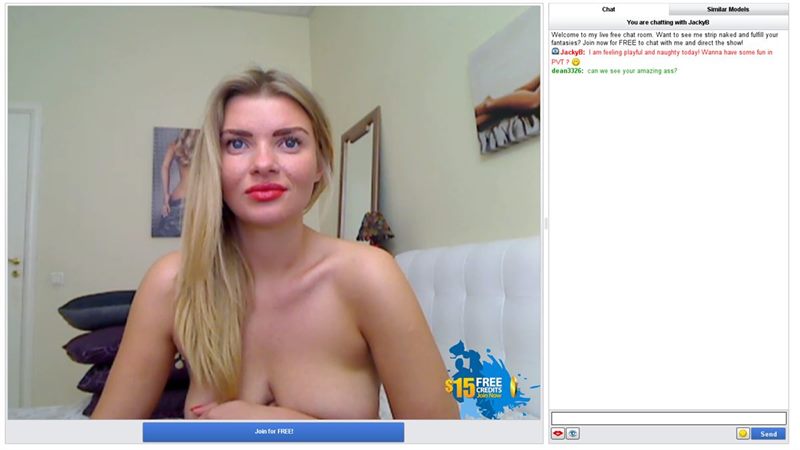 My Initial Thoughts ...
Back to the review. Well, I was happy with my initial experience at Cams.com, and I was also pretty shocked, and you ought to know how tough it is to shock someone like me! My shock was at the content of some of the menu pictures of the girls at the site, as they were really quite raunchy, and there were plenty of girls smiling at the camera and spreading their cheeks, and I ain't taking about the cheeks on their face, either! I explored a little deeper and found that a lot of pictures were up-to-the-second stills from the latest video chats being undertaken by the sexy cam babes. I'm not sure whether private charts were included, but I think they were! Sadly, these were only stills - you don't get the little preview vids at Cams.com as you do at other sites. What you do get at Cams.com, apart from a raging hard on, is lots and lots of different categories for you to browse. You can choose sex cam models by the colour of their hair, and even if they have tramp-stamps! There's different age categories as well, from 18-19 all the way up to a feisty 40 and beyond! You can see every model's age on their menu image as well.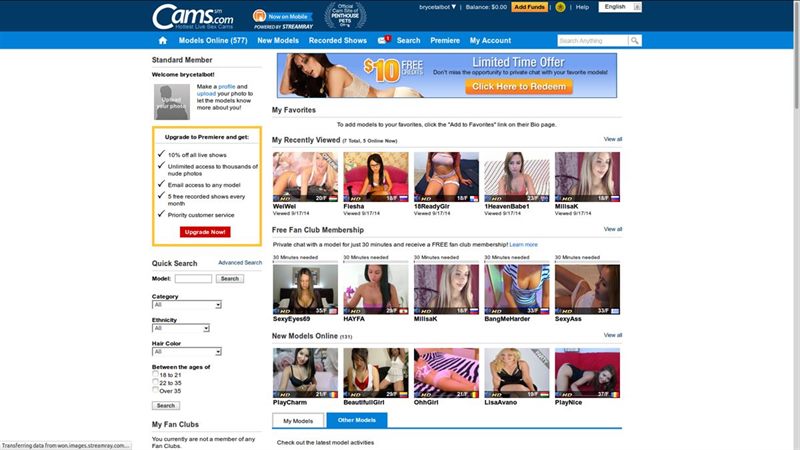 Seeing all this lustful loveliness made me keen to register, and so I filled in the boxes towards the top of the screen and off I went ... almost, because Cams.com emails you your password, so you have to click through the link to get sorted. The password was pretty crappy, especially if you've got a memory like a black hole like me. Once you've sorted your password, surprise surprise you end up at the payments page, but you don't HAVE to prise the pennies from your purse yet if you don't wanna. Your next port of call is obviously the "Models Online" link. There are three types of chat at this stage: "Free", "New" for the sexy babes who have just started at the site, and "Nude", which is a kinkier version of "Free" - it's not a private chat, just one with a nude model and of course you have to pay.
The menu pics of the lusty ladies shows which support HD (which is most of them, and I am really impressed with the quality of the streams at Cams.com - really, really clear), and a little-bitty flag to tell what nationality they are, although most of them seem to speak the Queen's English. You can also see the hot cam girl's age. I don't know if you have to prove your age at Cams.com (lets hope so, as we don't want anything non-legit appearing on our screens) but some of the younger models ... they don't look THAT young. Still, some of the older models don't look so old as well, so what do I know? You can make your own mind up.
Those Extra Features ...
You can just pay per pervy minute with credits at Cams.com, which are about one dollar per credit. You can take up another two levels of membership if you fancy a little extra: "Premiere" and "VIP". They both have some extra bonuses, but both involving signing up for a monthly fee, so I'd only go for that if I was planning to spend a lot of my free time on Cams.com. All the ladies have special "Fan Clubs" you can join if you want to get to know them a little better - you can see past recordings of their hot sex shows, and they will give you a little more attention.
How to Register ...
When you first enter the site you'll see the registration boxes as the top of the screen. Pick a saucy username, give them your email and they will send you a rubbish password. Sign in and head to "Account Settings" to change it.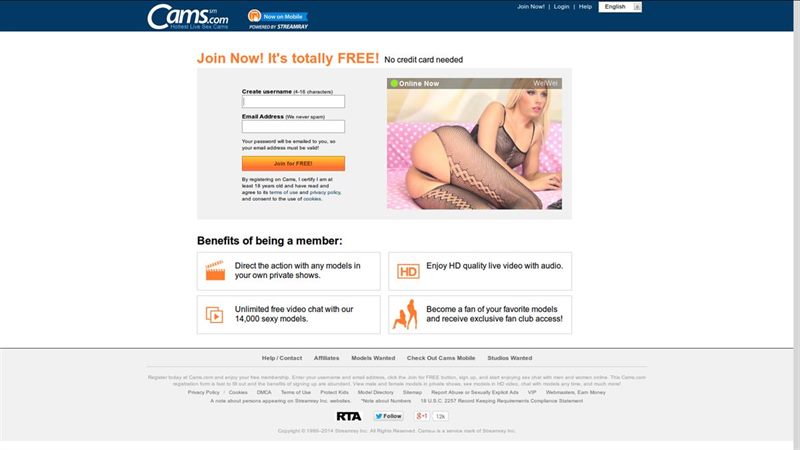 The Ways You Can Chat ...
As ever, there's "Free" chat in which the model largely ignores you, then "Private" chat where she doesn't. There's also "Nude" chat where sex cam babe will sit around clothes-free and chat. For 2.99 there's both "Voyeur" chat when you pop into some else's Private chat without the sex cam babe or them knowing it, and "Group Shows" which is a "Private" chat with multiple attendees.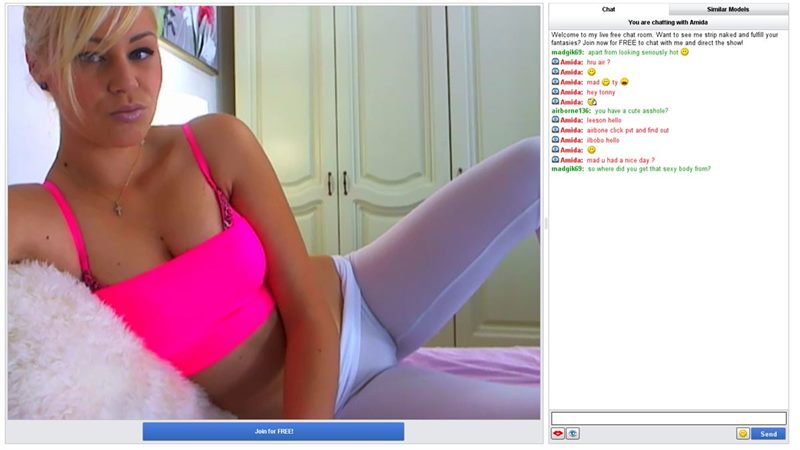 Quality of The Videos ...
There's plenty of lovely HD going around, so if your bandwidth is broad enough, you're in for a HQ (High Quality) time. SD seems pretty fine to me as well, but not as good as glorious HD of course.
How Much It'll Cost You ...
The cheap and cheerful models are available for as little as $0.99 a minute, but the sexier web cam babes charge an average of $3.99 a minute. Don't forget the Voyeur and Group Show options, and if you go for Premiere membership at an extra £10 or so a month you get a discount rate and extras like free videos. The credit packs that you can get are as follows:
EURO €
GBP £
USD £
Price
Credits
Price
Credits
Price
Credits
€7.71
10
£6.15
10
$10
10
€19.27
25
£15.37
25
$25
25
€30.84
40
£24.59
40
$40
40
€38.55
50
£30.74
50
$50
50
€61.68
80
£49.19
80
$80
80
$77.10
100
£61.48
100
$100
100
If you purchase the top package then you can usually sort yourself out a bonus like even more freebie videos.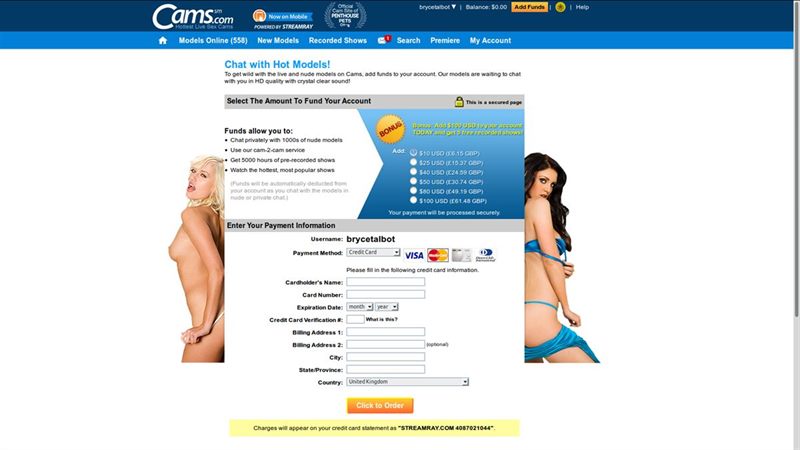 The Ways You Can Pay ...
Visa, Mastercard, Diners Club and Discover ... and that's it!
How Many Models ...
Judging by my experience, there's about 40,000ish cam models on the site. When you visit, you'll always find at least a few hundred online waiting to satisfy.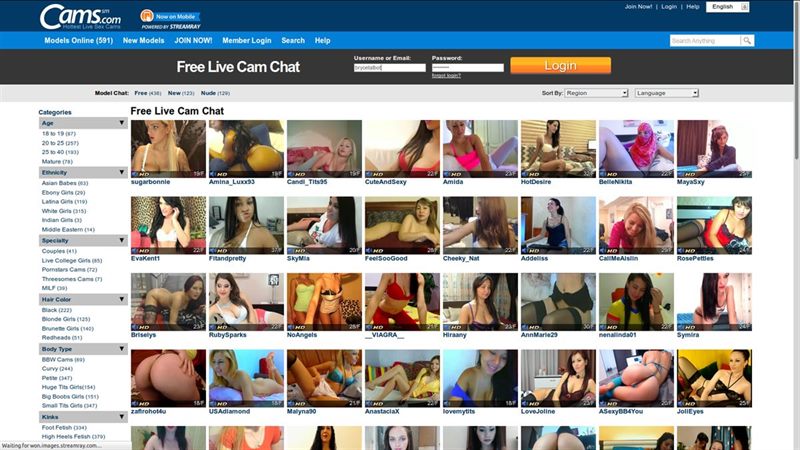 The Support You Can Get ...
If you encounter a problem, you can phone Cams.com, or drop them an email. If you've gone for paid membership, your query is given priority. There's also a damn fine FAQ section on the site.
The Good & The Bad ...
Good
✔ - If you're too much of a cheapo to go private, there's a couple of cheaper options for you
✔ - If you get to browsing, there's some very nice sexy, nothing-covered pics to enjoy
✔ - For people with specific tastes, finding a suitable model is pretty easy
Bad
✖ - Only credit cards taken, and two of them are virtually unheard of outside the States
✖ - The site does seem to run a little slow at times, but once the sexy stream is running, all is fine and good
Winding Things Up ...
You know, I can't really think of anything bad to say about Cams.com, and when they've decided to design the whole sex cam experience this way, you can tell they've really done their research (I bet that was fun!). Okay, I know ... despite all the extra x-rated goodness you're promised at the site, I think it's just a little bit too expensive. If you don't mind paying - and after all, you get what you pay for as my old dad used to say - then you're really sure to have a dirty time at the site, and in the best way possible. If you don't believe me, check out the site yourself - look out for the fan clubs, and those extra-spicy menu pics. Go on, you deserve it!
Review of Cams.com
- Reviewed by
topratedcamsites.com