Cams Review - A World of Wanks Await
Last updated
January 14, 2021
Mix
Nude Free Chat
First Purchase Bonus
Pros
Many HD rooms
Model Fan Clubs
Cheap c2c shows
Interactive toys
Cons
Pricey top models
Tame free chat
Few payment types
Cams, at first glance, is just like many other adult cam sites. The homepage loads and you'll find yourself bombarded with hundreds of snapshots of luscious ladies lounging about in varying levels of undress. But Cams has something else that's unique to the site. Something that's going to make your private cam time with a model an unforgettable sexperience that's as close to the real thing as you're going to find online. It can give you a mutual 'cumming' together with your porn partner like no other. Read on to find out more about this orgasmic option and what's worth a wank and what's not at Cams.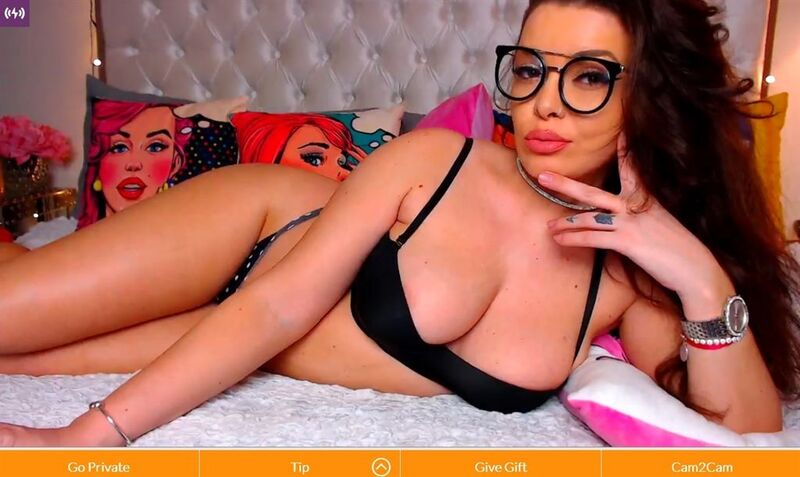 At any one time you'll find around 400 plus live sex rooms streaming at Cams and they cover every age, appearance, skill and kink. From professional porn performers in deviant dungeons to experimental GILFs in their kitchen wearing nothing but an apron - everyone's welcome as a Cam adult model.
The first thing you'll notice on the snapshot is a line of small icons with symbols. This is actually very useful 'cause you can see at a glance what each girl has. For example, the first icon is usually a small loudspeaker - this means you can hear her (audio enabled). Next is the HD icon - (yep she's streaming in HD or even HD plus). The little lightening rod - well that means you can tip and remotely buzz her sex toy if you wanna see her squirm or even squirt a little whenever you feel like. There's also a weird sort of diagonal cross - well that means she's using a Connexion (which I'll explain about later). Then there's the heart icon which adds models to your favorites list if you select. And lastly, there's a downward arrow that when selected tells Cams to move that model to the bottom of the display list of online girls.
It's not only the girls holding court at Cams, there are male models and a handful of transgenders that are loving the attention, but Cams is definitely primarily a site to find a naughty nympho in front of an HD webcam.
Cam Models
The site is very user-friendly when it comes to searching for that perfect live porn dream date. You can either use the left hand nav menu on the homepage and scroll through the various categories such as Age / Body Type / Ethnicity / Kinks, etc. or you can use the advanced search filter, which I highly recommend.
This is the small icon on the top left of the screen by the Cams logo (three lines with dots in). By selecting this, the advanced search page comes up which really helps you narrow down you options thanks to its well-grouped kinks categories which has everything from dominatrixes to slaves, piercings to pussy fingerings, whips to jerk off instructions.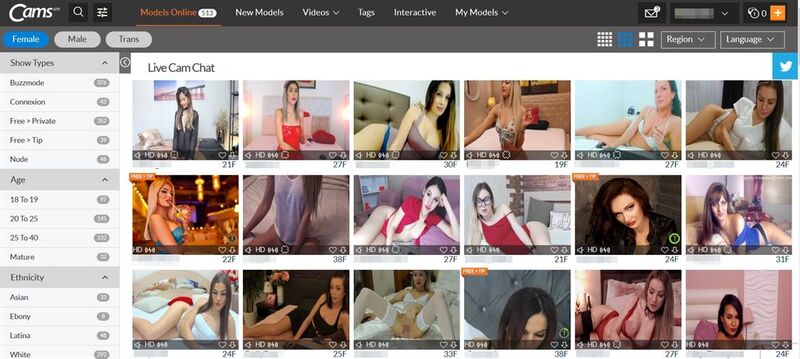 Once you're in a room you can scroll down past the live feed and find out more about the girl and her pet pervs and fetishes which is really important if you're thinking of splashing out and taking her into a private session.
Just a word of warning about going into the live rooms. Say you're scrolling through photo after photo and finally you land on a lovely that piques your pecker - you click through and nothing - she's in a private show or maybe even offline. It should be that all the offline girls won't appear in the results and if she's been whisked away to a private party or hosting a paid-for show, a sticker indicating as such will appear on the snapshot. This isn't always the case. It takes the site time to refresh updates and as such, if a girl recently logged off or started a show - you won't know until you try to see what she's up to - this can be super-frustrating.
Cams Feature Highlights
On the upside - Cams has a bunch of features that make it easy to find the girls with all the right attributes. As well as the search options listed above, you can also narrow your results down to the girl's nationality and/or the languages she speaks. On the homepage there are two bars on the top right of the screen - Region and Language. So, if you're looking for some video sex chat with a European hottie or an African angel, just one click on the Region button and there they are.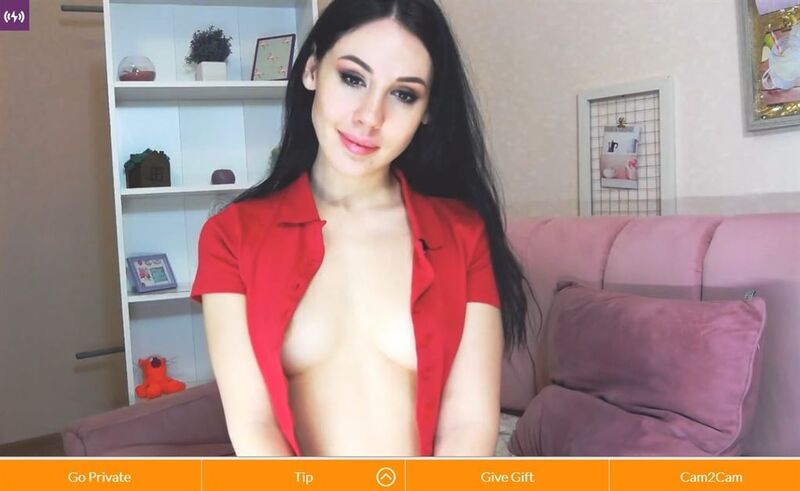 Another top search tag above the gallery of gorgeous gals is New Models. Here's a quick tip that could save you a bundle.
New models generally charge less per minute for a private show than the more established girls as they're trying to build a fan club of deviant devotees. As there's no option to search by rate/min, finding the new models is a shortcut to the lower-priced babes, generally. And, while these girls are 'new models' at Cams, it doesn't necessarily mean they don't know what they're doing. Many perform at other sites. so don't worry, you're not likely to find many green around the gills or sub-par live porn performers here.
Best feature of all - that simulated sexperience I mentioned earlier. The Connexion is basically a way to let you both cum together in perfect horny harmony. How it works is the cam babe's vibrating toy, a Lovense Nora, can be synched with your Lovense Max (available to purchase through the site) and you can both tremble and tremor in unison, and work together to both climax on the same high note.
Other great features include:
The site can be viewed in ten languages.
You can adjust the screen size of the live video feed to theatre mode or even full screen view.
Members can favorite models so they can easily find them the next time they go online.
In the My Models link on the top of the homepage, you can see which are the recent rooms you've visited.
Altogether 15 languages are spoken by Cams' hosts.
Getting Started
Joining Cams is free, simple, fast and most importantly - secure. All you you have to do is click/tap on that huge orange Join Now button on the top of the homepage. In the box that pops-up you put in you fave online username, give them an email and a password that you won't forget and voila - you're now a member.
They'll keep asking you to confirm your email address and when you do - you'll get an free XXX video of your choice to watch. To get your hands on that video you select your user name profile (on the top right of the screen) and in the menu of options that then appears, go to Recorded Videos and choose the one that you think is going to give you the most pleasure. There are thousands upon thousands to choose from so take your time.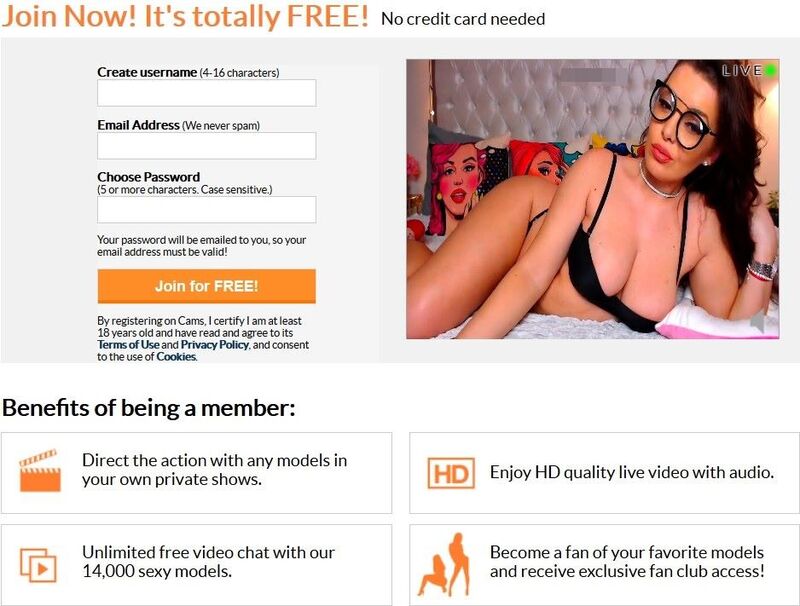 As a member you can also start favoriting models by clicking on the heart on their photo. This keeps a record so the next time you go into Cams, you can click on My Models on the top nav bar and see at a glance if any of your horny honeys are online and want to play.
Chat Options & Prices
There are several ways to chat with the models, from the exclusive cam2cam private chat session to a party style nude/tip show where a bunch of hardcore hommies are tipping the babe to get her to squirt, squirm and anything else they can think of.
Free Chat
This is the ubiquitous open room where you can chat to the girl (but be aware - you're not the only one fighting for her attention and unless the room is quiet you'll probably have to send her a virtual gift or a small tip to get her attention).
Tip Time: Once you're in the room you can see how many others are watching. On the top of the message box by the video you'll see a silhouette of a face and a number - the number shows how many others are also in the room. The less there are, the more attention you'll get - You're Welcome!
Now this is IMPORTANT.... Listen up dudes - this is going to save some cash. When you go into a room you have to click twice - once on the snapshot and once on the video screen. On the screen there's a notice overlaid on her image reminding you that she's got an interactive toy that you can activate. If you've got tokens in your account and accidently click on the Superbuzz purple circle - it'll set you back a number of tokens - so watch where you're clicking.
Private Show
This is where you get to take control of the show and direct the action. To start a private show you just go into her room and click on Go Private. This brings up two options Private Chat or Party Chat (if she allows Party Chat - not all models do). Private chat is between you and the girl - others can go in and see the action (for payment) - but they are silent voyeurs and can't talk to, or message her, and they can't hear or see the messages between you and her.
On average, a Private Chat is going to set you back around $3.00/min - though there are loads of rooms offering sessions for the minimum $1.00/min.
Cam2Cam show
Cam2Cam is when you can use your webcam and make it a 2-way sextravaganza. Normally, cam2cam is the price of a Private Chat with an extra dollar/min.. And yes, others can still be silent witnesses to the show, but don't worry - they can't see or hear you.
Tip/Nude Show
When a girl hosts a Tip Show, it's meant to be free but she'll get naked and perform specifics acts requested by audience members for a set number of tips. Once she hits her tip goal (noted by a target sticker in her window) - the show becomes private for those that tipped, and others will have to pay to enter and watch. A Nude Show is when you pay a set number of tokens per minute and she'll be wet and wild and doing what she wants without having to be tipped. With Nude Shows, you get full on action the minute you pay and enter. Tip Shows are sort of teasers for Nude Shows, you don't pay up front but are encouraged to tip the babe in order for her strip off and take things to the next level. However, if the babe isn't getting any tips in, she'll probably stop the action and end the show.
Voyeur View
Voyeur View is when you get to join someone else's Private Show. You can see the model, but that's it - you can't talk to her or message her. You would expect it to be much cheaper than a Private Show but it's not. Honestly, unless your particular perv is peeping and you enjoy being a silent unseen voyeur, then I wouldn't recommend these just 'cause in a Private Show, it's more or less the same price and you get to direct the action according to your wanky whims.
Party Chat
If you take her into Party Chat it's like starting a Tip/Nude Show yourself, you pay at lot less than a Private Chat but others can join in (also for a payment) at any time and message and chat with the girl.
Payment Options
Stocking up on tokens can be done with either a credit card online or you can mail in a check or money order. As yet, there are no other methods. The site accepts:
Visa
Mastercard
Discover
Diners Club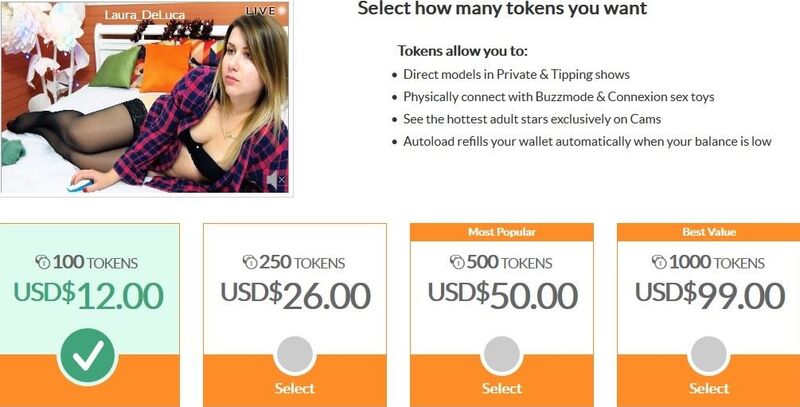 Membership Benefits
To become a Premiere Member of Cams all you need to do is pay. There are two options - either a 3-month subscription which comes in at $41.97 ($13.99/month) or a month by month subscription for $19.99 a month. As a Premiere Member you get
10% off all live videos
5 Free Recorded X-rated video
Ability to email models
Access to all Nude Show photos
The other membership level is VIP - this is free but you have to apply directly to the site for inclusion as a VIP member - this means filling out a credit card form with financial details and mailing / faxing it (a fax machine? dudes - get with the times) / or scanning it in and emailing it.
VIP Membership includes:
Unlimited daily spend
5% of every purchase by check or money order is refunded back into your Cams account
6 Free months as a Premiere Member
25 Free recorded shows
You can also join a cam model's individual Fan Club. For $14.99/month (or a three month subscription that works out at $10.00/month), and you get up to 70% off private chat shows with her, as well as access to exclusive custom videos and X-rated photos in her gallery.
Mobile Experience of Cams
While the mobile version of Cams is clean and user-friendly, there are a few issues. For example, there's no cam2cam option on mobile and when you're messaging a girl - the message box obscures the live feed so you can't see the action and talk to her at the same time. This can be a real bummer if you're in a private show and the meter is ticking. Also, if you want a full screen view, you have to manually enlarge the screen yourself.
Video Quality
Now video quality at Cams is one of its strong suits. Most of the rooms are HD enabled and you can see at a glance on the photo if it's a HD room or not. If the room isn't HD-friendly then more than likely it'll be streaming in high-quality SD.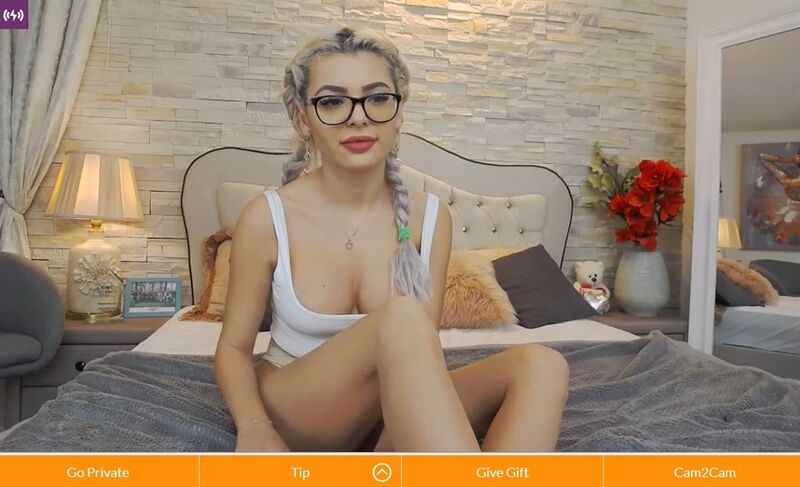 The Pros & Cons
Pros
✔ Join a girl's private Fan Club for a few dollars a month and receive up to 70% off her Private Chat shows
✔ Connexion toy for a unique mutual masturbation experience
✔ Majority of rooms stream in HD
✔ Various types of chat shows/option
✔ Low-cost Private Chat shows
✔ Large library of X-rated videos
Cons
✖ No 24/7 customer support - only via email
✖ Limited payment methods (i.e. only credit card or mail-in checks or money orders)
✖ No site-wide promotions or deals
Before You Go
If you're the type of guy that finds a girl or two and likes to stick with her (them) - then Cams will work out to be a really cheap live cam sex show option. With up to 70% off private chat if you join a model's private Fan Club, you can end up saving a fortune. Saying that, prices at Cams are on the low side anyway, so take your time, sample the delights on offer and see if the 'Connexion' works for you.
And as for that Connexion - woozers - all I can say is get it - try it - love it... It's as close as having actual sex with the babe as you'll get. Once you go Connexion - you'll never go back.