Play Dirty Games and Try Some BDSM on XLoveFetish
Last updated
January 05, 2021
Premium
Clothed Free Chat
Topless Mondays
Pros
European models
Cheap private chats
Good HD streaming
Nice fetish selection
Cons
Limited English chat
Tame free chat
I am getting a lot of question from you guys, and most of them deal with one of two topics: Specific kind of live adult webcams and cheaper live sex shows. I don't mind. I am always happy to receive your messages because it means that some of you, at least, actually read what I have to say instead of just drooling at the pics. I am no Shakespeare, but I like to believe that I am not here talking to myself. Anyway, one of the most popular niches that guys are always asking me about is fetish webcams. This niche covers many areas – from a busty babe in fishnets to a heartless dominatrix with stiletto and a flogger. In all honesty though, I don't care much about how extreme you like your fetishes. I am just here to tell you which adult cam site provides you with the opportunity to explore whatever it is that turns you on, and for affordable price. This XLoveFetish review is here to do just that – read on and you'll understand why this website is on my top list.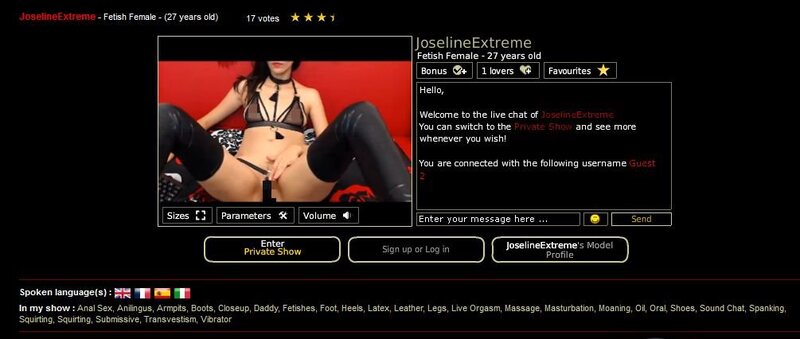 My Initial Thoughts...
"Oh wow", this is what I thought when I first walked in (well, browsed in, but you know what I mean) to X Love Fetish. The first woman I saw was dressed in black latex, smooth and shiny – she looked like Michelle Pfeiffer in Batman, you know "meow" and the whole building explodes. This is exactly what I felt like doing, only in a less destructive and more draining manner. My second look made it clear though that this babe is no plaything. She looked at me with fierce contempt, which obviously juts made me want her more, and all I had to do was go into her profile page (which I promptly did) and see the long list of fetishes that she was willing to explore (including CBT, which really says it all, doesn't it?), and I instantly realized that she was a genuine dominating queen.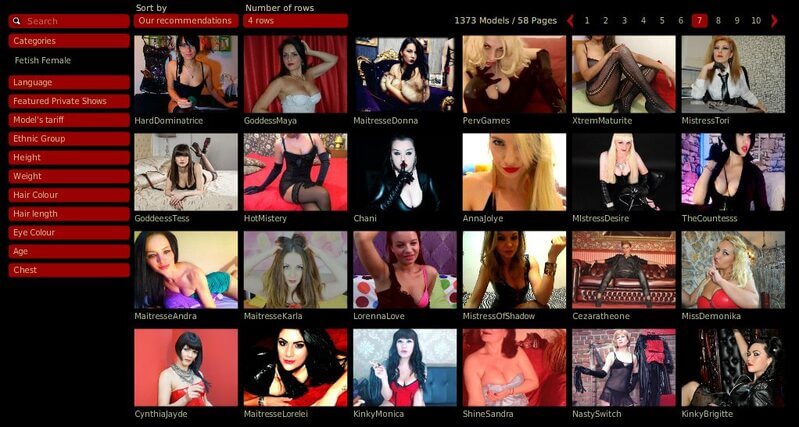 I was, by the way, a bit disappointed by the search tool. There are a lot of categories, but all are general – hair color, busty – you know, what you find on every other adult webcam service. None of the search options focuses on fetish chats and that is both surprising and kind of a letdown.
However, the low number of live fetish webcams makes advanced search tools quite unnecessary. I don't need a large selection to enjoy webcam chats – I really don't, but on one of my visits to this site I only found like 18 women online and that is not enough. I was not disappointed by the live porn shows, which says a lot, because my expectations were high, as they always are when I visit a live fetish sex cam site. I just expect more from portals that claim to deal with BDSM and sexual control and raw passion – and in this case I was very happy with the shows I watched, each and every one.
Those Extra Features ...
For some of you, I am sure, one of the best features on XLoveFetish.com will be the video section. Granted, it does contain many fetish porn videos – mainly amateur, but that doesn't make them any less exciting. There is a nice choice of clips and even short movies and the camgirls clearly take this section seriously and upload content. However, I am not impressed, for two reasons: First, this section costs money and you can't even buy a subscription that will allow you to view all of the videos, no – you have to purchase a monthly VIP subscription for a specific femdom or sub. Second, this section almost annoys me for being so big and well maintained. This is a live webcam sex site – stop making movies and get more webcams!
How To Register...
You don't need to do anything special in order to register to X Love Fetish – not to provide any personal detail, not to pay a few or purchase credit and not even to offer the details of your credit or debit card. You fill in some made-up username and password, write an email (it doesn't even have to be a real one!) and voila – you're a member.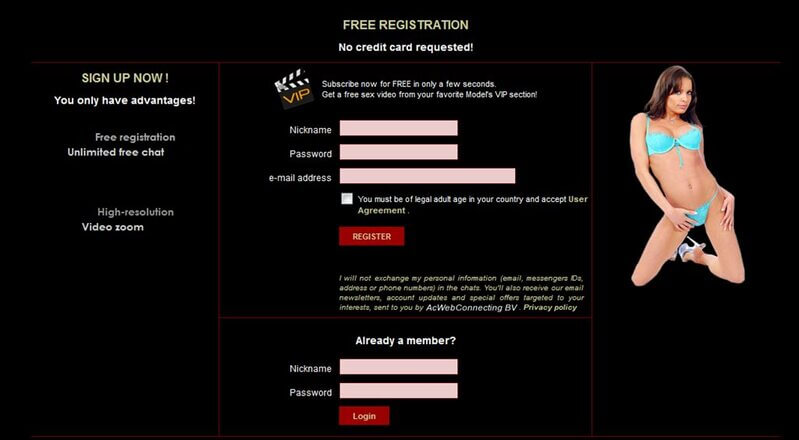 If you sign up and verify your email, you receive a free VIP video (A recorded video of private session of your choice) worth 15 USD.
The Ways You Can Chat...
When you want to chat with the submissive and dominating sex cam goddesses on this website, I recommend that you always start with a free chat. This is important because it will allow you to evaluate the level of the web camera, the attraction of the models and, besides, it a lot of fun and it's FREE. Some adult cam sites only offer limited free chat with some of their models, but this is not the case here. The only reason a camgirl will not be available for free chat is if she's already engaged in a paid XXX cam session. When the free fun exhausts itself, start a paid session and you will see that these babes mean business – I sure did.

Quality of The Videos...
If you actually one of those who read my XLoveFetish review rather than skip through the title, then you can probably guess that the video quality on this website isn't amazing. After all, I wouldn't be recommending that you always have a free chat before the fetish porn show if the web cameras didn't need to be evaluated. Some will be wonderful – don't get me wrong, but some will be okay, or less than that. This is what you get for dealing with an amateur cam site – even if it is serious about fetishes.
How Much It'll Cost You...
Cost is per minute, as is always (or almost always) the case on live adult webcams. In order to pay, you need to buy credits, which you can do by using one of the reliable methods that I will discuss in the next paragraph. If you decide that you just have to watch some videos and need a VIP subscription, it will cost you 15 credits per month, on average. The following credit packages were available when I joined, but as always – nothing is permanent in the adult webcam world, not to mention people from specific locations see different packages, so don't come wining if you now see other options.
| | | |
| --- | --- | --- |
| Number of Credits | Cost in USD | Cost Per Credit |
| 25 | $31.20 | $1.24 |
| 50 | $62.41 | $1.24 |
| 100 | $124.83 | $1.24 |
The Ways You Can Pay...
You can pay with Visa, MasterCard and Maestro. You can also pay with something weird called paysafecard prepaid cards, but don't ask me what that is. What else? PayPal and Bitcoin and Bank Wire and… I know I'm missing something. Oh yea – DirecteBanking, and you can also pay by phone.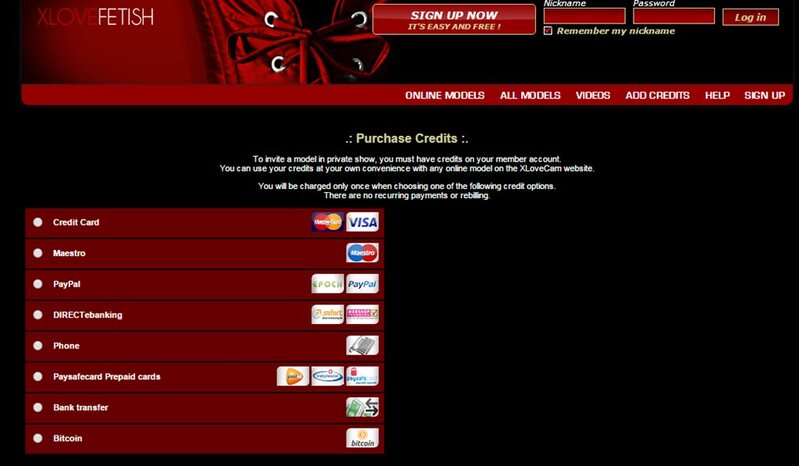 How Many Models...
There is a very long list of registered models on XLoveFetish. Some adult cam sites don't allow you to see offline models, but here you can see exactly what you're missing and with 8,000 registered models, you are missing a lot. The number of live sex chat rooms is between 15 and 40. What do you want? I told you time and time again that this was a small fetish chat community.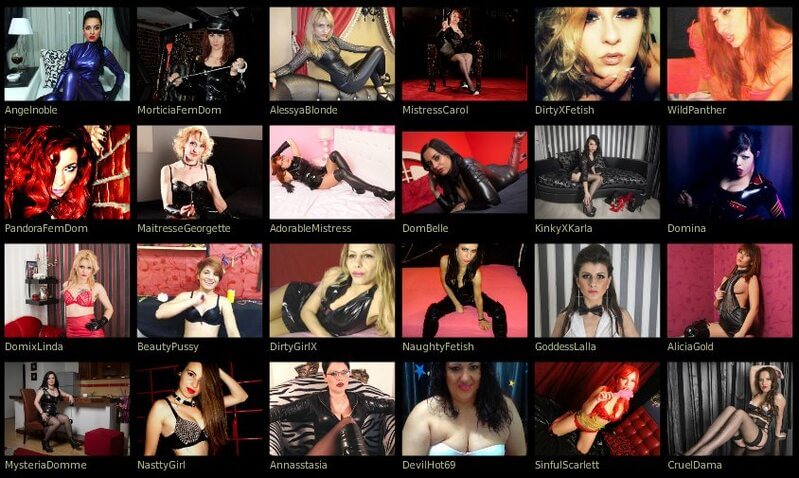 The Support You Can Get...
You can fill in a help form or check the FAQ page for the mainstream difficulties. If you need billing support, there's a number you can call.
The Pros & Cons
Pros
✔ - Many fetish videos, which will appeal to some users
✔ - The online webcam models are happy to try a large variety of fetishes
✔ - You don't need to list your cc details in order to join
Cons
✖ - I seem to be missing some live fetish chat rooms
Winding Things Up...
Are you willing to deal with a small adult webcam site and in return get to chat with some extremely kinky women that understand fetishes and how to turn guys on? Don't look at me like that. I am not gonna answer this question for you, even if I could, and I can't because I am not a mind-reader. Only you can tell what is important for you and what you're willing to compromise on. It's your fetish fiesta – now visit XLoveFetish.com and see if this is a sex party you want to participate in.