LadyboyCams.com - All The Scorching Sex Fun You Can Handle!
Last updated
January 05, 2021
Premium
Clothed Free Chat
Pros
All Asian models
High quality video
Mostly amateurs
Cons
Few HD rooms
Limited model ct
Tres bien, moi lovely ladyboys lovers! How the dickens are you? Ready to get reading another one of my super cam reviews? The fantastic ones concerning the type of sex cam performer you really, really love to see? With the rack up top and the equipment down below? Have I asked too many questions already? Are you getting really sick of me? Should I really shut up and get cracking with the review? All righty then!
This time, I am going to be reviewing the site called LadyboyCams.com. In case you're too dumb to guess, the site is all about lovely ladyboys and their wonderful cams, and the erotic action you can view at the site, if you don't take too heavily against paying for it. You don't get much for free these days, ducky lips! The site is another that's based in the United States, but I can tell you I thought it must be hosted somewhere far more mystical, as so many of the cam models here (in fact nearly all of them) are definitely Asian. If you head to LadyboyCams.com don't forget to wish it a happy birthday as it's only recently reached double digits in age. The site was a very basic and not very good-looking cam site until 2011, when a little bit of a revamp got it looking a whole lot better. So, how has it fared since its new lease of life? Let's find out, shall we?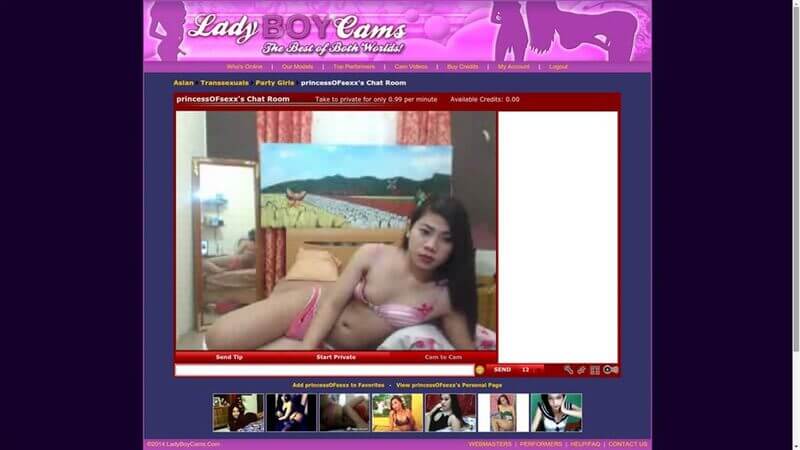 My Initial Thoughts ...
Oh dear. This is another effort like that daftly-named site GenderBenders.com, in that there does not seem to be a whole lot of sex cam models available at the site for you to yap with, and of course to engage with if you want to see things getting a little hotter, in a sexy cam model sort of way. Okay, so it isn't down to the bare bones like I often found at GenderBenders.com, but you're into the realms of a dozen - maybe a little more if you head to the site at the right time.
Anyhow, aside from a "selected" number of models, the site kind of looks a bit slapdash. It can't be hard to put together a juicy site like LiveJasmin.com, but the dudes who run LadyboyCams.com just don't seem to be bothered following the last time they put the "under construction" shutters up. Just looks if it was slapped together in a hurry, and that always makes me wonder if them dudes can be "trusted" with my credit card numbers, if you see what I mean. The only thing aside from the cams that's worth noting is the sexy shemale who pops teasingly into view every couple of seconds on the left hand panel!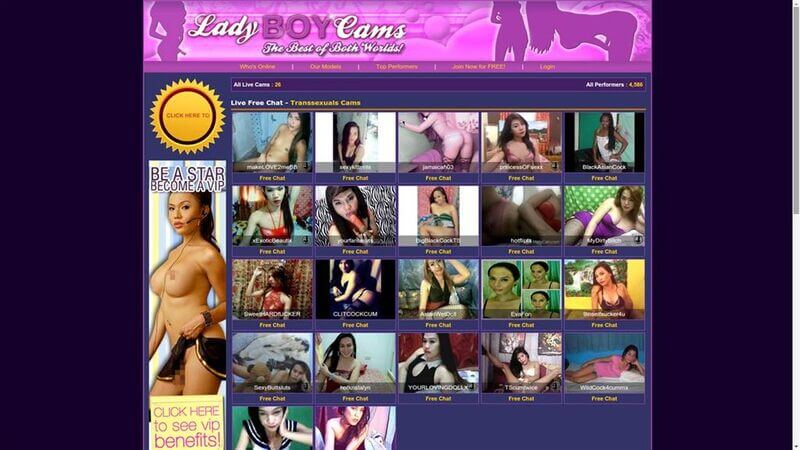 There is a menu along the top where you can go from the active cams to all the profiles (the site says there are 32,000+ profiles! If you look at them, a whole heap of them are definitely NOT ladyboys!). You can see who the top performers are this week - give them a round of applause! This "top of the shemale pops" also can be seen for this month, plus the last week and the previous month, so you can see who are the top movers and shakers! There's also menu options for signing up and signing in, plus if you are registered you can buy those all-important credits.
The model's menu pic doesn't really give anything away - just an indication of what the model is currently available for, and access to their profile, which has a lot more info and some pics if they have uploaded any. Some models only allow registered members to chat to them. If you try the mouse-hover trick with this site you end up with a camera icon. Click that and you get a frozen image of the shemale's cam!
Those Extra Features ...
Signing up allows you to go 1-on-1 of course, and to expand the cam screen beyond a tiny appeture. You can also watch some videos the models have recorded of their shows, and send your fave cam ladyboys messages.
If you go VIP you can get 10 percent off all your porn chat, and access to all the private show features and more pics and VIP-only videos.
How To Register ...
Nice and easy! All you need to do is pick a username and choose your password. Tap in your email address and the verification code. Hit "Sign Up" and then check your inbox. You will have to confirm your email address before you can use the site as a full member.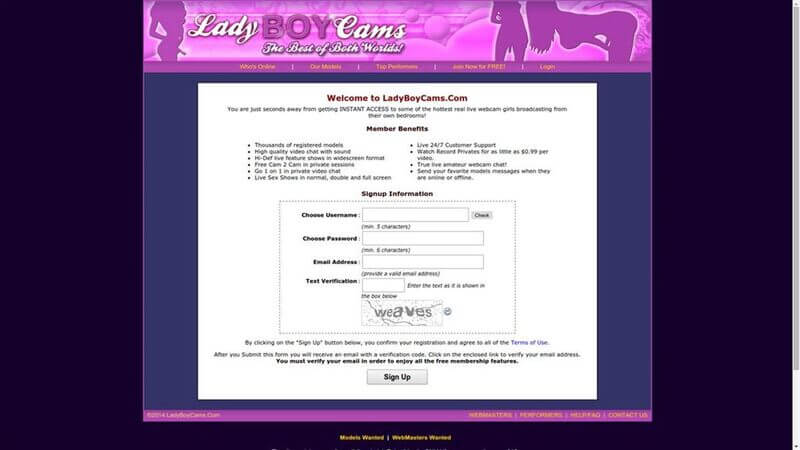 The Ways You Can Chat ...
You can chat freely as long as the sex cam model isn't "Members only". You can also go 1-on-1 if you are registered and have some of those credits in your bank account. The rate seems to be a "very easy on the wallet" $0.99 a minute all round although some do charge a few credits more. if the lusty ladyboy you want is currently in a private show you can sneak a peak, but it costs just as much (or as little) as the full chat rate.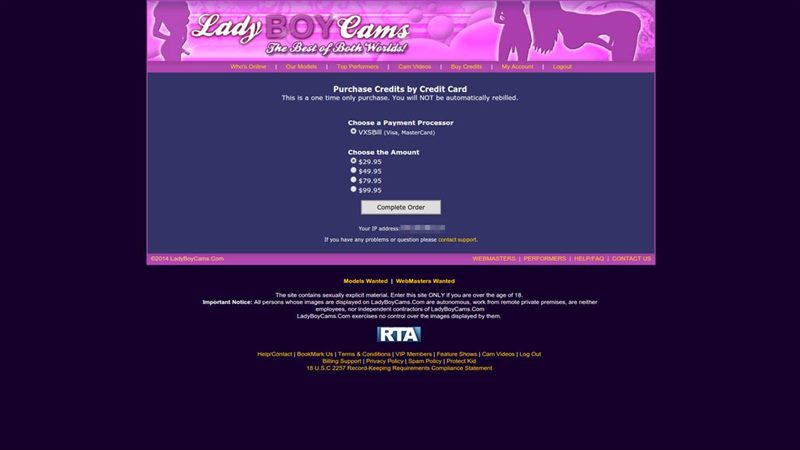 Quality of The Videos ...
This site is not going to win any prizes for the quality of the cams, I can tell you that! Beyond 2x mode they get very blurry, and there is no indication of HD anywhere - which is good because I don't think it would be very truthful!
How Much It'll Cost You ...
See above! Credits are worth one dollar each, and VIP status is obtainable at $29.95 per month!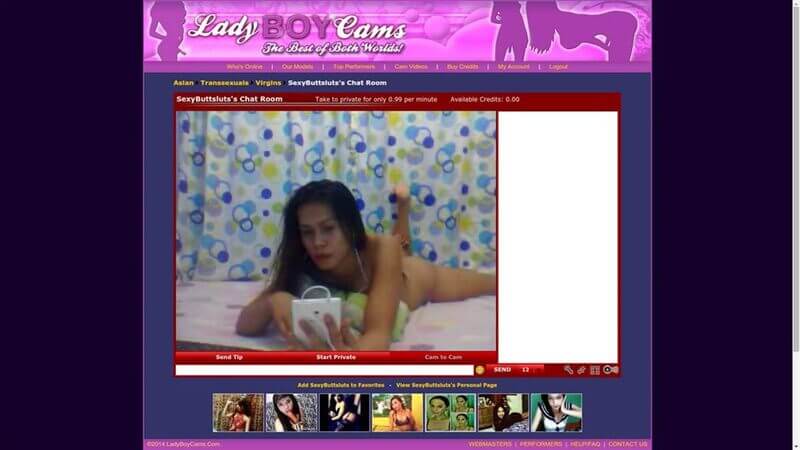 The Ways You Can Pay ...
Ooo ... loads of ways. Visa AND Mastercard. What else did you want?
How Many Models ...
Hmmmm ... the profiles number up to 32,000, but the cam views say only 4,200+ are available. As I said earlier, if you reach 20 sexy shemales online when you enter the site then count yourself very lucky indeed!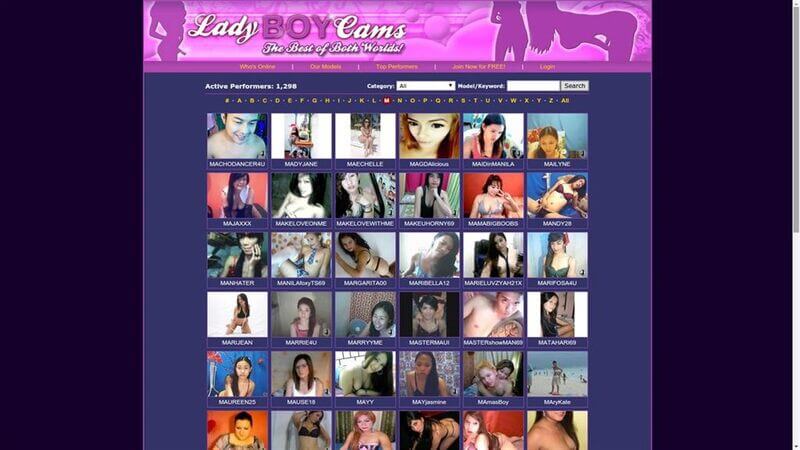 The Support You Can Get ...
Well, you do get a phone number, but I guess support is only really good when you actually use it! There's email support and a link to the payment system they use. No live chat function though.
The Pros & Cons
Pros
✔ - Another site that is as cheap as chips!
✔ - You don't have to spend much if you don't want to!
✔ - All the live chat functions cost less than one dollar per minute!
Cons
✖ - The cams are not a very good quality at all.
✖ - A bit sparse on the old "number of available models" front
✖ - The re-vamp back in 2011 needs to be re-vamped again
Winding Things Up ...
Do you like Asian shemales? Do you like to keep your dollars in your pocket when it comes to feeding your ladyboy libido? If so, then LadyboyCams is definitely for you! If not ... you'll need to look somewhere else! Ta-ta!