BongaCams.com - Where You Can make Your Wonga Last Longa
Hi-de-hi, my lovely sex cam lovers. How does old Tom find you at this moment in time? Well, hopefully I find you ready and raring to go to read all about another adult sex cam site I've hunted down in my never-ending safari to bring you everything you need to know about all those lovely and sexy-hot x-rated chat sites out there!
The latest hot and steamy site I've uncovered for you is the oddly-titled BongaCams.com. What on Earth do they mean by "Bonga" Cams? Not a term I am familiar with at all. According to UrbanDictionary.com, Bonga usually means "crazy", "weird" or "funny as hell" - I guess they were running short of suitable domain names ... which could be the truth as BongaCams.com has only been around since 2012. In terms of the grand-daddy sites like Flirt4Free.com and Webcams.com, it's practically barely out of diapers! There's not a lot of info hanging around the web about this site, other than it gets over 4 million page views every day, is registered in Panama, but it's an American-run company. It's also one of the most popular adult cam sites in the US. But is it a top rated cam site, in the US or otherwise? Just keep on reading to find out.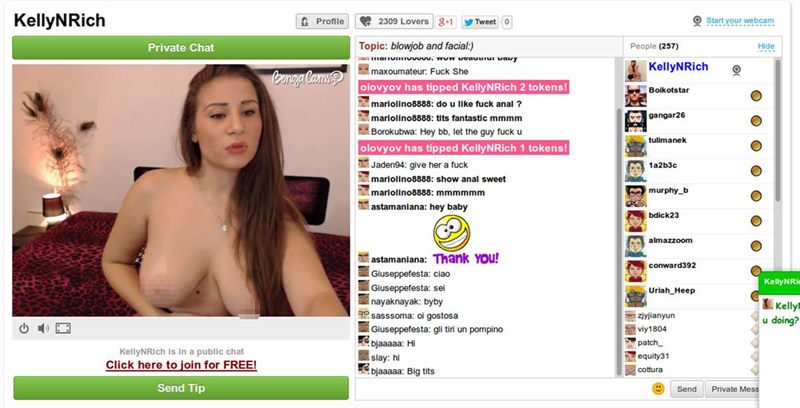 My Initial Thoughts ...
BongaCams.com greets you with a big pop-up telling you that you are going to see lots of naughty things at the site, so you have to be over 18 years of age to enter, of course. Pop-ups are kind of a big thing at this site, as you will find out. I must warn you that if you are of the sexually squeamish nature, then you better find somewhere a little more refined than BongaCam.com to find your sexual fun. The ladies here are very willing to show you the bits you are really interested in seeing, and in free chat as well, and as the default menu setting is a xxx cam snapshot view, you're going to be swimming in ladies bits as soon as you enter the site. You can switch the view to a normal thumbnails view, and you can also change the size of the thumbnails or cam snapshots, which is really cool. So far so good ...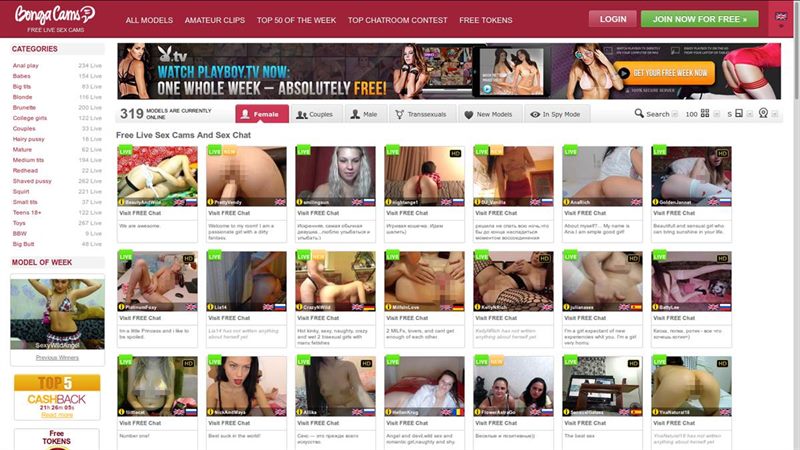 I did warn you about those pop-ups, though. Obviously the geeks at BongaCams are supreme geeks as they know how to time a pop up to pop up every couple of minutes, telling you that you really ought to register. Registration is free, so it doesn't take two shakes of a transsexual's dick to stop those pesky pop ups ... only you then get MORE pops ups telling you to buy some credits! Sheesh, it REALLY gets annoying. Can't you just enjoy the site for free? I suppose you could install a pop-up blocker, but is it really worth the effort, just for one site? The only other alternative is to buy some credits, and it's only about two euros for nine credits, but that means registering your credit card ... it's up to you, I guess!
If you survive the blinking attack of the killer pop ups, then you can start to look around the rest of the site. Along the top menu you can introduce yourself to Females, Couples, Males, Transsexuals and New Models. There's another menu of "interests" on the left hand side of the screen, but it's not as detailed or as expansive as menus I've seen at other sex cam sites. Other than that, you'll find a few ads for bonus features available, and that's your lot, chummy!
Those Extra Features ...
Hmm ... well I think BongaCams operates on a single level, which is: you buy tokens, you use tokens, and if you want to see more, you buy more tokens. There's no such thing as VIP status here, and there's not much in the way of special features, either.
How To Register ...
A word of warning. To register, click on the "JOIN NOW FOR FREE BUTTON" - a random pop up appears, but, if it's one where you've invited just to fill in your email address, GET RID OF IT! It may be tempting to fill out your details like this, but you will end up with a crappy username THAT YOU CANNOT CHANGE! Instead, find the pop up where you pick your username, password and email address and fill that in instead. You have been warned. You'll get a confirmation email to cement your membership, and five free tokens. Whoppee!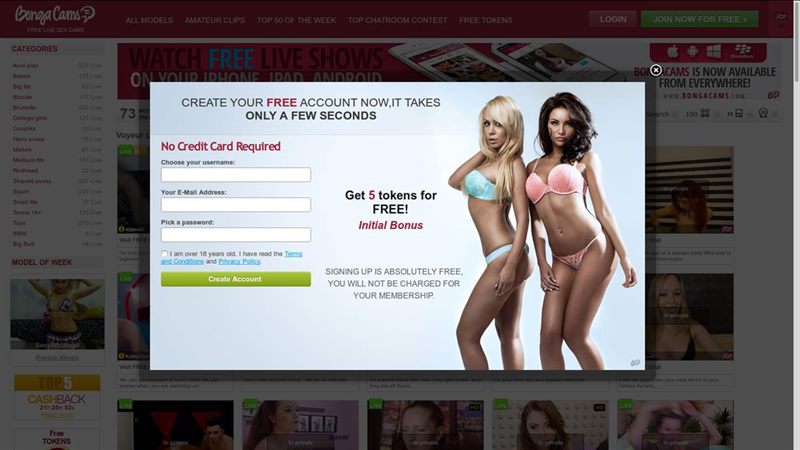 The Ways You Can Chat ...
You get five way of chit-chatting:
Public Chat - free chat where you can tip, but the xxx camgirl will largely ignore you unless you're a paying customer.
Private Chat - set at 30 tokens a minute. "1-2-1" chat that other people can look at as well.
Group Chat - set at 15 tokens a minute. The camgirl decides how may people wants in the group chat, and there must be at least three.
Voyeur Chat - set a 8 tokens a minute. You can pop into someone else's private chat, but you can't join in.
Full Private Chat - set at 35 tokens a minute. A Private Chat where Voyeur chat eavesdroppers are banned.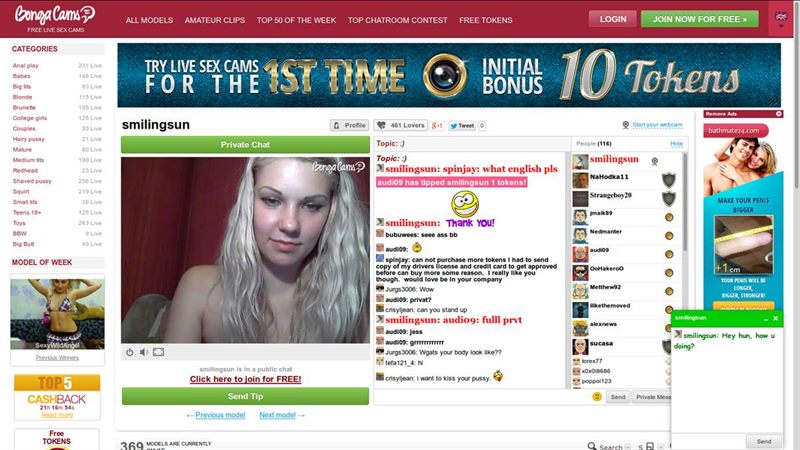 Quality of The Videos ...
The cams are really good, so if you've got HD, and your chosen camgirl has got HD, then you're good to go.
How Much It'll Cost You ...
Bongacams fixes the prices for all chats (see above). Tokens are available as follows:
EUR €
Price
Tokens
€1.99
9
€4.99
29
€9.99
71
€24.99
200
€49.99
425
€65.99
565
€74.99
670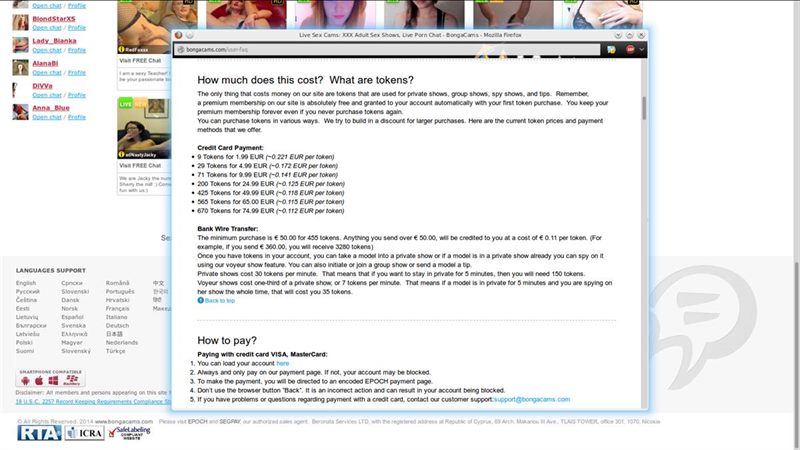 The Ways You Can Pay...
BongaCams has quite a few payment options. There's Visa and MaterCard as well as both Bitcoin and PayPal. You can use a Bank Wire Transfer system like Western Union, if you're willing to stump up the minimum payment of €50 for 455 tokens.
How Many Models...
In around two and bit years the site has amassed between 2,500 and 3,000 models, of which around 200 or so are likely to be online when you pop across to have a look.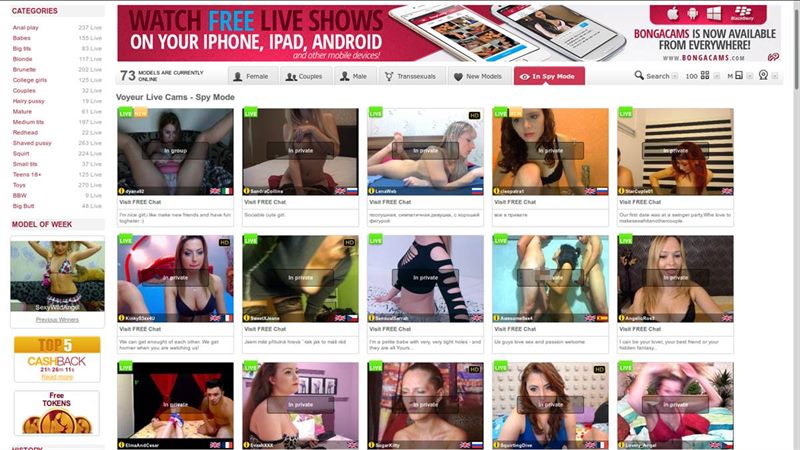 The Support You Can Get ...
The FAQ page is pretty extensive, although the English is pretty bad. It's understandable, any how. You can take advantage of the live chat feature if you get really stuck, and there's email and phone numbers that you can use.
The Good & The Bad ...
Good
✔ - You get what you pay for. No monthly fees for "brilliant" extras. You pay the girls and the girls ... you know ...
✔ - No problem with the streams - they look pretty good to me
✔ - Hmmm ... struggling here ... I guess the sex cam models can get nicely raunchy, even in free chat mode
Bad
✖ - This one is easy-peasy ... THOSE F**KING POP UPS! F**KING POP OFF!
✖ - The chat window is a little busy, and you can only go full screen if you've bought some tokens
Winding Things Up
It's a shame really that my experience at BongaCams.com has been spoilt by those unpleasant pop-ups. They do get REALLY annoying, and I can imagine a lot of sex punters pissing off because of them, rather than registering or spending some wonga at bonga. That's a shame, as some really raunchy stuff awaits you if you can get over the pop ups barrier. The streaming is perfectly fine, although I wish the chatting experience wasn't so busy. I also like sites where you get what you pay for, and don't have to sign up for a monthly fee. I'm ignoring the pop ups and giving BongaCams.com a three-quarters thumbs up. Why not linga longa at bonga to see if you agree?
Review of BongaCams.com
- Reviewed by
topratedcamsites.com