LivePrivates Review - The XXX-rated Home of Hotties
Last updated
February 10, 2021
Premium
Clothed Free Chat
First Purchase Bonus
Pros
Professional models
Feels premium
Great video quality
Sale chat rooms
Cons
More expensive
Limited free options
Tame free chat
With so many private webcam sites to choose from it's hard to know which is going to rock your cock and which is a waste of horny energy. LivePrivates certainly belongs to the first category. This live porn video chat site not only has an amazing collection of the sexiest cam girls around, it makes sure you can enjoy them in a fantastic HD video quality, at really competitive chat rates, and will tempt you further with a fetish selection to satisfy the perverse.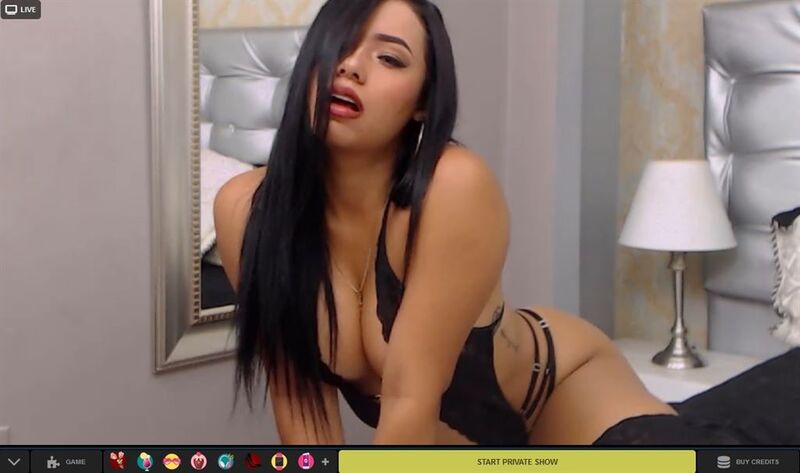 LivePrivates is first and foremost the promised land when it comes to X-rated video cam shows. It'll be hard (literally and physically) to spend more than a couple minutes in any of the many free chat rooms before you'll want to go private and get the full parade. Some of these hotties can put a porn super-star to shame. Trust me on this, you'll 'cum' away with a wad of memories to deposit into your wank bank.
So, whether your soldier is a private, lieutenant or general, LivePrivates will have him standing to attention and ready to shoot each and every time.
The Cam Girls
There around 1,000 pussylicious models live at any one time and while I say they're all uber-hot, what I mean is there are drop-dead gorgeous cam hosts in every category. Me, I like a brunette with a big ass and knock-out knockers. If a petite blonde, a curvy Asian or a girl-next-door with a full-on bush is your cam queen, then there are thrones a plenty to sit on.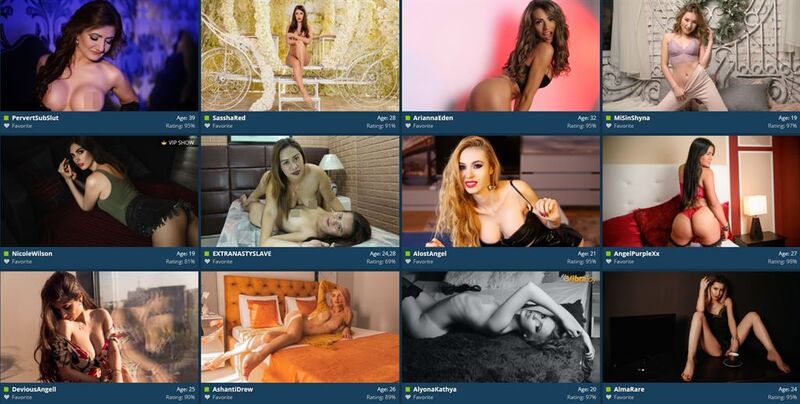 So once you've narrowed down your selection of hot models that deserve your undivided attention, it's over to the free chat option. Now, before you're going to pay a penny for some one-on-one time - here's a Tip From Tom - click on their bio (the little info icon on the top right of their image) and go take a gander at what they're willing to do.
If you're looking for a particular fetish you can see in her bio what's her kink. Hey, even if she hasn't listed your pet predilection, you can ask her in free chat if she'll do your dirty deed.
You can also start your hunt for a funky fix by using the Willingness search category and only see the sexy starlets that are deep-throat doms, butt-plug babes or whatever pops your wood.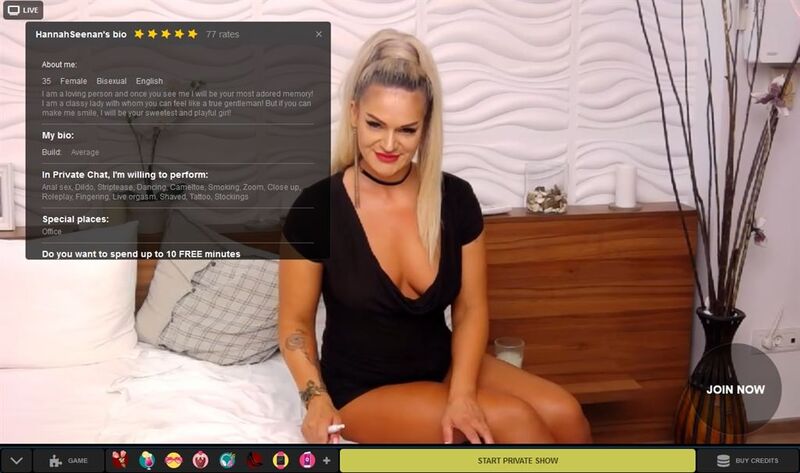 The girls' bios also feature a gallery of sexy photos and short promo videos showing the sassy diva's best assets. Most of the kodak moments wouldn't look out of place in a glossy girly mag, but for the XXX-rated fun you'll need to be a member of the site. Becoming a member is as easy as getting a hard-on, but I'll go into that later... (becoming a member that is, not how to get a hard-on, you dirty dude). Quite simply, once you've shelled out for some LivePrivates credits, you automatically climb to the first rung of the membership ladder and this means access to those naughty snapshots.
And folks, listen up, first-time users can get 10 FREE credits (I'll tell you how in a moment).
LivePrivates also has a larger than average library of guys and trans. Now as you know, Tom tells the truth, so in the spirit of straight talking, I'll admit I'm not a devotee of the dick. But, a review is a review and I checked everything out on this site. And I mean everything. What I can say - the trans were tempting. Most were Asian or Latin and they looked damn fine to my eyes. So, if you're a schlong aficiondo - LivePrivates is definitely going to get you cock a'crowing.
LivePrivates Feature Highlights
As with any cam site that deserves a review by yours truly - LivePrivates isn't only about sexy video chat sessions. Some of my fave features include:
VIP Shows
10 FREE Peeks
Spin The Wheel and win extra credits on your purchase
HD Streaming
Full Screen Viewing Option
Vibratoy Tipping
Pornstar Cam Hosts
FREE credits when you validate your credit card (no purchase necessary)
Redeem major brand gift cards for credits
Now you all know that I love my freebies but unfortunately I used up my 10 free sneak peeks many moons ago (they don't call me Peeping Tom for nothin'). As I'll explain in a moment, your peeks are guaranteed to get you hooked on the girls and their goodies, but I have to be honest, for me, it's all about the ridiculously raunchy VIP Shows.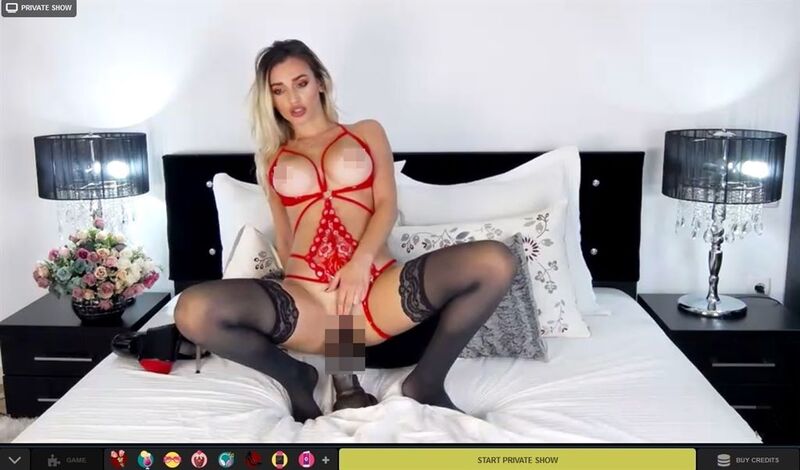 Getting Started
As you'd expect, signing up to the site is 100% free and easy. All it takes is an email, a password and a username of your choice. No personal details are needed. In fact guys, while we're on this subject - if any site asks you for more than those three things and maybe your date of birth (after all, adult entertainment should be for adults only) then think twice about joining up. All of the video cam sites I review only ask for those three pieces of information and I'll only recommend a site if I know for a fact it's legit and totally trustworthy.
What can be better than watching naked chicks getting down to business and not having to spend a dime to enjoy those tits and asses. At LivePrivates, you get a taste of the goodies that are waiting behind the virtual door when you sign up to this popular live porn site. They'll give you ten, 20-second FREE PEEKS into ongoing private chat rooms as a welcome gift. This means you can silently enter someone's private chat session and get a tantalizing teaser of what could be yours. As a virtual peeper, just know that you can't interact with them in any way. You're a silent visitor in someone else's webcam sex session.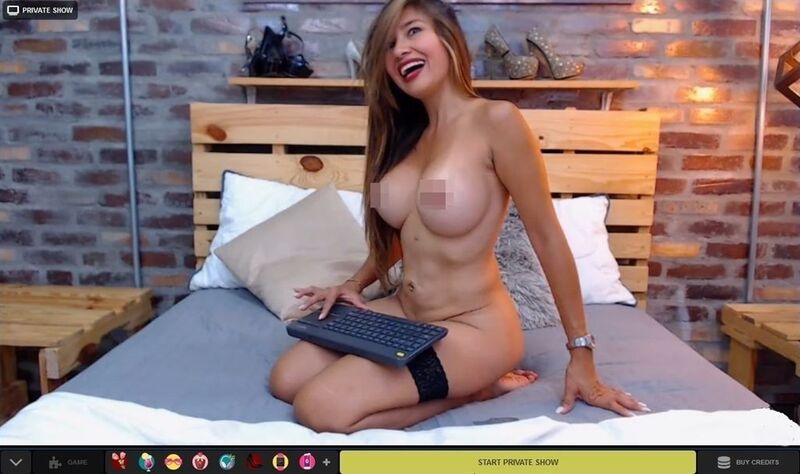 Chat Options
There are hundreds of free chat rooms to dip into while you keep you credits in your pocket (and whatever else you're not ready to whip out just yet). You can see which chat option your cam cutie is up to by the little green or yellow square by her name. A green one indicates she's holding down her free chat fort, a yellow one means she's enjoying some private video chat time and if she's got a yellow square with a VIP sticker on her photo, then she's making the moves in a VIP Show.
Free Video Chat
With the LivePrivates webcam hosts so damn hot, you'll have loads of fun in the free video chat rooms. They'll flirt, they'll seduce, they'll tease and they'll drive you wild for more, but without the ka-ching! and inviting them to a Private Show - you're not going to get much X-rated action.
Private Show
Oh the joys of a few minutes in Private Show heaven with a LivePrivates cam performer. Here you can turn on your webcam and 2-way audio and really get the party started.
VIP Show
LivePrivates' VIP Shows are a cheap and oh-so cheerful way to see some serious XXX-rated action. To join the show, you simply reserve your front row seat for a few credits. The price and length of the show varies from girl to girl. It can range anywhere from 3 minutes to 15-plus minutes and can cost as little as 2 credits. (Generally the longer the show, the more credits you'll have to fork out). How it works is the girl has a set time limit in which to reach her credit goal (i.e. she'll only start if a certain number of us horny punters buy a seat). If she doesn't reach her goal the show is cancelled and your credits refunded.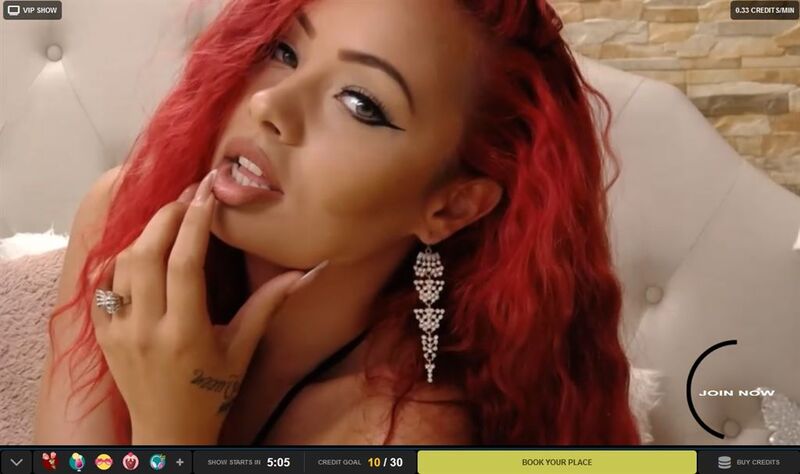 As far as I'm concerned - the VIP Shows are a great way to kick off a few hours of cam site fun. If you haven't yet enjoyed some private one on one video fun with the little foxy fiend, it's a way to see if they have the kinks, the tits, the ass and the moves that are deserving of your time and cash.
LivePrivates Prices
Even though this is one of the top and most popular video chat sites online, it's also one of the most wallet friendly sites I've come across.
The price you'll pay per credit depends on the bundle you buy. Before you purchase credits though you get an opportunity to Spin The Wheel. This game of fortune can give you extra credits - up to 100% in your bundle.
The sweeties set their own prices for private chat and VIP Shows. They start from $1.00/min and can get as high as $12.00/min but.... during my many hours of price comparison poking (the things I'll do for you my friends), it seemed that most of the babes weren't that greedy and were doing it for the love. The average price/min for a private video chat comes in at around $2.60.
Bear in mind that these costs don't include cam2cam or 2-way audio. To enable each of these features you'll have to factor in an additional $1/min for each on top of the regular private chat rate.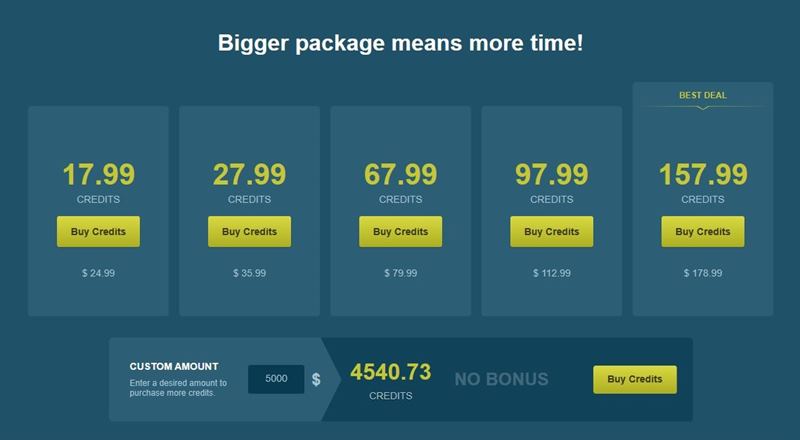 Now you're wondering?
What about those FREE credits Tom mentioned earlier? To get something for nothing, all you have to do is enter in your payment details and you'll get 10 FREE credits without having to make a single purchase.
On Sale is another great cost-cutting tool. Some of the girls cut their credit/min cost if the action is slow or they want to increase their fan base. It's worth checking around to see if any of your fave fancies are giving a discount or even if the more expensive cam models have decided to push down their price in order to rack up their ratings.
Now, if you've been on the site for more than a minute or two - chances are you'll be bucking up and laying out the greenbacks. First things first, the site has a rockin' reputation as one of the safest, most discreet and trustworthy webcam sites you can find. In fact, you won't even find it listed when the billing comes in. Charges to LivePrivates are listed on your credit card statement as payment to Duodecad IT Services.
Payment Options
Credit/Debit Card - Visa, Mastercard, Visa Electron, Maestro, Visa Bleue, Discover, Diner's Club, Union Pay and JCB
Bank Wire Transfer
Cryptocurrencies (Bitcoin, Ethereum and 50+ more altcoins)
Webmoney
Pay by phone
European Direct Debit / European Bank Wire Transfer for our international buddies
ACH - Online Checks
Here's the kicker....
LivePrivates also takes gift cards... Ah hah... Bet you hadn't thought of that the next time Secret Santa or good ole' Aunt Emmy gives you a gift card for a major brand retailer or discount store etc. Instead of stocking up on motor oil or cleaning fluids, you can stock up on LivePrivates credits and really get the grease job going.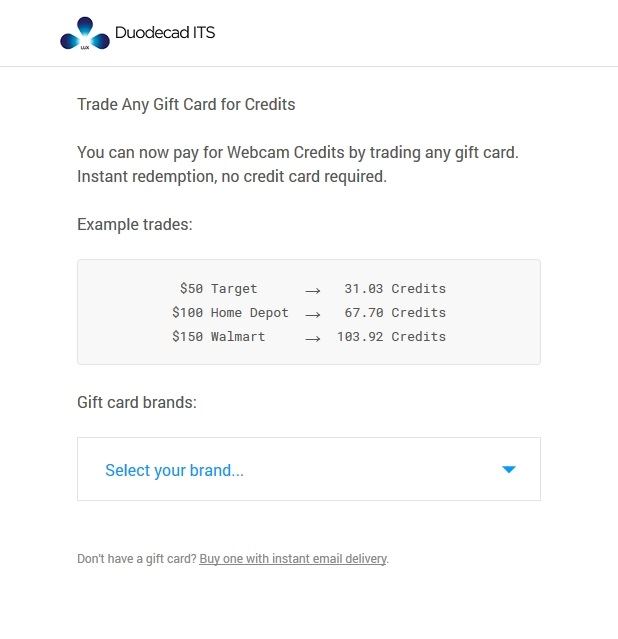 Mobile Experience of LivePrivates
LivePrivates is a great choice if you're on the go. And by that, I mean not by your PC. You can get to LivePrivates mobile video chat platform through your mobile device. If you are in a private video chat, the model will know that you're watching on a mobile screen and will position herself accordingly, so you get the best view.
Video Quality
The quality of the video broadcast varies depending on the webcam host's capabilities - but as a premium video chat site, the majority of the hotties are streaming at a minimum of HD 720p, with a growing number broadcasting in full HD 1080p resolution.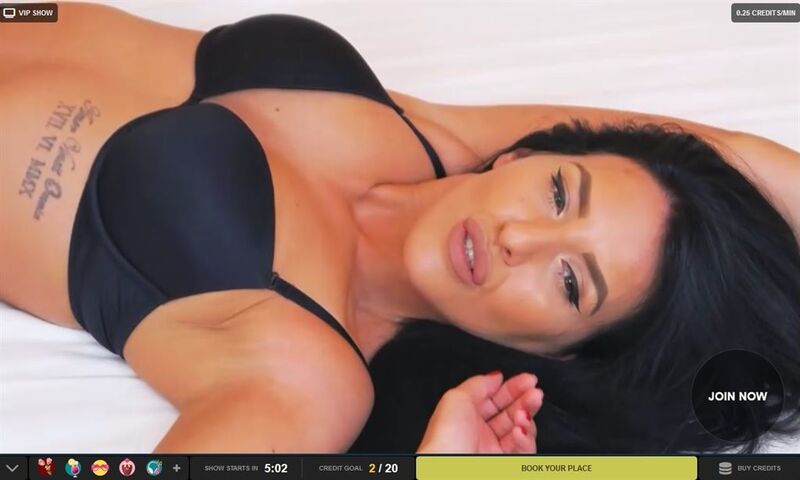 When in a model's chat room, look for the HD toggle switch in the player to make sure it is set to on. This will boost the high definition broadcast. Model's without the HD toggle switch in their player are limited to just HD 720p.
The Pros & Cons
Pros
✔ An unbeatable collection of the hottest cam models I've seen
✔ The fetishes and kinks (Willingness) category is large, varied and offers hardcore options
✔ 10 FREE peeks into ongoing private shows
✔ Register a credit card, and be gifted 9.99 free credits
✔ Spin the wheel before every purchase to win free credits
✔ Great customer support service
✔ Extremely competitive (and by that I mean 'cheap') private chat rates
✔ VIP Shows
Cons
✖ No real amateur models. All the girls are super-polished and know their business
✖ No community message boards or forums
✖ A cam girl's private chat rates vary depending on their mood and time of day
Before You Go
So now you know what to expect from LivePrivates; the best-looking and horniest cam models, a huge selection of mild and hardcore fetishes, great quality video, free peeks and bonus credits. The only question left is one I can't answer for you: What's stopping you from going to Liveprivates this very minute?