SakuraLive.com - The Nicest Japanese Babes That You'll Meet Anywhere
Last updated
January 02, 2021
Premium
Clothed Free Chat
CC Validation Gift
Pros
Japanese cam girls
Free previews
Interactive toys
Cons
C2C costs extra
Must register cc
Hello. Not a happy bunny today. Read this review and you'll find a possible reason! It's not like me at all to be a bit gloomy, as you probably know (if you've been reading my reviews - and I hope you have!) I'm usually a cheerful chap, but your old pal tit-loving Tom just ain't in the mood today, my buddies. I'm tangentally tormented Tom. But I will do my best to grind out this review.
Today's reviewed site is called SakuraLive.com, and it features mainly Japanese models. If you're wondering about that Sakura name, well, in Japan they make a big deal each year when the cherry blossoms erupt and cover all the cherry trees in pretty little pinkish flowers - and then the ground as all the blossoms fall off the trees after a few days. They call this in Japan "Sakura", hence "Sakura Live". This site has been providing Asian sex cams, or to be more exact Japanese sex cams ever since.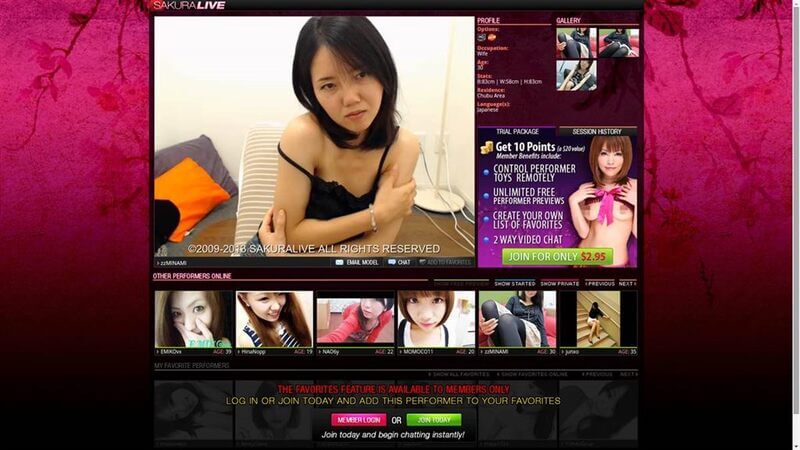 My Initial Thoughts ...
Things get off to a really good start with a lovely banner of sexy Japanese chicks. These are obviously professional models so don't expect to see girls as classy as this on the cams site! If you are a regular user of Asian cam sites then once you are through to the menu screen you will recognise many of the sex cam performers - I certainly saw a few old faces (or not! - as you ought to know Japanese cam performers usually like to keep their faces hidden, but I recognised a few other body parts).
This menu selection screen is very typical of other Asian x-rated cam sites. There is a large screen in the top left hand corner that scrolls through the models that are currently online. You will see the "buffering" spinning circle a heck of a lot, and the same models time and time again as not many models appear to be online. You also get it confirmed that there are a lot of headless bodies about.
Another innovation is a Japanese to English translator. The site must have installed this as so few of the models speak English. I didn't use it, but I must admit it must be a real pain in the butt having to type in your message, translate it to Japanese and then translate the model's reply back to English! Why don't they just advertise for more English-speaking Japanese models?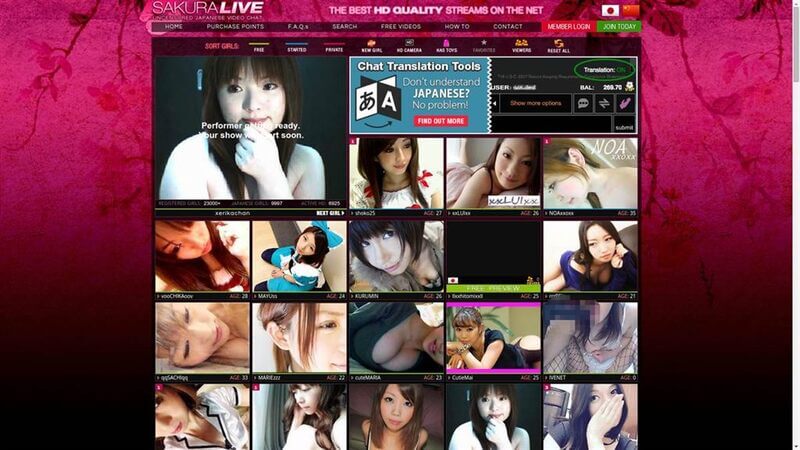 The thumbnails will give you the cam model's performer name, and the number of punters currently in the room. You also see a little Japanese flag. If there is only the Japanese flag (as is the case with most models) then the model only speaks Japanese. If you send messages in English to these models, they will simply ignore you. They're probably as good at recognising the English alphabet as you are at recognising the Japanese one!
The filter menu along the top allows you to select just new models, and models that have HD cams and that typical Japanese cam model item - the remote controlled sex toy! The upper menu has access to the frankly rubbish FAQ screen, a "HowTo" page that you will recognise from the other sites I have mentioned, and is also where you can buy points to fund your chatting activities (ALL chat here costs money). There's a free videos section but there's not a great deal of explicitness going off in them.
The cam thumbnails do the "free preview" trick, but they also seem to block you from accessing the cam model's room for some reason. You have to wait until the little preview screen appears, and then click on that. What a waste of time! The cam rooms pop up into a pop up, and if you want to chat, that pops up into another pop up! I hope you have a big screen! There is no chatting here for free, as I mentioned. You get twenty seconds of free preview, and then that's your lot!
Those Extra Features ...
Membership gives you unlimited free previews, cam-to-cam chat, the option to use remote-controlled toys, and to set up a list of your favourite x-rated cam models on the site. You can also ... CHAT!
How To Register ...
Bummer. Like DxLIve you need to pay $2.95 to join and you get ten free chat minutes if you do. Stage one of registering involves tapping in your chosen username, password and a valid email address. Stage two involves registering a credit card and paying the fee.
The Ways You Can Chat ...
There seems to be only two ways to chat - group chat at one point per minute, and private chat at one and a half points a minute. No free chat. You can control a sex toy for another one point per minute.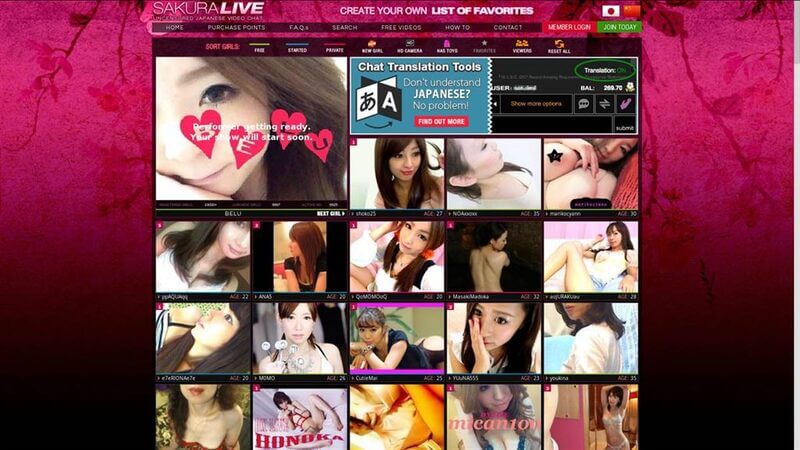 Quality of The Videos ...
Very hit and miss. Some xxx cams look lovely, and others terrible. There doesn't seem to be any indication as to whether a cam is HD or not. i would use the HD filter mentioned above if I were you.
How Much It'll Cost You ...
One point costs around $2. There are no details whatsoever (not even in the FAQs) as to how many points you can buy, or need to buy, to make a purchase.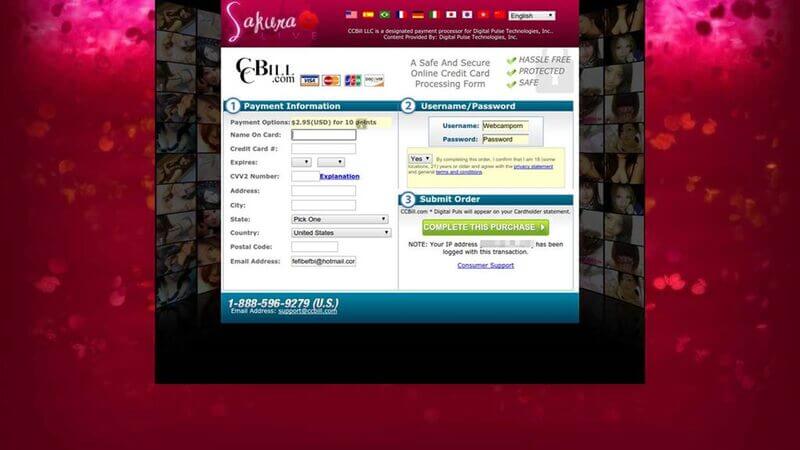 The Ways You Can Pay ...
Billing is provided by CCBill. You can buy points by using MasterCard, Visa, Discover or JCB.
How Many Models ...
The site claims to have around 23,000 models registered on the site. Of these, about 10,000 are Japanese, and a little under 7,000 have HD Cams. Despite these big numbers, if I was to hazard a guess at how many performers are online at any one time (it is almost impossible to work out from the site) I'd put my money on "not many" !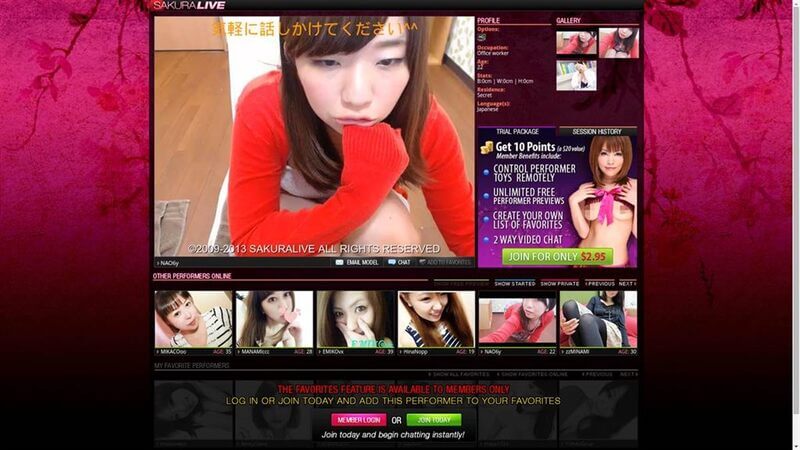 The Support You Can Get ...
You can read through the useless FAQs if you want, and if you've been to a cam site before, then you won't need the "HowTo" page. Other than that, it's only a contact web form.
The Pros & Cons
Pros
✔ - Some of those freebie vids are okay in a "soft porn" type of way
✔ - The sexy models are red hot! (The pro models in the images, that is!)
Cons
✖ - Not enough models online, and the VAST majority of them don't show their faces
✖ - Free chat is not an option
✖ - A $2.95 payment just to join, and no details of prices before you do
✖ - Not enough English-speaking models, and the translation tool is a dud
✖ - Pop-up cam rooms, pop-up chat applets
Winding Things Up ...
This is not the most sophisticated or innovative cam site, but it does deliver on what it promises - video chat with Japanese girls! If you're having trouble finding Japanese cam girls on other cam sites, and these are the women you really want, then SakuraLive is worth a shot.