MyTrannyCams Review - Luxury Brand Shemales
Last updated
February 01, 2021
Premium
Clothed Free Chat
First Purchase Bonus
Pros
Exclusive models
Great video quality
Time-saving search
Live chat support
Cons
More expensive
C2C costs extra
Tame free chat
If you're the type of guy that's looking for a gorgeous girl who's got that something extra or perhaps you just want to experiment with a babe that has the full package, then read on 'cause your dream date is waiting. The ladies with the loads at MyTrannyCams have taken gender-bendering to a whole new level of lusciousness. Fast HD streaming, stunning smiles, boobs and balls, flirts and fetishes all await you at this first-rate cam site.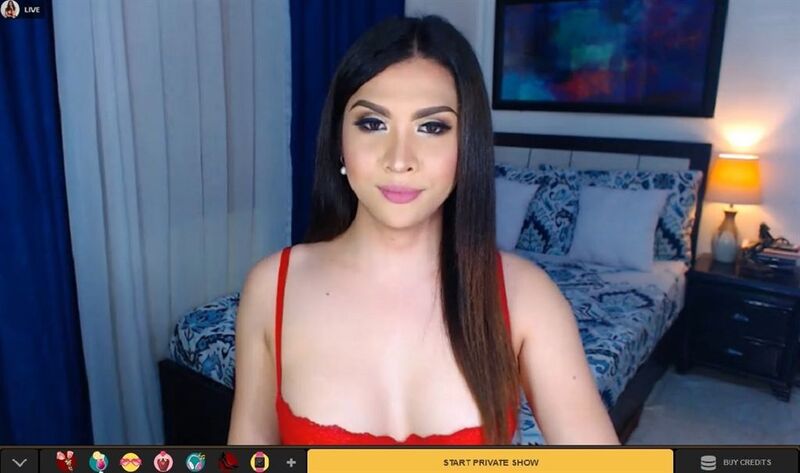 MyTrannyCams is undoubtedly one of the leading XXX live cam tranny sites around. Every transgender that broadcasts herself here represents the pinnacle of live porn trans-temptresses. As a trans-centric site there's no searching and clicking around to find a t-girl category, here it's all about the babes with bonuses.
But, if you're looking for some she-girl sleaze, this isn't the destination for you. MyTrannyCams is all about seduction, sophistication and sensuality. However, while the veneer of elegance and refined raunchiness makes for easy viewing and comfortable clicking, this doesn't meant that once you peel off the fancy facade and enter a private cam show it stays R-rated. Quite the opposite. You'll be on the verge of enjoying one of the hottest, horniest and kinkiest cam shows you'll have the privilege to partake in.
Read my full review to discover some amazing insider tips that'll get you deep discounts on private chat shows, get you to the best babes in full HD in just a couple of clicks and find out what's worth splashing out on and what's worth clicking on by at this premium live sex tranny webcam platform.
Trans Models
The site's hundreds of trans models are mainly from Asia or Latin America, with just a small percentage from Europe and the USA. So, if want a kinky Korean, a big-breasted Brazilian, or big cock from Colombia - MyTrannyCams has you covered.
A word to the wise, if amateur trans are what desire, you're probably not going to find them at this premium trans webcam site. Some of them are true glamour gals that could be gracing the cover of any mainstream or LGBTQ glossy mag. In their chat rooms, the majority of the porn princesses have info (a bio showing their preferred kinks and user ratings) and often additional offline media (X-rated photos and porn clips). Some of the naughty snaps are free to look at, but for the more explicit ones you'll need to pay a small fee in order to unlock them.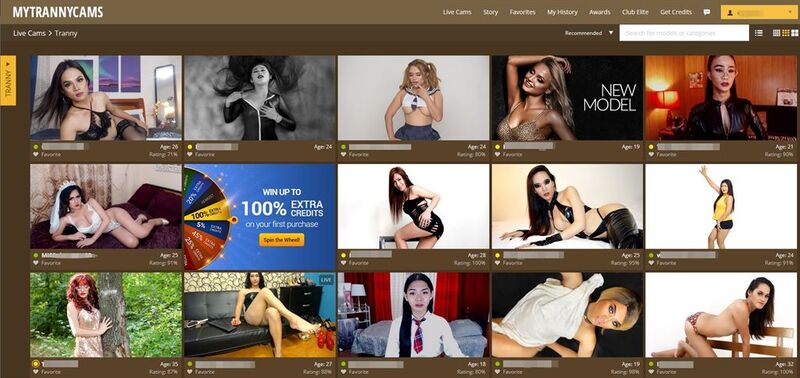 When you're perving through the gallery of snapshots, trying to decide which tgirl piques your interest, you'll notice a small colored circle next to their name. These circles indicate their online status. If her circle is green it means she's hosting a free chat session in her open room. A mustard color circle shows she's online but otherwise engaged in a private tranny cam performance, in which case you can either pay for a voyeuristic peek and see what kinky fun is going on behind her virtual curtain, or wait until she's free and back in her open chat room. If she's got a grey circle that means you'll need to come back another day my friend, cause the lady ain't at home.
It's not only about single tranny cam hosts - if yearn for double the trouble or even a group of t-girls, the site also has several couples and group rooms streaming where you can get far more than one dude alone can handle.
MyTrannyCams Feature Highlights
The site is extremely easy to navigate and has a strong, user-friendly search engine. You can narrow down your selection of models by; Ethnicity, Age, Appearance, Price, Language and even Penis Size and Breast Size. But dudes, if on the lookout for something a bit more X-rated then go straight to the Willingness category (just another term for kinks and fetishes).
If you're using the left nav bar of categories on the home page you can only choose one search tag at a time. So, if you know you only want to see those t-babes with a Big Penis or those into Anal, this is the way to go. On the other hand if want more specific results, such as a dildo using big dick Latina streaming in HD - you can only choose one of those criterion.
But, I've got a little trick, On the top right side of the homepage, there's a small icon showing three lines located to the right of the large search box. This brings up all the search categories and here you can click on as many search terms as you want and only those that appear in all the chosen categories appear.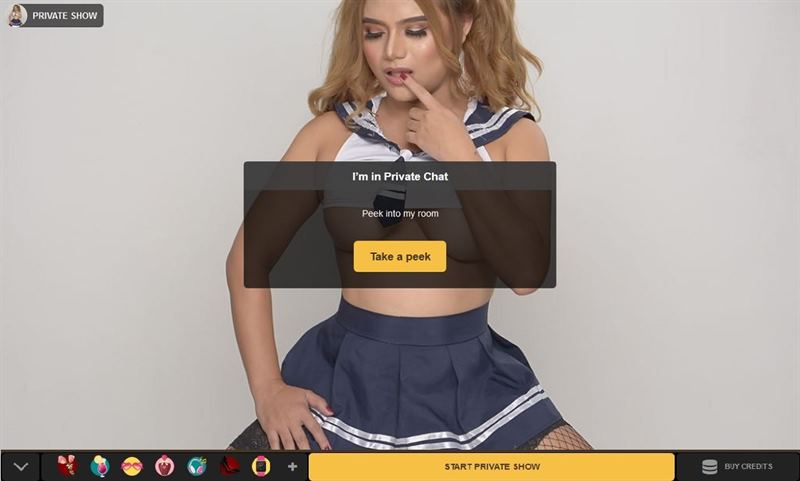 Big Tom Tip here: For first time members, the site gives you 10 FREE PEEKS. A peek is the chance to look in at an ongoing private show for 20 seconds. A word of advice - wait till the show is well underway - you don't want to waste a precious peek on a voyeuristic view of a model chatting to her new pal. Members with site credits can continue peeking into shows for just 1 credit a peek.
A few more MyTrannyCams temptations include:
When you validate your credit card (without having to make a purchase) the site gives you 10 FREE credits as a thank you.
If English isn't your mother tongue - the site can be viewed in 18 languages
Before you make a purchase make sure you Spin the Wheel (you can do this before every purchase - but only once every 16 hours and if you don't claim the reward within an hour - you lose it).
Sale - some tranny's host time-limited sales where they slash their private chat rates to the bare minimum.
Getting Started
It's extremely quick, easy and most importantly, free, to become a member of MyTrannyCams. All you need is a valid email and a username and password of your choosing - no payment details are needed. Once you've signed-up you get those bonus 10 free peeks, as well as being able to add models to your list of favorites making it much easier to find your new trans play pal.
If you're in a room as a guest and haven't yet registered for free on the site - after a short while the live feed will halt and you'll be asked to register. You can go back in or go to another room, but I really recommend taking a few seconds to sign-up. It's free, it's safe and it makes for a much smoother ride around the site.
Chat Options & Prices
Before you secrete a shemale away into a private porn chat, you should definitely hang out a bit in her free public room and make sure you get a sense of where things are headed with her and if she's into the same fierce fetishes as yourself. After all, we all want the best bang for our buck... or whatever other kink you're into.
Free Chat
Here you don't have to have credits or pay for anything but don't count on getting much attention. Also, if you're expecting nudity or explicit entertainment for free - think again. To take things further you're going to have to put your hand in your pocket and pull out your... wallet.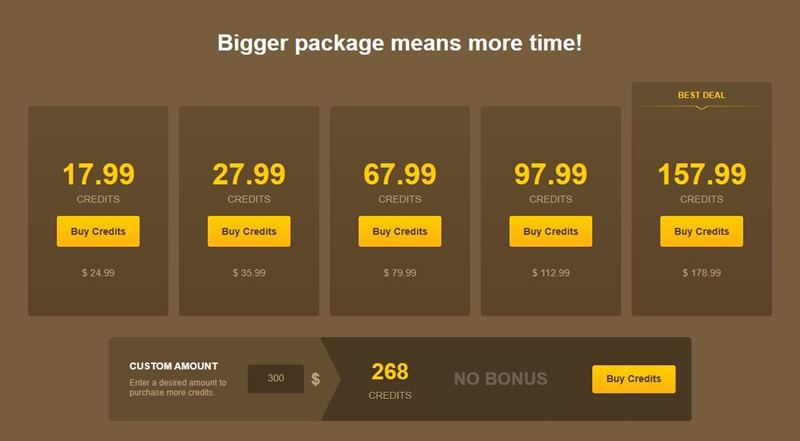 Private Chat
To start a private chat show (where the clothes come off and the balls start bouncing, you just click on Start Private Show at the bottom of the live feed or on the top right of the feed. A pop-up box then appears showing credit/min rate for some 1on1 time.
If you want a cam2cam session you have to click/tap on the small webcam icon on the video feed. This incurs an additional credit/min on top of the regular rate and doesn't include two-way audio. For this you'll have to add another credit or two per minute.
Prices for private time vary between performers but on average a show (without cam2cam and audio) hits the $2.60/minute mark, with the cheapest rates starting at $1.00/minute.
VIP Show
If a t-girl is hosting a VIP Show, I totally recommend checking it out. It's a really cheap way to perv at some hardcore action for just a fistful of dollars. One your t-babe launches a countdown to her VIP Show she has a time frame (around 5-10 minutes) in which to get a targeted number of horny homies to pre-book (buy) a ticket to her show. If she reaches her target (Credit Goal) the show begins. If not, all bets are off (and so is the show) and your credits refunded.
Payment Options
MyTrannyCams is super flexible when it comes to payment methods. The site accepts almost every type of payment including gift cards. For those of you based in the U.S. you can redeem brand/store gift cards in return for MyTrannyCams credits.
One thing you should be aware of... credit bundles come in different value options depending on the form of payment you use. When you first start the payment process, the site automatically brings up pricing and options based on credit card payments but, if you want to pay in a different way, you have to select Payment Methods at the bottom of the payment box and choose your preferred payment choice.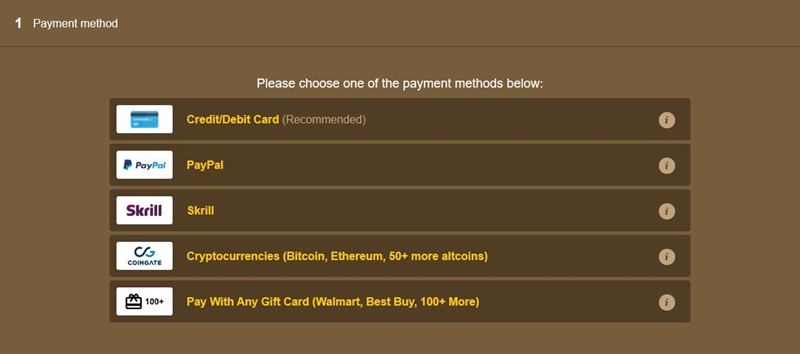 The site accepts:
Major credit/debit cards (but not American Express)
Cryptocurrencies
PayPal
Maestro
Money Orders
Cashier Checks
Wire Transfer
Personal Checks
Brand Name/Retailer Gift Cards (only available in the U.S.)
The sites takes security and discretion very seriously and keeps all personal information and financial details under encrypted multi-layer protocol. The site name, MyTrannyCams, will not appear on your billing statement. All purchases are listed under the payment provider's name.
Membership Benefits
Yeah - well no... Dudes, I'm going to be brutally honest, their membership program isn't really something worth talking about. Let me sum it up quickly - it's free, you get more points the more credits you spend. You 'rise' in the ranks and in return the site notes "models' admiration for you grows and others' jealousy deepens". Probably the only real benefit is that in the t-girl's free chat room she'll see if you're in a higher membership tier, and know that you've spent time and more importantly, money on the site and in that case, you'll probably get more attention than those whose spending habits aren't verified.
Mobile Experience of MyTrannyCams
The mobile version of MyTrannyCams is what you'd expect from a leading premium live porn tranny sex cam platform. It intuitively displays in a mobile layout on all smartphones and mobile devices. You get to enjoy all the same features that are present on a desktop layout and you get the rather cool ability to swipe through the live cam rooms.
You can even have a cam2cam private sex chat session on your mobile, but just watch the costs on this - you'll have to pay yet another credit/min just like on a desktop chat.
Video Quality
I would like to say that all the rooms at MyTrannyCams stream in HD, but I can't. What I can say is the majority of the streams are in high-quality SD feeds. While not officially HD - they're sharp, load quickly and don't suffer from any stuttering issues. And, of course, there is always a strong showing of HD enabled rooms.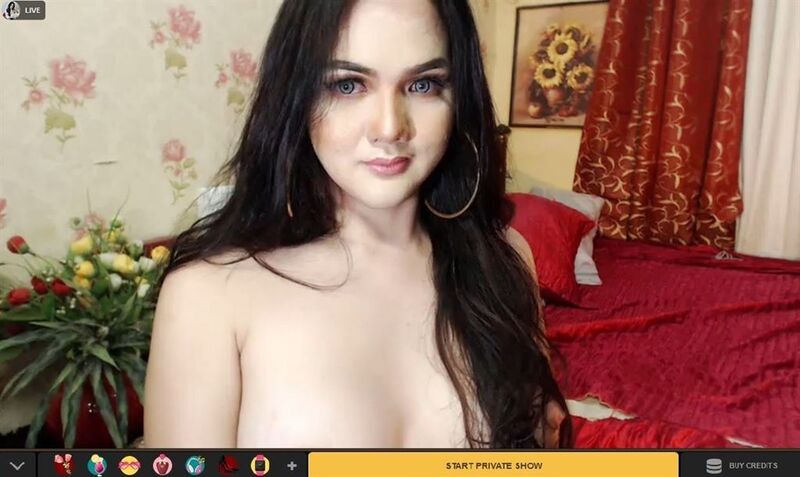 Another quick heads up... If you're watching a wonder woman, hover over her live feed and if a small HD icon appears on the bottom left, select it and ensure that you're viewing the cute chick and her dick in the highest resolution possible. Sometimes a room is HD enabled but comes through in SD. All you have to do is manually change the resolution via this icon.
The Pros & Cons
Pros
✔ 10 FREE credits when you validate a credit card
✔ 10 FREE peeks into ongoing private shows
✔ Spin the wheel to win extra credits before every purchase
✔ Sale rooms offering time limited chat price reductions
✔ Skilled professional live porn shemale models
✔ A wide-range of fetish categories
✔ 24/7 customer support service
✔ Cam2Cam on mobile devices
✔ Social media Snapchat type Story for select models
Cons
✖ Flat rates don't include cam2cam and 2-way audio.
✖ No amateur tranny live porn performers
✖ Selection of true HD rooms is limited
✖ Weak membership program
Before You Go
MyTrannyCams is without a doubt one of the leading, if not the best site for transgender sex cam chat. These chicks with dicks are glamour model gorgeous and know it's not looks alone that will have you coming back for more. Apart from the meek membership program, everything about the platform is A-game plus. Although not everyone is broadcasting in HD, for a shemale-centric site they have far more hi-def options than any other webcam site. The easy-to apply bonuses make sure you get a bootylicious bang for your buck. And the clean interface and strong search engine make finding the perfect femme fatale easier than ever.
But hey, don't just take my sexpert word for it, check out the site for yourself and I guarantee you'll be winking with a wank within minutes.