BongaCams Gay Review - Free Gay Action
Last updated
February 14, 2021
Freemium
Nude Free Chat
Multiple Promos
Pros
Great video quality
Big variety
Free performances
Site-wide flat rate
Cons
More expensive
Many SD rooms
BongaCams is a streamlined, user friendly cam site that makes you feel at home. The models' profiles are so full of info and personalized content you feel that you're getting to know the guys not just biblically, but personally. The streaming quality in the Male category needs work, but you can also select the HD tag to bring up only high quality rooms. The models vary in age, look, location and kink, so you're sure to find your bliss on BongaCams.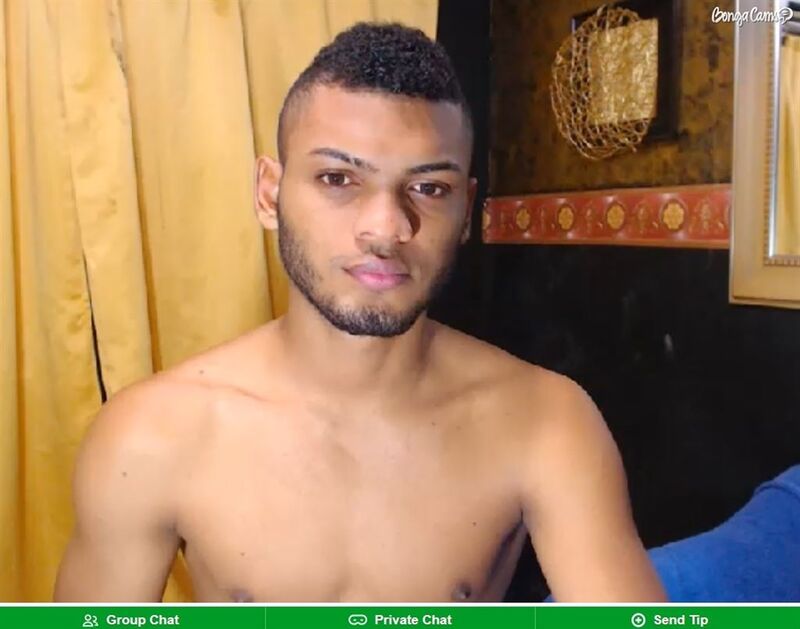 With 100 male hosts online at any given time, you have quite a group to choose from. It's a large number compared to other freemium sites, and it benefits the members who enjoy all types of models - New amateurs, experienced pros, fetish inclined hosts using sex toys or machines, mature hosts to share their wisdom and young twinks who really want to learn how to please.
The site focuses, happily for us, on its main asset - The models. There aren't many special features or complicated extras, the attraction is the men, and Bongacams makes sure you don't miss a beat. Especially in the Male category, it's easy to feel like you can get to know each and every one of the guys. Either use the search engine or click on a tag that speaks to you, and you're one click away from your dream guy.
Another great advantage of the site, is how friendly it is to all, as it automatically translates to 33 languages according to your location. That's unusual and unique, not mentioning the 9 languages the models themselves speak. Though most of them come from Europe, you can find performers from all corners of the globe, and you can easily search for any corner you prefer.
Cam Models
The main gallery page is a fun preview to get you drooling from the start. Each picture shows the model in real time, and if you hover over a profile, which presents you with their age and the number of the guests in the room - You can watch them strut their stuff.

The Male models are not the forte of the site compared to the Female category, but it makes the hosts even more eager to show you what they've got. They are almost exclusively naked, performing sex acts with a smile. They like to chat, ask you your preferences, and make you feel taken care of. There aren't many categories, but the most popular ones are always "stocked" with performers - Gay, Muscles, Straight, Anal Sex, and a few others.
BongaCams' Feature Highlights
Though there aren't fancy features more commonly found on premium sites, there are just enough to heighten the experience on the site. A few examples include a small window of the chat room you were just in, that "follows" you through your site exploring, even after you've left the models' room. It's cool to not miss the action, and still be able to wander around.
The model bio is another great example of getting to know the hosts. Each one designs and decorates his own profile, and includes pictures, Youtube videos, a schedule, a tipping menu, favorite quotes, and information about his kinks and fetishes, too. This is a great way to get to know your guy before committing to a private chat, which on this site isn't cheap. You can also see which awards were won, their wish list, and a great tool to notify you once they come back online.
Lastly, the search engine (Quick Search) on the left is a great way to discover the models on the site. The multiple options of filtering is extremely helpful in finding that special someone. The tags are great too.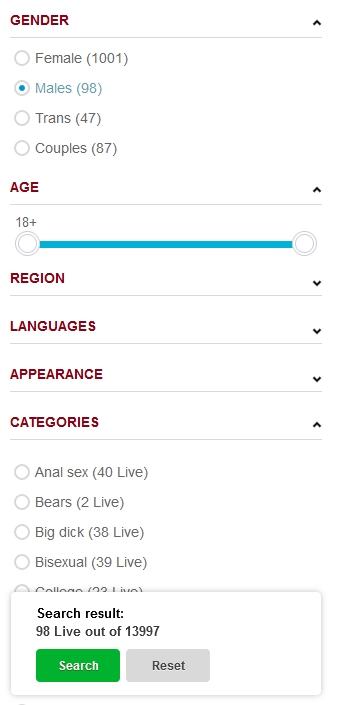 Getting Started
The sign up is really quick and easy: You need a username and password and you are all set. You'll even get a welcome bonus of 10 free tokens, no payment details required. And, if you sign up from your mobile phone, you can get a bonus of up to 100 tokens as a gift. Keep in mind that though the rooms are free, you will see repeating - And annoying - Pop up ads telling you about the token bundles. To get rid of these, make your first purchase and you will be (Mostly) pop up free.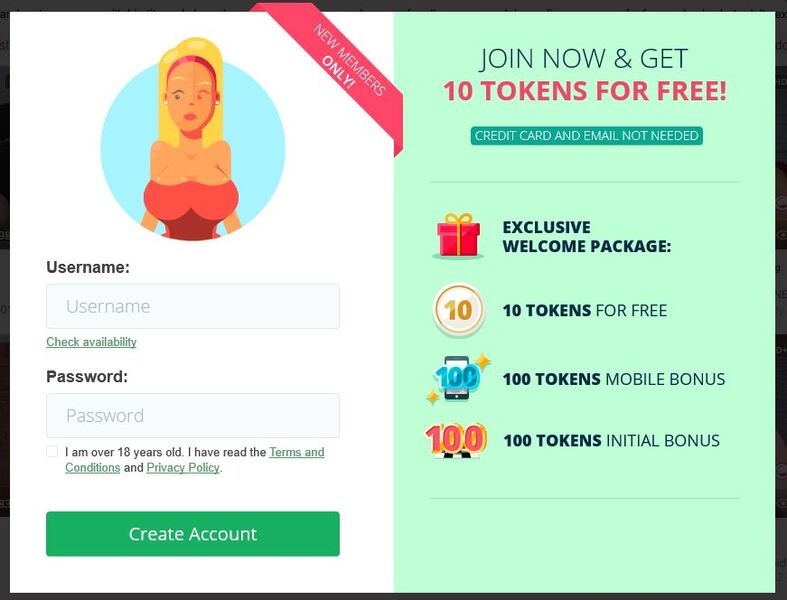 Chat Options and Prices
Every kind of paid chat on BongaCams comes with an option to either have a private exclusive chat, a private chat that others can spy on, or a group chat. As the private exclusive chats can get expensive, you can enjoy a semi-private experience for a fraction of the price.
Free Video Chat
As mentioned, BongaCams rooms offer free nudity and sex. However, c2c shows are available to premium members only, which only means you need at least one purchase. If you are tipping in free chat, most of the guys will be willing to cam2cam with you.
Private Chat
The private chat sessions on BongaCams have a fixed price of $3.30/min. Private chat still allows other users to spy in on your show, just like you can spy on theirs (Unless you choose Full Private Chat).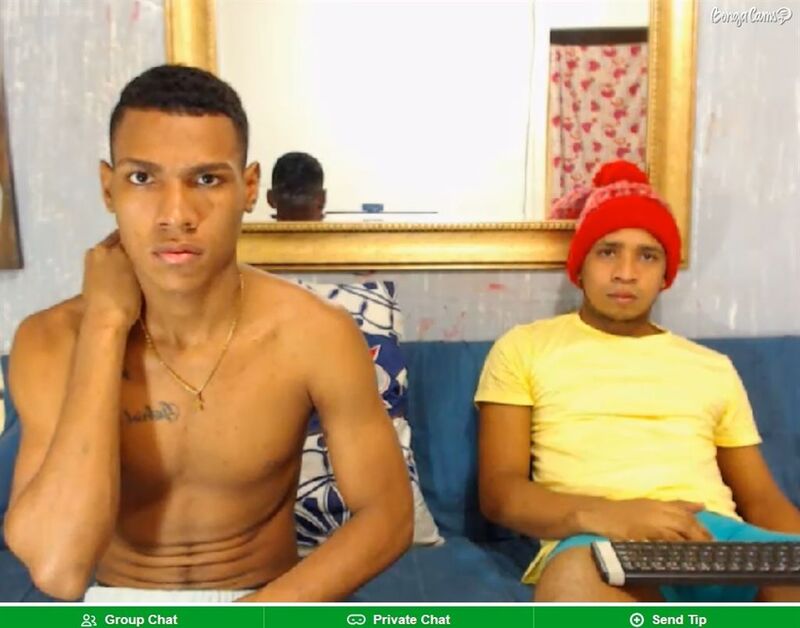 Full Private Chat
Full Private Chat is exclusive, and blocks any other member from entering using Spy Show. It's pricey, around $5.00/min, and not all models agree to going Full Private.
Spy Show
At a mere fraction of the private shows, starting at $0.40/min, you can spy on someone else's private show. It's actually a great option not just for budget friendly seeking members, but those who love to be a fly on the wall in other people's private time. It can be quite exhilarating knowing that the model knows you are there, but the other unassuming member does not.
Group Chat
Another low cost option is finding a model hosting a Group Chat and paying only $0.80/min, along with 5 or more other members. You can turn on your cam if you wish, but don't forget "the others" are watching you too.
Payment Options
The payment options on BongaCams differ slightly in different locations around the world, but in general the options are diverse. Keep in mind that each payment method has a different price for the token bundles, so consider which payment method to use in accordance with the prices.
The site accepts:
Paypal
Cryptocurrancy
Skrill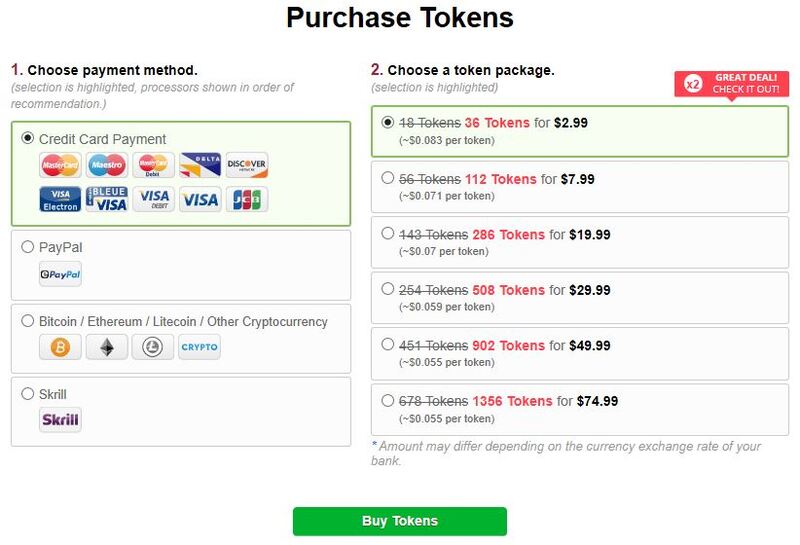 Membership Benefits
As a nice change from other online free cam sites, here you become a lifelong member just from joining and registering. There are no fees or hidden charges. You even get gifts when you first join. However, almost instantly, pop-up ads will start, which is extremely unpleasant, pushing you towards your first purchase, which makes you a Gold member automatically. In fairness, the site does spoil its members with weekly draws and promotions which award the lucky ones with free tokens to spend on 1on1 shows. Note that the only member status that has absolutely 0 ads is the VIP membership.
If you really want to get to the top of the rewards pile, become a VIP member, which you don't pay for, but reach by spending money on the site. The status is pretty generous with its' perks:
Special chat icon displayed by your user name, which notifies everybody of your special status
Invisible mode - hiding your presence in the room
Possibility to raise the model in the rankings
You can watch any video for free
Colored messages in a chat
Choice of special VIP avatars
Gift cards every 10 days
No annoying ads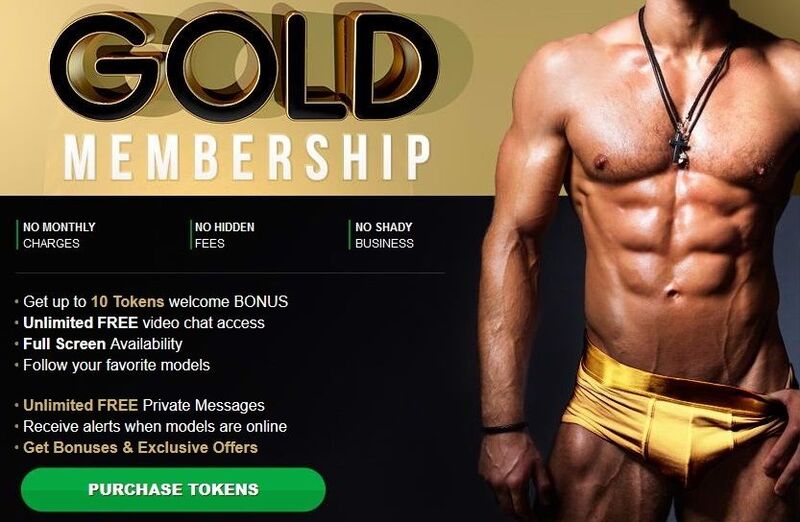 Mobile Experience of BongaCams
BongaCams has a surprisingly excellent mobile version, which in many ways is better than the desktop version. The profile pics all show if the room is in HD or not, and if you prefer, you can choose to view the site as it is on desktop, which some people prefer. In addition, because of the screen size, the streaming issues almost go away entirely and viewing is a pleasure on private chats.
BongaCams is among the few sites that enable the cam to cam feature to be activated over a mobile device.
Video Streaming Quality
The main downside of the site, particularly in the Male category, is the streaming quality. Most of the guys stream in SD, which can cause lags and jumps, not great for a visual experience where you don't want to miss a thing. If you click on the HD tag the number of rooms will narrow to about 20 (Out of 100), but we can happily report these are usually the hosts that have the most experience, and really have their performance down to an art. Sometimes quantity isn't everything.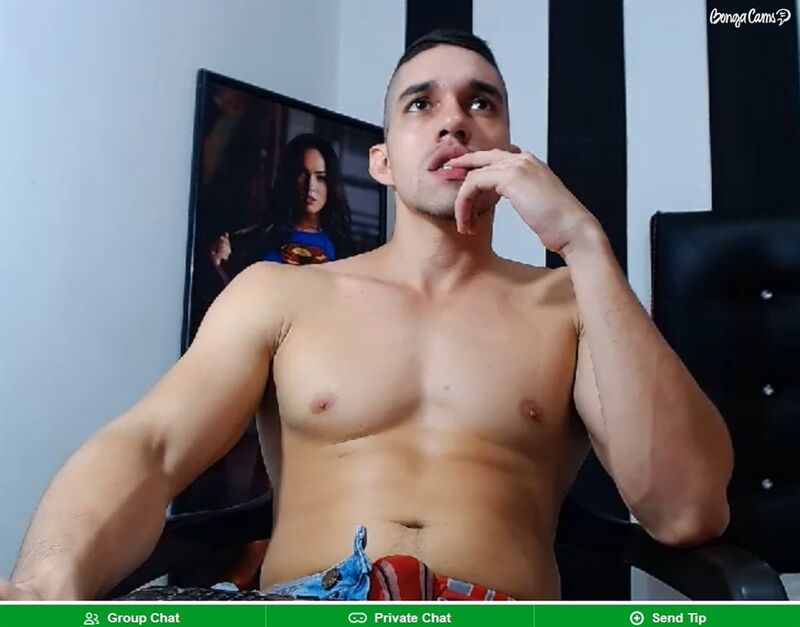 The Pros & Cons
Pros
✔ Free adult live chat
✔ C2C activation on moibile
✔ No subscriptions or regular monthly costs of any kind
✔ Many group chats for lower rates
✔ Multiple payment methods
✔ Many promotions and gifts for members
✔ Models are welcoming and accommodating
Cons
✖ Pricey private/c2c chats
✖ Too many pop up ads
✖ Streaming quality is subpar
Before You Go
BongaCams is a great, humble platform for your male/gay/straight live cam needs. With 100 models always online, there's plenty of choice, and though not all stream in HD, you can easily use the mobile version to get rid of that issue, as well. There are plenty of promotions and prizes to be won, as the focus on the site is its amazing models. Bears, twinks, otters, vanilla or kinky, and everything in between, all inhabit the site and wait for you to warm up their room.
Depending on the guest visiting the site, its flaws can be strengths, too. As all the models are amateurs, you never know what level or type of show you're going to get. Because not all performers tag themselves, you might not find what you're looking for as easily as with well defined categories - But at the same time you can find gems and surprises you didn't expect.
At the end of the day, BongaCams does exactly what it prides itself on - It gives you beautiful, talented amateur models for free, which you can tip and admire, and even have exclusive chats with if you're so inclined. You can peruse the site, check out the manly offerings, go on profile pages and enjoy getting to know the guys, and then pick your favorite to have a private chat with.
BongaCams is the site to go to for cheap/free adult cams with stellar models, and that's all one really needs.