Cameraboys.com is a Slick and Sexy Gay Sex Cam Community
Hi there readers. If you are here, I am guessing that you are looking for a gay sex cam community that will excite you, one that will serve you steamy dishes of homosexual webcam sex for a price that won't get you worried calls from your personal banker. Some people might tell you that these are high expectations, that you don't stand a chance of finding a live adult webcam site that offers all that and has enough gorgeous gay guys to fill up the chat rooms, but I am not one of those people. You can have it all, especially if you read my gay sex cam reviews – they are here to help you, guide you and tell you everything you need about the best sex cam arenas.
Today, as it just so happens, I am going to tell you about a premium and luxurious gay sex cam community called Cameraboys.com.
Is it a nice site? Does it have enough sexy homosexuals online? How much do the private sexchats cost? Look through this Cameraboys review and I assure you: I will answer every single question.
My Initial Thoughts...
I don't know if this Cameraboys review is the first one of my adult webcam reviews that you have read, but if it is, you should know that the first stage of my research always involves a visit to the site in question, where I browse it the way that any user would. I entered Cameraboys.com and instantly felt good about this portal: Not only were the guys as hot as pornstars, but there were many organized webcam sex categories that made it clear that this site knew what most users wanted and how to serve it. The only strange thing was the main categories at the top. There were three of them: Gay cams, webcam guys and gay couple cams. The category I wasn't completely clear about was the webcam guys – does it feature men who weren't gay? That's stupid – it was clear that this site was for men, not for women (and since when did women pay for sex cams – or for any sex - anyway?). This category did feature other guys, so I am guessing that these were the "straight but curious" bunch, but the site hardly explains, which is a bit confusing.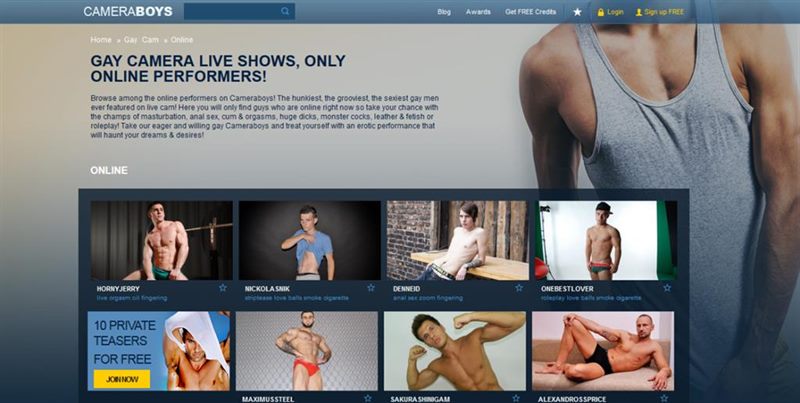 The live sex chats were amazing – even free chats were hot, but they didn't show any naked men, which is really what we're all here for. I liked the atmosphere, which was all about XXX, but did wish there were some extra activities that could keep me busy between the live porn shows. It is evident that the people who planned and designed this service didn't want users to have any distractions.
I was very happy to discover that the free chat was unlimited and even happier to discover that I could get bonus credits on my first purchase. It is always nice to feel welcome, and I recommend you make use of this offer, because it won't appear the second time you make a purchase, and it is a pity to let free credits go to waste.
Those Extra Features...
There aren't many special features on Cameraboys, but there are certainly all the ones that you expect to find in a gay webcam site of this level: Audio, 2 way webcams, emoticon, etc. If you prefer to chat on your mobile, this sexy, cutting-edge service works seamlessly on iPhone, Android, Windows Phone and even BlackBerry mobile devices.
How To Register...
If this is your first ever visit to an adult web cam site, it should take you like a full minute to register, and like 40 seconds of that will be finding the right button. You just need to make up some name and password and write down your email – make sure it's a real one, because you get some bonus credits for validating your email account.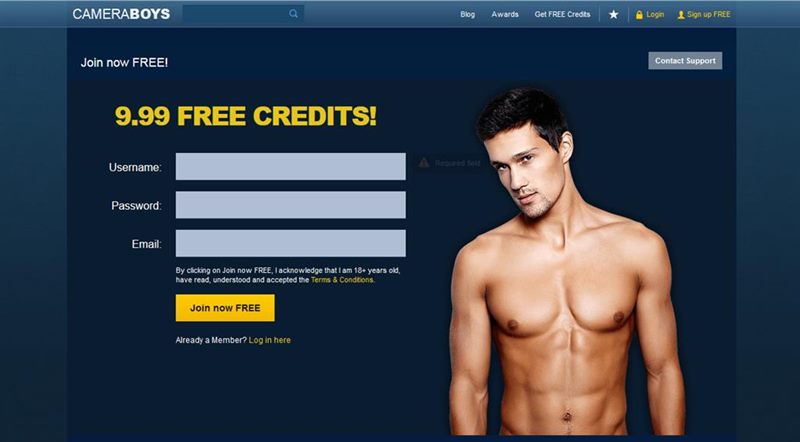 The Ways You Can Chat...
For such an advanced porn cam site, Cameraboys.com does not have all that many funky chat options. There are the basic two: Free chat and paid chat, and the latter, in case you don't know, is the naked kind you actually came for. As a premium member, you also get to peek into nude chat rooms for a few seconds – that's pretty sexy, but it's not like a voyeur chat, it's just a peek.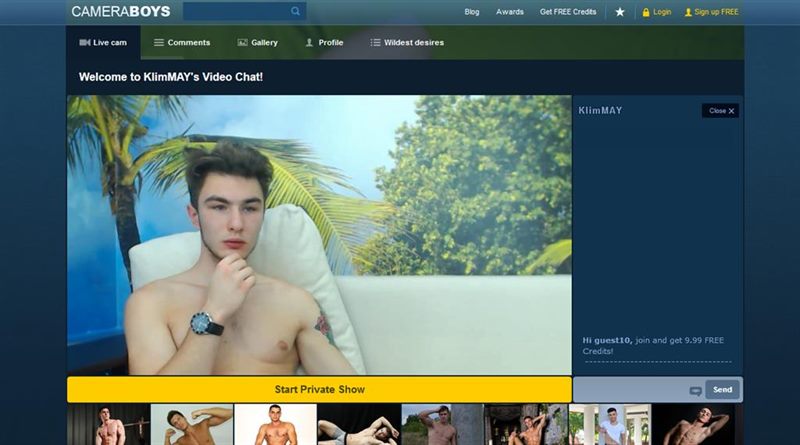 Quality of The Videos...
There are no 'okay' web cameras on Cameraboys.com. The men that perform here are models and it looks as if they're all working from studios, but if they are working from home, they have professional web cams and an understanding of how to operate them. The streaming is fantastic and the platform is well-made – really, I had no complaints.
How Much It'll Cost You...
Cameraboys.com has a price-range of between one credit and five, which means nothing until you hear how much a credit is (don't rush me, I'm getting there), but in any event – this is a fair price. If you are a bit short of cash, look for the Sale chat rooms that cots only a credit per minute and it's probably best to avoid the biggest award winners, as their popularity is likely to mean a higher price per minute.
Okay, now it's time to discuss credit packages. Here we go.
| | | | |
| --- | --- | --- | --- |
| Number of Credits | Cost in US Dollars | Cost in Euros | Bonus Credits |
| 17.99 | $21.99 | €20.99 | None |
| 27.99 | $31.99 | €30.99 | 1.99 |
| 67.99 | $71.99 | €70.99 | 5.99 |
| 97.99 | $101.99 | €100.99 | 7.99 |
| 157.99 | $161.99 | €160.99 | 9.99 |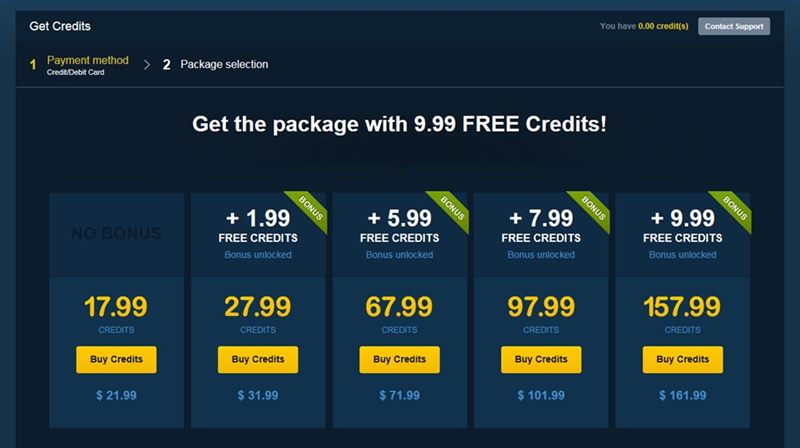 The Ways You Can Pay...
With all due respect to unlimited free chat room access, sooner or later you will want to have those horny guys all to yourself and in order to enjoy nude gay chat, you will need to buy some credits. How can you make a purchase? Cameraboys.com allows you to pay using MasterCard, Maestro, Visa, Electron, Bleue, JCB, Discover, Switch and Solo. The choice is yours.
How Many Models...
This is not the biggest gay webcam site that I have ever reviewed, but it is still fairly big. There are around 8,800 male webcam models registered to this sexchat service in the different categories – gays, guys and couples, and you will be able to chat with at least 80 or so when you login. I've visited the site several times when doing the research for this Cameraboys review and the number of live chat rooms remained about the same – at the most I found like 110 guys and at off-peak times there were around 70. That's more than enough.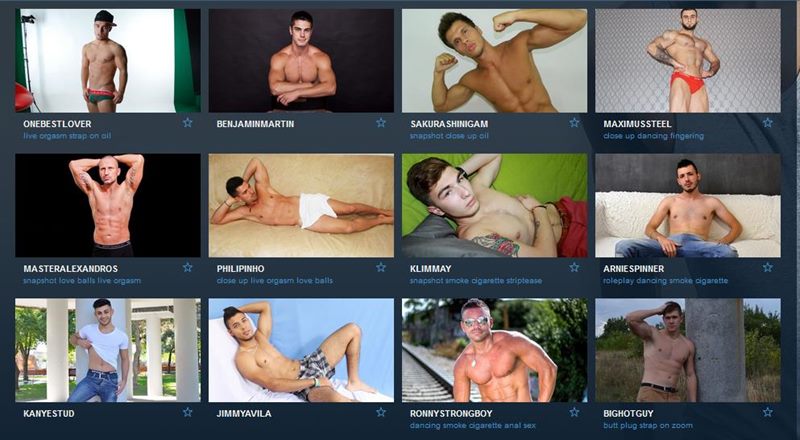 The Support You Can Get...
If you need help on Cameraboys.com, you have three links that you can use. The 'Contact Us' tab at the bottom of the page will take you to all the contact options – email, phone - the works. The 'Online Support' which is right next to it will lead you to, obviously, the online support page, that also has the customer support's phone number as well as a billing support phone number. Finally, there is the FAQ page which offer answers to basic questions.
The Good & The Bad...
Good
✔ - The sexy gays on this site are exceptional
✔ - The platform is very advanced
✔ - You can find very cheap gay sex chats
Bad
✖ - This sexcam service is all about the shows – no extras
✖ - The category selection isn't exactly clear
Winding Things Up...
This is almost the end of my Cameraboys review and usually this is where I explain my conclusions, offer a final insight and then leave the decision in your hands: Should you or shouldn't you go visit a particular gay webcam site. It's only fair: There are so many adult cam sites, so many types of users and there is no doubt in my mind that a certain website will appeal to some while others find it tedious or disappointing – it's all about what you're looking for after all. In this case though, I am gonna make an exception. I feel that no matter what you're looking for, unless it's badly-made porn shows, Cameraboys.com has something to offer you. At the very least, it's worth a little peek – there's no harm in a little peek, now is it? You don't even have to be members to chat for free with the guys, so go and chat. I suspect most of you will stay – and won't leave for a while.
Review of Cameraboys.com
- Reviewed by
topratedcamsites.com