MyDirtyHobby Review - Watch Dirty German Cam Girls
Last updated
February 11, 2021
Premium
No Free Chat
Registration Bonus
Pros
Exclusive models
Extreme fetishes
Community based
Model Fan Clubs
Cons
Low model count
Static previews
Limited HD rooms
Well 'Hi There!' all you horny guys and gals. Welcome back and gather round for another one of Tom's lip-smacking cam site reviews. This time MyDirtyHobby and it's fine collection of dirty cam girls fall under my 'all-revealing' spot-light. So make yourselves comfy and clear your schedules as I take a deep look at the European sex scene, focusing on the mouth watering German sex cams.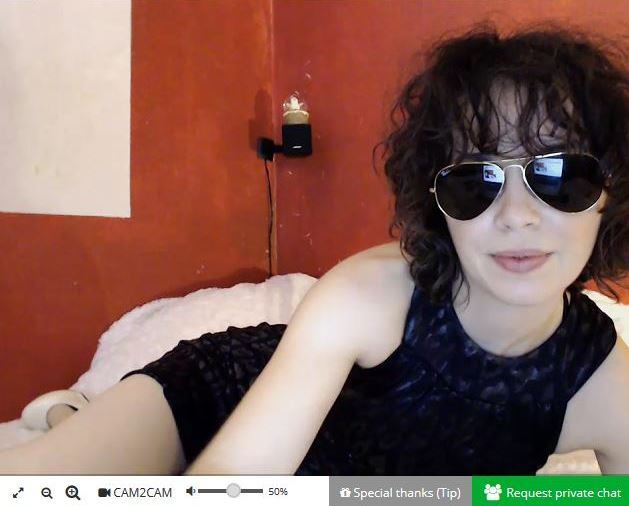 Who Are They?
MyDirtyHobby.com is a well established and maintained xxx community that has been up and running since 2006. With such history, it's understandable that MDH has already amassed such a collection of cam beauties, and continues to attract fresh talent.
This sex site is the world's largest community for home-made private erotica! Since My Dirty Hobby's launch, sexy cam babes and horny hunks have been uploading their hot videos and pictures on a daily basis or have been streaming live video via webcam. With thousands of online cam stars daily and well over 40,000 registered models - many lovers of online porn have made the MDH sex portal, their home of choice.
With over 50 categories and unlimited hashtags, members of this exclusive erotica club never run short on good 'ol kinky sex fun. MyDIrtyHobby delivers the very best in home-made porn, and houses a video archive with upwards of 370,000 videos! Not forgetting it's impressive library of amateur model photos - more than 3 million pictures to browse and collect.
My Initial Thoughts …
If you've never visited a sex site, stepping into MyDirtyHobby kind of feels a little like being a kid in a candy store - you're not quite sure where to look first! Even if you are familiar with sex chat sites, it's difficult not to be impressed with the countless gorgeous cam models, as you scroll through the pages.
The way that this sex site has been laid out, you kind of get the feeling that you've stumbled into Facebook for adults!
Not only do members have access to the live cams, there is also the option to engage in real-time live chat with any online cam babe. I'm talking private live chat with gorgeous cam babes, and there's no telling how hot things can heat up!
If you are the kind of person who enjoys meeting and mixing with like-minded sex lovers, you're sure to feel right at home in this xxx community, and it's sexy collection of dirty cam girls. Although MDH does feature high quality live cams, the core focus definitely seems to be it's impressive amateur video archive as well as the incredibly large library of model pictures.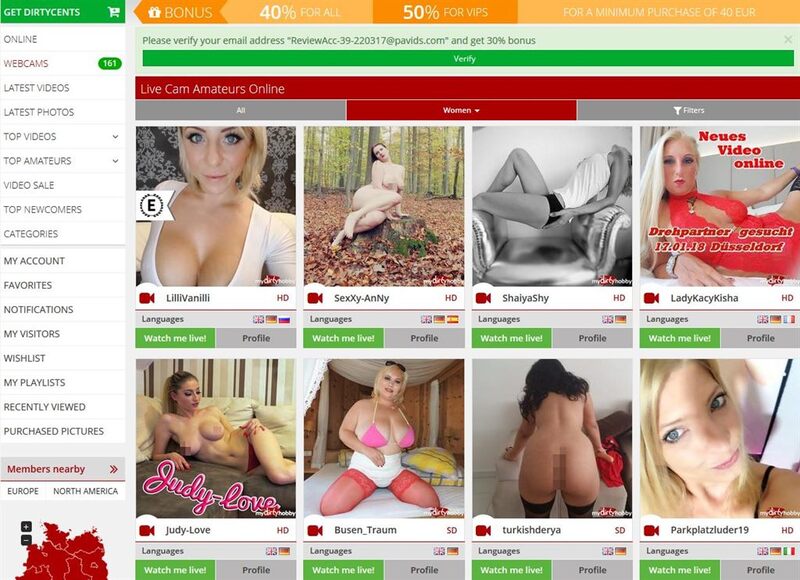 Videos and model pictures aside, with over 150 online models (at time of writing this MyDirtyHobby review) - members won't be disappointed for choice, when it comes to watching sexy models strip. MyDirtyHobby features among the hottest European women, including kinky German cam girls like renowned porn star LucyCat.
General Impressions
Alrighty good folk, it's said that first impressions are usually the most lasting - and I gotta tell y'all, although I'm somewhat impressed I do have some very strong concerns. It didn't take me too long to understand that members on this site have choices, when it comes to entertainment. It also didn't take me all that long to work out, that unless you are a paying member, there's very little that you can actually do.
If you like variety, how is this for choice?
As a member, I can choose to either:
Chat with online members the 'old school' way. This is strictly instant messaging, which costs. However, I can exchange files such as pics or videos with the model. These are the online models who don't have their cams activated, or simply don't offer webcam chat.
Browse the latest webcams, and engage in seductive sex chat with kinky dirty cam girls. Knowing that other members could be in the same room watching, didn't bother me to much - there is always the option to have a strictly private cam show. Be prepared to pay a fair amount.
View the latest videos, uploaded by members - these movies range from amateur soft porn to hardcore kink, and also vary in length of time, as well as price. The content itself is member driven, and I like that there are always fresh movies to choose from, as members are continuously uploading new content.
Check out galleries of the latest uploaded naughty pics, where models can be seen in a variety of locations, performing the most erotic of sinful acts. Once again, I wasn't overly happy with paying to see these teasing photos, and prices range from model to model.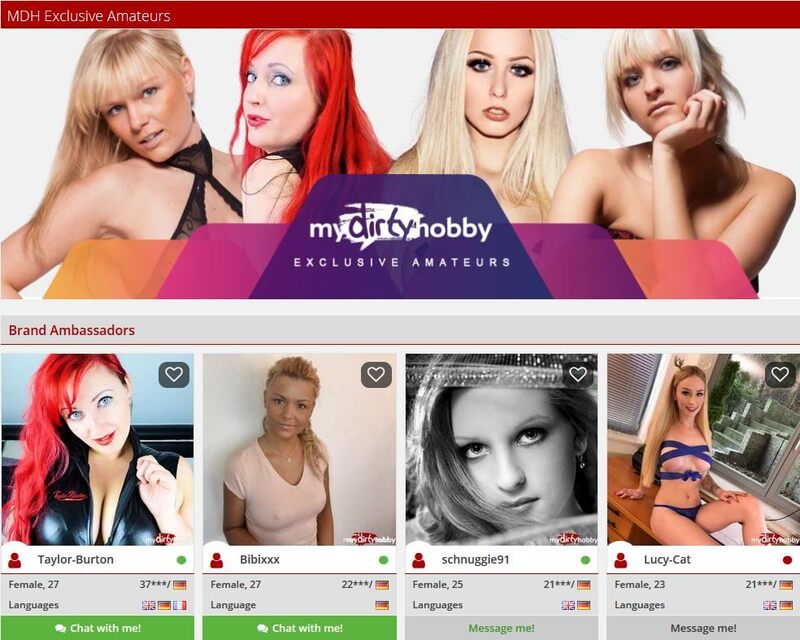 There are also other convenient categories worth exploring - spending time (and money), which include:-
Top Videos (check out the top model videos of either the week or the month). Top Amateurs :- I can choose to watch Top Amateur Movies, visit Top Livecam Amateurs; and engage in the seductive naughty chat.
As a member, I get to meet and chat with MyDirtyHobby Exclusive Amateurs - these global models are fresh and featured; I also get to meet and chat with the appointed MDH Brand Ambassadors! These are executive porn stars who feature ONLY on MyDirtyHobby.com. While impressive, I myself wasn't that impressed as at the end of the day - I'm more interested in meeting the ordinary 'girls-next-door'.
Visiting the Video Sale category kept me busy and financially satisfied as the costs of these movies had been slashed by 50%! By the way, you should know that any purchased movies or model nude pics is available for you to watch forever, as you own the copies for life. Not too shabby if you ask 'ol Tom!
An exciting category to inspect is the Top Newcomers section. This a collection of new arrivals, all looking for webcam stardom. From my own humble experience, visiting the new comers is always exciting - as most of the models are gorgeous, and all of them are eager to chat with like-minded sex loving fans, especially those babes who feature on the kinky German sex cams.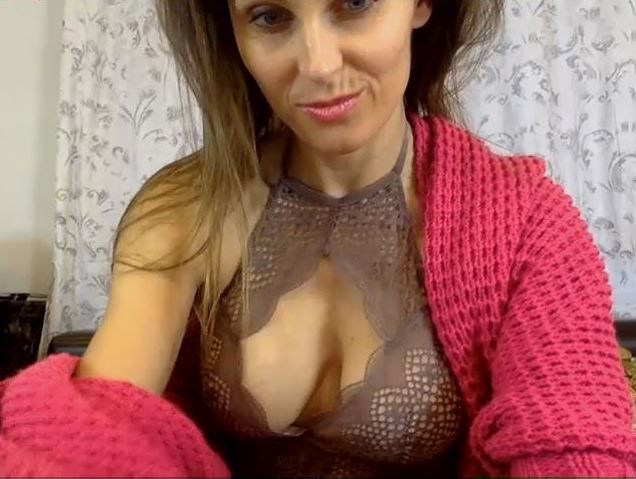 There is also the general videos Categories that members can go to for very specific erotica. These sub-categories are neatly presented, A-Z and include, but are not limited to: Anal, Bondage, Creampie, Golden Showers, Squirt & Tickling. MyDirtyHobby has also included the number of movies and pics which are available for purchase, according to each sub-category.
Those Extra Features …
Experience the dirty cam girls from Europe, wherever and whenever!
MyDirtyHobby is a leading adult sex site which is available to access from both desktop and mobile devices. You can watch dirty cam girls strip from the comfort of your own private space or on the go, the choice is yours.
Look, most of the extra special features are really aimed at the VIPs. I'll discuss VIP membership in detail, later on in this MyDirtHobby review. Suffice to say, that these esteemed members win big, with really hot site benefits.
When it comes to navigating on MyDirtyHobby, it happens to have a really advanced search engine platform, as I'll demonstrate.
For instance when it comes to browsing the dirty cam girls - users have a number of search options. Aside from browsing gender specific cam rooms, users can also filter for models, according to very specific criteria. These include: Hair Color, Sexual Preferences, Body Type & Eye Color to mention a few.
Even searches for porn videos and nude pics have unique search filters. Users have the option to search country specific footage and also can include the sub-category filters, as discussed earlier in this MyDirtyHobby review. There is also the option to just manually type what it is that you're looking for in the search bar.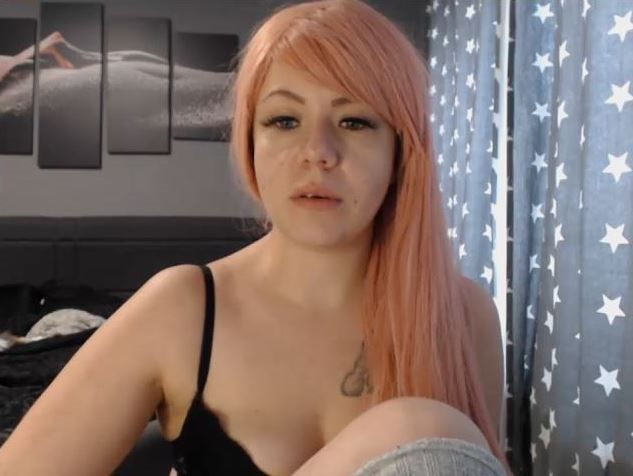 Membership Features on MyDirtyHobby.com
When it comes down to it folks, there's really only 2 kinds of membership available on MDH. There's those members who pay, and there's those members who pay more. I gotta hand it to these Germans, they sure know how to run a dollar successful sex site! I kid you not, either you are a member who is a pay-per-view, or you opted for the exclusive package and signed-up as VIP.
Members who pay as they go - aren't fixed to a contract, and don't have monthly subscription fees.
They simply have registered a member account with a Username and Password, and upload site credits (DirtyCents), whenever they want. There is an additional 30% bonus offered (email verification) - on the initial DirtyCent bundle purchase. This, for me, was a nice little deal-sweetener and easy to do.
VIP Membership Features on MyDirtyHobby.com
For those members who want a little more bang for their bucks, there are 2 VIP membership options available:-
1 Month subscription at $19.95 per month
12 Month subscription at $12.50 per month
Note: All VIP subscriptions renew automatically unless cancelled.
The VIPs get VIP Party Invites - special access to the MyDirtyNight Parties. These legendary parties are where the lucky members get to meet their favorite amateur European cam stars in person. VIPs celebrate with Bonus Day Extra, and score 10% extra DCs more than regular members, whatever the offer.
It's also worth mentioning that MDH plan to start introducing Special Bonus Days - which would be restricted to VIPs only. Subscription based members also qualify for Pole Position. This means not having to wait in virtual ques - enjoy red-carpet treatment and be the first to watch new uploaded movies. VIPs are also given a Medal of Honor - they stand out from the regular members, as VIPs are shown with a badge of distinction. As a VIP, any messages exchanged with sexy dirty cam girls, appear at the top of the model's inbox as VIM (Very Important Messages).
How To Register …
Registration on MyDirtyHobby.com is simple and easy. From the homepage, find and click the green Register button (top right). All you need to do is choose: a Username, a Password and supply an e-mail address. Select your gender and click register.
Listen up kind folk and pay attention, as this is pretty important to know: Once you have registered with an account, a confirmation email is sent to the email address supplied. Clicking the Become active now button (in the email) - redirects you to the DirtyCents purchase page on MDH. Sadly, unless you actually purchase and upload DirtyCents to your account, you are unable to get past this page!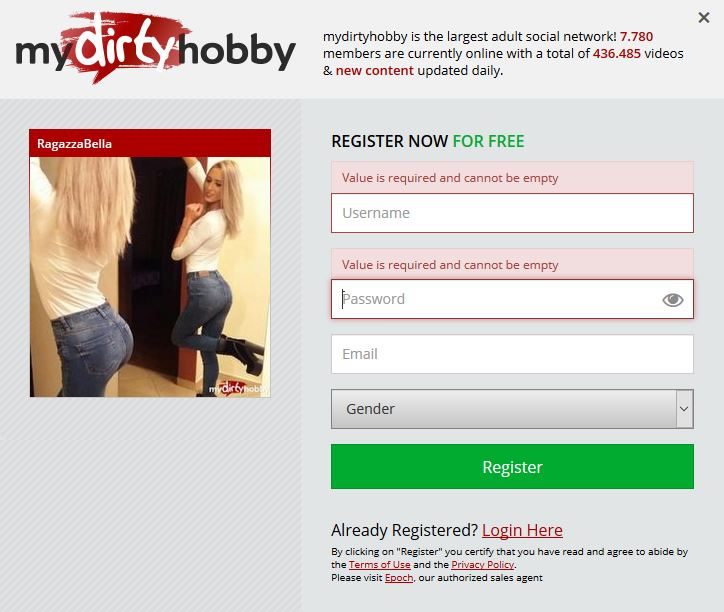 The Ways You Can Chat …
Ok, so only the registered paying members have chat options and only the registered paying members get to have all the sexy dirty fun.
For starters, registered members who are logged in can choose to flirt with other online top amateurs in real-time live chat. By the way, during your adventures on this sex site, members have the choice of collecting their more favorable models and indexing them in their favorites list. This extends to both live chat models as well as webcam babes, making for easy access for future visits.
The more popular way to interact with the sexy European models is undoubtedly webcam chat. MyDirtyHobby.com features an array of cam rooms across a wide and varied categories list. When it comes to kink and fetish rooms, this xxx online community has them all!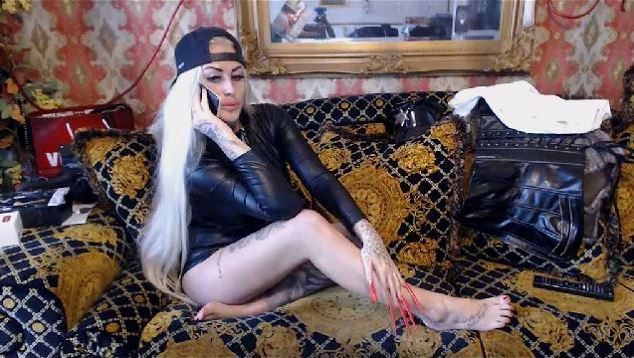 There are models and rooms to suite every deviant taste and sexual fantasy. The chat rooms are easy to access and are all well labelled - as the critical information (cam quality / languages spoken) is neatly displayed on the model profile pic.
Tom's top tip: MDH is an excellent site to visit if you're looking to brush up on any of your European languages such as French or Italian - and especially if you want to improve (or learn from scratch) - to speak German. Don't worry though, as all model profile pictures include the languages that they speak. One things for sure, no matter where you come from - everyone seems to understand the language of love and money.
Quality of The Video …
The live chat rooms are labelled as to the quality of the cam that the model is streaming. By and large, they have it right and the overall video quality is satisfactory. However, as there are no video previews, you can't really be certain - which is also frustrating. A connoisseur of fine graphics will be able to discern between HD 720 and Full HD 1080! Sadly these cam experts don't have this choice.
There are a number of cam room options to choose from when it comes to looking for quality video stream. Some rooms offer straight up SD. This means that the minimum resolution is 480, which translates to a solid detailed pic, in a small sized video window. Sometimes, when trying to watch a SD cam in full screen - the image can be a little grainy and not very clear. For even better show quality, choose HD cam rooms - where the minimum resolution is 720, and Full HD streams in 1080.
There are also HQ cam rooms, where the graphics are better than SD, but not as good as HD. The only upside with HQ, is that videos are quicker to upload compared to uploading HD videos. I must confess, that in writing this review - I checked out both the HD and HQ chat rooms, and it was difficult to tell them apart.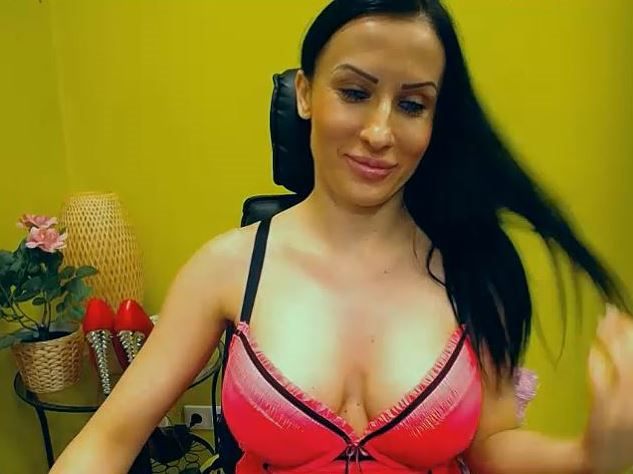 If you're the kind of guy who not only loves visiting sexy cam sites, but also absolutely love watching gorgeous women strip, check out some of my other top recommended sites for quality sex cams.
How Much It'll Cost You …
First off, understand that the cost on one DirtyCent is basically once cent. The prices of this site really depend on what it is that you wish to do. Unless you are just visiting and thought to just browse some gorgeous babes like thumbing through a life-style magazine, everything - and ladies and gentlemen, I do mean everything will cost. Although there are no sign-up costs to register, MyDirtHobby does offer membership subscriptions - as discussed earlier in this MyDirtyHobby review.
The costs to exchange private messages with sexy models from Italy or France range from 35 to 60 DCs, so that's $0.35 to $0.60. Pricing for the naughty nude pics also differs from model to model, 10 - 55 DCs, and the movies also range: 90 DCs for a clip of approximately a minute to 1096 DCs for a +/-12 minute kink video.
Live web chat costs differ to according to the different models. Often, who they are, how long they have been doing this and what they are prepared to do in private cam shows determines their cost per minute. On average, the priovate cams work out to $2.50/min. The site charges you by the second, so don't be worried if you don't use up an entire minute.
The Ways You Can Pay…
There are a number of different ways to pay on MyDirtyHobby. For those visiting from the US, the site only accepts credit cards and crytocurrency. From within Europe and abroad, the site accepts Sepa, Paysafecard, Online Bank Transfer, credit cards, and crypto payments.
The Support That You Can Get
As with most adult cam sites worth their weight in salt, there's a detailed FAQs page covering general questions as well as as member specific queries. There's even a dedicated section included if you're thinking of joining this community, and begin earning money as an amateur model. For those who prefer contact, you can choose to email your questions or call the listed Phone Support number, during hours of operation.
The Pros & Cons
Pros
✔ - There is tremendous model selection, mostly dirty cam girls from Europe - but also from all over the globe.
✔ - MyDirtyHobby is a leading chat site for kinky amateur live shows, including the dirty German sex cams.
✔ - An active and dynamic community which keeps the content relevant and exciting.
✔ - Favorites lists messages you when your best and saved models come online.
✔ - VIPs get free access to all of the MyDirtyParties - events where the daring amateurs and users meet in person.
✔ - Ease-of-use site navigation helps users find trending and popular models, quick and simple.
✔ - Select from over 300 000 sex videos! That's a whole lotta movie magic.
✔ - Choose as many sexy nude photos as you want. There are over 4 million amateur pics uploaded.
✔ - High quality video in the live chat rooms.
Cons
✖ - Everything on this sex site costs, there are no freebies.
✖ - There are no webcam room video previews available. I feel this is a let down, as there are no free open chat rooms.
✖ - It's not a traditional cam site like LiveJasmin or Sexier, it feels more like an archive of amateur porn.
✖ - As this site is European based - with an emphasis on German cam girls, English is not always the primary language.
✖ - If you don't watch those DCs like a hawk, this here sex site can work out pretty darn expensive.
✖ - Not all of the live webcams broadcast in HD, which in the 21st century - is a little sad and somewhat infuriating.
My Final word
Well, we've come to the end of this MyDirtyHobby review, and it's been fun. Expensive, but fun. After careful consideration, I conclude that MDH is an online community for like-minded, sex-lovin' people - who love nothing more than sharing with others. Whether it's hard-care pics, in a variety of poses and a host of places or amateur home-made movies, starring themselves and other naughty camera friends. Aside from the downloadable content, there is a selection of live chat rooms to choose from, to suite every taste and budget.
This sexy adult site is rich in dirty cam girls and features some of the nets best European models, including hard-core German sex cams. If Facebook for adults sounds appealing to you, head over to MyDirtyHobby and check out the erotic community they've got going on down there.