LiveJasmin Review - A Cam2Cam Fantasyland
LiveJasmin is considered the most premium webcam site online today. Instead of believing all the hype, I free-dived into the luscious lagoon that is LiveJasmin to find out why. From tips on how to get the most bang for your buck - to the hots and nots of one of the most popular webcam sites around today - finally a truly unbiased, in-depth review that determines if this popular cam girl site is all it's cracked up to be.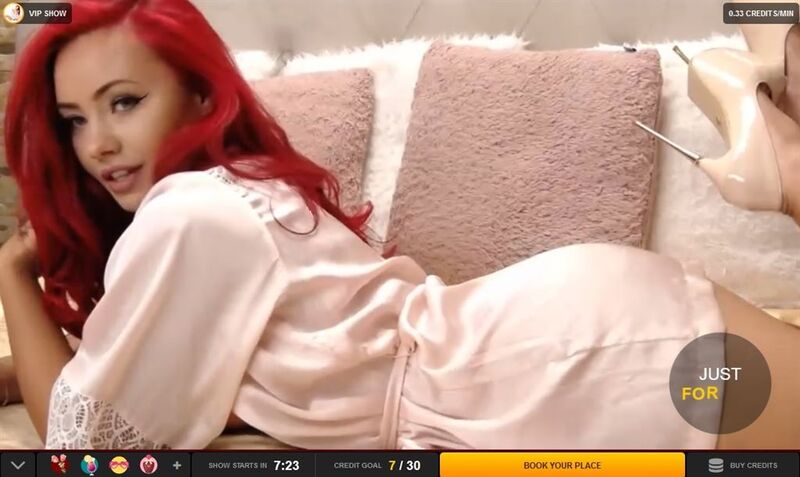 I'm no peeping Tom, rather Professor Tom when it comes to knowing the good, the bad and the best value video chat sites. Between you and me, LiveJasmin is most definitely one of my fave destinations when it comes to enjoying some live action seduction.
It's an easy to get around site. No weird or messy searching. Just put in what you're looking for and you'll actually get results that count. Apart from the usual search categories such as; looks, chat price, language groups - you can easily see what the girls are willing to do in private chat or video call. By choosing one of the 'Willingness' categories, you can discover which girl is into the kink (or not) of your choice. So if it's submissive or a dominatrix that floats your boat, or you're looking for a striptease that'll end with squirting - it's all just one click away.
Free Features
Once you sign up (even before you give any payment info) - you get 10 FREE PEEKS of 20 seconds each for your viewing pleasure. This means you can pop into a girl's ongoing private show and see what they get up to behind the virtual curtain. This doesn't allow you to interact with them in any way. It's purely a brief, silent, voyeuristic snapshot that'll probably wet your appetite for more.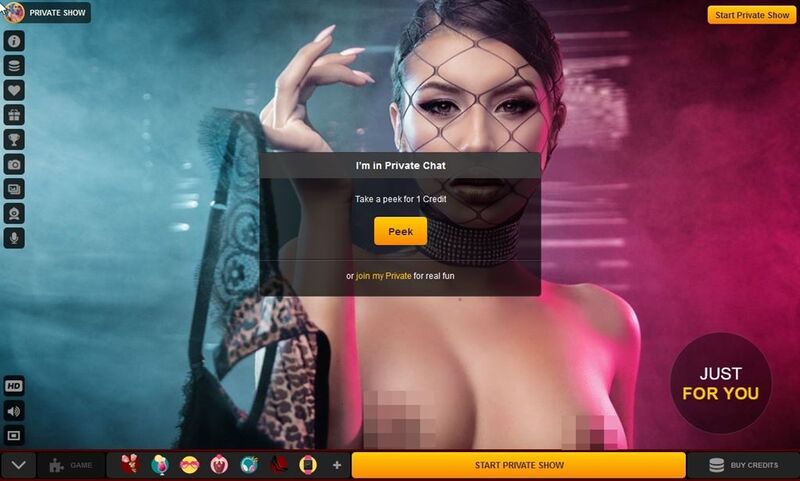 If all this isn't enough, there are girls you can chat with for free once you've signed up (at NO cost) - a totally free - NO credit card required sign-in for basic membership. Yep - you can get free live webcam sex chats with hot horny girls. If you complete a credit card validation - you'll get TEN FREE credits to spend how you wish. And don't worry - they're super-trustworthy - the site uses a top-notch secure payment system.
Free risque photos of the girls are available. But for most of the x-rated pics - and short videos - you'll need to spend that little bit extra.
If you wanna private chat, a sexy VIP show or two-way audio - then this is where the ka-ching! comes in. But hey, these cam girls gotta make a living and for those of us that can appreciate their sexy asses and fearsome fetishes - we're happy to help them out.
Facts and Figures
Choice. Choice. Choice - You'll find around 1,000-1,500 models live at any one time.... Yes my friend, that's up to 1,500 bootylicious babes waiting for you.
If 1,500 live web cam girls isn't enough of a choice - don't worry - you won't get bored, the site has around 40,000 registered live cam models from all over the world.
And, if you're more into the male (straight, gay and bi) and transgender live cam hosts, there's plenty to choose from. Whichever way you swing, you're guaranteed to be spoiled for choice.
Video quality is the best there is. I really mean this. Compared to any of the other top-tier live video cam platforms out there - LiveJasmin is high-quality streaming all the way. No grainy, blurry sub-par video feeds. All the girls are broadcasting at a minimum of HD 720p. Many also have the option to turn up the rate to HD 1080p.
Maybe not a cold hard fact - but a fact nevertheless - this site makes sure ALL its girls are prime live cam sex sirens. Unlike other video chat sites that have some dubious looking glamour girls - all of LiveJasmin's registered models are hot, seductive and friendly little foxes.
Established in 2001 - It's one of the first webcam platforms to become a global standout.
This is without a doubt a site for those looking for top quality cam babes. The overwhelming majority of the girls are talented pros. You're not going to end up wasting your money on any dingy bedroom bunnies in their grimy romp rooms. These x-rated bombshells are hot to trot and know how to show their sexy assets in the most seductive erotic settings.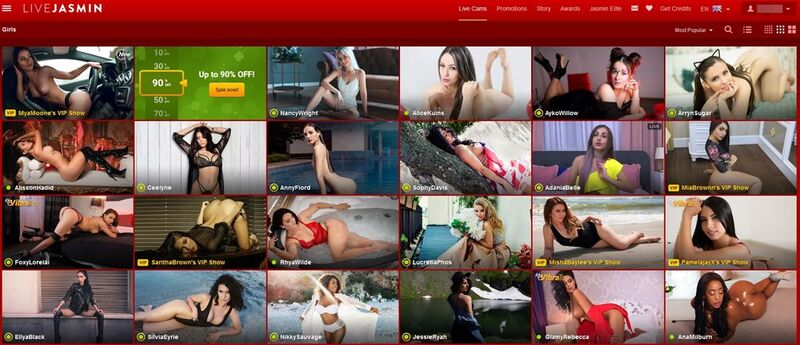 Costs and Credits
Now you're wondering...
How much is all this going to cost? Well that depends on which lucky hottie gets you going. Pay attention to her charges cuz each horny babe sets her own credit rate - but believe me, its worth every ka-ching! ka-ching!
Before you purchase credits, make sure you Spin The Wheel and grab some extra credits. A quick spin could score you up to double the number of credits you get for your dollars. You can do this every time you buy credits (but only once every 16 hours).
If you're not sure how many credits you'll need, then bear in mind the average rate is $2.40/minute, with the cheapest cam rooms coming in at $1.00/minute. If you want cam2cam, that'll be an additional $1.00/min and 2-way audio will also set you back a further $1.00/min on top of the regular chat rate.
And don't worry - this site has a stellar reputation as one of the safest live web cam sites around and it's also extremely discreet when it comes to billing. The name LiveJasmin won't appear on your billing info.
Getting credits is easy peasy......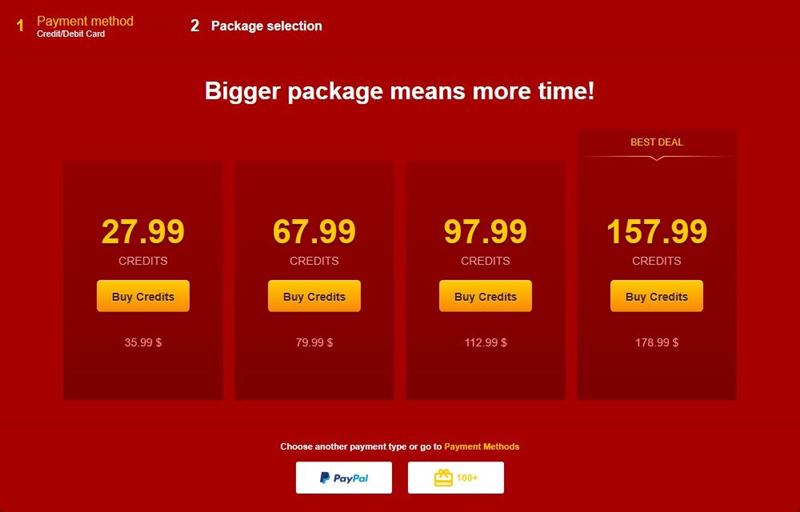 How To Register
Signing up to the site is free, free, free. Ya just put in your email (and dudes - using your work email is maybe not the best idea - Dave - I'm talking to you....). Choose your password and username and you're ready to rock and pop.
Little tip from the professor: Choose a flirtatious, elegant username that'll stand out from the crowd. If you can't grab their ass for free then grab their attention.
On The Go
LiveJasmin is with you wherever you are. One of my personal faves about the site is it's top-rated mobile version. Wherever you are, it can be just you and your favorite cam girl. Also the webcam bunnies know if you are on a PC or phone and position themselves accordingly while giving you a private show. With your phone held upright, you can pan left or right in the room to choose an ideal angle to view in. With your phone held sideways, you get a landscape view of the room, as you would on the computer.
The site is also one of just a handful of video chat platforms that allows you to enjoy cam2cam action on mobile devices, but you should note, it costs an additional credit per minute to activate this feature.
Start a Show
You've gone from left to right. Scrolled and scrolled and scrolled. Talked to yourself, maybe even consulted with the big guy that's getting antsy in your pants and now you're ready to chat (and maybe more) with your special XXX cam girl.
One click takes you to her chat room - time to say a quick hello and see if she really is the lucky lady that'll get your undivided attention. Click on Start Private Show and the pricing (credits) per minute to join the sassy little thing will comes up. Now it's up to you to see if those bouncing jugs are up to taking a humping to heaven.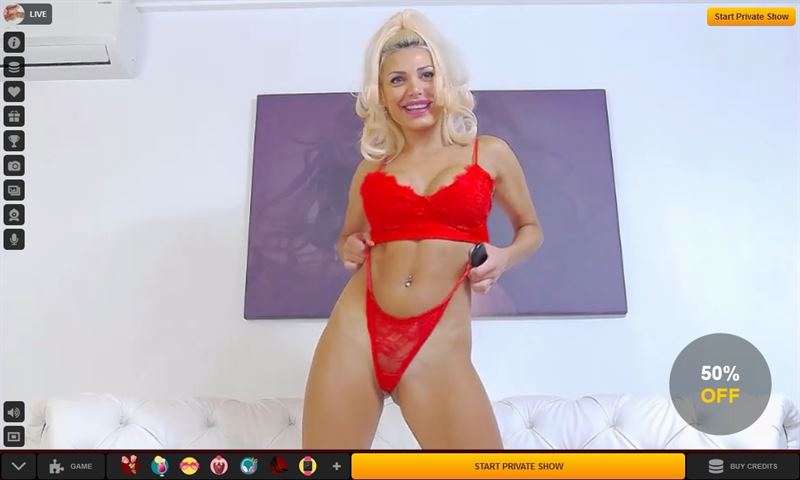 The Keys (Credits) Open
In addition to the free chat and free (though not nude) snapshots of the chiquitas....Using your credits provide you with:
| | |
| --- | --- |
| FREE | PREMIUM |
| Chat in public rooms | Private 1on1 sex chat |
| Ten 20-second peeks | C2C and 2-way audio |
| Non-nude glamour photos | Nude and explicit photos |
| Saving favorites | VIP Shows |
| Applying search filters | Tipping her Vibratoy |
| 24/7 Live Chat CS | Offline Messaging |
Payment Methods
Credit/Debit Card - Visa, Mastercard, Visa Electron, Maestro, Visa Bleue, Discover, and JCB are all accepted as payment methods, and don't forget if you use a credit card, you can grab a tasty 9.99 free credits when you validate it.
Paypal,
Bank Wire Transfer,
Cryptocurrencies (Bitcoin, Ethereum and 50+ more altcoins)
Webmoney
Redeem retailer/brand gift cards (only available in the US)
The Support You Can Get
Customer support is fantastic at LiveJasmin, and I can vouch 100 percent for that! You can give them a ring, type them up an email or open up a live chat window (not a sex-chat window!) for instant gratification. Support is online every minute of the day, but try the FAQs first to see if your query is answered there.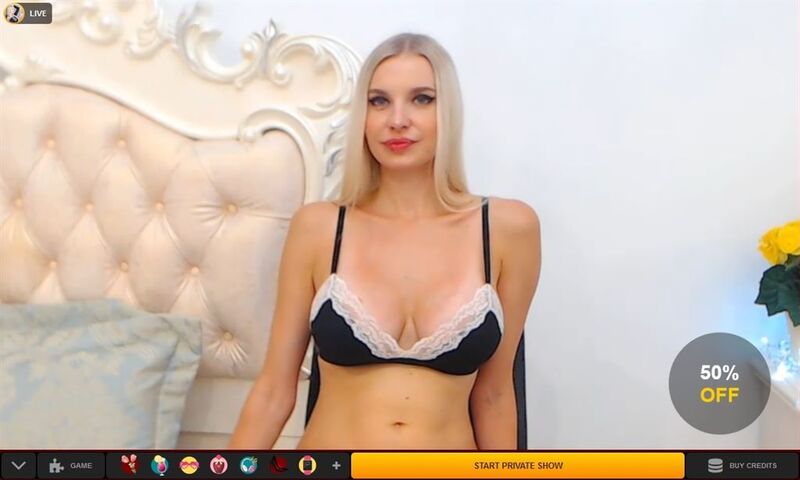 The Hots and Nots
Hots
✔ A fantastic selection of stunningly sensual girls (and guys)
✔ An unbeatable gallery of free high-quality camgirl photos - a surprising number of which are X-rated
✔ A large selection of hardcore fetish models camming from extreme settings
✔ FREE peeks into ongoing private shows
✔ Spin the wheel before a purchase to win free credits
✔ A wide-range of fetish categories
✔ Great customer support service
Nots
✖ Can be expensive. Some of the webcam play-partners charge a pretty hefty price
✖ No real amateur hosts. All the girls are super-polished and know their business
✖ No community message boards or forums
Before You Go
So now you know the ins and outs of LiveJasmin. Stunning girls, great quality video, quite a few freebies (especially for first time visitors) and most importantly the security of your info and discretion is taken super seriously at this mega-sexy web cam utopia. Cost truly depends on you and your taste. Some girls are extremely budget friendly - others, well, they'll crunch through those credits but hey - it's all in your hands - literally.
Review of LiveJasmin.com
- Reviewed by
topratedcamsites.com