XLoveAsian Has Potential, but It Needs More Live Asian Webcams
Last updated
January 16, 2021
Premium
Clothed Free Chat
Pros
European models
Cheap private chats
Good HD streaming
Nice fetish selection
Cons
Limited English chat
Tame free chat
Howdy readers, it sure is nice to see you again. Now let's drop the cowboy act and deal with what we're really here to discuss: An informative XLoveAsian review with all eth trimmings. It wasn't easy getting this portal's info. This is a relatively small and a fairly new adult webcam service, so it's not like I could rely on any other resource of info except the site itself. Well, I was never one to shy from a challenge and I hope you know that I am willing to do whatever it takes to get you that juicy info. In this review I assure you that I have gotten every piece of data that can be of value to you: Best offers, average Asian sex chat costs, the hotness of the amateur Asians and the site's streaming. Now listen to what I've got to say – I will try to keep it short, precise and most importantly: Helpful.

My Initial Thoughts...
When I first entered this Asian sex cam site I thought: Wow – it looks like there are many live chat rooms online, but when I looked closer, I discovered that these babes were not all Asians. It turns out that this site may be called X Love Asian, but you still need to search for hot Asians once you're on the Home Page. Annoying, right? It gets even worse. After you narrow down your search to Far East webcams, you still need to conduct a second search to separate the camgirls from the Tgirls. This is just outright ridiculous. Women and transsexuals should be separate categories or some guys will head into one hell of a tranny surprise.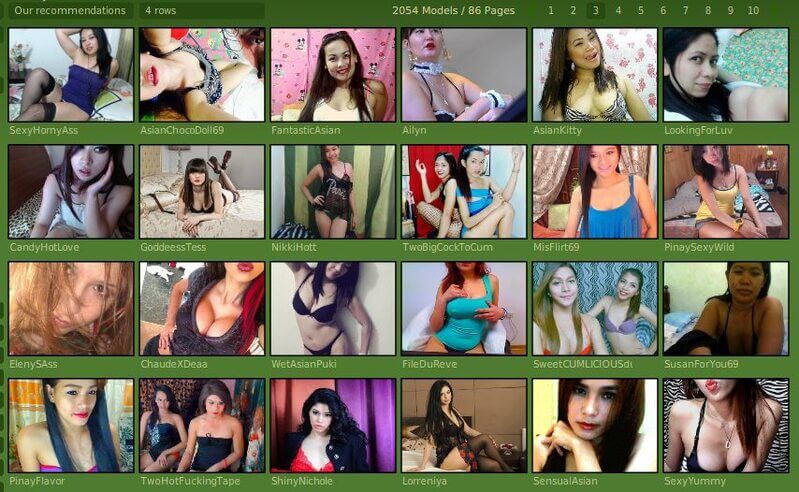 It was a bit difficult for me to stay mad though, because the women were beautiful and sweet. Sadly though, there were just like 12 of them online and that is a pretty low number. You could of course decide to search through the entire database of live camgirls – Asians as well as other babes, but if you're reading this XLoveAsian review, I am guessing that you are into women from Asia, and in that case, you want a woman from the Philippines or Thailand, not just some slutty blonde. I have entered the video chat rooms that were available and I can't say that I wasn't pleased. This site does have a lot of potential – I am just not sure it uses it.
Those Extra Features...
Cams.com won't break any records in the feature category, but as long as the Cam to Cam is working fine and there is clear audio and some HD chat rooms, I'm fine with that. I actually think that this adult cam site could benefit a lot by getting some funkier video chat tools, but no one is asking me and besides – there are plenty of movies and porn vids and maybe that's all that guys are interested in between the Asian sex shows.
How To Register...
Let's see if I can keep it under 50 words: You type in your personal information, your made-up password and email and can start enjoying free Asian chats as well as paid ones, if you're willing to pay. To upgrade your membership, click "upgrade" – and that's under 50 words.

If you sign up and verify your email, you receive a free VIP video (A recorded video of private session of your choice) worth 15 USD.
The Ways You Can Chat ...
Choose your style of chatting. Do you like to spy on other people? Try the Voyeur mode. Prefer to keep things private? Stick with 1 on 1. Like company? The Party Chat on Cams.com will allow you to share a single Asian camgirl with a few other members in an option that is both cheaper and friendlier than other types of chats – kind of like an actual party, but with a happy ending. Is there a free chat? Yes there is, but note that a few of the sexy Asians don't offer it – most likely the really popular ones.

Quality of The Videos ...
This is not a professional sexcam like LiveSexAsian, but average web cam quality is decent. I am being careful here, because some of the amateur Asians actually have spectacular web cameras – HD, clear view, amazing streaming – the works. However, there are also a few with very disappointing quality of cams. How can you tell which is which? This is where the free chat becomes extremely handy.
How Much It'll Cost You...
VIP Clubs cost about 15 credits per months and buy you instant access to all of the model's private videos and pics – the naughty ones. You can watch a Thai porn show or a Philippine sex chat for only 2 credits per minute. That's an estimated average of course. Some women charge more, some less – that's how the webcam business works. You can even search through the chat rooms according to rates, and find models who charge less – it's not especially difficult. How much is one credit worth? The chart below outlines the packages – note that cost per credit remains the same.
| | | |
| --- | --- | --- |
| Number of Credits | Cost in USD | Cost Per Credit |
| 25 | $31.20 | $1.24 |
| 50 | $62.41 | $1.24 |
| 100 | $124.83 | $1.24 |
The Ways You Can Pay ...
XLoveAsian.com accepts a variety of reliable payment methods starting with Visa, MasterCard and Maestro. Too traditional for you? You can purchase credits or a VIP membership with your PayPal account, Bitcoin, Bank Wire and some prepaid cards. DirecteBanking is also an option.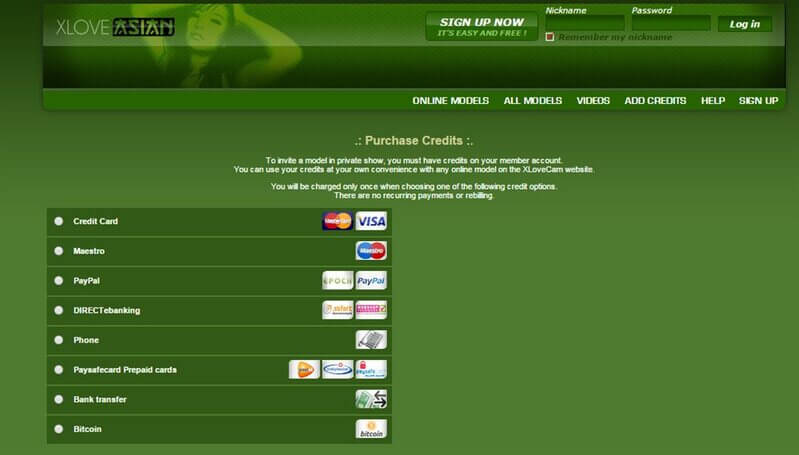 How Many Models...
XLoveAsian.com has a wide range of registered camgirls – around 8,000 or so, but most of these sexy Asians will not be online. You will find between 20 and 50 women from the Far East waiting to chat with you on live webcams – they'll be gorgeous, but there won't be many of them.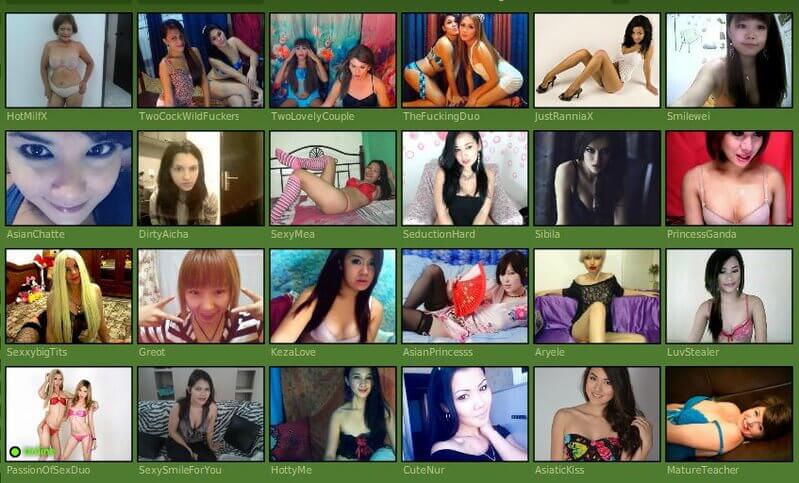 The Support You Can Get...
Even on the easiest, clearest websites (and XLoveAsian certainly falls under this category), at times you might feel a bit confused or unsure and will need some assistance. When and if you do, follow the Help tab at the top right side of the navigation bar and you will reach the FAQ page which, on top of the regular questions and answers, also offers links to a help form and the always-important billing support.
The Pros & Cons
Pros
✔ - The nude Asian chats are pretty inexpensive
✔ - There are many porn vids available
✔ - Inexperienced webcam users will have no difficulty getting around
Cons
✖ - The video chat window is annoyingly small
✖ - The number of online Asian camgirls is disappointing
Winding Things Up ...
As we reach the end of this XLoveAsian review, I feel the need to explain a few things about this adult webcam site. I know, it might be a bit late to open a discussion, but I want you to really understand that this in both a great site and a not so great one. Look, there are many things that will appeal to guys who like Asian webcams: Hot Far East babes, amateur sex videos and cheap naked chats. However, the low number of live camgirls and the average quality of live webcams is not so amazing and if you're picky about your live Asian porn shows, this is not the right site for you. Which is it, then? If you don't know the answer yourself, access X Love Asian and find it.