Cam4 Trans Review - Amazing Amateur Shemales
Last updated
January 18, 2021
Pros
Good video quality
Time-saving search
Many tipping options
Cons
Ads and pop-ups
Expensive privates
Cam4 is a hangout for amateur exhibitionists who have yet to graduate to the premium sex cam sites. This means while you may not be getting the cream of the tranny crop - you will be getting enthusiastic and extreme exhibitionists, dedicated on proving their live porn cam credentials. Chances are you'll be discovering a future shemale sex superstar who right now is happy to do anything and everything on camera for a fistful of dollars.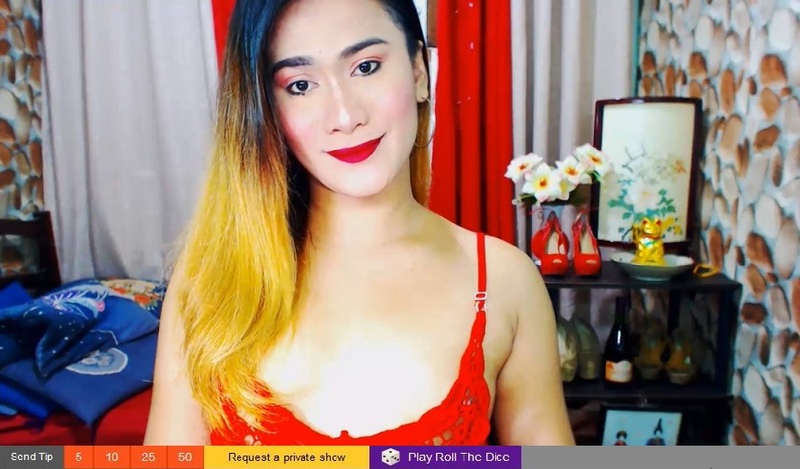 Available in 34 languages, Cam4 is a freemium site, which means anyone can register themselves as a cam model and start streaming their junk for all to see. The upside of this, at Cam4, is that you'll enjoy a lot of hardcore happenings in the models' free chat rooms with the majority of the chicks-with-dicks getting their kinks on by taking things to the next level of X-rated. The downside is that annoying ads keep popping up to ruin your fun, leaving you no option but to wait until the ad has finished (unless you pay and upgrade to a higher membership level, which I"ll talk about later) before being able to get back into your raunchy free room.
But enough complaining for now, let's talk about sex, baby. To get to the babes with bonuses at Cam4, you have to select Gender on the left hand nav bar of the homepage and then click/tap on Transgender. This brings up all the streaming shemales currently online. On average, there's around 80 rooms to choose from and these 80 rooms represent a real international cross-selection of cross-genders. There's the usual predominance of trannies from Asia and Colombia, but at Cam4, also expect to find a strong showing of girls from across Europe.
Tranny Models
Once the homepage of trans models loads, small snapshots of the performers taken from a recent video feed fill the screen, so you know what you're seeing is what you'll be getting. On each photo is a small eyeball icon with a number showing how many people are currently perving in the room.
A quick Tom tip here my fellow tranny tasters - the more eyeballs the rooms has, usually means the action has been hot.
When you hover over the photo, the live video feed starts broadcasting, along with a few of the cam cutie's major search tags. This way you can see at a glance what fetishes fuel her fancy and even whether she's straight / bi / bi-curious or gay. In this world - sexuality is as fluid as melted ice-cream.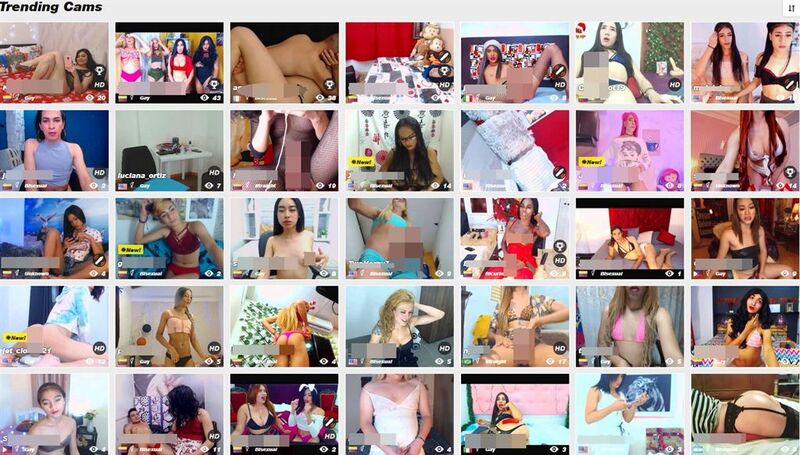 As you'd expect from a community powered site, the range of performers covers every age and appearance. Some are kittens just starting to explore their crossing into gender-bender land, and others are golden girls who've started their trans journey a few stations back.
If you're looking for something specific from your shemale sweetie, then the left nav bar has a clear and concise grouping of the most popular search parameters including; Orientation / Body Type / Hair / Ethnicity and Locale. But we all know that's not all that floats our boats...
Cam4's Feature Highlights
There's also the option to search via #tags - which means dudes, kinks and fetishes. The top options are the most popular tags used at the current time - but if there's nothing there that peeks your pecker simply select Show All Tags and start selecting; spanking, cumming, piercings, nipple torture, BDSM, you name it, these deviant divas will do it.
If you do search via the tags, the results bring up every perv performer on the site, not just the tgirls. This can be very annoying. If you're looking for a tranny playmate it's far easier and quicker to manually scour the snapshots and see if the lovely tgirl has tagged herself with the kink. Chances are, they're into it and most are more than happy to perform your chosen quirk for a symbolic tip.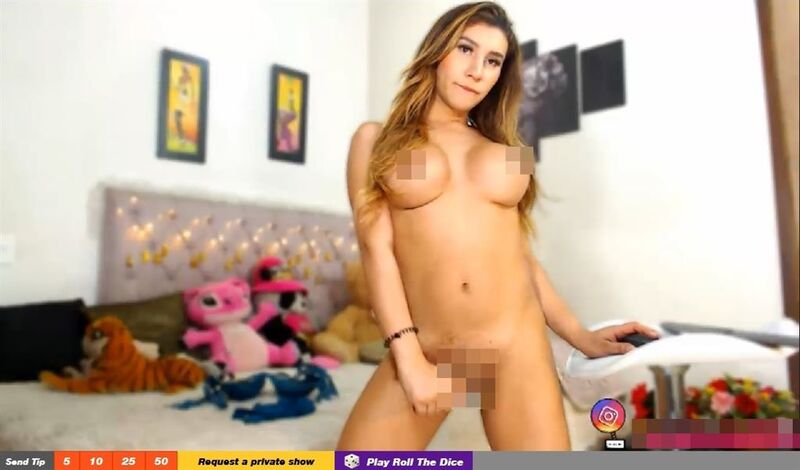 Once you've clicked through to the boy-babe's room you'll see a small(ish) live stream of what they're up to and a much larger messaging area. If you hover over the feed, on the bottom left two icons appear offering you the option to view the broadcast in Theater Mode or Full Screen. Unfortunately these only work if you've paid extra and upgraded your free membership to a Cam4 Gold Membership.
By scrolling down the private room - you get to the performer's bio. This is where the amateur persuasion of most of the models comes to the fore. Apart from basic information such as where they're located, their age, looks, etc., nothing much of interest is noted here. Some may post photos or videos you can either view for free or by a pre-set tip that unlocks the media - but in most cases, either there's nothing there or the media really isn't worth spending money on. Keep the dosh for the real business - some live cam funky fun.
A word of warning folks, if you haven't upgraded to the Gold Membership tier - be prepared to get frustrated with ads that interrupt a tgirl's live free show. You have no option but to wait a few seconds until a Skip Ad sticker appears. You can select this and get back to the business at hand, but it sure dampens the vibe.
Additional Cam4 features include:
Watch History (automatically shows which cam rooms you last popped into)
Adjustable chat settings. Enable or disable notification sounds, change font size an avatars
Player games like Roll The Dice / Token Keno and Spin The Wheel - and yes, all the prizes are perverted
Comprehensive FAQ section
Model's interactive vibrating sex toy you can activate for a small tip
Create a Favorites list of tranny cam hosts
Social media presence: Blog / Twitter / Facebook / YouTube / Snapchat and Reddit
If you pay for a Gold Membership (which I'll get to a second), you'll get all this and so much more - but all of the above is available to anyone who has logged in under a free membership package.
Getting Started
Registering on Cam4 takes just a few moments and is simple, safe and secure. On the top right of the homepage there's an orange action box (Create Free Account). Click/tap on this and a signup page appears. You'll need to input a user name, password and an email address and then select Join Cam4 Now. The site will then automatically send you an email which you'll need to open and click on the link in the email for verification.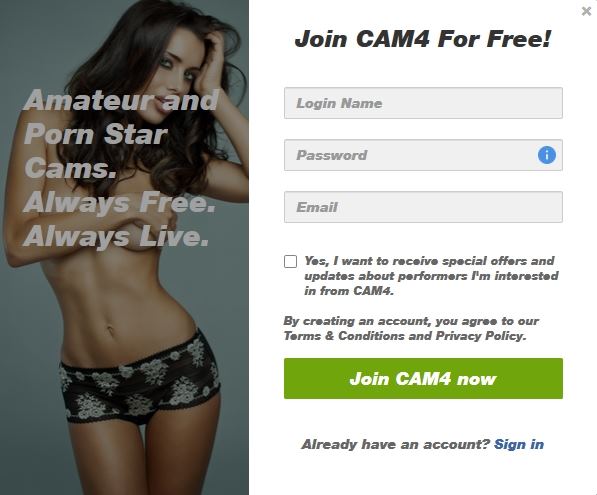 Chat Options & Prices
One great benefit in a freemium cam platform is that more often than not, you'll be able to enjoy a lot of free XXX action in a cam hosts' open chat room. Other chat options include Private Shows and Group Shows. When it come to chillaxing with a cheeky tgirl, the options are pretty much limited to the free or private video chat options. There are rarely group shows taking place - this is when the performer sells tickets to a hardcore show that lasts anywhere between 10-30 minutes.
Free Video Chat
Cam4, like other sites, uses a tipping system where you tip the model a number of tokens in order to get them to perform a specific X-rated act. Each model sets their own tipping rates and some of the more veteran vixens have a tipping rate menu in their chat room. If they don't, you can simply message them to ask their rates, or give them a generous tip with a note requesting the kink that gives you ya' kicks.
In addition to the free public live cam chat rooms you also have the option to take the lady with the luscious load into a Private Chat Show.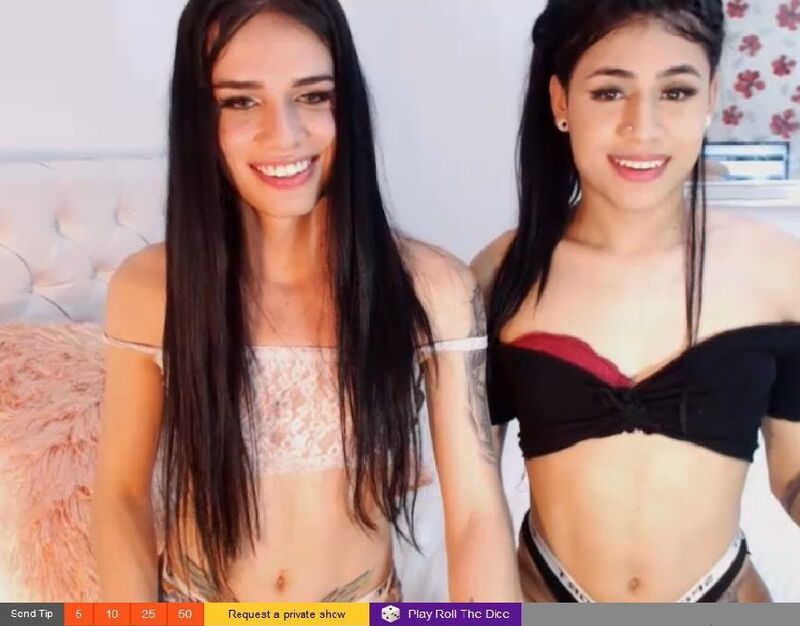 Private Chat
At the bottom of the cam window in a model's public hangout home, there's a yellow call to action button with Request a Private Show. Just a heads-up - not all performers are willing to go private, in which case this button doesn't appear.
Once you select to request a private show - a box appears showing the rate/min for a private performance. Almost all the she-babes insist on a minimum time spent in private - but this can be as low as one minute.
Payment on the site is with tokens as opposed to $/€. This can get rather confusing as you have to convert the number of tokens into the equivalent cash number. Models set their own prices for private performances, but unfortunately there is no way to filter the rooms by price. You have to slog through the rooms one by one and select the 'Request a Private Show' option to find out how much the trans is charging - and rates vary wildly. On the lowest end of the scale, prices start at just $0.65/min - though on average you're looking at $4.50/min. These rates include cam-to-cam at no additional cost.
Payment Options
To purchase tokens from the site that can be use to tip and pay for private sex shows, you can use either a credit card / PayPal or even redeem store/brand gift cards. (The gift card redemption option is currently only available to users located in the U.S.).
One token is worth approximately $0.15 (I say 'approximately' because I got to that equation by buying the largest token package offered on the site and seeing how much each token had cost). But, the bigger the bundle you go for, the cheaper a token will cost you.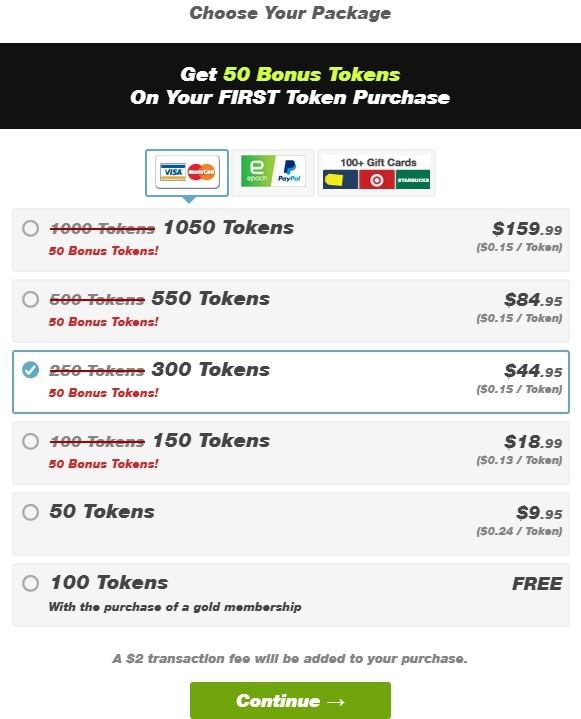 If you pay by credit card or PayPal - each purchase incurs a $2.00 transaction fee. If you trade in a gift card - a $1.00 transaction fee is added.
The site accepts the following payment methods:
Visa (incld: Bleue / Debit / Electron)
MasterCard (and Debit)
Discover
Diners Club
JCB
Maestro
Store / Brand Gift Cards
Top Tom Tip here: When you go to purchase a token bundle, the site will give you a 14-day free Gold Membership which will then automatically renew at a charge of $14.95/month. In order not to pay the membership fee, you must de-select the box that appears in the payment page. If you don't do this, you'll be paying that $14.95/month membership until you manually cancel it. Not cool!
Membership Benefits
There's only one paid-for membership package at Cam4 and this is really where the site amps up the benefits. Officially it costs $20.00/month for a month-by-month purchase. Though, if you buy a 3-month subscription it comes in at $16.66 and a yearly subscription is the cheapest working out at $9.99. However - remember what I said above - you can get Gold Membership at a monthly automatic renewal for $14.95 when buying tokens.
Benefits include:
28 Emoticons
Access to the monthly gold party
Exclusive monthly gift
Fanfare when you enter a room (chat join announcements)
Immunity from chat spamming
Friends/fav menu bar widget
Display 100 search results in the directory
Redesigned gold username in chat
Vote for new site features
Tip anonymously
Hide from user list
Watch multiple cams
Full screen
Remove ads
Private chat
Cam4 Mail (Inbox)
Picture-In-Picture
Private Cam Mode
Chat in Super Shows
Mobile Experience of Cam4
The mobile version of Cam4 loads intuitively on smart phones or mobile devices. To get to the tranny temptresses, you have to go to the search bar under the logo and select Trans from the drop down menu. On the right side of the screen, a small icon with two vertical lines then allows you to sort the results based on Most Viewers / Youngest / Ratings / Best Quality etc.
Apart from just watching the action in a room - it's not the most user-friendly interface. For example, typing a message shifts the screen down, so while you're writing you can't see the live feed. Also, currently there's no ability to cam2cam on the mobile layout.
Video Quality
In the trans category - around 30% of the rooms are HD enabled. Under Quick Filters on the top of the homepage's left hand nav menu select the HD box, this filters the results to only HD streaming rooms. Any performer that does have HD capabilities indicates as such with a small HD circle on their snapshot.
If the word Auto appears on the bottom left of the wench's window - this means there's a variety of streaming standards you can choose from. Check to make sure it's broadcasting in the highest feed possible.
The Pros & Cons
Pros
✔ Worthwhile and cost-effective Gold membership program
✔ Comprehensive FAQ section
✔ True amateurs with a passion for exhibitionism
✔ Ability to check out or chat with other users
✔ Clearly marked HD rooms
✔ Cheap rates which include cam2cam
Cons
✖ Annoying and intrusive ads both on a page and during performances
✖ HD marked rooms don't always stream in true HD
✖ Limited info in a model's bio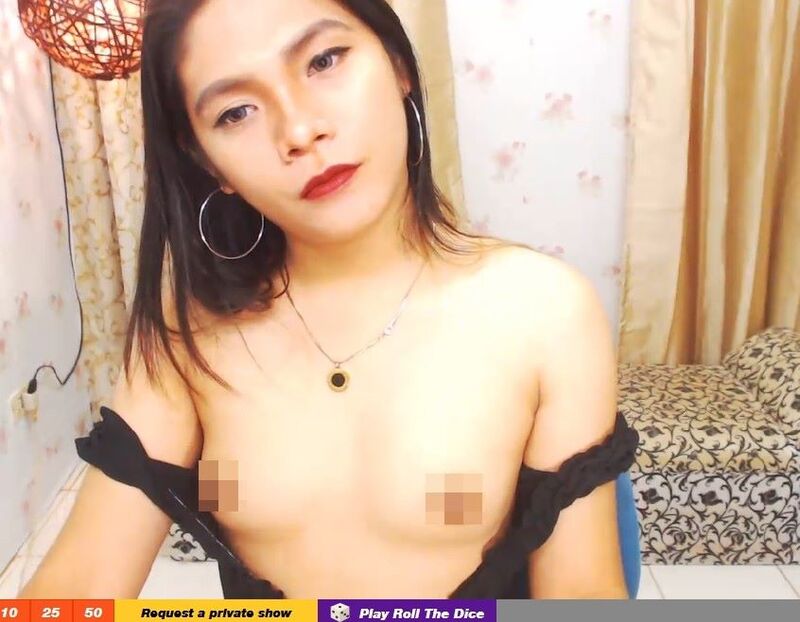 Before You Go
If you're looking for an authentic amateur experience with a sweet shemale then Cam4 is definitely worth checking out. While the babes with balls may not have the pizzazz of the princesses with penises at premium cam sites, what they lack in sexperince they certainly make up for with passion.
The private show rates are extremely cost-effective, especially as they all include cam2cam - so no hidden extras here and most of the horny hunnies are eager to please for just a handful of tips in their public boudoirs.
This isn't a site for those of you looking for bells and whistles with a seasoned shemale, but at least at Cam4 - you know that what you see is what you get.