Stripchat Review - XXX Virtual Reality Rocks
Last updated
February 15, 2021
Freemium
Nude Free Chat
Hourly Giveaways
Pros
Big model selection
Active chat rooms
Virtual Reality cams
Affordable privates
Cons
Static previews
Limited CS options
C2C may cost extra
The future is getting closer. Ok, not exactly closer, but the future in live porn has just got brighter, clearer and kinkier thanks to Stripchat. This relative newcomer to the adult webcam world has something all us deviant dudes have been waiting for - virtual reality (VR) chat. Yep, you can finally immerse your sexy soul in a mind-blowing experience with one of the site's naughty nymphos that are into cranking up their sexcapades a notch. Read on to find out more about how Stripchat's VR is redefining raunchiness and how you can score some of the funkiest fun at the lowest cam rates around.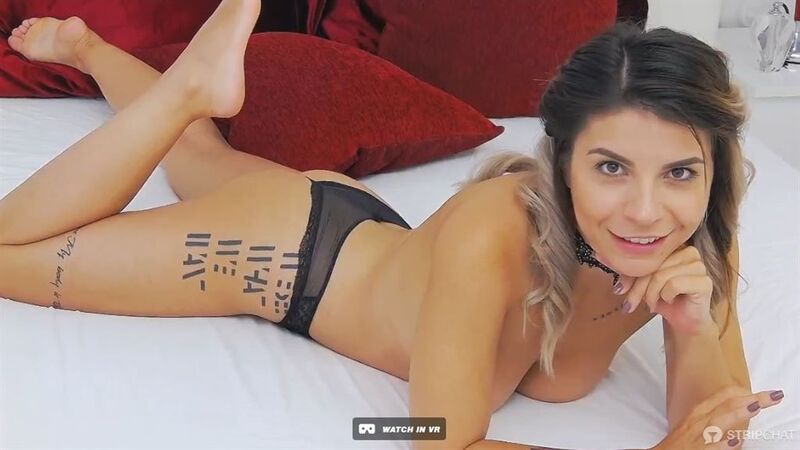 Stripchat is a mixture of both a premium and a freemium video chat platform. They've taken the best from each genre and created a free, exclusive looking X-rated video chat site. On one hand it looks and acts like a premium cam2cam site. No ads cluttering up the screen. A user-friendly search engine with tags that actually apply to the models. Clearly marked kinks and fetish groups such as anal, BDSM, foot fetish and squirt etc., giveaways, a variety of chat options and of course their amazing VR rooms.
On the other hand there are thousands of naked girls, boys, trans and couples playing with themselves and their party toys in the free chat rooms. Amateur XXX models that cover every gender, ethnicity, appearance and age and horny hotties and hunks masturbating in their kitchens, their living rooms and even what looks like dorm rooms.
Webcam Models
Anyone can become an adult cam performer on Stripchat which means... yea for those of you that prefer quantity over quality. There are thousands of cam cuties on Stripchat, most of which are sex-crazed amateurs having fun, but there are also plenty of seasoned pros in the mix. The overwhelming majority of the thousands of XXX cam hosts are girls, but that doesn't mean it's only the babes looking for a virtual playmate. The site also has a good showing of guys and shemales getting down and dirty.
All Stripchat models I came across had a big, big eagerness to please and quite often you'll find yourself the sole focus of their attention and boy.... they'll put on a wild free show for just a handful of tips. (I'll get to tipping later and how to get some of the kinkiest action I've seen for either nothing or pennies).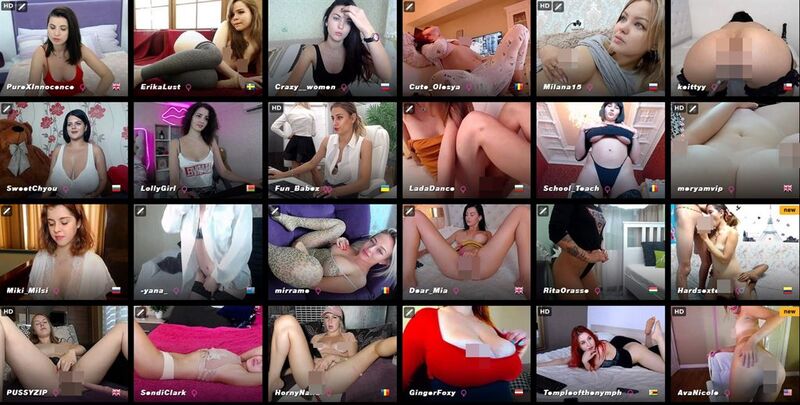 Girls
The gals literally run the gamut of nymphomaniacs and sex lovers. From 18 plus teens to a significant number of grannies, showing that age doesn't matter when it cums to cumming. The homepage features a gallery of babes with a photo showing an almost real-time snapshot of what they're up to. This way, you know if it's worth going to take a further look at the action in the room. If they're naked and on a fuckbot in the gallery - then it's highly probable they'll be riding it hard in real-time. And, unlike premium sites, what you see is what you get in the photo. Nothing's edited or photo-shopped.
Guys
While there won't be thousands of guys online - you're guaranteed at least a hundred plus to be cuddling their cock looking for a cam2cam playmate or just someone to watch them rub a'dub dub. Like the ladies, the guys cater to every taste from college boys to self-titled 'grandpas'. Now, if you're looking for a hunk with a six pack - Stripchat probably isn't going to rock your world. Most models are in the twinks category. This is a freemium site so don't go expecting too many pro porn performers to be flexing their muscles here just yet.
Trans
Again - it's a handful plus of transgender cam chicks you'll find at Stripchat. They're predominantly from Latin America with a smattering from Europe and Asia. If you're looking for a chick with a dick or a guy that's loaded upstairs and downstairs, Stripchat has some but it's not a strong category in the site.
Stripchat Feature Highlights
It's not that Stripchat has a whole bunch of additional features - apart from the Virtual Reality option (yes, yes - I'm getting to that soon), but it does have a few cool things that caught my eye.
On the cam hosts' snapshot there's a flag showing where they're from so, if you wanna find someone that speaks your language you can see straight away if they parlez your lingo - or even live in your neck of the woods. If you've always wanted to watch a Swede squirt or cum with a Canadian - at Stripchat, it's just a click away.
Okay, okay - you wanna know more about VR sex - also known as virtual reality sex. Although it's still in the early stages, Stripchat's VR streaming is picking up momentum on a daily basis. On the hardware side you need to have a pair of VR goggles and download GizmoVR software and then you're ready to begin your 4K virtual X-rated adventure. While only a few of the XXX cam rooms are VR friendly, the ones that are perform to the VR max.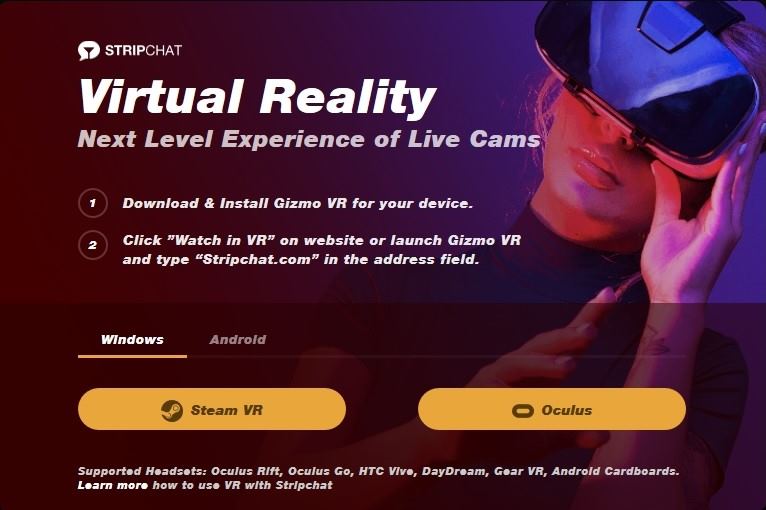 Time for a Tom tip...
It's always worth checking out the cam babes that offer VR, whether you have it or not. These girls have invested time and dollars in making sure they have cutting edge porn capabilities. All these rooms will stream in HD regardless of whether you're in VR mode or not - and they tend to be some of the best babes on the site.
Another cool feature that'll make your extreme experience that much extra is the interactive toys you can play with. Babes on the site use both the vibrating Lovense and Kiiroo. The Lovense vibrates when you tip the squirming sweetie (each performer determines how much you gotta tip to make it tremble). While the Kiiroo does the same, get this... if you own a Kiiroo you can take a cam model who also plays with a Kiiroo into a private chat and sync her Kiiroo with yours and you both can cum in horny harmony.
Other fun features include:
Watch History (automatically shows which cam rooms you last popped into)
Search by price/fetish/new models/age
Hourly token giveaways
Getting Started
Signing up is quick and simple. You just need an email (make sure it's a real one cause they'll send you an email which you need to open and verify the link to prove you're not a robot), and a username, then you're ready to rumble in the Stripchat jungle.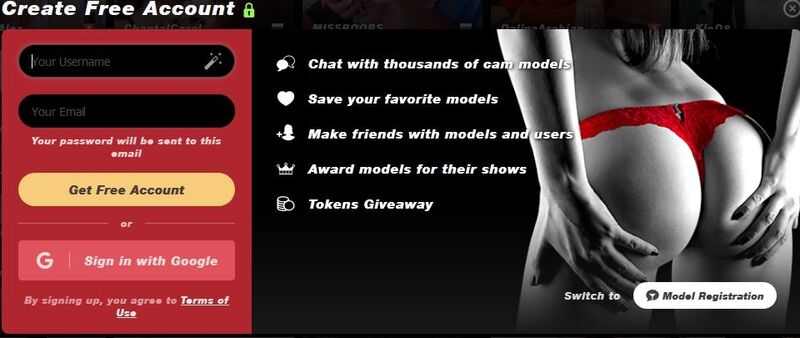 Chat Options & Prices
As there should be with any popular XXX video chat site, there are several ways to interact with the cam models at different price points. Stripchat uses the token system - so you have to stock up on tokens before being able to pay (or tip) the performers or take them into a private chat session. One token is worth approximately $0.08 (I got to that figure by buying the largest token package offered on the site - so remember, the bigger the bundle you buy, the cheaper a token will cost you).
Free Chat
There's no better way to find the babe that's going to build your boner than scrolling through the free chat rooms online. Usually around a thousand to two thousand plus are live - that's a lot of scrolling. With so many cam rooms broadcasting, the girls, guys and shemales are pulling out all the stops to get your attention, which translates as some really kinky extreme action and a whole lot of tits and ass on display.
Want to know a shortcut to get to the best?
Don't even try to go room by room - there are way too many. Start by narrowing your search via the left hand nav bar. Find your fave look, fetish, etc and start from those rooms. The site details how many are online in each category. Once you have those steaming up the screen go to the top right of the gallery and sort your results by either the most popular / highest rated or newcomers to the site.
You can also tip the webcam wonder woman in her public chat room to perform a specific act. Most have a menu of kinks they'll kick in for a set 'tip'. But, if you're a committed freeloader, hang around long enough and someone is bound to tip them to do something fierce and fun and you won't have to dish out dollar.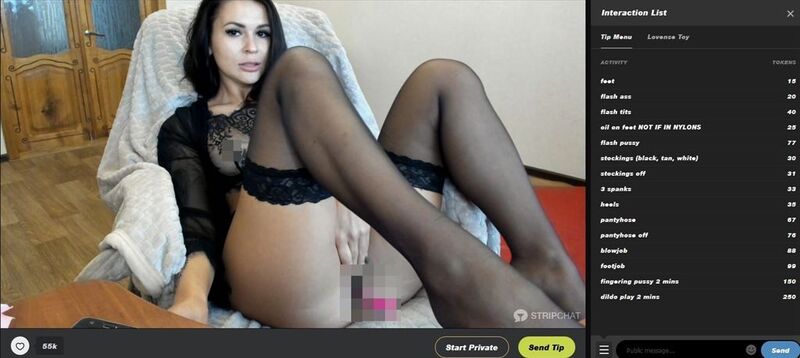 Private Shows
This is where you can get your chosen boner buddy to perform more or less under your direction but... check first in their bio to see if they're into your own particular brand of fetish fun or, before you go to private chat, private message her first to see if she's willing to do whatever particular porn you're into. If you're looking for some cam2cam adventures, bear in mind this often costs extra in addition to the regular rate/min. If you don't want others spying on your private time you'll have to pay extra for the cam2cam upgrade - though you don't obviously have to use the cam option. Saying this, some of the gorgeous cam girls don't charge extra to have cam2cam enabled and to block others from spying. Unfortunately, there's no way to find which babes give the all-inclusive package - you just have to discover by trial and error.
Prices for private chat start at just $0.75/min - super cheap dudes. The average though goes for around $3.00/min (don't forget though if you want c2c it's going to be higher). Also, some babes won't go private with you unless you pay for at least 5 or 10 mins. You can of course take it longer - but even if you decide to finish the session before the minimum time you've paid for - you won't get any refunds.
Spy Show
This means the cam cutie is already giving a Private Show, but if you want to lift up the virtual curtain and peek at the action you can. It'll cost you the same as the girl's regular private chat price/min and you can't interact in any way with the babe. On the other hand - you don't have to commit to a minimum amount of time. You can just pop in for a minute's peek and pop out.
VR Shows
This is next level Private Chat. All the rooms that are live and VR enabled have a small blue icon on the top right of the photo. As I mentioned earlier, you need to have the VR Headsets and have installed the Gizmo VR program (which you can do directly from Stripchat) and you're set for some next generation live porn fun. Price/min for VR Shows are the same as the girl's regular cam2cam private chat rate. But, the chicks that do offer VR capabilities tend to be on the higher private chat rate/min cost.

Payment Options
As you know, I"ll only recommend safe, secure and discreet webcam sites. Stripchat is no exception. There are various ways to buy tokens on the site:
Visa
MasterCard
Discover
Diners Club
JCB
Maestro
PayPal
Skrill
Cryptocurrencies
Redeem store/brand gift cards
Bank Transfer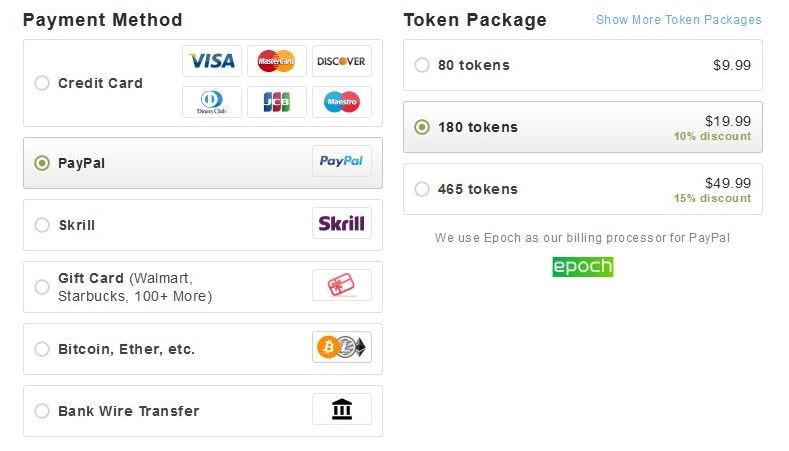 Membership Benefits
So Stripchat has one paid-for membership package. For $20/month you receive the Gold membership status which, as far as I could tell, doesn't really give you any significant bonuses. I'm going to be honest here folks, I'd keep your cash for the cuties. If you do though decide you wanna go Gold - just remember the $20 is a recurring monthly fee that you have to opt out of to end. If you do decide to go gold, you'll get the following benefits:
Emoticons in chat
Knight Status - a model can elect you to be her knight. You can mute harassing grey users in her room for 24 hours
Invisible mode - move around rooms without being seen
Send anonymous tips - tip the models incognito
Private messages - send and receive unlimited private messages
Special Promotions - get discounts and exclusive offers during a time-limited promotional period
Mobile Experience of Stripchat
Stripchat is mobile optimized so you can watch the fun on the go from any mobile device or smartphone. It isn't though setup for cam2cam chat. If you want to chat with the cam model half the screen disappears as your keyboard comes up so you'll miss most of the action - it's one or the other - very annoying for multi-taskers such as yours truly.
Video Quality
Apart from the awesome VR option, video streaming at Stripchat could be better. There are HD rooms but from the thousand plus live sex cam rooms online, maybe just a hundred will be broadcasting in HD. These rooms have a small HD icon on the top right of their screenshot.
Finding these rooms isn't easy but wanna know a secret door to HD heaven?
On the left nav bar, scroll down to the bottom, select the last option which reads Show All Tags. This brings up an alphabetical list of all the search categories. Simply go to 'H' and choose HD. The overwhelming majority (almost all) broadcast in HD720p but a small handful will give you glorious HD1080p. To discover which do - you have to select the HD room and once you're in the video stream, hover over it and at the top right an HD settings icon will appear. Click this to see whether they can broadcast in full HD (1080p) in addition to regular HD or SD.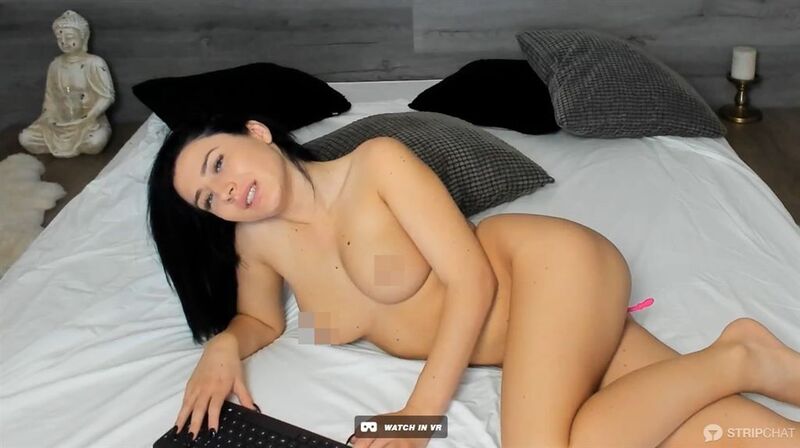 The Pros & Cons
Pros
✔ 500 FREE tokens given away hourly (50 each to 10 lucky members)
✔ See at a glance where the model is from via the flag on their photo
✔ Lots of FREE hardcore action in public chat rooms
✔ Virtual Reality cam shows
✔ Sync your sex toy with the models and orgasm together
Cons
✖ Not a large selection of HD streaming rooms
✖ Many performers charge extra for cam2cam
✖ No live chat support
Before You Go
Putting the VR option aside, Stripchat is probably one of my favorite freemium X-rated video chat sites. It's much easier to navigate than most of the other freemium webcam platforms. The search results are accurate and clean. There's a humongous amount of deviant dealings going on in the public chat rooms. It has a large selection of models (though probably not your first choice if you're looking for guys or trans) and a constant stream of new faces joining the Stripchat stable. The only down for me is the lack of HD rooms - but I'm hoping overtime this will improve.