Chaturbate Gay Review - All Gay and Free for a Lay
Last updated
February 14, 2021
Freemium
Nude Free Chat
Bonus with VIP
Pros
HD+ and 4K video
Tips fuel action
Mostly amateurs
Big variety
Cons
No categories list
C2C setup difficult
Chaturbate will blow your mind with the free access it gives to its male sex cam rooms. This is the most highly trafficked adult cam site in the world. It's not uncommon to see the most popular gay webcam models entertaining thousands of viewers at once. This is a freemium cam site, where tipping the models encourages the action. If you'd like to go private and activate a cam2cam session, it's going to require a few more steps than any other gay chat site.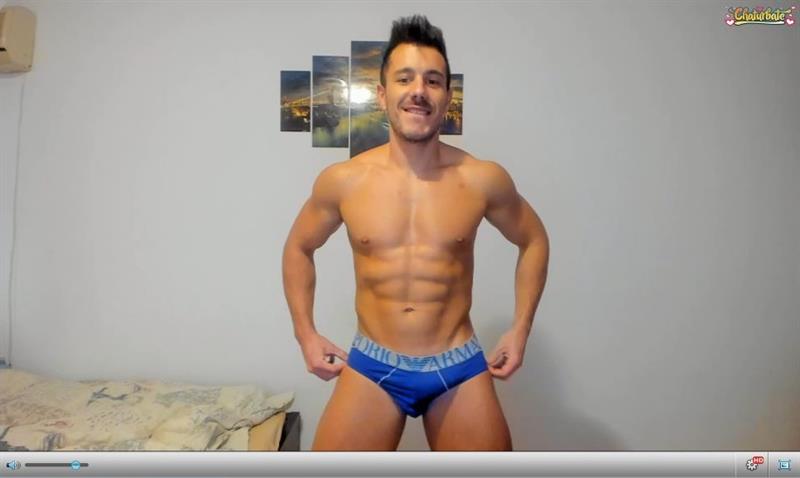 If you ask me, what would be the only feature to tip the scale for me in favor of this site, my dick-jerk reaction would be, its being 99% FREE! No other site comes anywhere near the amount of accessibility to free porn offered by Chaturbate. That's why, as a webcam sex site, it is enjoying the largest amount of visitor traffic in the industry.
You can visit any room for free and enjoy a live porn show in any section: be it girls, males, trannies, couples or spy shows. The models are mostly amateurs, as one can easily tell from their cam room set ups. With regard to gay action, the sites hosts thousands of steeds of all ethnicities and ages - to cater to any particular taste and fetish. Whether you want a strip show, gay couples sex, or an orgy - all can be found in the live rooms, which you are welcome to direct, if you tip.
When hovering over the display of photo galleries, you'll get a live peak into the action happening inside each cam room. Typically, there are some 800 live gay webcam rooms broadcasting at all hours of the day.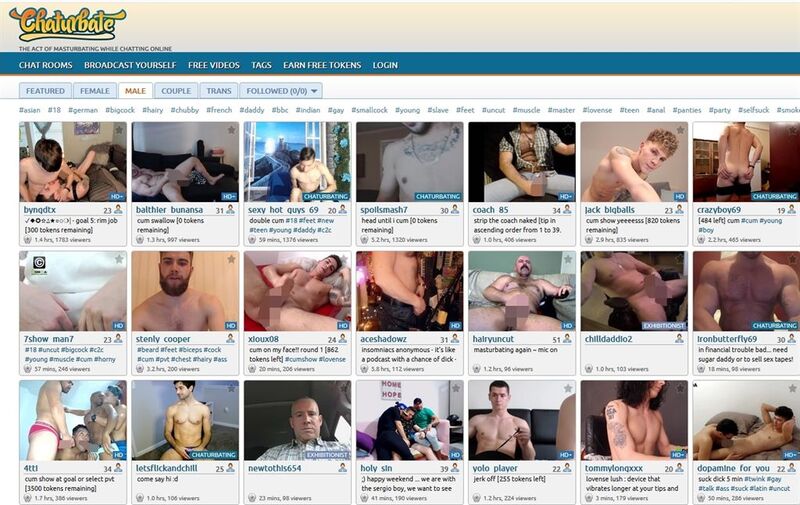 You can browse all the cams and watch guys fucking and sucking, getting into bondage, being humiliated, and more. The one major drawback to the site, it's that it's not as easy to initiate a webcam-to-webcam show, as it is on most other gay chat sites. On Chaturbate, you need to be set up as a "broadcaster". Basically, you'll need to go through the process of becoming an online performer yourself. When approved, you then turn off your camera for anyone to see, except for those other performer/broadcasters that you give permission to see your webcam. If you don't block your broadcast from all other site visitors, and your webcam is on, then other site visitors can find your cam room, and watch you too. If you're into that, then go for it. If not, then just manage your profile settings accordingly, so that only the models you invite, can see you.
The Male Models
You know me, I always give it as it comes - straight up - so no fake-assing here. There is huge selection of men of all ethnicitiess - white, mixed race, black and Asian - who are ready to interact, awaiting your command. Be it a single performer or a group, they are there to fulfill your dirtiest fantasy. Some of the guys are on the rough side - what with all the tattoos and body piercing. Others, look like baby faced angels. Be what they may, all are craving your attention and ready to satisfy your wildest imagination.
The models have a free hand to exhibit any fetish they are into: so you will find some in stockings & garter, some in Drag, some real macho Hells Angels types, with chains and knuckle dusters, some are grunge, some are just your average sweet boy next door, all shaved up, with baby smooth bodies. All are hot hot hot asses (and dicks) that will drive you crazy with desire. So if you're into Bears, Twinks, Twunks, Butch, Otters and Drags - they all are a'la carte on Chaturbate. Whatever floats your sex boat - you can get it on Chaturbate to cum off.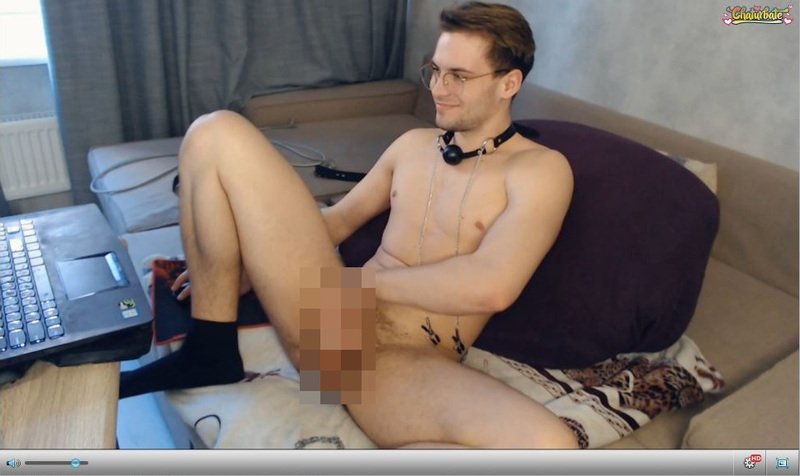 As mentioned before, most of the action on the site is free. However, private chats are for pay. The payment side of things works on a "tokens" basis, and every token you buy is worth about ten cents. You can also sign on the bottom line for just under twenty dollars a month, for which you get a one-off bonus of 200 free tokens, and you get to remove the site's pop up ads, see the models in full screen and use the messaging service.
When you find a sex cam performer you find interesting, you can pop along to view their cam. If he's a hottie you'll be joining thousands of other viewers. Under their cam room window, you'll see something like "200 tokens to play with my cock" (him, not you!). If the x-rated cam model receives the total from all the people viewing in tips, then he'll start to do whatever he said he would do, and then will set a new target like "300 tokens to activate my Lovense toy". Everyone watching can tip, so you can either contribute yourself, or wait for everyone else to be generous.
Chaturbate Feature Highlights
Being a freemium site, Chaturbate does offer loads of free live porn, so if you're pinching pennies, it's definitely the site for you. Of course, private shows do cost, but a recording of your sex chat is included in the price paid for going one-on-one with a model.
All your recordings are kept available for you to re-watch under your My Collection. Within the My Collection, you'll find Recorded Private Shows, and Purchased Photos/Videos.
When in a model's chat room, you can select a tab to show you More Rooms Like This to see other guys similar to the current guy your watching. Additionally, there are two buttons to search for more models. The first is the Scan Cams button, which set it up so that every 15 seconds the page refreshes to open a new guy in his open chat room. The other button is the Next Cam feature, which just forces a jump to next online model.
Also, be sure to check out the Theater Mode. It's a recent upgrade to the site's Default chat room player. It throws the webcam show into a super large screen. And give the Interactive Full Screen a try. This opens the webcam show full screen with all the text chat space over-layed on the video.
Getting Started
If being a horny freeloader appeals to you, you can enjoy most of the stuff on Chaturbate (aside from the private shows) for free. But if you still want to have some of those extras, signing up is easy and takes just a few seconds. All you need is a user name and password (of your choosing). You don't even have to give them an email if you're not into receiving their updates or other site related info. You just fill in your age, gender and you are set.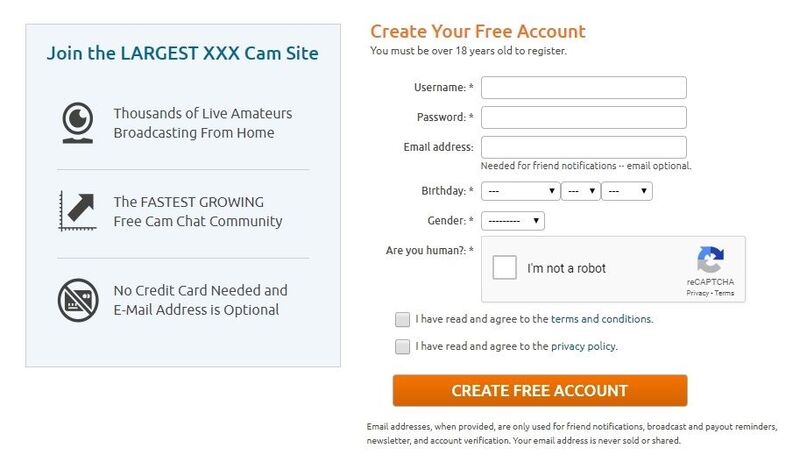 Chat Options & Prices
There's the free chat (unless you want to tip) and private chat, which you have to pay for. Okay, there's the paid monthly membership option, but it is really worth it? For me, no. But some of you may enjoy the additional features it grants.
You can also earn tokens if you're willing to broadcast yourself. And if people like your sexy antics enough to tip, you can then sell these tokens back to Chaturbate at five cents a pop.
Free Chat
There is no limit to the amount of time you can hang out in the free chat rooms. As a passive viewer, you get to enjoy as much of the free webcam shows as you wish to consume. When the male models are in their free chat room, they are up for anything, and tipping from their viewers is what gets them going.
Private Chat
On Chaturbate, many of the models may ask for a minimum set of time that you must agree too before entering into a private show. Whether the guy you like requires a minimum or not, you can expect to see sex chat rates that hover around $2.30/min.
At the bottom of the homepage or an gallery page, you'll see a listing of private chat rates. The online models can be sorted by those offering the cheapest private rate, for as low as 6 tokens, or $0.60/min. On the high end, there are some guys wanting 90 tokens, or up to $9.00/min.
Group Show
This has different names on different sites, so it's basically a 'ticket show" akin to any show in the ordinary theater. Difference being is the minimal number of 'tickets' - or the lowest mandatory amount required - that must be sold to kick the show off. Usually, it's good for somebody who wants the enjoy full sex action without paying the full price. So they club together to shell out some tokens (usually a 'ticket' costs around 50 tokens = $5.00). If the minimal amount for the show has not been reached, the performer will announce cancellation.
Spy Show
Spy Shows are even a better deal than the Group Show, especially for all you sex hungry misers. For as little as 12-18 tokens ($1.20-$1.80), you can silently piggy back on somebody else's show and quietly enjoy the action. You won't be allowed to interact with the performer or other viewer/s, but hey, it's a small price to pay for a practically free hardcore webcam session.
Exhibitionist Shows
What is it? I would call it Gay Man sweet-shop/paradise. As you know by now, viewers are encouraged to become broadcasters themselves, and many do. Not for pay, but for the sheer thrill and exhilaration of knowing someone watches them. A predominant number of the free broadcasters are men, simply playing with their cocks and jerking off. You can find a huge variety of males freely broadcasting their activity for anyone to 'consume'. The only reward they crave is appreciation of their show by positive messaging.
These shows can be found by going to the bottom of the page, under the Free Cams by Status
Payment Options
To get started being an active participant you'll need to get yourself some Chaturbate tokens. All major credit cards are accepted, including American Express. If you're looking for some more anonymity in spending on gay sex shows, then you can use a PayPal account, or even spend some of your Bitcoin, if you're got some.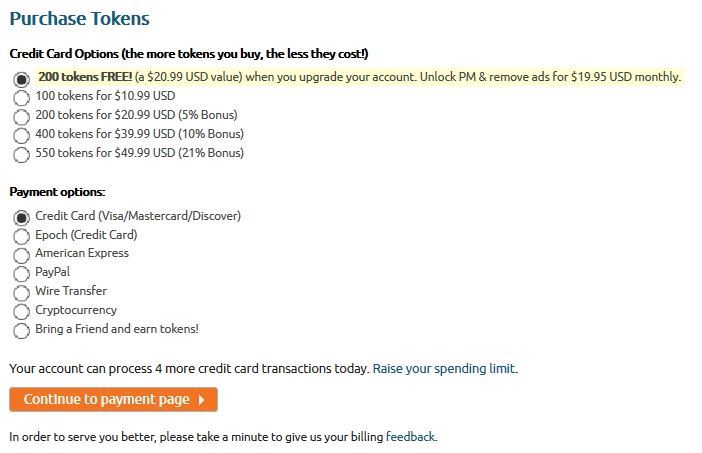 The site accepts:
Major credit cards (including American Express)
PayPal
Wire Transfer
Cryptocurrency
Membership Benefits
Signing up to the site makes a you Basic member. You'll be able to send chat room messages to most guys, but some may have that feature turned off to those that don't possess tokens. Basic members can also view multiple cams at once, and can open the chat room window into full screen.
There is the option to upgrade from a Basic member to become a Chaturbate Supporter. For $19.95/mo. you'll get a clean and ad-free interface, custom chat font and color options, and private messaging.
Mobile Experience of Chaturbate
If you're a peeping Tom like me, who needs a 24/7 access to their favorite content, then the mobile option is a must for you as well. On that front, Chaturbate holds up on to the standard it sets on the large format interface. The mobile site supports high definition video quality and is as simple and intuitive as the web version.
You can move between the rooms by simply swiping left or right. However, there are a few drawbacks. First off, you can't start chatting as a guest, you must sign in and only then, you can start a conversation with the model. Next, the tipping button is really big and conspicuous on mobile. It's even colored to make it more visible (in case you missed it...yeah, right). Soliciting paid action much? A bit of a put off, if you ask me. Especially, from a platform that offers the predominant majority of action for free. Why discriminate on mobile? Lastly, the models' bio/info available is more limited on a mobile device.
Video Streaming Quality
The streaming quality of the site is unique and unrivaled. In some designated rooms, it streams in 4K video. The second highest level is HD+ (1080), so your experience of the action is as real as if it was happening right in front of you. However, each room enables you to adjust the quality of streaming according to your ISP capability, so if, for whatever reason, you can't do HD, standard quality streaming is available. Just click the little HD button below the screen and it will open a menu of the available options.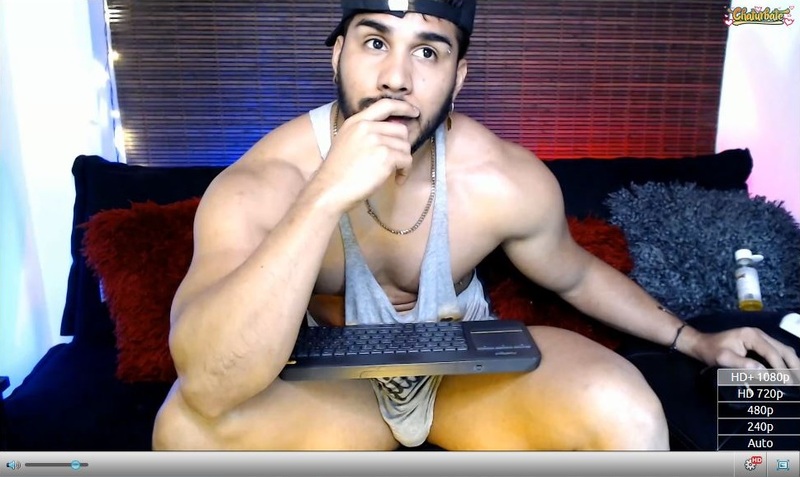 The Pros & Cons
Pros
✔ No sign up required - you can watch everything as a 'guest'
✔ Tipping (you have to buy tokens first) is totally voluntary
✔ Prices clearly displayed and models are searchable by their chat rate
✔ Chat rules & site guides clearly displayed on the right hand side of the room window
✔ Models bio & their interests displayed in a "bio section" below the room window
✔ Friendly & obliging performers, always ready to engage with you
✔ Video section on the platform which allows you to re-watch recorded shows
Cons
✖ Cam2cam feature is not friendly
✖ Boys' rooms may be a bit 'basic'
✖ Customer service is through email only
✖ Some of the private shows may be expensive
Before You Go
Chaturbate is the adult cam site that says it as it is, and that's why the masses love it. Personally, I admire it for not hiding beneath a banner of "adult entertainment" - Chaturbare is all about jerking off while you watch people having sex, and you get free access, without paying a penny, to practically everything. The male section is no different from other genders and offers the same level of excitement and arousal, just with some huge cock action.