XLoveGay.com is Not a Huge Gay Cam Site, but It Has Some Sexy Options
Last updated
January 07, 2021
Premium
Clothed Free Chat
Topless Mondays
Pros
European models
Cheap private chats
Good HD streaming
Nice fetish selection
Cons
Limited English chat
Tame free chat
What should you know before choosing a gay webcam sex site? You probably think that price is the only thing that matters, and it is important, but many other factors play a role. You have to know that the platform is decent, that there are enough sexy guys to choose form and that you have access to all of the webcam features that are needed for communication and even just for fun. As far as I am concerned, adult webcam users should not settle for anything but one of the best gay sex chat services online. They deserve the best and they're paying for it – they should be able to enjoy amazing live sex shows. Am I right or am I right?
This XLoveGay review will include all of the details that I've just mentioned: Features, number of live sexcams – yes, prices too. View the full info below – I'll do my best to keep us focused on the important things.

My Initial Thoughts...
I was feeling ready to chat when I entered X Love Gay and although I was a bit surprised to discover only 18 guys online, they were clearly HOT guys and so I picked one – a good-looking, buff man in his mid-20s, and went inside his chat rooms in less than a minute. The free chat was probably just like you imagine it, unless y u have never been to an adult webcam arena and for some reason you think that a free sex chat means free sex, when it actually means a free full-clothed interaction.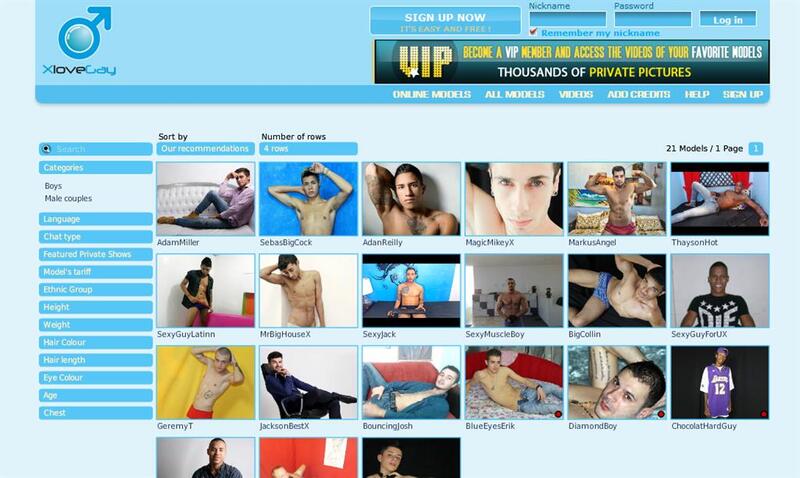 The dude I was chatting with was very sweet – and when I say sweet I imagine a cocktail, not a candy. He has okay streaming – just like the dozen of guys that I chatted with after him and he agreed to practically all of my suggestions – always a good sign.
When the two of us were all alone in a private chat… sorry, a gentleman never tells, but I can tell you that I didn't find any feature missing. XLoveGay.com is not a cutting edge portal. The tools and options – even the design, are all pretty basic and if you are looking for bling and the latest webcam technology and crazy, cool features that will blow your mind, you won't find them here. However, I did enjoy the chats and I liked the large video section, so I guess if you are a basic guy like me, this gay sex cam site does have a lot to offer.
Those Extra Features...
I just talked about features, but as I know that many of you don't actually read this whole XLoveGay review (not that it's a particularly long one – I really don't know why people can't read these days), and just skip to the sections that they want to hear about. That's fine – I have nothing to do with my time, right? It's not like I am missing some precious webcam time with gorgeous gays while I am here, repeating myself, right? In any event, this sex chat community only has basic features such as emoticons, Cam to Cam and audio. There is also a video section, featuring the male models. That is it.
How To Register...
You can video chat with the live gays on XLoveGay.com even without being a member, but membership is free and it's quick to join, so why not sign up, right? Registration will take you less than a minute. Just choose your username, password and email and you'll become an official member. If you want to become a VIP member, buy some credits.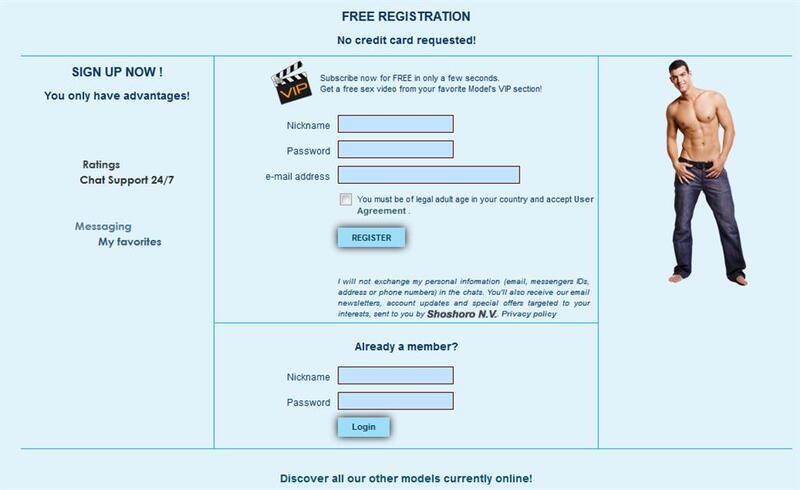 If you sign up and verify your email, you receive a free VIP video (A recorded video of private session of your choice) worth 15 USD.
The Ways You Can Chat...
As I just said, you can start chatting for free as soon as you enter the portal. Needless to say though, if you have any intention of seeing the seductive homosexuals strip, you will need to join one of the paid sessions. There are private shows, VIP shows, which are kind of like group sex chats, Xclusive shows, which are basically 1-on-1 video chats and SneakPeek, AKA spy chats. You can choose whichever you prefer, but keep in mind that prices vary according to the type of videochat you pick.

Quality of The Videos...
For the most part, the hunks on XLoveGay.com have okay web cameras, not as good as the ones you will find on websites that feature professional studio cam model, but still – pretty good for amateurs. I have enjoyed watching the live porn shows here and was happy with the streaming as well as from the webcams. However, I do recommend you make sure the man you're chatting with has the right equipment – and I mean web cam you perverts – before you join a paid sex chat.
How Much It'll Cost You...
You can find sexy gays on this XXX cam site that charge as little as 1.50 credits per minute – amazing price, and on average cost is around 2.5, which is relatively low comparing to other adult webcam sites. As I've mentioned earlier in this XLoveGay review, prices will change according to the type of video chat you pick (obviously Xclusive costs more than group shows) as well as the model – some guys just charge more than others. As the chart below shows, the cost per credit is always $1.24, no matter how many credits you purchase.
| | | |
| --- | --- | --- |
| Number of Credits | Cost in USD | Cost Per Credit |
| 25 | $31.20 | $1.24 |
| 50 | $62.41 | $1.24 |
| 100 | $124.83 | $1.24 |

The Ways You Can Pay...
From my experience, live cam sites go out of their way to make sure that users can pay for their credits in whichever method they prefer and X Love Gay is no different. You can use Visa, MasterCard, Maestro, Bitcoin, PayPal and a regular bank transfer. You can also pay using DirecteBanking or paysafecard prepaid cards.
How Many Models...
This sex cam site specializes in European studs – or at least this how it appears from the list of amateur gays, but if you continue down the list you will, eventually, encounter exotic men – Asian, Ebony and buff Latino studs. There are about 8,000 men registered to the service as performers and I would say that between 15 and 30 will be online. Not a remarkable figure, but the guys are all handsome and if you don't believe me, go see for yourself.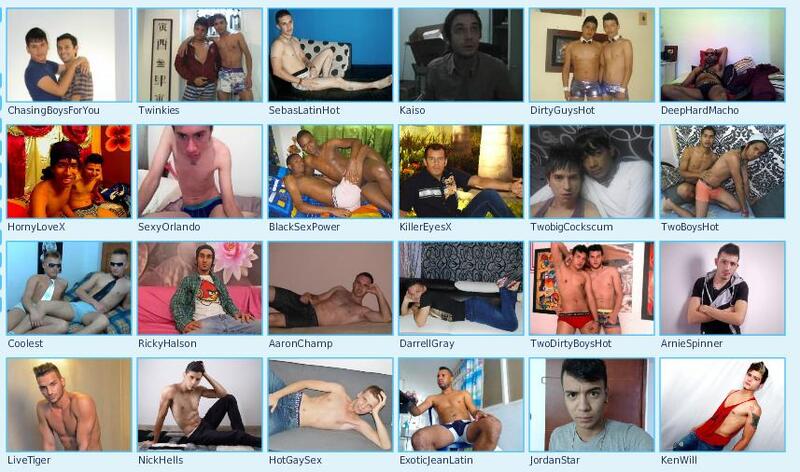 The Support You Can Get...
This is a very simple site – no complications, no elaborate features or membership options that can confuse you, but if you do need help, it's there. Use the Help tab to find the form which you can send to Customer Support as well as the FAQ page. When I did the research for this XLoveGay review I've tested the customer support a couple of time and they answered very fast.
The Pros & Cons
Pros
✔ - The sexy men are amazingly hot
✔ - Nice and easygoing atmosphere
✔ - Low-cost sex chats
Cons
✖ - No special webcam features
✖ - Low-selection and limited variety of models
Winding Things Up...
As I am sure you know by now (all assuming that you actually read my XLoveGay review instead of just scanning through looking for dirty words), this is not a particularly huge adult webcam site, certainly not of the magnitude of the really large portals that you can find online. Now most men laugh when you tell them that size doesn't matter, but the truth is that as far as live webcam site are concerned, different guys enjoy different sizes, and excuse me if that sounded kinky. There are a few dozens of horny men online and they are hot, and there are plenty of videos which you can purchase and watch, if you enjoy porn vids. Considering that this is not an expensive sexcam site, I believe that many of my readers will be pretty happy on XLoveGay.com and have fun, as I have. Are you one of these guys or is this website not for you? Visit this sexy chat service, do some free chatting and get your answer.