Sexier.com Has Enthusiastic Asian Webcam Models, but Not Enough
Last updated
February 14, 2021
Premium
Clothed Free Chat
First Purchase Bonus
Pros
Cheap private chats
Good HD streaming
Discount Clubs
Live chat support
Cons
Limited model count
Many SD rooms
Tame free chat
Hallo to all of you, wherever you may reside on this lovely planet of ours. I hope you're into sexy Asians, because this is exactly what I'm serving up today. The splendid Sexier.com used to have one of my favorite Asian webcam niches, featuring loads of live camgirls from all over the Far East, but recently it has changed a bit. While there are still thousands of babes in a variety of XXX cam categories, but alas, the Asian webcam arena is not as big as it used to be. This is not to say I didn't like what I saw, or that Sexier.com doesn't have plenty of advantages. I did, it does, and I will tell you all about it in this detailed and, if you don't mind me saying so myself, well-written review.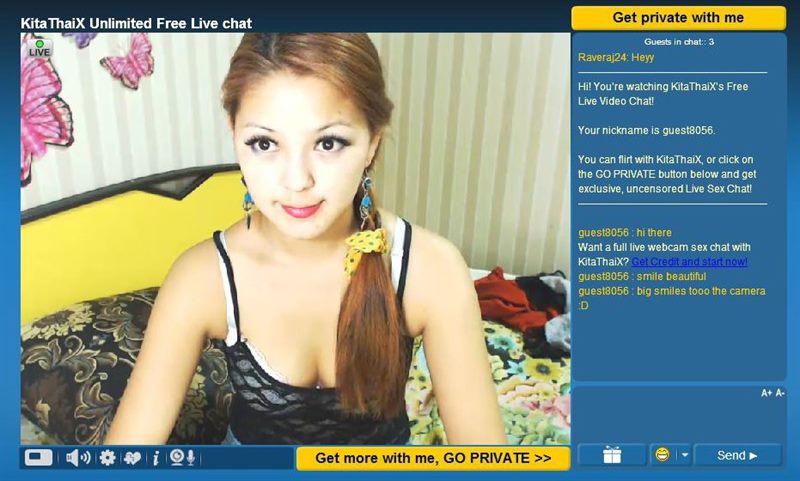 My Initial Thoughts ...
I used to have this teacher who used to role her eyes at me and say "Tom, it's not that I am unhappy with the work you did, it's just that I expected more". Well, I finally got what she was saying because as soon as I entered Sexier.com Asian webcams I was under the impression that there was something missing and in all honesty it didn't take me long to figure out what it was: Women. It's hard to believe that such a large and lively adult webcam community could have so few Oriental models online – there were 35 when I went online to be exact. What happened? Yet I was determined to continue my research for this Sexier.com Asian review. And I would not be deterred.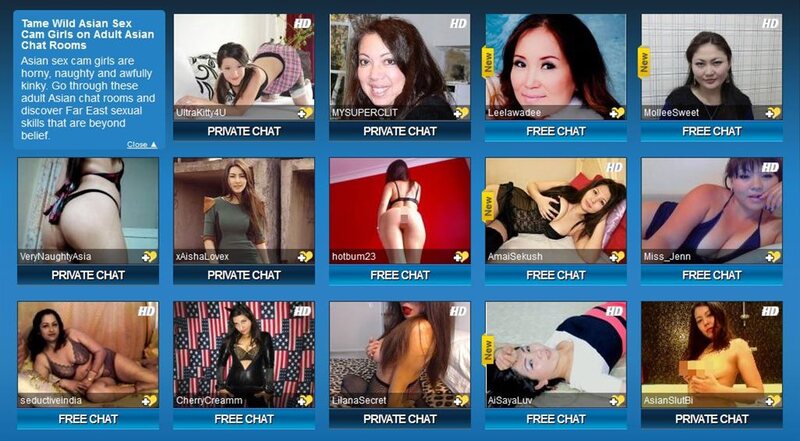 I was somewhat appeased when I saw how hot those chicks were. I also loved the variety – not just Pinay camgirls which dominate the Asian sex cam arena. Sexier.com has managed to collect Japanese, Chinese, Thai – it was like one long list of my favorite take-outs, only there was no Italian. Only some of the women have free chat option – you can recognize them because the chat rooms are clearly marked, and I've fooled around with a few, just to get a feel of what the site is about. I enjoyed the features, the quality of the live porn shows and the general atmosphere, and when I saw the prices I wasn't just happy – I was outright cheering. The only thing I would want to see and didn't were forums or blogs or like more social features, but hey – fuck it, I've got Facebook and Twitter – what am I going to do with a new network?
Those Extra Features...
There are plenty of features on Sexier.com, but none is especially thrilling. You can interact with the camgirls with audio, text or emoticons, you can let them see you during the live porn shows and you can watch a selection of XXX videos, pics and recorded nude chats. You could even collect Miles with the Frequent Fuckers Club or watch pornstars perform live on sexcams – but this is where my list ends.
How To Register...
Signing up to Sexier.com is quick and simple. Fill in your details, list an email and then choose a credit package because on this website you have to buy credit in order to become an official member. If you want to get a taste of the chat rooms first, you can – there is no need to be a registered member in order to access the free rooms.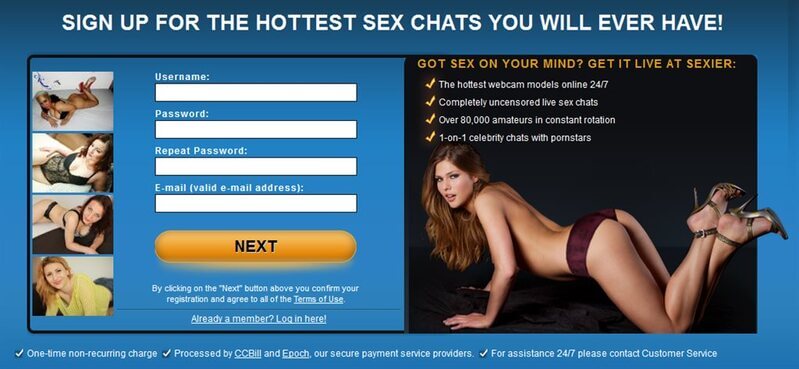 The Ways You Can Chat...
Want to start chatting with a busty Asian camgirl on Sexier.com? Nothing could be easier. Click and start. Free chats are somewhat limited because only some babes offer them and only for a while, but there are some. Paid sex chats come in different styles – Discounted Happy Hour rooms, 1 on 1, spy sex chats where you can peek inside other members' private porn chats and there are even some lesbians and couples although, because of the relatively low number of live Asians, sometime you'll only see private shows, Happy Hour and free.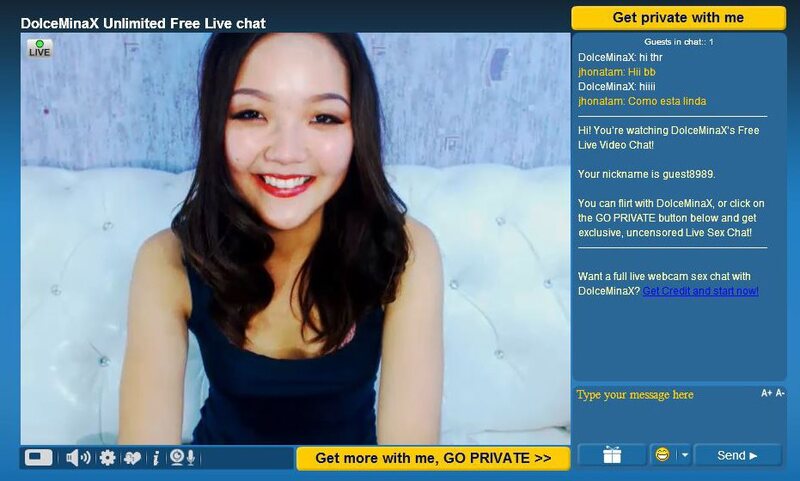 Quality of The Videos...
The streaming is excellent, and there are some HD webcams, although not all of the Oriental camgirls have them. Is the quality as good as LiveJasmin? Don't be silly, of course it's not – this is an amateur web cam site, not a premium portal where most performers are studio models, but still – for an amateur arena, it's definitely oen of the better options.
How Much It'll Cost You...
I am sure that when I tell you how cheap an Asian porn chat – a nude one mind you, on Sexier.com really is, you're going to think I am lying through my teeth. Well, luckily, you don't have to take my word for it and can simply go online and check the price tag for yourself. Naked chats during Happy Hour cost 0.88 per minute and crash down to 0.20 per minute with member discounts. On average the Far East camgirls charge between 2 and 3 dollars per minute. The monthly pornstar events are free for members. What am I missing? Oh right – credit packages.
| | | | |
| --- | --- | --- | --- |
| Number of Credits | Price in USD | Price in EUR | Number of Miles Received |
| 25 | 25 | 25 | 2 |
| 50 | 50 | 50 | 6 |
| 75 | 75 | 75 | 9 |
| 100 | 100 | 100 | 13 |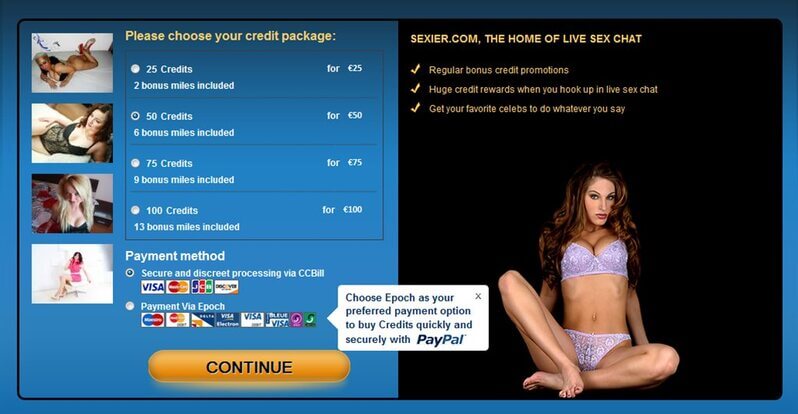 The Ways You Can Pay...
There is no need to feel concerned about handing your plastic number to this successful and popular adult web cam site. Sexier.com is part of a leading adult network and as such it works with Epoch, which is one of the world's leading billing partners. On top of PayPal you can pay using Visa, JCB, MasterCard and Discover or, if you prefer Debits, Solo/Switch, Electron, MasterCard Debit and Bleue.
How Many Models ...
The list of registered Asian webcam models on Sexier.com is quite impressive, but don't let it fool you. It includes past performers and women that only showed up once. The actual number of live performers ranges from 30 to 40 on most days and a touch more on the weekends. It's an okay selection, and many of the camgirls are indeed stunning, but still, I really think they ought to be more live Asian chat rooms on such a large adult webcam community.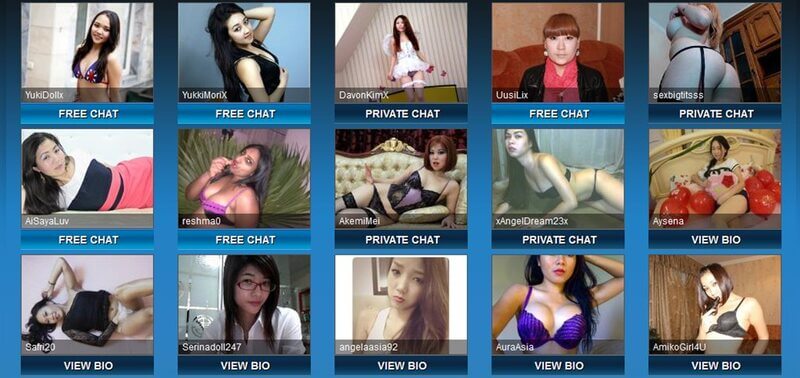 The Support You Can Get ...
If you have a billing-related question, there's a number you can call. If you have any other challenge, inquiry or difficulty, you can email the Customer Support or call. Finally, there is a Frequently Asked Question page which, in spite of its name, also has answers. Yea yea, I'm hilarious, I know.
The Pros & Cons
Pros
✔ - The free porn shows are a great bonus
✔ - There are huge member discounts
✔ - It's easy to find an Asian camgirl that you like
Cons
✖ - For a new site, the design and features are a bit dull
✖ - A relatively low number of live camgirls from the Far East
Winding Things Up ...
Okay, let's sum it all up, shall we? On the upside we're dealing with sensational women, hot features, great platform and nude price chat which is so low that it makes other cheap adult webcam arenas such as LiveJasmin and ImLive to look like they're overcharging. On the downside – there are only 30 camgirls online at any given moment. Can you live with this number? If so, this is an awesome website, if you can't, stick to the bigger Asian sex cam portals. That's it folks – see you next time.