Want to Be Satisified in That 'Oh! So Special' Way? Join the Fetish Galaxy!
Hello, my delightfully devious sex cam fiends. So, you've found your way to this specific corner of my top rated cams review site? This is where I peruse all those naughty sites for folks who like to get up to all sorts of naughty stuff - a teensy-winsey (or a lot!) more extreme than most other folks. So, sit back (if you can, if your ass isn't covered in those lovely painful red welts!) and relax, tug the love-beads out of your asshole while I tell you all about the devious happenings at a place I am certain you are going to be really interested in - FetishGalaxy.com.
FetishGalaxy.com has been proving to be a little bit of a online heaven for fetishists, and has been all the way back to 1999. Originally the site was simply a portal for deviousness and dirty videos, but I guess it got more than its fair share of fans over the years. After tripping along nicely for quite some time, the site was eaten up by a different site, and the domain was lain bare. By 2007 nothing seemed to be happening at all, but then in 2013 just like a phallic phoenix from the internet ashes the site rose up and conquered all once more, as the delightful site for wicked women and devious dudes I'm shortly going to be telling you all about.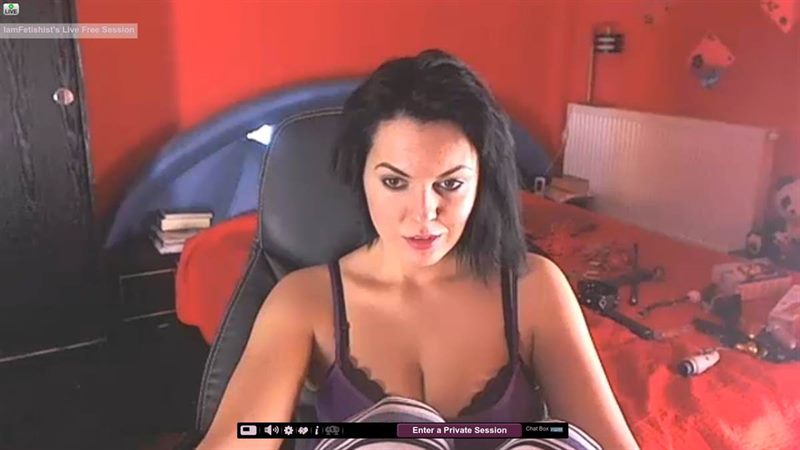 My Initial Thoughts ...
Well, you do get a little kind of surprise when you first enter the online porn dungeon that is FetishGalaxy.com as the site does not immediately bombard you with all the little pictures of the sex cam models. The entrance to this porn gateway is a little more subtle - it almost has a social networking side ... sexual networking? The site is very easy to navigate around so you won't get tied in knots ... that comes later! The thing that is most likely to interest you is the menu on the left hand side of the screen, in which all the deviancy that FetishGalaxy.com can offer you is listed per category, so you can immediately see if your particular fetish fancy is catered for. You get lots of exciting categories, such as balloons, condoms, foot fetishists and rubber/latex/PPC. I bet if you can think of it, and you won't get locked up for doing it (and not in a sexy way!), then it's covered here ... and probably in leather!
There's also a very different approach to the cam models. Instead of being called models and performers, they are actually called "Live Experts", which I think is kind of sweet. They are adult cam models by any other name though, and here the boys and girls really do come out to play, so if you're a little squeamish about close up shots of "members" of your own sex, then this really isn't the place for you! You can see their performer name, how old they say they are, how the other punters rate them with a score out of five, and what kind of sesh they are currently available for - public or private.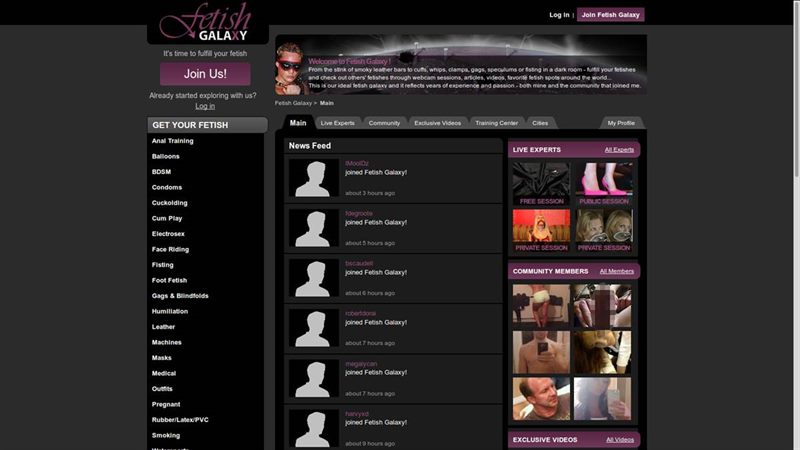 You can ascertain a little bit extra about each porn model by flicking your mouse over the fetish cam model's thumbnail. You can see what languages they will (hopefully) be chatting to you in, and you get access to their little bio and any videos or images they may have uploaded. The cams themselves are very funky looking, and you can play with the screen size and volume as much as you can play with the hot models themselves. The chat window is nice and small and doesn't detract at all from the main, kinky action.
Those Extra Features ...
FetishGalaxy.com has one main difference from the usual type of cam site I review here (aside from all the extra kinky stuff you can get up to) in that you can connect with punters at the site, so like-minded deviants can get to know each other, which I suppose can then move on to other stuff I guess. If you do like to inhabit a very particular kind of x-rated niche, then it might be hard finding like-minded people, so FetishGalaxy.com can act as a kind of stepping stone to other things, if you're careful of course.
You can also watch some extra-spicy videos if you want, plus there's even a "training guide" exploring the kind of thing fetishists like to get up to behind (porn dungeon) doors.
How To Register ...
Registration at FetishGalaxy.com is so easy you could probably do it blindfolded, and you probably will as well! All you need to do is click on the big button marked "Join Fetish Galaxy" in the corner of the screen. You'll then get taken through another screen, where you can fill in your chosen username and password, and an email address. Click on "JOIN" and you are all set!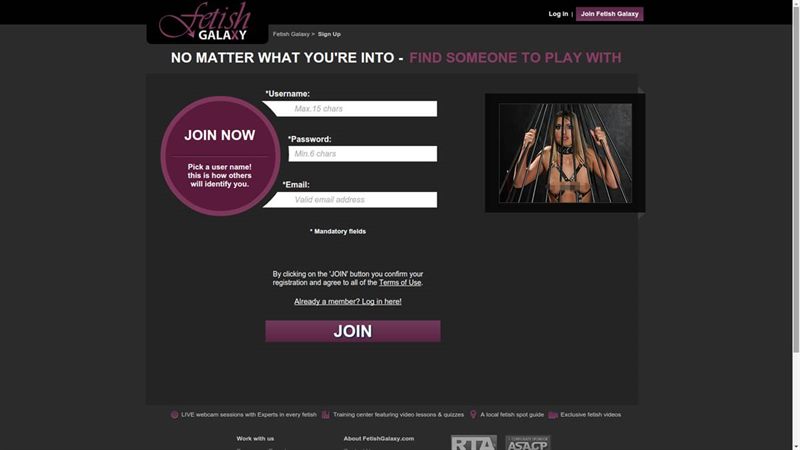 The Ways You Can Chat ...
There are only two real ways you can "chat" at FetishGalaxy.com - free and paid for. Free chat does not cost anything and as long as you have signed up at the site you can chat for as long as you want and the model allows you to. Paid chat is the private stuff that's done at the rate the models themselves choose, and can be anything from 0.99 to 5.99 credits a minute. Most models price themselves at the cheaper end of the deviancy market.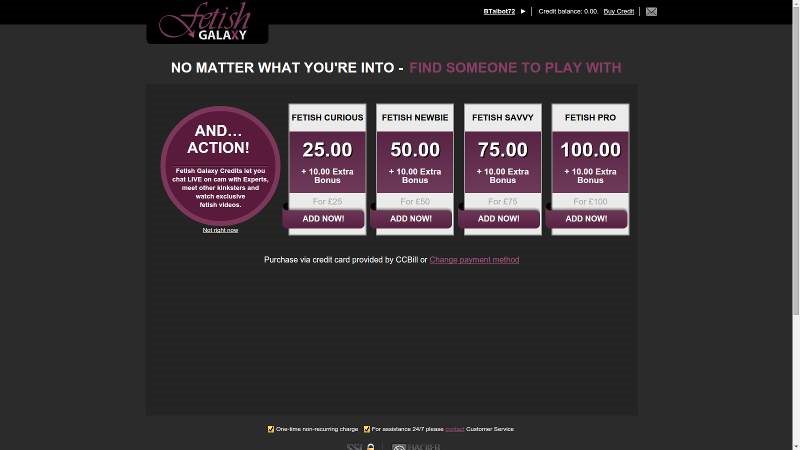 Quality of The Videos ...
Some sites sacrifice quality for smoothness but here it seems to be the other way around. The cams are very clear, but a little stop-and-start. They are certainly not so bad you'll be pulling out your pubes in frustration, in fact they are rather good. If you have an executive laptop and fantastic bandwidth you'll probably think they are brilliant.
How Much It'll Cost You ...
If you're in the UK, then it is £1 per credit. If you're in the US, then it's $1 per credit. If you're in Europ- ... well, you can probably see where I'm going with this. Pack sizes are available at 25, 50, 75 and 100 credits.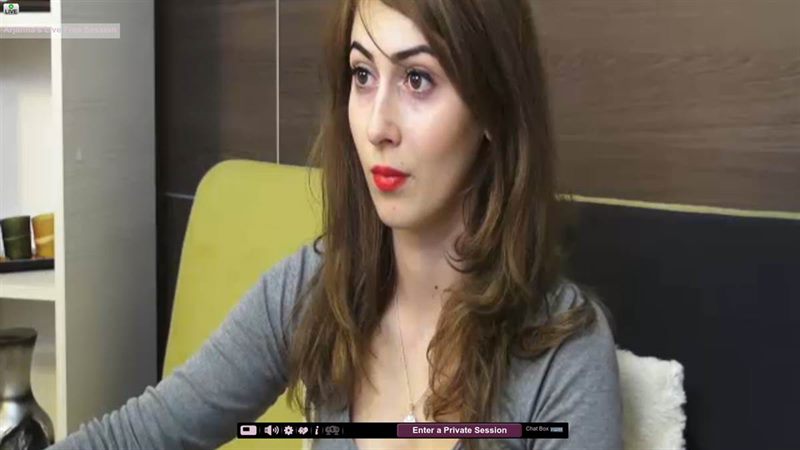 The Ways You Can Pay ...
Plastic only, via either CCBill or Epoch. You should be okay with any type of credit or debit card, but Visa, Mastercard, JCB and Diner's Club seem particularly welcome!
How Many Models ...
It's a little hard to work out how many dirty deviant cam models are registered with the site. The important statistic though is that between 150 and 200 cam models of all kinds of deviancy are likely to be around when you pay a visit.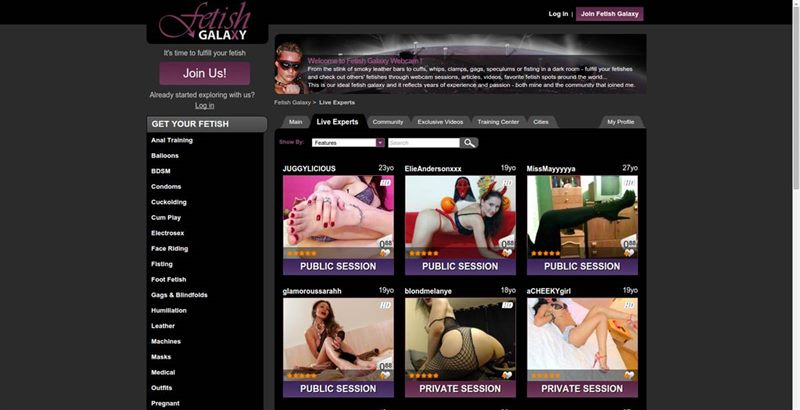 The Support You Can Get ...
Not very hopeful. The only support listed is an email form box. No telephone numbers, email addresses or live chat function.
The Good & The Bad ...
Good
✔ - Lots of models and very nice cam streams - most fetishes seem to be covered.
✔ - Lots of extra stuff on the site to keep you entertained, and the chance to meet like-minded people.
✔ - Registration is very simple and there's no pressure to go and snaffle some credits as soon as you join.
Bad
✖ - The support options (and lack of them) are not very inspiring.
Winding Things Up ...
... or should that be tying things up? I must admit, I might be a bit of an authority when it comes to adult cam chat sites, but I ain't that much of an authority on fetish sites, so if anything I've written about piques your interest, then I suggest you go and have a look yourself. From what I have seen, i can't imagine you'll find much that you'll be disappointed with, and there's probably lots and lots you'll definitely be deliciously and deviously delighted by!
Review of FetishGalaxy.com
- Reviewed by
topratedcamsites.com