Chaturbate.com Review - Where Everything Is Filthy And Everything Is Free
Hello, fellow sex chasers. Is it really that time again? Time for me to stop looking at all the top rated cam sites and get down instead to writing a review about them? Okay, well it's the cross I have to bear!
The site I'm going a little bit blinder at this week is Chaturbate. Well, that's a groovy-sounding name for a start. I wonder how they came up with that moniker ... NOT! I tried a little detective work, but I guess I ain't no true detective, as there's not much info about concerning the guys who run Chaturbate. The site is a mere pup compared to most of the other cam sites I've reviewed, having been around since 2011. They are based in California in the US, although a lot of their functioning is done in the UK. It seems that Chaturbate is a very fast-growing site, and there have been complaints that the site is down a lot because, it seems, their sexy steam-powered servers struggle to keep up at times.
Okay, that's the background stuff. Now, if you are used to cam sites like Sexier.com and ImLive.com then you're going to find Chaturbate is not quite the same ... so prepare to have your sexy socks blown right off ...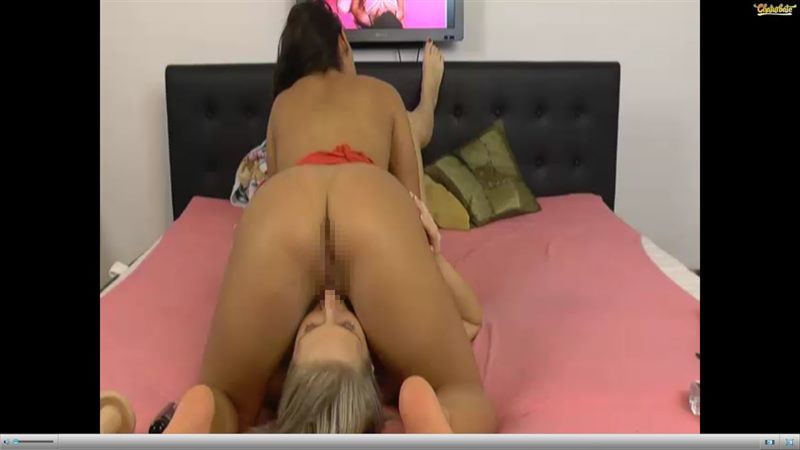 My Initial Thoughts ...
Okay, well the volcano-hot pic above should have given you some idea of what life is like at Chaturbate. You're probably asking "Tom ... have many dollars did you have to pull out of your fat wallet to see something like that?" - and my answer is going to frazzle your brain ... NOTHING! Yup, you read that right ... the screenshot above was captured at Chaturbate for FREE and I DIDN'T EVEN HAVE TO REGISTER. Okay, I'll calm down and stop shouting. Now, WOW (oops!) you saying, I can get this sexy goodness from hot cam models for absolute zip? What's the catch? Well, there is one, but it's only a slight one - to find hot models like the one above, you have to strike a bit lucky. ANYONE can be a model (or "performer" as it is put) at Chaturbate, in fact there's no real difference between a viewer and a performer - it's all one big happy sexy family. Unfortunately, that means you're going to have to wade through a lot of fat hairy men to see all the beautiful pussy that's on offer!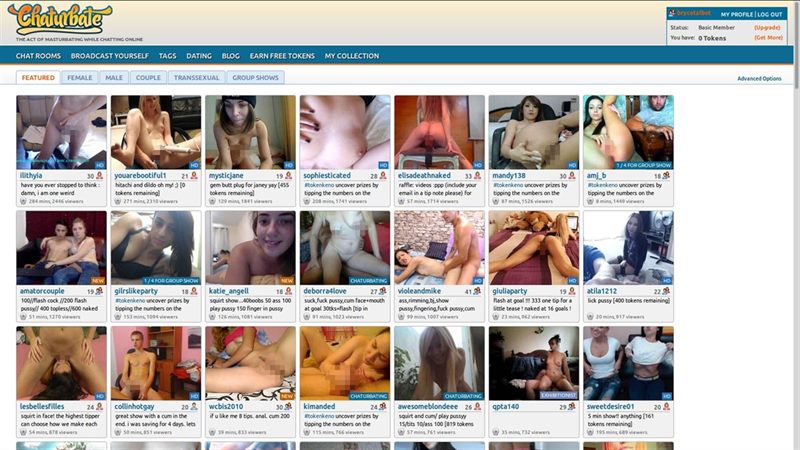 So, how does it all work at Chaturbate? Well, it's unlike what you're probably used to at other top rated sex cam sites. First up, there's abSolutely no demand for you to join Chaturbate. You can browse all the cams and watch people fucking and sucking and doing some really crazy shit for nothing. If you want to contribute more to the site, or if you want to show other Chaturbate members your private parts or do some sexual stuff, then click on the orange "Sign Up" button in the top right hand corner of the siTe. All you need to do is fill in your username and password, your date of birth and your sexual preference (guys or gals or both) and agree to the T&Cs, and you're all set.
So, you enter the site as a member, and you get a few extra benefits, including the ability to record shows, buy vids and pic and to be a performer yourself. If you want to see how that works, click the "Broadcast Yourself" link and set up your web cam - don't worry, you won't be passed through as a performer until you've proven your age. Chaturbate has a zero-tolerance policy on underage cam models.
The payment side of things works on a "tokens" basis, and every token you buy is worth ten cents. You can also sign on the bottom line for just under twenty dollars a month, for which you get a one-off bonus of 200 free tokens, and you get to remove the site's pop up ads, see the models in full screen and use the messaging service.
When you find a sex cam babe you find interesting, you can pop along to view her cam. If she's a hottie you'll be joining hundreds of other viewers, I promise you. Under her cam window, you'll see something like "200 tokens to play with my tits" (her, not you!). If the x-rated cam model receives the total from all the people viewing in tips, then she'll start to do whatever she said she would do, and then will set a new target like "300 tokens to play with my pussy". Everyone watching can tip, so you can either contribute yourself, or wait for everyone else to be generous.
A few of the sexier xxx cam models will only allow you to view if you pay. These private shows cost anything from 6 to 90 tokens a minute.
Those Extra Features ...
There's really not a lot of extras. You can send PMs, view in full screen and remove the ads if you make the regular payment, but that's about all.
How To Register ...
If being a horny freeloader appeals you can enjoy most of the stuff on Chaturbate (aside from the private shows) for nothing. Registration is just a username and password and a coupla other bits away ...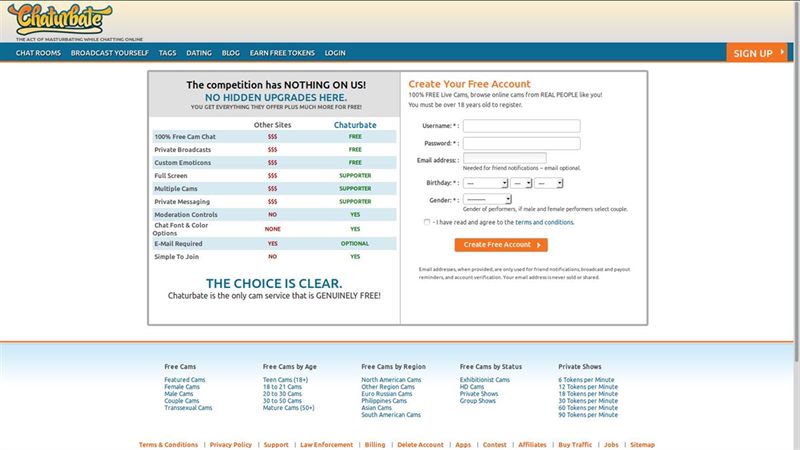 The Ways You Can Chat ...
Free chat (unless you want to tip) and Private Chat which you have to pay for.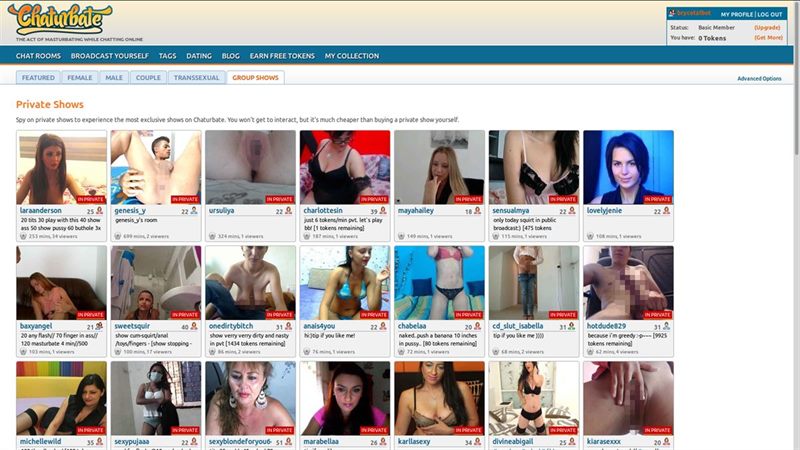 Quality of The Videos ...
Most of the chaturbate xxx cam "models" can stream in HD, and so can you if your ISp is speedy enough. If not, you're down to standard definition.
How Much It'll Cost You ...
Nothing. Okay, there's the monthly fee option, but it is really worth it? You can also earn tokens if you're willing to broadcast yourself and people like your sexy antics enough to tip, and you can sell these tokens back to Chaturbate at five cents a pop. You can buy tokens as follows (US dollars only):
USD $
Price
Tokens
$10.99
100
$20.99
200
$44.99
500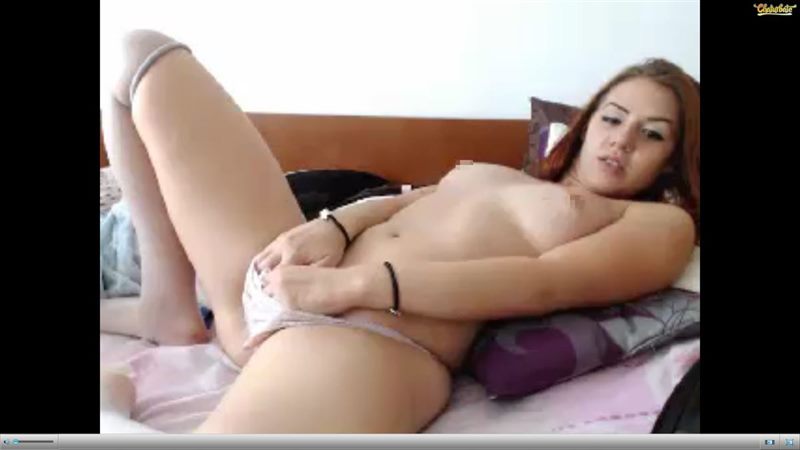 The Ways You Can Pay ...
Lots of options. The site takes Credit Cards: Visa, Mastercard, Discover, Diners Club and JCB, plus debit cards from Switch or Maestro. Your main eWallet functions are UKash, ClickAndBuy and PaySafeCard, and if you've a Western Union account you can use Wire Transfer. if you earn and sell tokens you'll receive a personal check, or be paid via Paxum or Payoneer.
How Many Models ...
No idea how many people are on Chaturbate, and how many are willing to broadcast themselves. Only around a hundred cams are online at any time, and about forty will be private.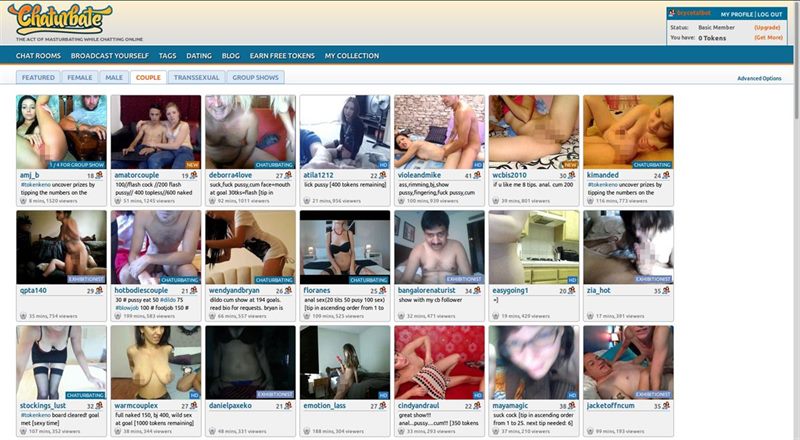 The Support You Can Get ...
You can read the FAQs or send them an email.
The Good & The Bad ...
Good
✔ - Genuinely free amateur adult sex cams
✔ - No need to even sign up to see plenty of hot sex action
✔ - If you don't want to share the experience with lots of others, there are a few models you will only go private
Bad
✖ - Some of the private shows are really expensive - $9 a minute!
✖ - You are never really in control of a show, even the private ones, as they are always lots of fellow viewers.
Winding Things Up ...
Yowzer. Chaturbate is the adult cam site that's for the masses that's for sure. If you want to see people showing off their junk, and even if you want to show off your junk, then Chaturbate's for you. Personally, I admire it for failing to hide beneath a banner of "adult entertainment" - Chaturbare is all about jerking off while you watch people having sex, and you can see sooooo much without registering, or spending one single cent. It's all like a sex cam version of the "Readers Wives" section you get in porno mags! If this all sounds too enticing, then click on one of the buttons dotted around this review and go and have some hot and dirty fun!
Review of Chaturbate.com
- Reviewed by
topratedcamsites.com