MaturesCam.com - Welcoming You to The Land of Lovely MILF Sex Cam Performers
Have you missed me? What do mean, "no" ? LOLZ. I'm sure that life has been pretty dullsville for you lot out there in sex cam land without your regular supply of reviews of the top rated cam sites from me, tit-loving Tom. Well, don't worry, you can put the bottles of vodka and sleeping pills back in the drinks and medicine cupboards as I am back and bigger and brasher than ever! Oh, stop that groaning you lot!
Let's get going on another wonderful section of my life, this time dedicated to those lovely ladies who have long waved a cheery bye to their teenage years. If you're exploring this section of my site then no doubt you like the idea of exploring the curves (and more!) of sex cam ladies aged thirty and over, or "mature" as they're termed in an nice way, or MILFs or even GILFs in a less than respectful way. Tom's a respectful chap, as you know, so more of the mature and less of the MILF! Anyway, first up (in more ways than one) in my super-duper new section is MaturesCams.com. You notice I've made that "C" nice and big in the middle? I'm sure you can work out why as i don't think they've done all that brilliant a job in picking out their domain name, if you think about it. It's almost like www.sextherapist.com, www.powergenitalia.com and www.expertsexchange.com! All real domain boobs. Anyway, speaking of boobs (chuckle) let's get reviewing ...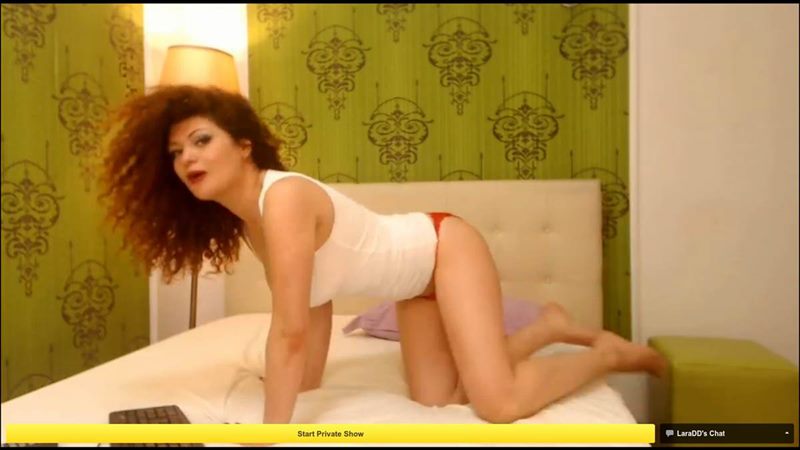 My Initial Thoughts ...
Okay, so I'm getting really bored now. IF you know anything about sex cam sites and IF this is not the first time that you have been on my site, then you'll only need to take the merest of glances at screen grabs attached to this review to work out that MaturesCam.com is yet another cloned version of Jasmin.com. Don't take what I've just said in a negative light at all as you'll also know that IF you've read any of my reviews about Jasmin.com or MyTrannyCams.com or LiveSexAsian.com you'll know I have very favourable thoughts about these portals, and I'm betting I might just think the same here!
So, MaturesCam.com is the cloned version of Jasmin.com with all the models who are under thirty and not female stripped away, leaving only sex cam ladies who have been around the sexual block a few times already, and so really ought to know how to entertain you in lots of deliciously devious and dirty ways. The set up of the site is exactly the same as at Jasmin.com, just with an orange colour scheme as opposed to the red of the parent site.
The menu consists of the usual thumbnails of the lovely mature cam ladies who are ready and able to show you what all that naughty porn experience has enabled them to think of doing for you! Lots and lots of them are really, really hot. I always have to end one of my sessions at MaturesCam.com with an icy cold shower! Don't forget that the sneak preview is available here via the menu - just move your mouse over the cam pic and after a sec or two ... hey presto, you can see what the mature sex cam lady of your choice is getting up to, as long as it's not a private show!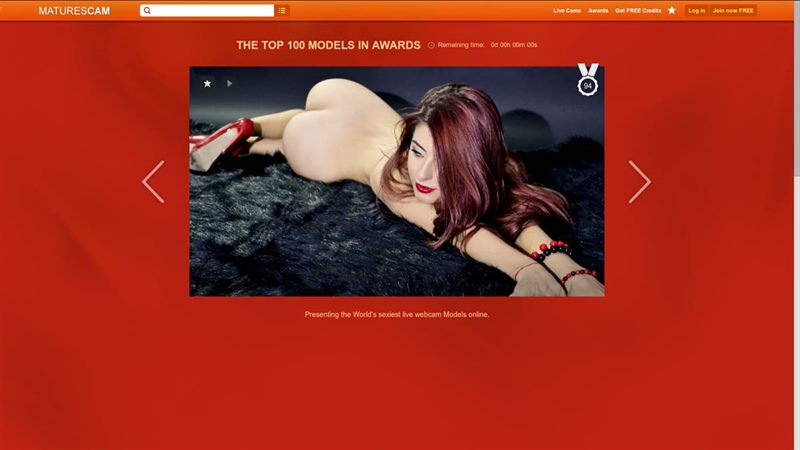 The site is a little skimpy, so there's no chance of being confused as there just ain't enough features and pages for you to get lost in! MaturesCam.com is all about bringing you the sexiest MILFs (okay, so I'll let that one slip in!) and mature sex cam models. It's not about bells and whistles and blogs and image galleries (although quite a few of the models do have them!) and videos, so if all that stuff is important to you, then look elsewhere. if what's important to you is the finest, sexiest porn ladies via the most exquisite cams, then you're going to be very happy at MaturesCam.com.
Those Extra Features ...
*tumbleweed*
How To Register ...
Unless you've never registered at an online sex cams site before, then the routine should be very familiar to you. Obviously, if you are registered at Jasmin.com or any of those umbrella sites, then you won't need to go through the registration process here, as your membership is also good for MaturesCam,com. If you do need to register here, then fill in the username of your choice, a password and your valid email address. You'll be posted a link to your inbox to confirm your membership. Newbies can claim 10.99 of free credits for registering their plastic with the site.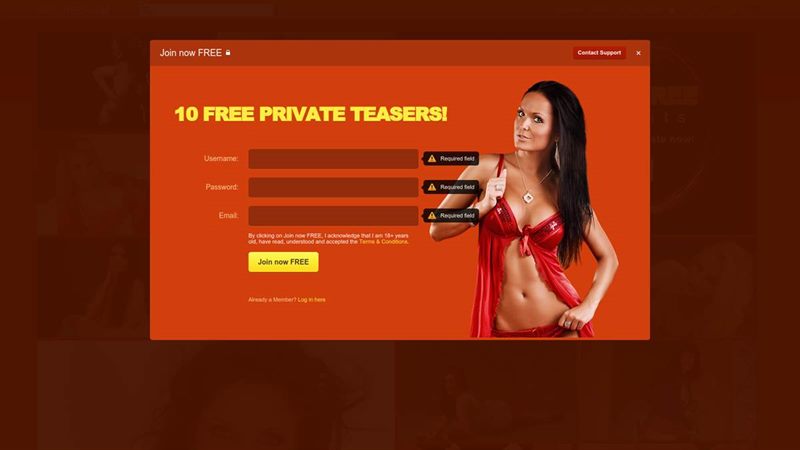 The Ways You Can Chat ...
It ain't too difficult - free chat is free and paid chat is paid for! Just click on the relevant button once you're in the xxx cam model's cam room, and bob's your auntie, you're in one-on-one chat. The price is set by the model herself. You can also have a sneaky twenty second peek at a private show in motion for one credit.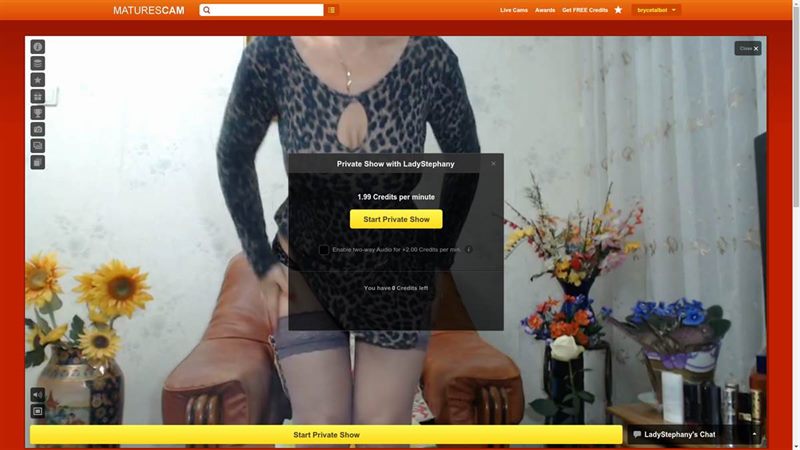 Quality of The Videos ...
The best thing about reviewing a Jasmin.com clone site is that I get to view the very very very best in cam images. There is no video quality in cam land higher than the cams offered by MaturesCam.com when it comes to mature sex ladies, and you have my word on that.
How Much It'll Cost You ...
You should be used to the prices by now! The prices in USD are fixed, but they do change the prices for Euros and GBPs based on currency fluctuations.
EURO €
GBP £
USD $
Price
Credits
Price
Credits
Price
Credits
€29.99
28.99
£18.99
29.98
$29.99
29.99
€69.99
58.99
£27.99
43.97
$69.99
75.98
€99.99
98.99
£65.99
86.97
$99.99
108.98
€159.99
158.99
£93.99
118.97
$159.99
169.98
-
-
£149.99
180.97
You get a little bonus with every purchase you make, and the more you buy, the bigger the bonus!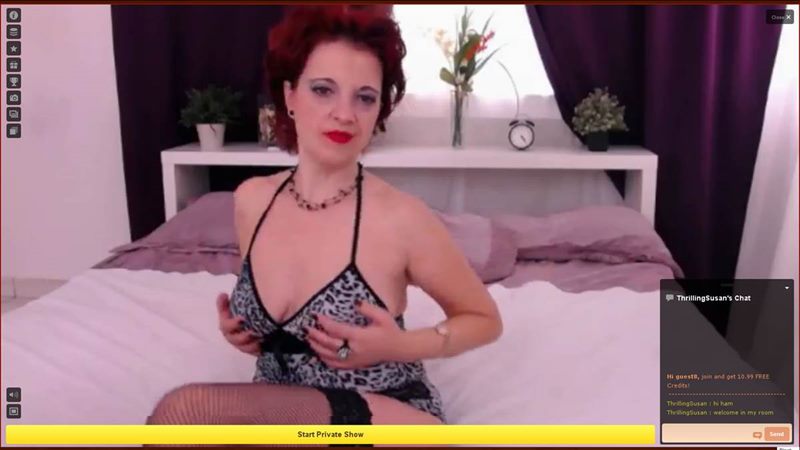 The Ways You Can Pay ...
Lots of ways! If you have plastic (Visa, MasterCard, JCB, Diners Club, Discover, Switch or Solo) then you're a-ok. There's internet banking available via Sofort Banking and you can use Ukash. There's even a pay-by-phone option if you like to keep things really secret.
How Many Models ...
Lots and lots and lots of super sexy mature models - over 10,000 in fact. You'll find between 100 and 150 online when you fancy a chat and much more of course!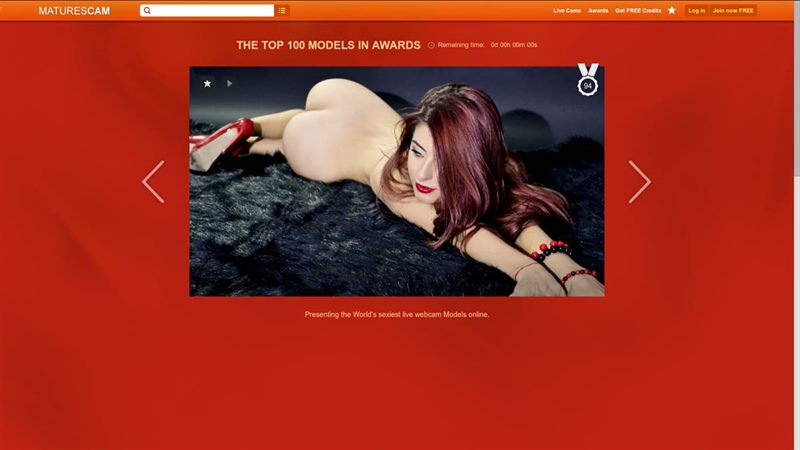 The Support You Can Get ...
You've no concerns about support at MaturesCam.com as this site is altogether the shizz! Live chat, email addresses and even phone numbers for both technical and financial queries. You've no worries about being left in the dark!
The Good & The Bad ...
Good
✔ - Super-duper super HD super quality super cams!
✔ - An absolutely gorgeous array of super sexy mature sex cam models!
✔ - Excellent support options that will give you peace of mind
Bad
✖ - Maybe just a little bit ... more about the site itself?
Winding Things Up ...
Jasmin.com really does set the bar high when it comes to sexy cams, and MaturesCam.com really sets the bar high when it comes to sexy matures cams. Hot x-rated mature models to view and by entertained by via silky-smooth, high-quality streams. If you like the maturer sexy lady, then MaturesCam.com really is going to delight and excite you ... and you have Tom's guarantee of that!
Review of MaturesCam.com
- Reviewed by
topratedcamsites.com