Supermen Review - Gays for days
I've been receiving many emails from men who asked me to review Supermen.com and in all honesty, I should not have taken so long to get to it. What can I say? My mission to review all of the best adult webcam sites in the world is quite ambitious and I've been swamped – but now I have finally cleared my schedule and I am ready to share with you everything that I have learned during my extended research. This Supermen.com review will include some very formal information: The quality of the gay cam features, the level of the XXX porn shows and of course – the price range. I also intend to share with you my personal impression of this sexy site which offers a nice choice of gay chat rooms, videos and information. Don't worry: I won't waste your time with pointless reflections. I just hope to help you decide if this is really the right live gay webcam site for you.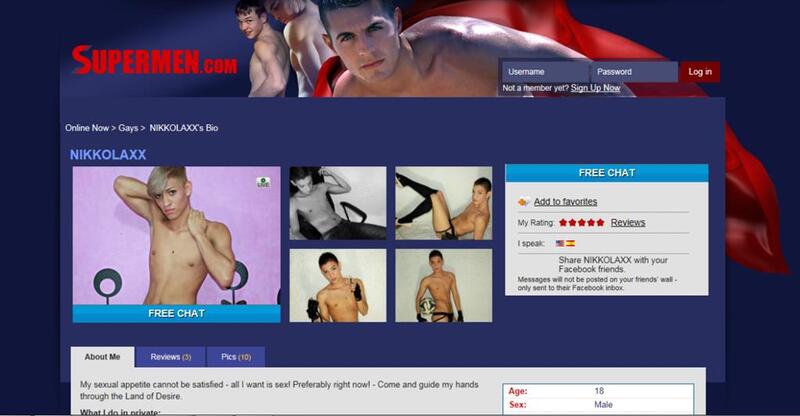 My Initial Thoughts...
I believe that in order to write a proper Supermen.om review – one that will really help the users, I need to experience the site the way a regular user would. This is why I started my research by going online and seeing what this site was about. After seeing it for the first time, I wasn't quite sure. There was a lot happening: I saw a tab that features local gay hangouts, a sex magazine with articles, exclusive video section and – thankfully, live webcams. I knew that was where I was heading, but I've had years of experience with adult webcam sites. New users, who haven't been to that many websites, might feel a bit lost. Once I did make my way to the live gay cams area things looked a lot more familiar and I liked how everything was clearly labelled. What did I think about the men, you ask? I thought that I would love to start getting to know them better.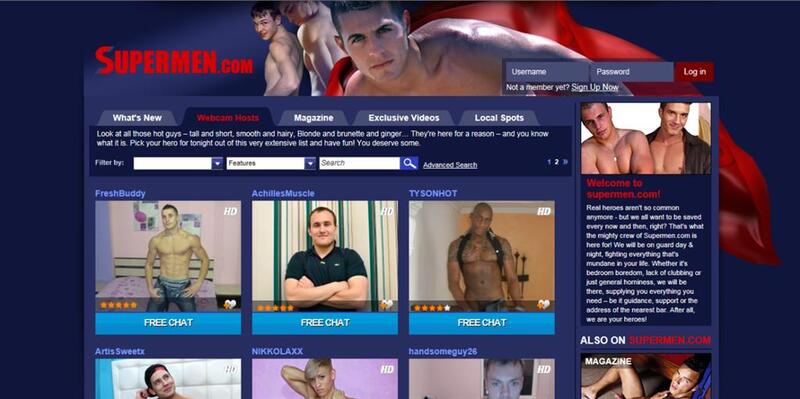 I really enjoyed myself on the gay chat rooms – and on the 'straight' chat rooms, which let's be honest: Are anything but straight. Most of the guys were really easygoing and as soon as I started a private chat they were all out to please me and make me happy. I loved the fact that you could search according to anything: Appearance, interest, sex toys, body features and many other categories, although I recommend that you just go through the chat rooms – there are only 80 guys online, max – not a thousand.
Those Extra Features...
Like features? Supermen.com is your kind of website. It has porn videos, photos, advanced search tools, mobile access, a gay magazine, 2 way cams, Favorites, sexy webcam events, discount chat rooms, money back campaigns and anything else you might be looking for.
How To Register...
There are three stages to the registration on Supermen. First, you fill in your details: username, email, password. Then you choose a credit package. Finally, you pay. This is all very easy, but I don't like the fact that you have to buy credits in order to join – you can still free chat without a membership, but I would prefer if the site would let me join and then decide if I want to buy credits.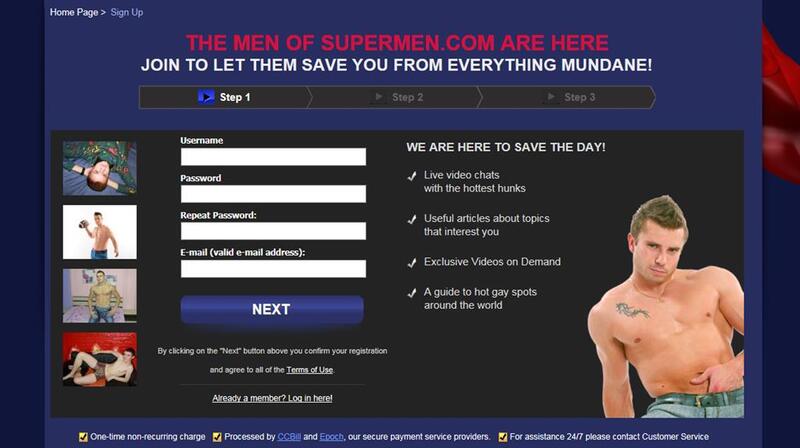 The Ways You Can Chat...
You can chat for free on Supermen.com, but the kinky things only happen during paid chats. Most of the chat rooms feature one guy, but there are a few with couples. Happy Hour is a group show, where a few guys watch one performer and "share" his attention. Men can direct in turn – three minutes each, and the price is much lower than a regular nude chat. This can be fun, or a mess, depending on the model and the other guys who watch, so it's a bit f a gamble.
Quality of The Videos...
There are two types of gay webcam sites: Professional model sites and amateur chat communities. Supermen.com belongs to the second and this has plus sides and downsides. The plus sides are cute men that are accessible, real and enthusiastic. The downside is they buy their own web cameras. Some do a good job, some not so much – check before you commit, that's usually the best strategy.
How Much It'll Cost You...
Supermen.com has very fair prices – between 0.88 and 4.98 credits per minute. This is a remarkably low price for such a quality gay webcam hub. Amazingly enough though, while such a cost (for the company of such gorgeous hunks) will probably be enough to tempt any cam user, hang on tight: It drops even lower. This adult webcam site has a whole lot of promotions, discounts, campaigns and member benefits that all help push the price down and then down some more. I will discuss member discounts when I get to talking about memberships, but let's start off by listing the number of credits and how much they each cost.
| | | |
| --- | --- | --- |
| How Many Credits | What's the Price | How Many Bonus Miles |
| 25 | $25 | 2 |
| 50 | $50 | 6 |
| 75 | $75 | 9 |
| 100 | $100 | 13 |
Okay, stop rolling your eyes at me. I know I know, I still haven't explained anything about miles. These are part of the Frequent Fuckers Club offer that treats users to bonuses for credits that they purchase. These miles are accumulated and then used to advance in membership level, which, in turn, entails even bigger discounts.
The Ways You Can Pay...
I believe that gay webcam sites should always offer several payment options, making it easy for users to find at least one that they know and like. Supermen.com has plenty of choices. They are all reliable and the site, needless to say, uses strictly well-known payment processors. You can buy credits using an E-Check, Visa, MasterCard, JCB, Discover, Delta, Switch, Solo, Maestro, MasterCard Debit, Electron and Bleue.
Memberships
Here are the different levels of memberships on this site. The way to advance is simple: You just buy more credits and collect your miles.
Silver Member
You become a silver member when collecting 15 miles. As a silver member you will enjoy 1% bonus on credits, Happy Hour chats for 0.50 credits per minute and you also get 10 bonus credits as a onetime gift.
Gold Member
Once you have 200 miles, you will start enjoy gold member benefits: 3% bonus on credit packages, Happy Hour chats for only 0.35 and a onetime 100 credits bonus.
Platinum Member
Once you have 500 miles, you will start enjoying Platinum member benefits: 5% bonus on credit packages, Happy Hour chats for only 0.20 and a whopping 200 credits bonus. Onetime only of course.
How Many Models...
Supermen.com is a medium-large cam site. It has about 8,100 registered webcam models, but please don't think that I am saying that you will find this many guys online. The number of live chat rooms is usually between 60 and 80 – not bad, and they men come in many shapes and colors, as is usually the case on amateur sex cam sites, so you will probably find your fantasy partner, and fairly quickly.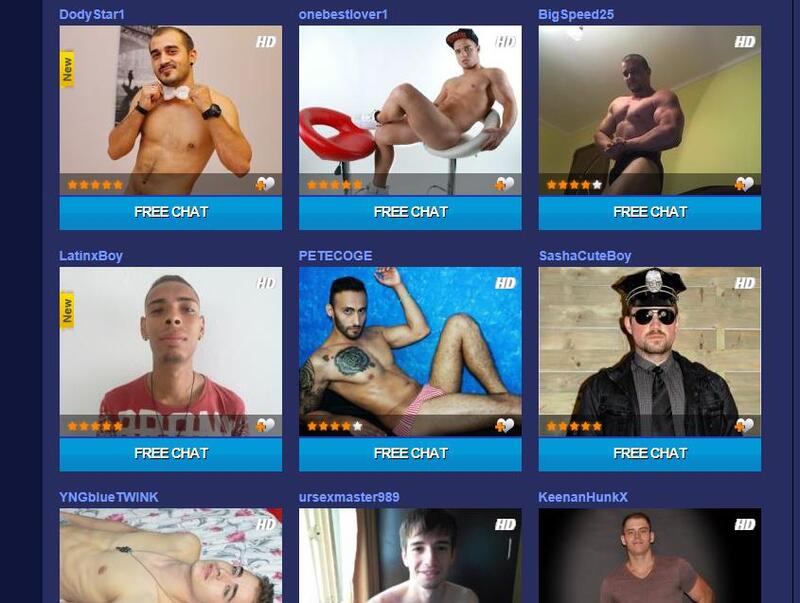 The Support You Can Get...
If you feel lost, which is a viable possibility – Supermen.com has a lot of options and features, start off by viewing the FAQ page. Of that fails, you can contact Customer Support using a form (which you will find under the Contac Us tab) or via an email.
The Pros & Cons
Pros
✔ - You get free credits with every membership upgrade
✔ - There are many hot online activities
✔ - The webcam model selection is great
Cons
✖ - I don't get the local spots and the magazine
✖ - You can't join without buying credits
Winding Things Up...
As I certainly hope you know, after reading this Supermen.com review, this gay sex cam community has a lot to offer and live cams are only part of it. There are gay porn videos, a sexy magazine, information about clubs in your area and enough pics to keep you going for years. That is a lot – I admit it, so it can be a bit confusing for an inexperienced guy who is just looking to chat with a homosexual man on webcam. For the most part though, the site is welcoming and it is not all that difficult to figure out where is what, and besides: Exploring your options can also be quite amusing, considering that the guys are stunning and they're not shy. If you like how Supermen sound like, go and give it a quick try. Who knows? Your private Clark Kent is waiting for you online – or a dozen of them.
Review of Supermen.com
- Reviewed by
topratedcamsites.com