CamSoda Review – Bursting and Bubbling with Sassy Free Sex Cam Models, Let's Shake It Up!
Well hello there, don't be shy, come a little closer and prepare to be showered with warm wet words as I bring to you, yet another delightful live adult cam site review, this time it's CamSoda. So, sit back and relax, or lean in closer and don't touch your, ahem, dials. A world of exciting xxx cam girls is about to be revealed.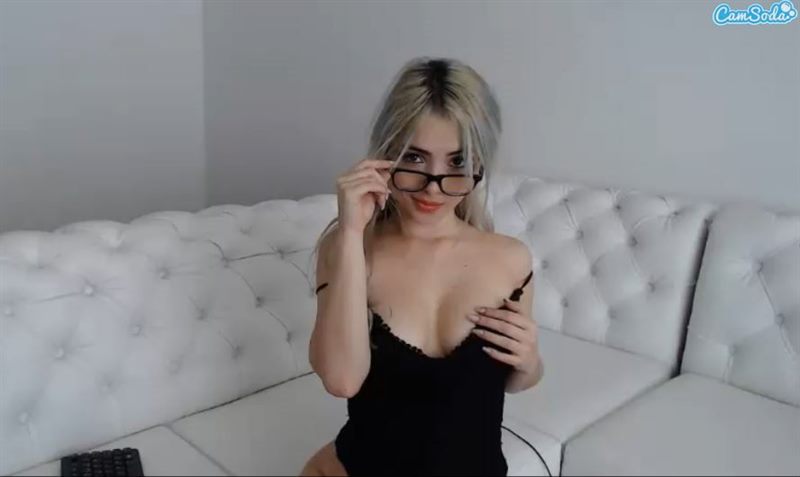 Who Are They?
A somewhat new kid on the block, CamSoda have been around since mid 2015, and already have built up an impressive array of beauties, as far as the mouse will scroll. This is a noteworthy live adult webcam site with all kinds of categories for all makes of people. This site has been built for guys with big, wait for it … screens.

That's right:

Quality high definition graphics and crystal-clear sound. Details so real on your desktops that you will be mesmerized and amazed, making these xxx cam girls feel so real! For me it was more than obvious as when I entered CamSoda for the first time, I was greeted by, no fewer than, twenty-eight, that's right, 28 inviting adult webcam girls - before having to touch my mouse, most of them model material! Winner winner, chicken dinner.

Read this full CamSoda review and find out why and how to join this ever growing xxx online community.
My Initial Thoughts …
CamSoda has such variety and so much going on, that I feel I have to expand on, and explore the different options available to the user, that's you and me, and ooo la la, our choices are many. Adult cam girls galore, as far as the mouse will scroll.

The look and feel?

Enter the CamSoda homepage as a first-time user and it may feel a little overwhelming. If you are already registered, then you know the drill and most probably are going for your favorites first. The homepage feels alive, with many adult cam girl pictures including bits of information, and ad's running on the right-hand column of the page. The overall feel of the page is fair, with 2 crisp colored bars running across the top of the page, pink and powder blue.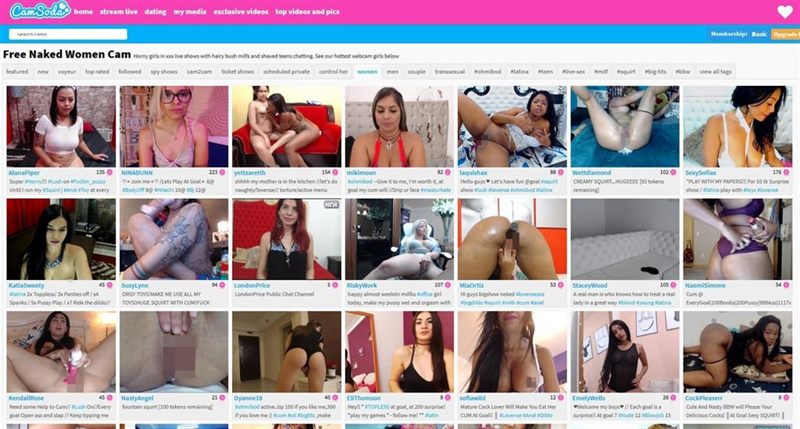 It's in these 2 bars that you'll find both the signup and login buttons, as well as the homepage and categories buttons, and believe me there are many to choose from, 28 listed categories to be exact, all featuring an adult cam girl, just for you. There is also a view all tags button, for those who are looking to have their minds boggled. Click this button and your minds will be boggled.

Navigation on this site is as easy as click click.

Signing up to CamSoda is simple and straightforward, simply click on the Join Now Free button and follow the prompts. No hidden surprises.
General Impressions
At the time of writing this CamSoda review, the site had over 4800 webcam girls to select from!

Say What?

You heard me, over 4800 babes and it certainly kept me busy, in more ways than one. I've already mentioned the impressive array of categories listed, which include Top Rated, New, Spy Shows, Voyeur and Ticket Shows, to mention but a few of the 'out-of-the-ordinary', not forgetting some of your standard categories which include Women, Men, Couple and transsexual.

CamSoda have both amateur sex cam girls as well as professional porn stars just waiting to take you to those special kinds of pleasure heights and further. For the full listing of adult cam girl categories available to choose from, be sure to visit CamSoda and see for yourselves.

Let's talk about those cover camgirl pictures: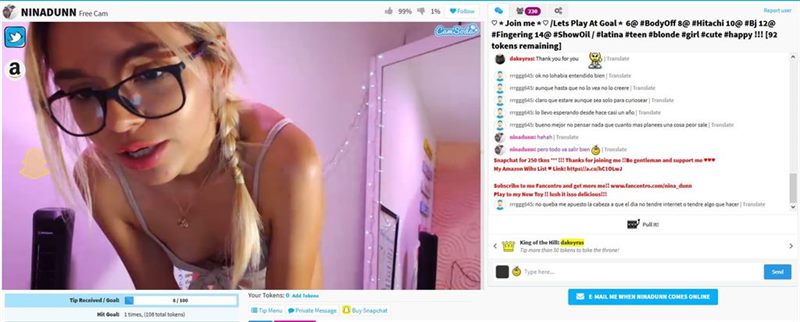 They include the cam girl's name, the number of viewers in her room and some information as to what you can expect or how much it costs. Mouse over the picture and you are treated to a small video tease to please. A quasi try-before-you click feature.

Click on a hot sexy babe Free Cam, and immediately you have entered her public chat room. No matter if you are a guest member or a registered user, you will see, and be able to message any of the adult cam girls.

Let me be clear about this:

You will be treated to tits and ass, toys and tricks. Brave sassy babes doing all kinds of wonderful for the imagination to soak up. Whether it's a Lovense or dildo show, or an OhMiBod experience, these xxx cam models are game, and eager to please.

Listed to the left of the video is the running messages between the cam girl and her audience including a whole bunch of hashtags. These hashtags refer to the what and the cost. It's pretty self-explanatory. Still not sure? Ask the model.

Besides her stage name, you will notice thumbs up and thumbs down percentage, which indicates her popularity on the site. Only registered users can influence the popularity of any particular model, and only after they have spent a minimum of 25 Tokens tipping her.

Under her photo, you will see some information including details of her tips received, and 'Tip' and 'Go Private' buttons, both are only relevant for members, more specifically, those who have purchased and uploaded Tokens to their account.

Scroll down a little further and you will discover the adult cam girls' bio in addition to any high-quality photos, that the model may have uploaded to the 'My Media'. As to be expected, viewing the 'My Media' footage costs Tokens, and differs from girl to girl.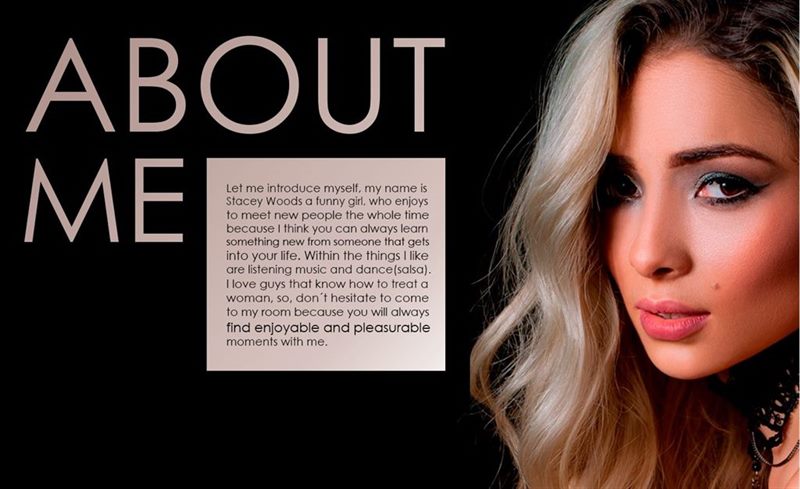 Adult camgirls will do just about anything, but remember, even just about anything comes at a price, and at CamSoda, Tokens are your tickets to pleasure. If you want to play, you gotta pay.

That said:

As a guest member, you too are treated to every show, so long as the xxx cam girls are not involved in a Private Show, I'll discuss those in a little more detail later.

Registered members who have Tokens loaded into their account, now have the real power to play. As the name of the game is fun, and fun costs – you need to pay to play, tip to turn on and be turned on.

Some of these xxx cam models can have, well over 400 visitors in their room at any given time, so don't expect too much chit chat from them. They are, after all, trying to make many people happy … if you get my drift, and chatting may just not be very high up on their priority list of things-to-do. Chances are that their focus is on those members who are active and showering these adult cam girls with Tokens.

If you, like me, feel that talking is over rated, choose a xxx cam girl that appeals to you, pop into her room, stay glued to your screens and keep on watching. These lively adult cam models will keep you entertained, and coming, even coming back for more.

This site is an instant hit, with both newbie and novice porn fanatics, a true gold mine, and treasure trove of adult webcam girls.

Why do I say this?

All participants on this site, both guests and registered members are in for a treat, and will see some kind of nudity and / or a show. 100% guaranteed. Registered members have the added bonus of being able to interact with the xxx cam model and tip them for their pleasure.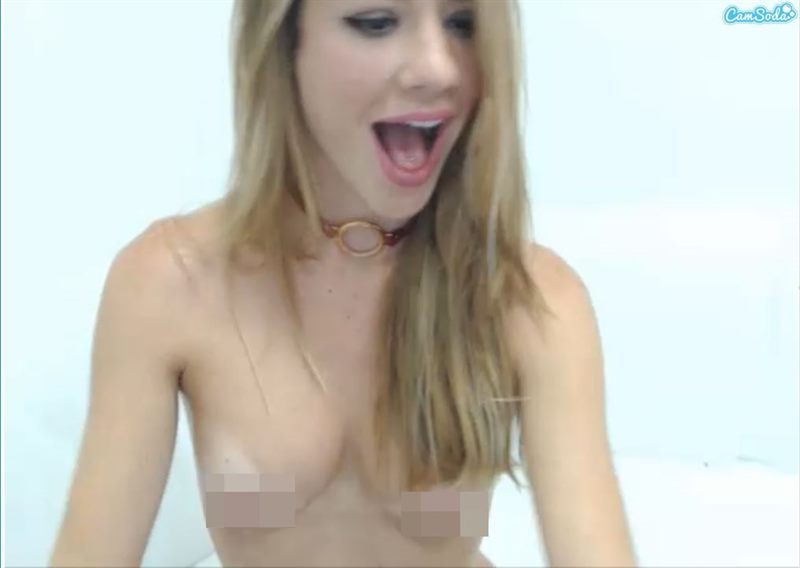 Those Extra Features …
Listen up:

As an avid member of the xxx community, I like my porn, and better yet, I'm all for extra features. CamSoda have been very creative in enticing the users' participation, and registered members can interact with the countless of registered adult cam models, in a number of stimulating and playful ways.

As a porn fanatic, you want the very best. I know I do.

CamSoda have done their homework and have produced a site that satisfies both the adult cam models and users alike by introducing some unique and crafty features to keep you entertained and those xxx cam babes paid.

What am I talking about?

I'm talking about the art of paying gratuity, that age old tradition of showing financial appreciation. Otherwise known as tipping.

CamSoda makes use of Tokens for members to tip their favorite adult cam girl, and Tokens can also be used to Go Private as well as to play with the model.

What am I talking about?

Spin It!
Premium Users can tip the Token amount that the model has set, and then the wheel of luck spins. Whatever action the wheel lands on, the model performs, leaving members with instant gratification. Possible wheel actions you can expect to find, might be 10 second titty rub, close up pussy shot, 5 spanks, grind on pillow and suck a dildo, to name a few.
Pull It!
A playful tipping feature for the benefit of the model. Pay your Tokens and pull the slot machine handle. There are different levels of probability, from 'happens very often', to 'happens very rarely', with the rational being, the more Tokens you spend, the higher the chance of scoring a jackpot, which could just be a SnapChat for life account, with your favorite sex cam model!
Roll It!
Another great new feature on CamSoda whereby a Premium User can tip their sex cam model of choice by 'rolling dice'. The model selects the Token amount to charge, and enters prizes for each number outcome. When members select this feature, the outcome will be shown along with a list of prizes. The number that the dice lands on, is the action that the model will perform.
Control Her!
Oooo, yet another cool feature that CamSoda have is a control setting specifically for the Lovense. Models set a price and duration and then members will be granted control of her toy.

So long as you have Tokens to spend, those xxx cam models are waiting to wiggle and jiggle, tease and please.

Search for that special horny honey, there are many filters to pick from when looking for your kind of gal, examples include #OhMiBod, #Latina, #Teen(+18), #MILF and #Squirt to name a few. There is that special adult cam girl for you, just waiting to be found.

At over 4800 xxx cam girls logged on and live streaming, the emphasis is unquestionably on free sex cam shows.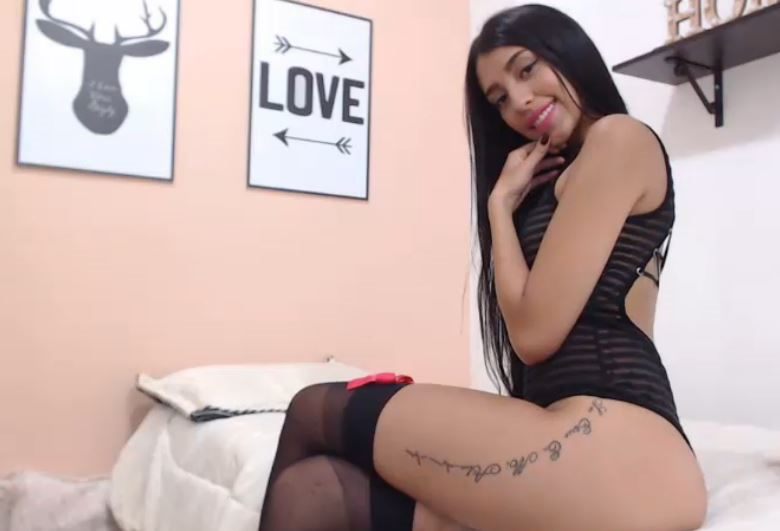 Membership Features on CamSoda.com
There are 3 kinds of membership levels on CamSoda:
Guest User:
Anybody who visits the site, and has not registered with a username, is a guest user. Guests can view public chat rooms, however as a guest, you are unable to purchase Tokens, as you do not have an account.
Basic User:
These are users who have registered themselves with a username and have an account. Once an account has been created, Tokens can be purchased. This membership gives you access to all 100% free cam chats including access to view multiple cam chats, free.
Premium User:
This is a registered paying per month user, who not only enjoys 100% free cam chat and access to view multiple cam chats, but also has added benefits such as a clean, AD free interface and being able to adjust the Tip volume. Also, Premium Users have access to Private Messaging and receive a 1-time gift of 200 Free Tokens, upon upgrading from Basic to Premium.
How to Register …
Signing up to CamSoda.com was easy and no fuss. On the top right of the homepage, you will find a green Join Now Free button, click it. A pop-up window will appear called Please Sign Up, asking for 3 bits of information: Username, Email Address and Password. Fill those in, you will also notice gender choices, with the default set to Male, adjust if necessary – and then click Register Now button.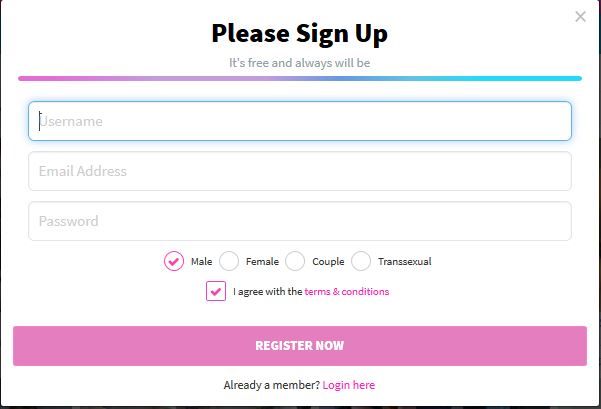 Once you have a registered account, you are able to purchase Tokens.
The Ways You Can Chat …
Ok, so Basic Users will find it difficult to chat as most of the cam models only accept chats with paying customers, otherwise known as Premium Users. Sometimes, in quieter rooms a xxx model may engage in chat with Basic Users, though this is at the discretion of the model and not the site.

Premium Members can converse in Public Chat rooms as well as take a babe into a Private Chat, where anything can happen. Premium Users also have the option of sending Private Messages, a 1 to 1 private messaging service between you and your adult cam girl of choice, for those who prefer to keep their erotica on the quiet.

Premium Users also have the choice of streaming cam to cam, ba da bing! Log onto any sex cam girls' page, and located at the bottom right of the page is a Stream Cam to Cam button. Click it. Online xxx porn, doesn't get more personal than that!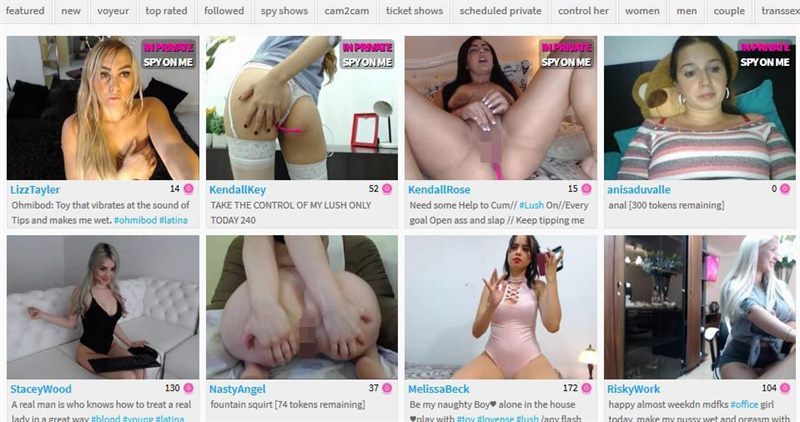 Quality of The Video …
High Definition

Right off the bat, I could almost touch and taste the high video quality of the live stream and was most impressed with the play. As soon as you have selected a babe form the countless adult webcam girls to choose from, and have entered her chat room, you are able to adjust the size of the video screen or simply expand to full screen – without losing any quality. Full screen was my choice.

A home run hit!

CamSoda mean business and have really nailed it with their crystal clear high quality video. Yes, there is sound too, not really my thing, but you can listen to what your honey is listening to, or listen to her respond to your typed messages, giving you that complete sex cam experience.
How Much It'll Cost You …
Visiting CamSoda.com is 100% free.

That's right, as a guest, you don't need to pay to enter a xxx cam girls chat room and be entertained. You can watch your favorite sex cam model without paying a dime! So long as she's online.

Registered paying members or Premium Users pay $19.95 per month.

Those who upgrade from Basic User to Premium User enjoy a once off gift of 200 Tokens, to be spent on the adult cam girls of your choosing.

As for the variety of shows, and as for the pleasure or play options, these costs differ. Token rates are set by the models, each xxx cam girl seems to have their own menu and pricing.

What are Tokens?

Tokens are the currency that CamSoda offer to users who want to participate in the shows, and tip their favorite cam model. Users have the choice of 4 different Token packs.

Available Token Packages
| | |
| --- | --- |
| Tokens | Dollars |
| 50 Tokens | $5.99 |
| 100 Tokens | $10.99 |
| 200 Tokens | $20.99 |
| 550 Tokens | $49.99 |

The Ways You Can Pay …
The different options for conventional payment include: Visa, MasterCard, Maestro, Discover and JCB. Interesting to note that CamSoda also accept PayPal ,Wire Transfers and checks as payment.

If you prefer paying via a payment portal, you have the choice between SEGPAY and EPOCH, both of which are trusted global payment solutions.
The Support That You Can Get
Feeling stuck? Have questions that need answers? At the bottom of the home page, there is a button labelled SUPPORT. Click, and you are redirected to a Support page that includes Billing Support, Technical Support and Forgot Password. Scroll through the page and you will discover some FAQ's uploaded covering basic billing and technical queries.

Only for Billing Support does CamSoda seem to cover themselves and include all relevant contact information, for technical support – users can send CamSoda an email, to support@camsoda.com
The Good & The Bad
The Good
✔ - High Definition Video Stream.
✔ - Access to 100% Free Cam Chat.
✔ - View multiple Sex Cam Models - Free.
✔ - Cam girls get to rate nice users using a like button. Each week, the winner gets 1000 free Tokens.
✔ - Awesome selection of categories to choose from – over 4800 adult cam girls listed, at the time of writing my CamSoda review.
✔ - Sexy interactive xxx cam girls.
✔ - Even as a guest member or a registered nonpaying member, you are guaranteed of a great porn show, no strings attached.
✔ - Accepts PayPal.
The Bad
✖ - No complimentary Tokens given when signing up, something which I would have liked.
✖ - Tough to justify the $19.95 per month membership fee, just so that I can adjust that annoying tip sound. No Bueno.
✖ - Most adult webcam models won't even bother chatting with you unless you are someone who tips. Still, this is not guaranteed.
✖ - Though I am able to view Multiple Cam Models, I found the site a little slow compared to competitive sites such as Chaturbate.com for example.
✖ - Private Chat seems to be the only benefit of becoming a Premium User, eh.
✖ - The default home page is the featured category that displays, I would have preferred the home page to be the women category.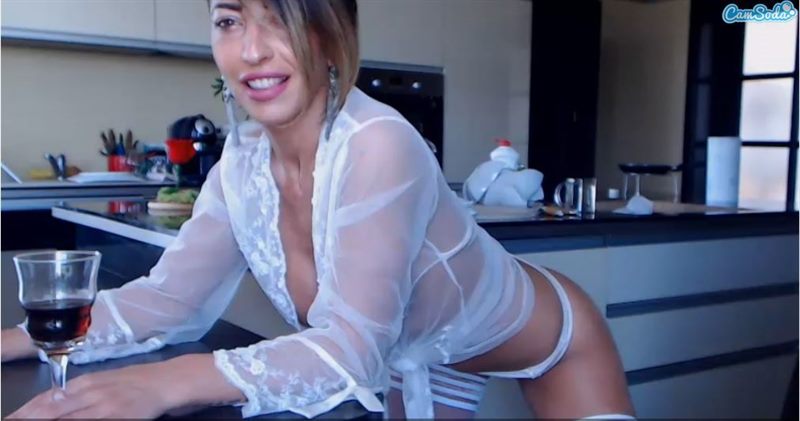 My Final Word
CamSoda is a site for sore eyes. High quality porn being streamed in High Definition to your desktop. Tits and ass, class and crass – it can all be found and seen here.

Overall, I liked the site, felt comfortable navigating and exploring the many pages of honeys, and seeing their live sex cam shows. I didn't mind having the ad's running too much, but what really peeved me off, was not being able to adjust that annoying Tip sound.

That said:

There are many things that I really did like about the site.

First and foremost, CamSoda.com is essentially a 100% Free Cam Chat site, with access to 1000's of webcam girls. There is nudity and there is action, not necessarily in that order. You are guaranteed of a show that will leave a smile on your face, and possibly a cleanup down there.

Variety is the spice of life:

Open up multiple cam chats to view and feast your eyes, on Latin babes, Asian goddesses, Teen(+18) teasers, whatever your desire, CamSoda has xxx eye candy for you. For a site that started back in 2015, they have seemingly leaped ahead and have managed to cover every xxx-angle imaginable, making them a competitor to be reckoned with in the porn community. If there's 1 thing that I believe, this site knows adult cam girls, and have them in supply.

CamSoda have the look, the feel, hd quality video stream and countless babes, all at the click of a mouse, or a flick of the scroll wheel.
What are you waiting for? This is an adult webcam site worth spending time on.
To my fans, this is Tom signing off and saying goodbye, until the next time we meet, happy hard-on's everyone.
Review of CamSoda.com
- Reviewed by
topratedcamsites.com