CamSoda Review - Free Chat With Naked Nymphos
Last updated
January 14, 2021
Freemium
Nude Free Chat
First Purchase Bonus
Pros
Free performances
Cheap private chats
Free C2C in privates
Mostly amateurs
Cons
No HD+ or 4K video
No categories list
Limited model ct
If you've never really understood that old saying 'spoiled for choice' - then head straight on over to the mega free live sex chat site - CamSoda. Hundreds of live streaming sexy cam hosts welcome you to this Xanadu of X-rated webcams. Real-time HD porn shows starring some of the biggest names in adult entertainment, sex toys being used in every which way and a dictionary of kinks from anal to z-jobs playing out in front of you - all for FREE!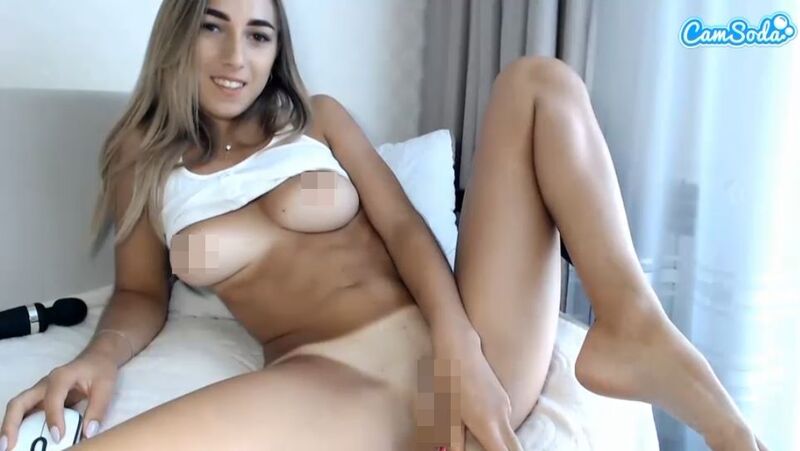 If you haven't paid a visit yet to this popular freemium cam site utopia, then you're in for the ride of your life. Now, there's so much going on in this crazy place, that I can't write about it all - at least not in one review. What I am going to do is give you some insight and tips on how to make the best of his giant sex park. Believe me, you'll be glad you did your homework before venturing through the virtual gates of this porn paradise.
Cam Models
Girls
The site is an online global city where the horniest, kinkiest exhibitionists, sex fiends, pornstars and porn lovers gather to celebrate everything X-rated. The whole enchilada is on offer here, and the beautiful thing, it's all for free (well almost all - I'll get to the money part later).
The sheer number of cam babes ensures that there's a 'look' for every taste. On one hand there are amateur sexed-up babes that seem to just want as many people as possible to watch them cum and squirt as they play with themselves. On the other hand, there's the pros - the porn performers that tease and tempt and will have you gagging to take them for some private one-on-one chat and live out your wet and wild dreams.
Now when someone tells you you're spoiled for choice; they're usually warning you in an annoying way that you'll not be as happy as you thought, being faced with so many options. Well, that's not true at CamSoda. As a freemium live porn site - you get a huge amount of XXX action in your face for free. For some of the cam hosts - this is their job - for others - they're just having a bit of raunchy fun and making money at the same time.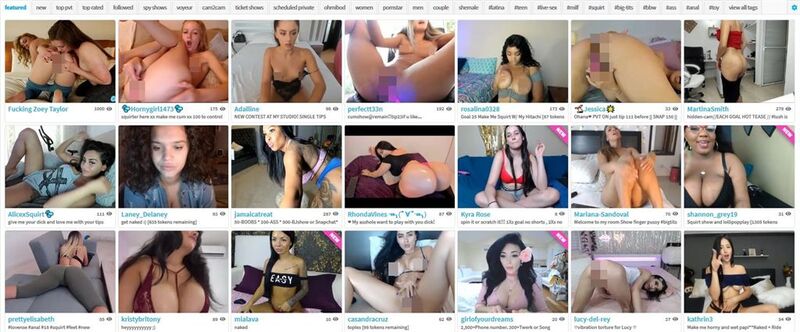 With hundreds, if not a thousand plus sex rooms appearing on CamSoda live at any given time - the only way you can narrow down the webcam girls you're interested in watching, is to use the site's search feature (which isn't that great, to be honest). Just above all the snapshots of the live cam rooms are search tags. You select the tags that give you a kick, and the selection is narrowed down to those babes that fit the groups you chose. Now, I'm going to blow your mind here... And dudes - that's the only thing I'm going to blow! There are 1059 pages of search categories - each page listing 20 of them... You're scratching your head? So was I. That's thousands and thousands (21,180 to be exact for the math professors reading) of search terms.
WAIT WAIT WAIT, before you start to freak out.... Many of the naughty chiquitas make up their own search terms, as well as some creating non-English search tags, so after the first few pages - there's not much of interest to go through.
Now, while you'll enjoy loads of hardcore hotties performing for free in their sex chat rooms - if you want to take it one step further and get them to fulfill your particular fetish fantasy - you'll have to take them private. Private 1on1 cam2cam is where the ka-Ching! comes in. But don't fret - at CamSoda the ka-Ching! is often as cheap as it gets - some ask for as little as $0.55/min. The porn performers set their own rate/min. Once a cutie catches your eye - go check out her bio. Under her live snapshot are all the extras and pricing that are on her menu.
Many have prerecorded videos showing their skills; footjobs, dildo riding, squirting, blowjobs - take your pick. And for just a few tokens, sit back and go with her flow (trust me - you'll end up flowing too). Most, also list their pricing for certain acts. If you want her to sit on a sexbot, finger herself till she cums, or just some light spanking and sucking - it's just a matter of tipping with tokens.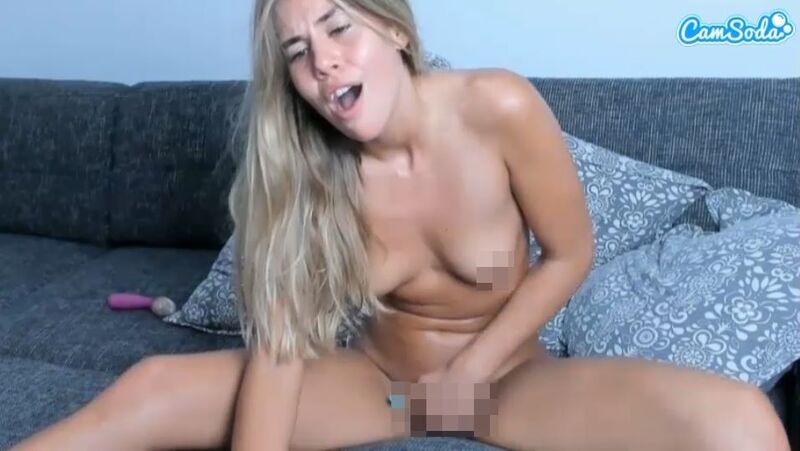 Guys/Trans/Couples/Threesomes
CamSoda is all about the girls, but if you're curious and want to dip your toe (or other appendage) into a new sexual scene - then it's worth taking a quick look - after all, it won't cost a penny and you can see if this is something you'd like explore further. On the dude front - depending on the time of day or night - there's either no guys online or at most, just a handful. Shemales are more prevalent - again try the peak hours.
Trinity and Cardibot
Finally, Tom is a bit at a loss for words about these two cam hosts. Trinity is a computer generated sexed-up cam host, an avatar for an actual cam babe. Not quite sure about this - I'll leave it up to you guys to decide on whether she's worth your time and tokens.
Cardibot is a 'Sex-Robot' that talks to you (she's quite a dirty little piece of machinery) and twerks, shimmies and shakes on command. Apparently, her biggest asset is her 'lit up nips'.
Now I don't judge - whatever you're into is your thing - not mine. But dudes.... seriously?
CamSoda Feature Highlights
Exclusive free videos
The site offers exclusive free HD (and even 4K) porn videos with some of the biggest names in the XXX world. The CamSoda team produces some mega movies that'll get your cock a'crowing within minutes.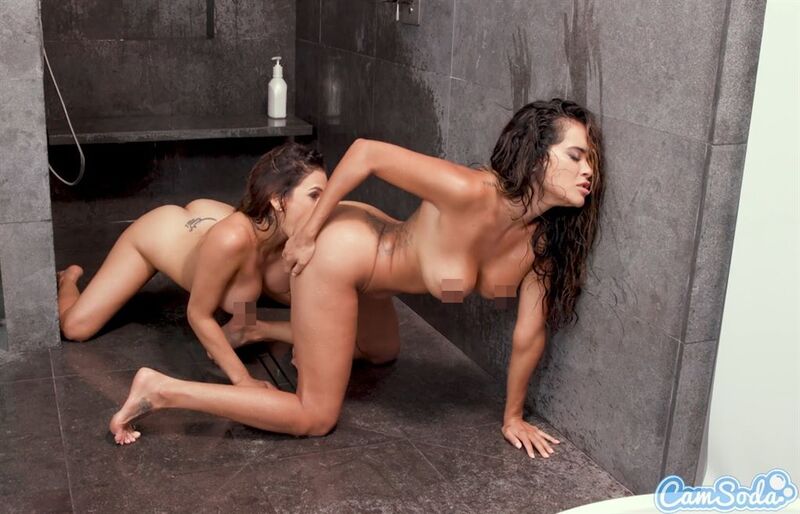 Games
One CamSoda quirk I like are the games the models offer when they're in Open Chat. Many operate a sort of mini-casino for porn prizes where you're guaranteed to win. Many of the cam hosts have an option to; Spin The Wheel, Pull The Slots and Roll The Dice. For a few tokens you get to play a game and win a prize (and by a prize we're not talking about a cuddly toy).
Blog
CamSoda's blog may not feature any extreme action, but it's a fascinating look behind the scenes of the porn and live cam world. They have podcasts and confessional videos where the top cam models and porn superstars talk about every and anything. From the kinkiest sex they've ever had to their favorite recipe for mac n'cheese.
Other cool features include:
CamSoda on Snapchat/Instagram/Facebook/Twitter and YouTube
Cam2Cam included in private chat rates
Pre-schedule a one-on-one private chat session with cam girls
Interactive vibrators which work on tips
View in full screen option
Getting Started
Registration to the site is super-simple. Just come up with a cool username that'll make you stand out (in a good way). Enter in an email that works and choose a password you'll remember and you're ready to cock n'roll. Your username appears in the top right of the screen in the pink banner. It's worth clicking on it, select 'settings' and making sure the details are correct (and by that I mean that you've listed the correct gender).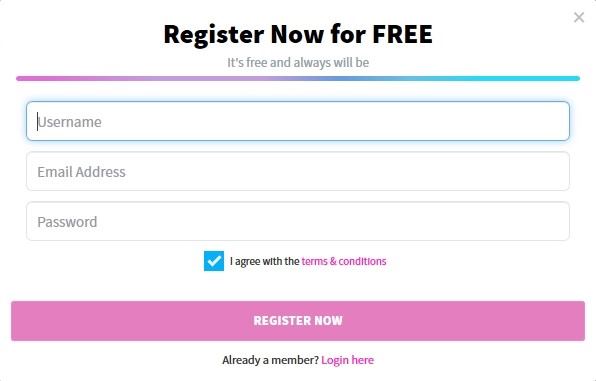 Chat Options
You've got several ways to interact with your new best buddies on CamSoda - apart from the ubiquitous Open Video Chat option - the others all cost a varying amount in tips.
Open Video Chat
This is the holy grail of CamSoda - its why most of us are there. Thousands of free live cam XXX shows fighting for your attention. Most of the adult performers use interactive sex toys in their open chat rooms, and with just a handful of tokens you can get them squirming and shaking on demand. The game features I mentioned earlier include (depending on the model) prizes such as 'fingering', 'dildo action' and 'double penetration'. So, if you spin the cam girl's wheel or play her slots - you (and your grateful fellow viewers) get to enjoy some kinky fun for just a few dollars.
Private Chat
Private Chat is the paid-for c2c option where you get to decide (to a limit) what goes down, what goes up and what goes in. The price/min varies and I'll get to that in a sec. Now, if you haven't bought any tokens at all, you won't be able to see how much each girl charges per min of private chat. If you click on their 'Go Private' button - it'll just take you to a purchase tokens page. If you do have tokens, then it'll bring up her price.
One thing CamSoda has that many premium live sex webcam platforms don't, is that most of the models let you record your sex session with them. You'll be able to find your own private porn performance in the My Media section of the site shortly after the session ends.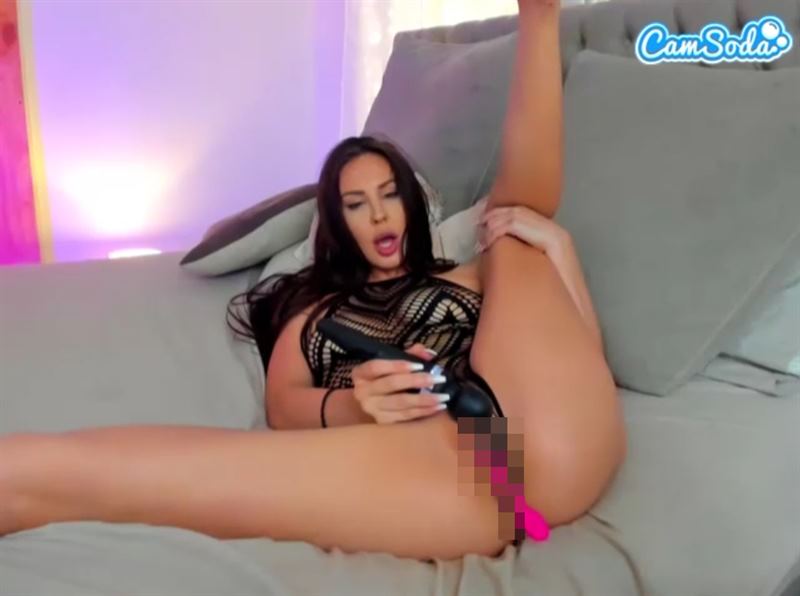 Ticket Shows
Some sites call it a 'VIP Show' - others call it a 'Candy Show' or 'Group Show' - CamSoda calls them Ticket Shows. It's basically a sex show open to multiple viewers - just like being at the theater. If enough people buy a ticket to the show before it starts - then the performance begins. If the cam girl hasn't reached her target number of minimum tickets sold - she'll cancel her sex-petacle and you'll be refunded your tokens.
Spy Shows
You are literally spying on other people's dirty dreams. Some kinky cam babes allow you to watch their private sessions with other CamSoda punters for just a few tokens/min. You don't get to have any interaction or input into what's taking place - you're just a pervy peeping Tom (and I know all about that) - but it's a great cheap way to get your live fetish fix.
CamSoda Prices
Now, down to a really dirty subject - money... The cam babes set their own rate/min for private chats and tipping amounts in order for them to perform their lovely lewd acts. On average, you're looking to fork out around $2.75/min for some one-on-one magic, with some of the kinky lasses happy to go private for just $0.55/min.
Payment Options
CamSoda takes most major credit cards along with:
Wire Transfer
Check
Cryptocurrencies
It goes without saying (well it should by now) that I only recommend safe and legit live porn webcam platforms. The site also knows that we want to keep things discreet when it comes to our online X-rated habits. It uses 123 bit encryption and on your credit card bill, and charges appear under a nondescript name.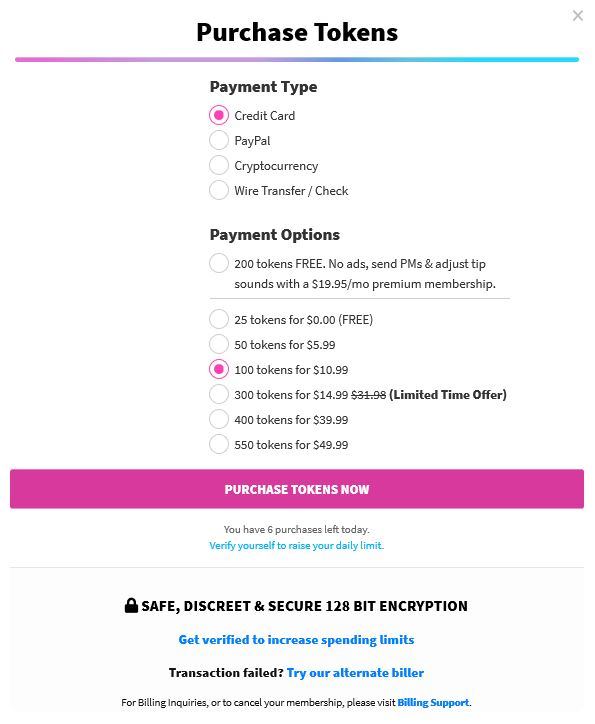 Take notice that 300 tokens normally cost $31.99. But, for a limited time, CamSoda has cut the price in half.
Membership Benefits
CamSoda.com's optional Premium Member package is a monthly subscription that comes in at $19.95. For this you get a whole host of extras including being able to have all the pesky ads taken off your screen and view multiple cam chats at one time. You'll also get 200 FREE tokens when you sign up for the first time.
But, make note...
The monthly Premium Member upgrade is automatically renewed each month, If you want to opt out and stop paying - you'll have to go in and cancel - otherwise you'll find yourself out of pocket $19.95 on a monthly basis.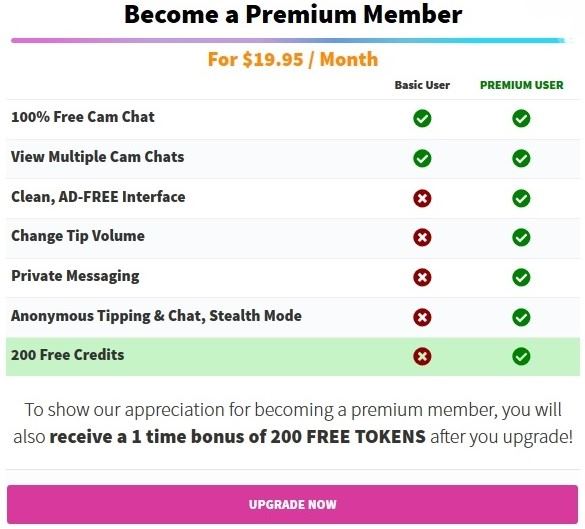 Customer Support
CamSoda has a decent technical support FAQ section that can help guide you in maximizing your experience by making sure you have the best browser settings, video plug-ins, and popup blockers optimized. As well, the FAQ section addresses common membership issues like billing and subscription.
When is comes to contacting CamSoda for issues you can not resolve on your own, there are phone numbers and live chat options to contact for billing queries. And for VIP members, there is an email contact for any issue at all.
Mobile Experience of CamSoda
For a freemium site, even a premium sex cam platform - CamSoda's mobile version is one of the best I've seen. It's fully optimized for every mobile device. Streaming is smooth and fast and get this... they have cam2cam over mobile or tablet devices.
Video Quality
The video quality on CamSoda ranges from top of the line - to blurry and annoying. It all depends on the streaming capabilities of the girl you're watching. Many broadcast in HD (780p to 1060p) but as with any public powered sex site - there's no control over how the cam models and exhibitionists transmit their naughty endeavors.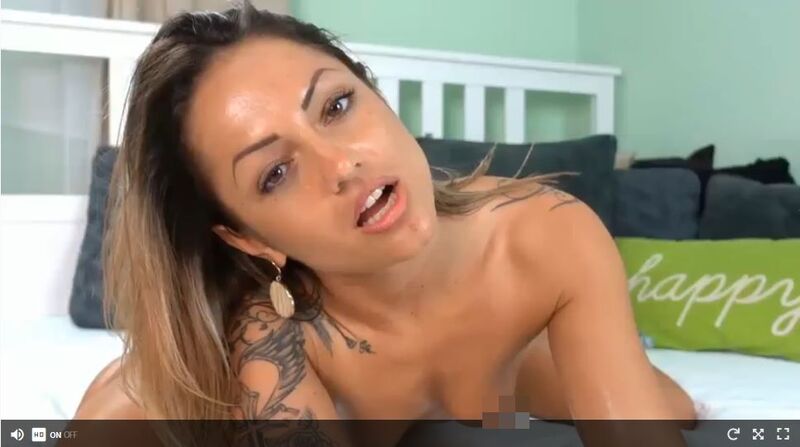 The Pros & Cons
Pros
✔ One of the largest selection of FREE cam girls
✔ FREE HD videos featuring porn superstars
✔ 200 FREE tokens the first time you sign up for Premium Membership
✔ 24/7 hardcore action at NO cost
✔ You can pre-schedule a private chat
✔ Huge range of kinks categories catering to every desire
Cons
✖ Weak search engine
✖ No comprehensive FAQs
✖ You can't see a model's private chat rate unless you have already purchased tokens
✖ Benefits for a Premium Member are limited
Before You Go
As far as CamSoda goes - forget the nots - forget the downs - just go there and discover for yourself why this has become the mega star of live cam sites. The fact that you can see almost anything you want in live porn for FREE makes up for any drawback you may encounter. If you consider you can watch 4K porn videos with major pornstars - then a couple of clicks later watch a curvy babe squirt all over her dildo and it won't cost you a dime - you've really got literally nothing to lose. Enjoy!