Getting started on Flirt4Free is as easy as ABC. A - a username, B - a password, C- an email address. You will have to verify your email address through a link they'll send you - so no faking it, guys. Once you've done this, you're set to rock n'romp with the hot hunks.

But beware... once you're registered the site will constantly bug you to whip out the wallet and fill up with credits.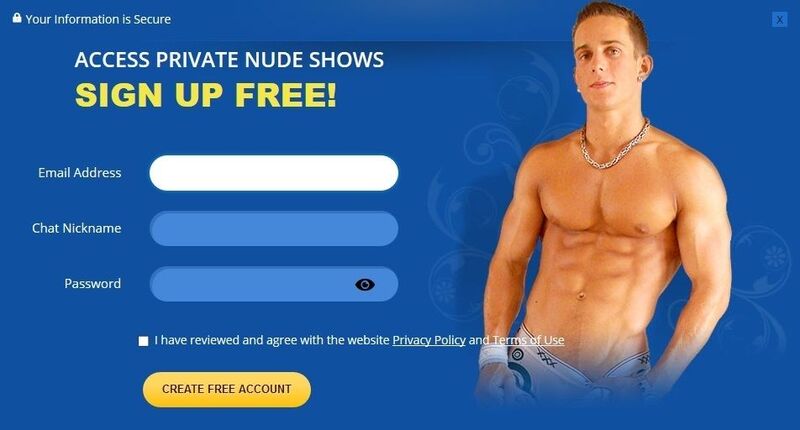 Chat Options
There's a chat option to suit every price point. From the free Open Chat rooms to what can sometimes be a bank-breaking Private Chat.
Open Chat
Before taking any of the paid-for chat options, spend some time with the gay cam host in his open chat room. Make sure the fetishes listed in his bio match what you want. For sapiosexuals - this is the site to try and the hosts aren't going to let you down. It doesn't matter if you have credits or not - the models are always up for a chat and genuinely enjoy a bit of banter. These hunky men are charmers - if a brain dead beefcake is more your thing then probably Flirt4Free isn't going to be your number one sex chat site.
Private Chat
So, this is what you'll want if you're looking for some one-on-one time with your new buddy. Once you've selected the lucky dude and have seen from his bio that he's also into your fave fantasies, it's time to throw down them dollars and get to business. Do I really need to add that cam2cam and audio are included?
Premiere Chat
Premiere chat models are those that have proven to be the most in demand video chat partners and they're priced accordingly. If you see a Premiere Chat banner on your buddy's profile - then you know you'll be paying top dollar for some one-on-one time with the Adonis.
Multi-User Chat
There a couple differences between a Multi-User and Private Chat. A Multi-User chat is pretty much the same as a Private Chat but cheaper. The rates are lower as additional visitors can enter the show/chat and participate. If the cam model is offering the Multi-User chat option, the price appears in the top right corner of their feed, next to their Private Chat rates.
Another great Tom tip:
If it's a quiet time and there aren't many other cam chat visitors in the model's room - go for the Multi-User Chat option. You'll most likely get the same attention and fun as you would in Private Chat - but at a much cheaper rate/min.
Group Chat
So the power of the crowd comes into play in the Group Chat option.The sex chat host sets a credit target they want to reach during a set time limit. If they reach their target - the show will take place. If the target isn't reached, the show is cancelled and the credits you paid are refunded. The host will set a minimum credit pledge - if you pay the minimum (or more) you're then guaranteed a front row seat for what is always a sex spectacle that'll make you wanna 'cum' back for more. But remember - Group Chat is a 'show'... that means Cam2Cam is off the books.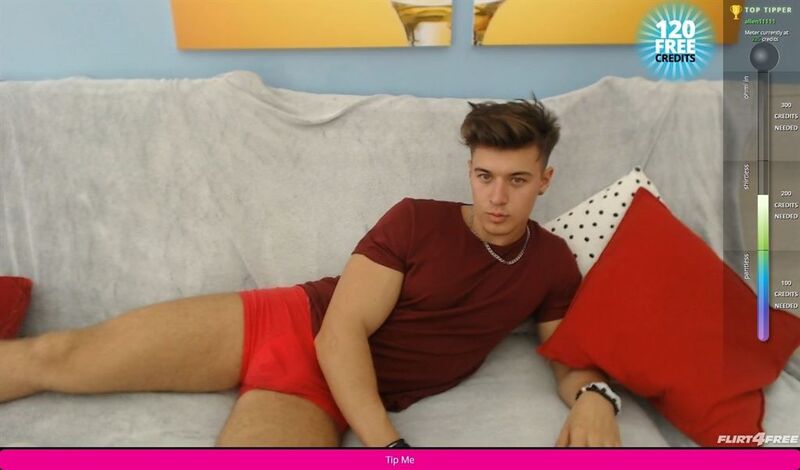 Party Chat
Party Chat is similar to the Multi-User chat option but... it's FREE to join. The host will start his show on the premise that you (And the other gawping boys) will tip him during his raunchy routine (and yes - the Party Chats can get hot and wet). But... if the tips aren't coming, the host with the most can simply end the show. Now, the more tips he gets - the more 'kinky' he tends to go.