MyFreeCams Review - Where Bashful, Sinful Cam Girls Play Dirty!
Last updated
January 19, 2021
Pros
Girls only site
Mostly amateurs
Good video quality
Full of kink
Cons
No guys or trans
More expensive
Well hello! I'm writing this on a Wednesday, halfway through the week, which is usually the time I get to thinking about trying to find a new adult cam chat site to both use to say a hearty hi to a few gorgeous webcam models, and of course to tap out a review for all my fans out there in fapland!
Straight onto the review. The site I ended up at was MyFreeCams.com, which is a really great name as it of course promises free sex cams. I don't have a great deal of cash hanging around for my sex cam activities, so anywhere I can get the good stuff for as little as possible is 100 percent fine by me! I'm sure you find things the same. MyFreeCams.com must have a jolly (in)decent reputation, as it was voted "Live Cam Site of the Year" by XBIZ three years running between 2011 and 2013. It has been up and running and providing sexy cam babes for over a decade, and some sources claim it has as many as 100,000 models, and more than five million lucky punters.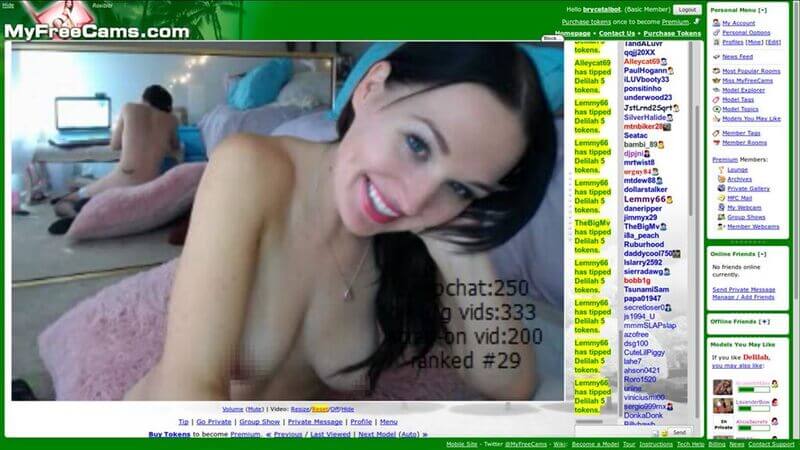 My Initial Thoughts ...
Well, it's hard to be too impressed when you first find yourself at MyFreeCams, as the site is very, very old-fashioned looking. As I said, the site was first launched in 2004 and to be honest, I don't think the people behind the site have updated its appearance since! Perhaps they're waiting for web trends to swing around again, and come full circle, but if I was them, I'd stop waiting and start coding. I'm hardly the fussiest person in the world (shut up!), but I like my chat sites to look all lovely, like Sexier.com, for example. if something looks amateurish, than I get all nervous when the time comes to divulge my credit card details as I think a scam is likely. I doubt MyFreeCams will scam you, but I think a little love and attention to the site wouldn't go amiss.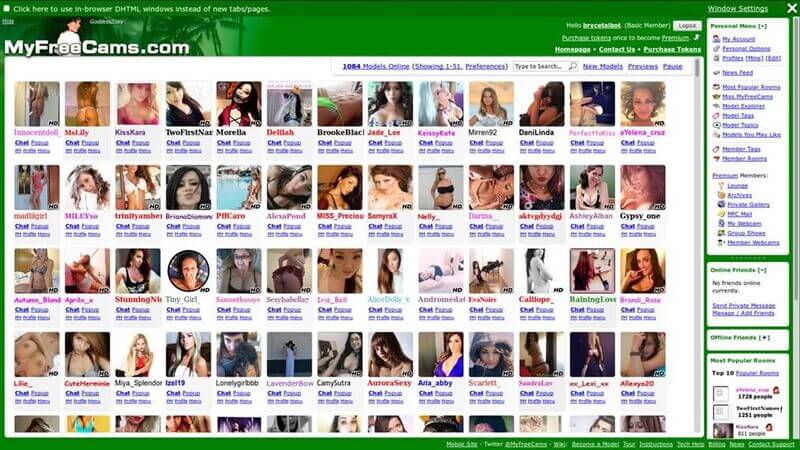 You also notice that the site is full of babes. If you like to see groups, transsexuals or guys, then you need to go elsewhere to find your carnal kicks, as it's babes, babes, babes as far as the eye can see. I didn't count 100,000 models though, just about 1,000 online. There's two ways you can sort your view out at the site: thumbnail or preview. The thumbnail view is of course just a look at the specific thumbnail the xxx model has provided, while the preview options allows you a very quick peak at what's happening in each model's room (still images only, but they are frequently updated). You can open multiple windows and fill your screen with cam shots if you like, but only at the expense of your bandwidth and processor. Picking a model you want to see more of will take you to her cam screen, and at first the cam viewing area is small - your screen is filled with junk - but you can increase the size.
Once you've found a sexy lady to your liking you join in with several dozen others for her free chat, most of whom will be begging her to do the kind of things normally only found in private. Some of the girls do actually oblige, begging for tips and private chat sessions. MyFreeCams.com isn't as raunchy as Chaturbate.com, but I have seen my fair share of tits and pussies in the free chat rooms. So models all ban Basic Members from chatting.
One word of warning - there are a lot of comments on the internet complaining of being ripped off by MyFreeCams. I ain't gonna repeat them here, and I haven't myself found a problem, but I do advise you to proceed with caution.
Those Extra Features ...
MyFreeCams.com would love for you to become a Premium Member, as that means you've shuffled from MyFreeCams to MyPaidCams, as it were. Premium Members get a few extra benefits, such as recording their live private shows for repeated personal use, and access to a special part of the site where members can chat and watch group adult chat shows at the same time. You also get bonus gifts, such as random free videos and photos sent to you. None of this is available if you're not a Premium Member - freeloading members only get to see the free cams.
How To Register ...
Registering for the site is only really necessary if all the free stuff ain't doing it for you, and you want to chip in and tip, and get the girls you like the bestest up real close and personal. All you need to register as a basic member is a username and an email at which MyFreeCams can send you your activation link. To switch to Premium Membership you just need to buy some credits.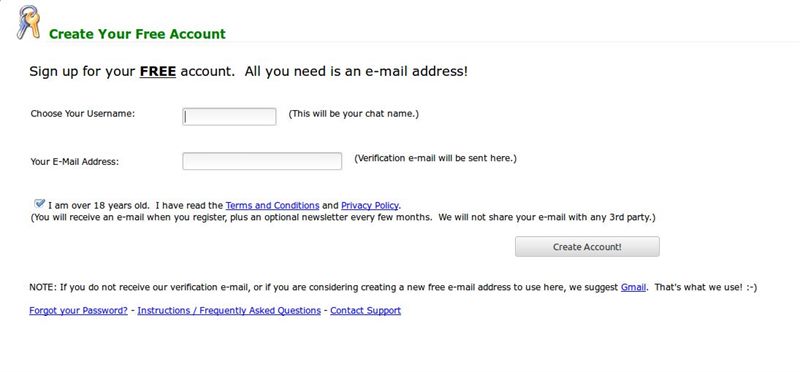 The Ways You Can Chat ...
All the cams at MyFreeCams.com are free, and you can chat with the model as much as you like (I do notice that the xxx models here tend to have their mikes on all the time, more than at other sites I've frequented). You'll be joining lots of other people in the chat, you usually bombard the chat windows with lots of annoying emoticons. If you want to head somewhere private, you can ask the model for a paid private show at one token per minute.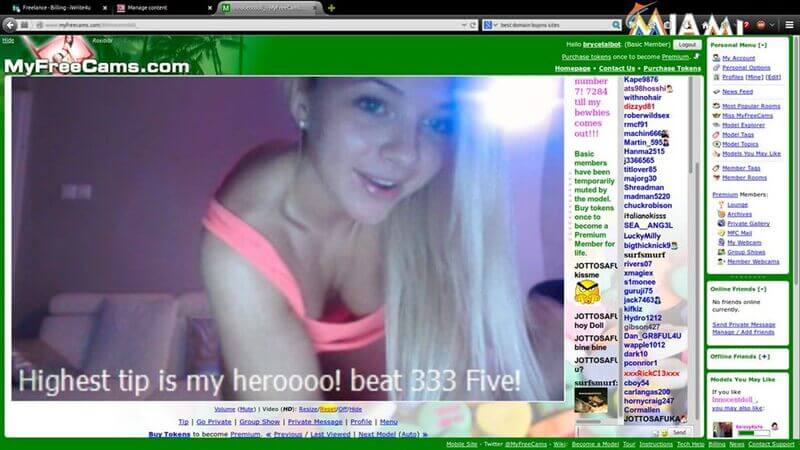 Quality of The Videos ...
Allegedly, most of the videos are in HD, but when you connect, the quality of the video is quite poor. The SD is even worse. Just to make sure it wasn't just me I looked around the web and found lots of other complaints as well, and about the servers at MyFreeCams.com which can run at a snail's pace.
How Much It'll Cost You ...
There is a set price for all models across the site. The rate is around $5.00/min for a private show. You can buy tokens as follows:
USD $
Price
Tokens
$19.99
200
$49.99
550
$74.99
900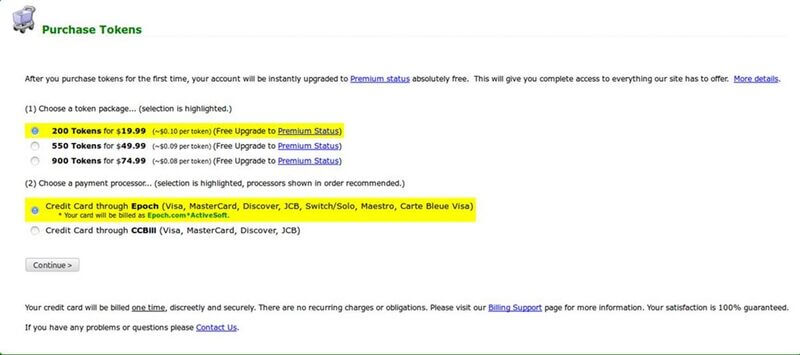 The Ways You Can Pay...
Visa, Mastercard, JCB, Discover, Solo, Switch, Maestro & Carte Bleue Visa only. No money transfer or eWallet payment methods are accepted.
How Many Models...
Supposedly around 100,000 models are registered with the site, but you'll only ever see around 1,000 online at any one time.
The Support You Can Get ...
Good luck! There are lots of complaints that MyFreeCams.com doesn't respond to email enquiries, and email is the only choice you have. If you get stuck using the site, there's a whole Wiki you can search for answers.
The Pros & Cons
Pros
✔ - Lots of models and of high quality, perhaps attracted by MyFreeCams.com's low commission rates
✔ - If you can ignore the moronic chatter, you'll see plenty for free in the free chats
✔ - There are some nice extra features if you don't mind paying for them
Cons
✖ - My "Free" Cams is a bit misleading as the site is "free" only for public chat
✖ - There are quite a few negative reports about the site on the internet, although YMMV
Winding Things Up
The best thing I can say about MyFreeCams.com is that I really think you need to visit it for yourself and make your own mind up about it. If you're in it for the babes, and only the babes just like me, then I guess you're going to enjoy the experience. If you like a few extra sexy tasty treats for your whole adult cam chat experience, then I honestly feel you need to be looking elsewhere, particularly when you take into account all the tales told by other users of the site about the ways they feel they have been ripped off. Let the punter beware!