SecretFriends Review - Get the Best for Less
Last updated
February 13, 2021
Premium
Clothed Free Chat
Free Registration Gift
Pros
Great video quality
Sale chat rooms
Hot models
Games and fun
Cons
Limited model count
C2C may cost extra
So I probably won't shock you when I say that live porn and X-rated video chat is somewhat of a not-so-secret passion of mine. I love kinks and kicks and pornstar cam girls bouncing their boobies for my pervy pleasure. I want a cam model who is hot, sexy, sweet and honestly wants me to get the most and more from some cheap private chat time together. This, my friends, is why I want to talk about the trending webcam site, SecretFriends.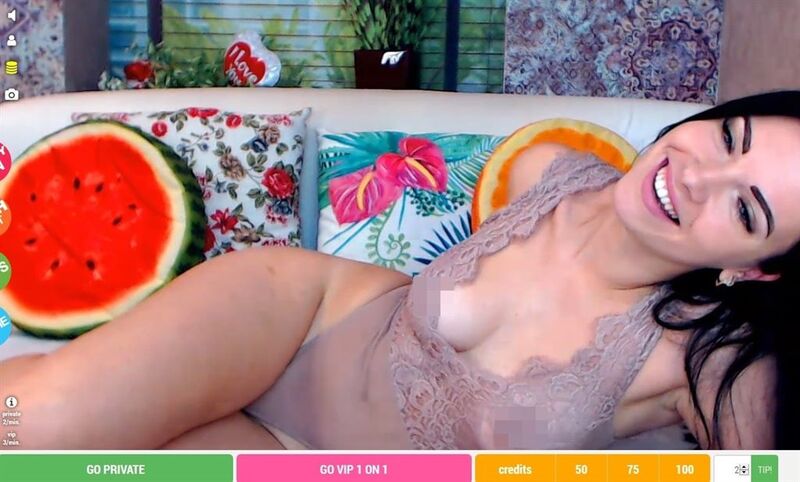 Although this adult webcam site has been around for many years, I always considered it not up to my sexy standards. But recently that has changed. The site has undergone some major renovations - so much so, they've changed my stubborn mind. And now, I grudgingly admit, they are more than deserving of inclusion in my round-up of the Top Rated Cam Sites. Way to go SecretFriends!
Webcam Girls
At SecretFriends you won't find hundreds and hundreds of cam babes online. At most there are maybe 100 of them live, sometimes even less. But what you will find is the video chat cuties truly act like the site says 'secret friends', albeit with some fine funky benefits.
Almost all the models are from Europe - so if your taste is more towards Latinas, Ebony and Asian then you won't find a great selection here. There are some and the ones that are registered are drop dead gorgeous - but you'll need to swing by the site during peak times to find them online. Same with the boys on the site, as there are currently only a couple of dozen registered male models, with only a few that actively come online at the same time. If you're looking for some dick tricks - I would look elsewhere. As for transgenders - they seem to have gendered past SecretFriends.
When it comes to couples - again - not a huge selection but not minimal either. As I write these words of wisdom, there were 140 registered cam couples on the site - but only a handful were online. They seemed to be evenly split between girl/guy and girl/girl. Basically SecretFriends is all about the luscious ladies - which I like. They're not trying to be the master of all trades (and sexes). They've focused on finding some of the hottest cam models that like to flirt and flaunt and also seem to genuinely enjoy chatting pro bono.

A word of warning...
You'll very quickly discover that some of the stand-out sex goddesses have a little star next to their name. Not a good thing if you don't have any credits in your account. These horny cam babes will only allow a Verified User into their free chat rooms. You hover over their snapshot and no live action appears. Only if you've already bought credits - can you see what they're up to and go chat with them. But don't worry - their chat rooms are still free. Quite simply, the live porn princess you're interested in prefers to get friendly with dudes that have a few dineros.
Finding a foxy friend that ticks all your boxes is exactly that - ticking boxes. At the top of the screen they list a few of the most popular search terms for the cam models such as MILF, Teens, Curvy, etc. I always end up selecting Filters and narrowing down to my faves (yes - big boobs and hairy pussies - you know me by now). I'm not that enthusiastic about SecretFriends search engine though. There aren't as many categories as most webcam sites offer and if you're looking for some kinks and hardcore fetish action - the search only brings up generic "fetish".
Normally the cam girls' bios list their preferred pervs. At SecretFriends - it's less about the kinks and more about the friends. Sure, it's nice enough I suppose to learn that the raunchy redhead is a Scorpio and likes dogs. But I personally would rather know if she's a domme or slave and likes doggy style.
SecretFriends Feature Highlights
SecretFriends does have some super cool extras that make all the difference to what otherwise would be an 'ok' sex cam site. One feature that gets my freak on is its XXX Portal. This, at first glance, looks like a mega library of porn movies and X-rated clips. There are thousands and thousands of hardcore movies you can watch, along with over 14,000 photos that would make your grandmother blush.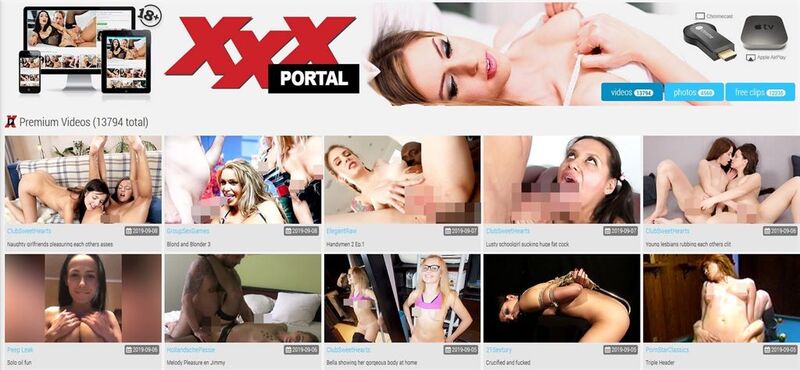 But - here's my kinky kicker...
It also has a Vintage Classic Porn Premium Videos category - yep dudes - 446 of the oldest porn productions you'll find. These date back over 100 years. It's a sort of hardcore History Channel for the horny.
While you have to pay extra to get access to all this nudity, sex, fetishes and historical 'data', the XXX Portal also has over 12,000 free porn clips that last a few minutes each.
At the top of the homepage, there's a bright bold option called Games. Most of these games are based on casino favorites. There's Blackjack, 5-card Poker, A Wheel of Fortune, A Slot Machine, even Scratch Cards. The games cost a credit or so to play - with the promise of jackpots that can ring up to 1,000 credits to your name. There's even a couple of FREE sex-themed arcade type games. But in all honestly, who wants to play games when there are naughty nude cam performers waiting to play with you, just a click away.
Another funky feature which is practical and I wish more webcam sites would offer is the Plan A Date option. If your chosen cam hottie isn't online or otherwise 'engaged', you can send an automatic day/time/length request specifying what you'd like her to do during her time with you.
Other fun features include:
Send A Selfie
Community powered content forum
House of Secrets - a series of mystery live performances
Live Cam Recordings
Make It Rain - Choose 5 girls with interactive toys and watch them all climax at the same time, under your direction
Getting Started
It's quick and easy to start making new secret friends. The discreet and secure video chat site just requires an email (make sure you use one you have access to), a chat-name/username and a password. Once you register, they'll send an email to the address they gave you. Click on the link to verify you're not a bot and you're ready to get friendly with a world of webcam wonderwomen.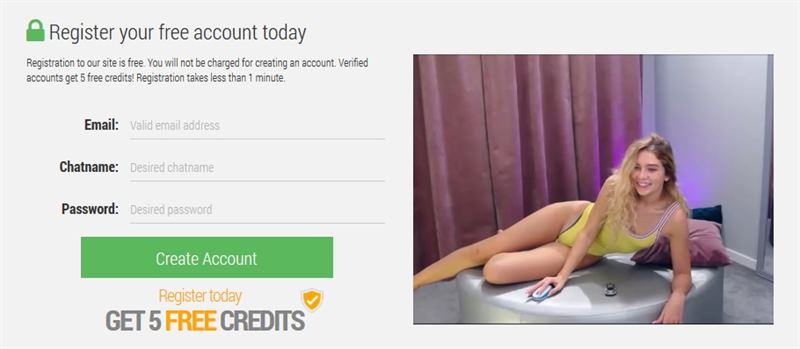 Chat Options & Prices
There are Free Chat Rooms, Verified User Chat Rooms, HD streaming rooms, Private Chat, VIP Chat, Spy Shows, Group Chat and something they call German Chat (I'll get to this in a moment).
Free chat needs no explanation. You simply hover over the girl's snapshot and a real-time video stream appears. If you like what you see, then go on in and chat for free. Most of the action here is pretty tame - but if she has an interactive toy - a tip gets it going and her going... and then you can start to see the webcam steam appear.
As I mentioned earlier, a little star by the girl's name means that you have to have bought credits at some point in order to enter her room. It's still free chat - you don't have to pay to chat - but she wants to know that you've got the goods to back up the balls.
When it comes to figuring out pricing - SecretFriends is one of the few live porn video sites that doesn't demand a math background to compute how much your fun is going to cost. Quite simply, one credit is worth $1.
Private Chat
So you've found the cam babe you want to get to know better? Private chat at Secret Friends is cheap, cheerful and worth every penny. Chat rates are standard across the board at either $2.00/min or $3.00/min, The model decides which price to charge. While cam2cam is included - audio isn't. You want to do some dirty talk - then this means enabling audio - and that's taking it up a notch to VIP Chat. Also - similar to other video chat sites - in Private Chat - other users can spy on your show. Of course they can't see you, only her.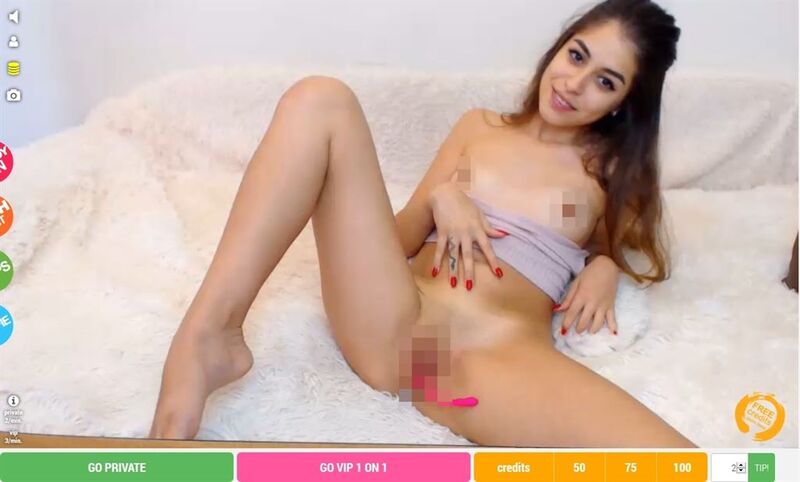 VIP Chat
The next level up from Private Chat. Add a dollar to the $2/min or $3/min you're paying for Private and now you're a VIP chatter. This extra dollar a minute gets you audio as well as cam2cam - it also means no-one else can take a look into your private show.
Spy Shows
You know by now the drill - it's you spying on someone else's fantasy. A quick peek through the curtain of private chat already taking place will set you back just $1/min.
German Rooms
These are chat rooms where the girls tend to think of clothes as optional and like to show off their kinky side from the get-go. They're called German Rooms cause on the top left of the hotties photo is a little German flag. This indicates the entry into her room is going to set you back $2/min. When you click on her photo - her bio comes up and another click means you're in the room and the meter is ticking. For me personally - I'm not so fond of this idea. Nothing against Germany, but for $2/min I'd rather go private.

Group Chat
So if a model's getting bored or wants to get rid of excess horny energy - she may propose a Group Chat. If you enter a Group Chat - it'll set you back $1/min. During the Group Chat some explicit action goes down, but it's up to the model what she does. If tips are coming in - she'll often get as naughty as you want.
Payment Options
SecretFriends takes a wide range of credit card and cryptocurrencies. And as with the sites I review, it's a 100% safe, secure and discreet live porn video chat platform. Purchases appear on your billing statements as 'epoch.com' so prying eyes won't know what you and your secret friends are up to.
Payment methods include:
Visa
Mastercard
Diners Club
Maesto
JCB
Discover
UKash
CrpytoCurrencies
Sofot
iDeal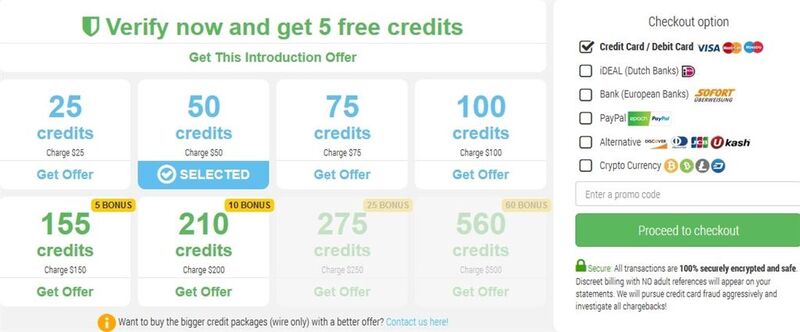 Membership Benefits or VIP Program
So this is where SecretFriends is different to almost all other webcam sites I frequent. As of now, they don't offer any membership or VIP Program. It's a sort of porn equality site. It doesn't matter how much you've spent or how often you visit - everyone's equal and it all comes down to the cash in play at that very moment.
Mobile Experience of SecretFriends
SecretFriends is extremely mobile friendly. With touchscreen, you can pan left and right, and zoom in and out of the chat room window. And, you can expect to see all the typical chat room features, like tipping, favoriting, and text chatting.
If you're using a mobile device that runs on the most recent Android operating systems, then you can open the FaceCam feature when in a private chat on your phone or tablet. For iOS devices, the FaceCam feature works with iOS 11.0 or higher, but without sound and only in Safari. The price to activate this cam2cam feature is the same as in VIP mode.
Video Quality
On some of the rooms you'll see HD written at the bottom of the cam girl's snapshot. This means she's streaming in glorious full HD1080p. Almost all stream in HD780p, which is pretty much the standard. Unfortunately though, not many of the horny hotties are yet using 1080p - although on the flip side - not many are broadcasting in SD either. Another minor gripe is that you can't search by full HD1080p - you just gotta scroll and scroll until you find the HD toggle on a photo.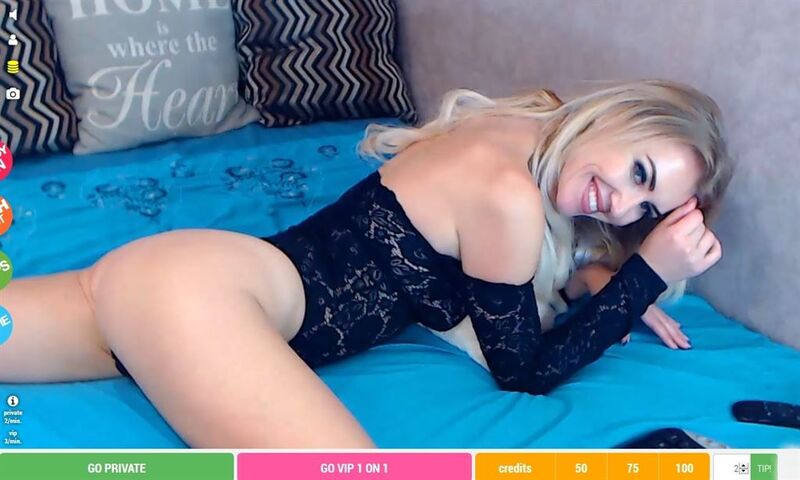 The Pros & Cons
Pros
✔ Score 5 FREE credits just for validating your credit card - no purchase necessary
✔ Cheap and uniform cam2cam rates
✔ Cam2cam on mobile devices
✔ Most stream in HD
✔ Monthly events and competitions
Cons
✖ No customer loyalty reward program
✖ Most cam girls only allow verified users into free chat rooms
✖ Not a huge selection of girls online at any one time
✖ Weak search engine
Before You Go
SecretFriends won't be for everybody. If you like a large selection of cam babes to play with and prefer your online hotties to be all about the X-rated antics - then this won't be in your favorites folder. Though, if you prefer quality over quantity and want to be able to have a chat with your chick - then you're going to be a frequent visitor to this XXX cam site. The prices are cheap - but don't forget you're having to add an extra $1/min if you want to include 2-way audio. I'd recommend you go check out this sexy video chat hangout and let me know if you find your new secret friend there.