Top 5 BDSM Webcam Sites
Published
December 18, 2019
BDSM is so much more than the physical - it's a mental game that with the correct cam partner (or partners) can literally blow your mind. Whether you're into bondage/domination and sadism, or prefer discipline/submission and masochism - without the right playmate it ends up being flacid fun at best. I've dived deep into the dungeons to find my top 5 fave fetish cam sites for BDSM. Some are fetish-centric, others are premium porn live cam platforms with fantastic BDSM babes. So, for some safe, secure and discreet deviancy, check out these 5 winning webcam bondage blockbusters.
---
FetishGalaxy
Now I don't want to whip you up into a fetish frenzy, but if you're a fan of the freaky and a lover of live cam shows then FetishGalaxy is going to have you at first bite. If you're looking for a BDSM cam cutie to kneel on your command or spank your naughty ass, then there's going to be no argument from anyone when I say get on over to FetishGalaxy. With bare bone cam chat rates, expert dominatrixes / submissives and extreme exhibitionists - FetishGalaxy is a true mega kingdom of kinks.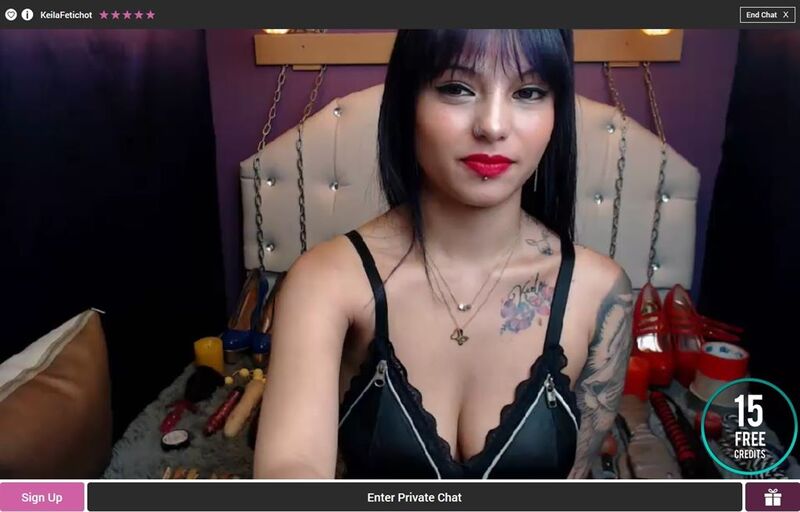 FetishGalaxy is all about the non-vanilla variety of sexual flavors. The second you enter the site, you see it's a BDSM (and more) playground. The first three tags in the top nav on the homepage are Bondage / Domination / Submission. Of course there's everything else from anal training and whipping to fisting and feet - but for the hardcore hotties that are filling up your screen, they want to get wet and messy with some pain and pleasure (the rest is just the icing on the kinky cake).
What I love about FetishGalaxy is that you don't even have to search via your preferred proclivity. On the homepage, snapshots of your potential playmate feature a bright bold button indicating whether she's a domme, a sub or an educator. There's no wasting time here.
One thing we're all into is cheap chat and FetishGalaxy doesn't disappoint with video chat prices starting at just $0.85/min. Most rates though come in at a very reasonable $2.60/min.
Insider Tip: If English doesn't get your tongue wagging, then no worries, the site is available in 15 additional languages. Looking for a bit of free fun? While the public chat rooms tend to keep things covered and controlled, if you see a Teaser sticker on the photo - this means the cam girl is about to start a Candy Show where the gloves and everything else is stripped off for an extreme extravaganza. These Teasers tend to be risque and provocative and you don't have to pay a penny to watch.
Score More: So listen up - if cheap isn't cheap enough, many of the models cut their rates by 10% on Mondays - what a way to start the week! Also, if you're a good (or very bad boy) some of the sex sirens have discount codes that they'll give you enabling you to get an even bigger reduction on the price of your private cam2cam sexcapade.
FetishGalaxy can't be beat for those of you with some sexperience in BDSM under your belt. If you're a newbie to the scene - take it easy and let the cam partner know - they love to lead and are all professional so they know exactly what to do to make sure you're going to have the best (or worst, depending on your desire) time ever.
---
LiveJasmin

LiveJasmin rules supreme as the empress of extreme video chat entertainment and the girls that populate this premium cam site are queens of quirks. It's not a dedicated BDSM live cam site but the platform has a strong fetish sub-category featuring at any one time, at least a hundred plus broadcasting cam rooms catering to the crowd with the kinks. This site will have you captive within seconds, the girls are stunners, most of the feeds are HD (if not full HD) and with a few insider tips listed below, you can escape your chains with some secret savings that'll cut your chat rates to mere price pricks.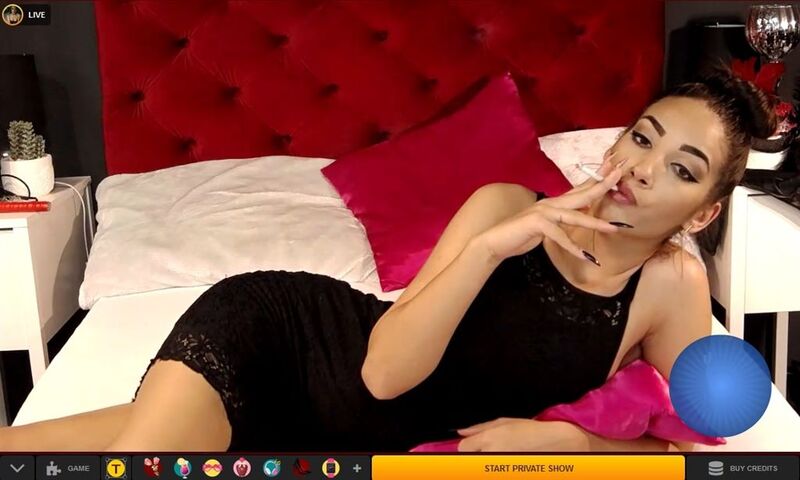 When you land on LiveJasmin's sexy shores, go to the left of the screen and select Fetish. This will bring up a gallery of the most amazing leather and latex clad goddesses. You can then either scroll through the tempting photos and click on the small info icon on the top left of their live feed to find out more about their pervs and passions. Or, simply click on the search icon on the top right of the home page (next to the magnifying glass symbol) and under the Willingness category, select your preferred proclivity.
Now all these madams and mistresses are not only experts in their fetish fields, but they're burning hot babes. The top earners can justifiably charge as much as a torturous $11.00/min, but that's by no means the average. Most charge $2.40/min for some one-on-one private video BDSM chat with others prepared to give you a great beating or cum on command for just $1.00/min. This though doesn't include cam2cam which is an extra $1.00/min on top of the regular rate.
Insider Tip: Check out the girls that are listed under the Exclusive category. These are the girls that only perform on LiveJasmin and to be in this group they have to be the very best of the best. It also means you don't have to fight for their attention among hundreds of other hardcore viewers and potential playmates from other sites that have feeds to their free chat rooms.
Score More: No matter your perv, everyone of us takes pleasure in getting something for less than the rest. Always check out the Promotions on offer. You can find these on the top nav bar of the homepage. For example, if you validate your credit card details (without making a purchase) the site will gift you 10 free credits. Other savings include a 'wheel of fortune' (promotion present for short terms throughout the year) that you can spin before your first purchase of site credits. If you're lucky, you can win 100% extra credits to be added to your chosen credit package.
So we all like to let loose and get down and dirty but at LiveJasmin, their dungeons are premium HD streaming caves. The cam performers can't only say they're into BDSM and flick a whip to prove it - they're all verified pros in their chosen kink and believe me, these stunning seductresses can teach even the most dedicated fetish freak a thing or two about restraint or restrains.
---
Flirt4Free

Flirt4Free is a leading premium cam site that also happens to have a not so hidden leading premium fetish community. Their fetish community is not just about the on-cam action - it's a treasure trove of education, information, conversation and forum threads - a Pandora's Box for pervs that has something for everyone and where you can find like-minded dudes and hardcore hotties wanting to share the freaky fun. Strap-in and cuff-up my fellow aficionados and find out why Flirt4Free may just be your new bondage buddy.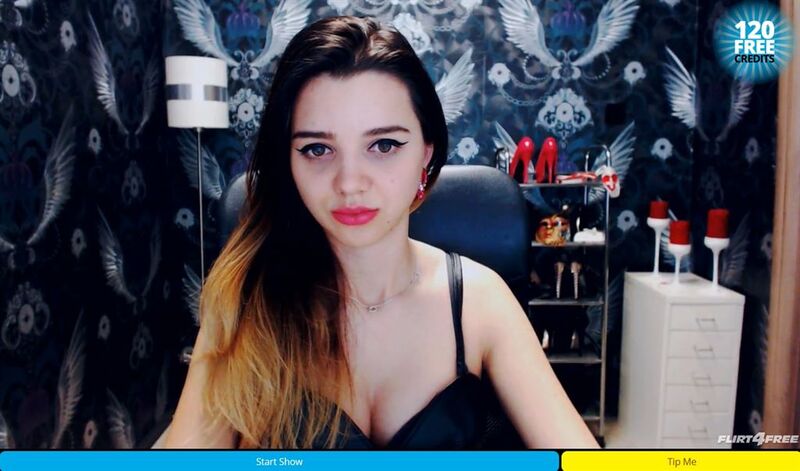 When Flirt4Free fills up your screen, go straight to the Fetish page that appears in the drop down menu of the Live Cams on the site's top nav bar and start your fantasy fulfillment from here. The Flirt4Free micro-site is an all-inclusive porn platform of kinks and quirks. From cam models that are active in the extreme, to beginners' guides to bondage and blindfolding tips - it's all here.
If you're not looking to bone up on your kink knowledge then the 52 fetish categories are going to catch you for sure. From corporal punishment and CBT, to collar & leash and stilletos and whips - you can see which cam hosts are into the freak, how many are online and even which are the top rated XXX performers in each group.
For a premium cam site, Flirt4Free should dominate the BDSM cam world, but the one tiny weeny reason it hasn't beaten the other sites into submission is its prices. Costs for some one-on-one, cam2cam chat fun average around $4.10/min. That's pain - not pleasure - whatever your particular perv. But, before you give the safe word and head on out of here - I've got a few secrets to tell. There are some raunchy rooms that start at just $0.45/min, but in the fetish field, they're few and far between. So, just between you and me, there's a few things you should know...
Insider Tip: The site is always offering promos but they're sometimes a bit hard to find. If Promo isn't listed in the drop-down menu of Live Cams (which is in the top nav bar) just scroll all the way to the bottom of any page and in the nav bar there's a group called Live Chat. Under this title look for Promos. Select this and you'll see all the discounts or offers the site is hosting and may not want to publicize.
Score More: Some of the porn princesses quietly offer deals giving extra free minutes of video chat. For example, if you pay for a 15 min cam chat with a humiliating honey, you may get an additional 10 mins (more or less) for free if she's offering a secret code. To find these, repeat the above instructions and instead of selecting Promos - select Deals.
If you search out the deals, and take advantage of the promos, you'll find yourself with a fetish femdom cam model that you can whip up into a frenzy (or vice-versa) for pennies. I cannot recommend strongly enough that you take your time and follow my advice. Believe me dudes, you'll be grateful you did because costs aside, Flirt4Free is one of the best bondage and slave live cam sites around.
---
Stripchat

Unlike the other sites included in my round-up of the top 5 BDSM webcam sites, Stripchat is a freemium sex chat site, which means anyone can set themselves up as a cam host. It also means you'll get a lot of nude hardcore action taking place in the free open chat rooms. While it may be hard to get to the fetish-centric cam rooms - you'll certainly have a lot of fun in finding them. At this site, the vanilla tends to be extreme and the models are as passionate about their pervy porn role-playing as their viewers are in taking part in it.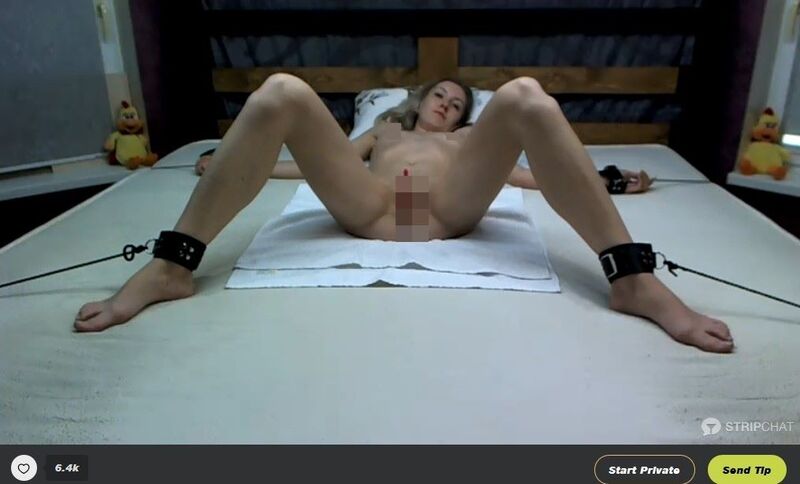 To get to the gals that wanna tie you up or enjoy some sexy self-bondage, the quickest and easiest thing to do is ignore all those seductive snapshots that fill the homepage and go to straight to the left hand nav bar. Scroll all the way down to the very bottom till you reach the button that says Show All Tags. When you select this - an alphabetical listing of the major search tags appears. This shows how many rooms relating to the keyword are currently broadcasting.
While the free chat rooms show some real XXX action taking place, when it comes to BDSM, most of the action takes place behind a virtual curtain and you'll have to go into a private chat session to get things started. Word of advice, even if you like what you see, message the cam model before going private to double check they're fellow fetish freaks. Even if they tag themselves as up for it - some are somewhat 'loose with the truth'.
Private cam show sessions start at a pain-free $0.75/min and can top out at a torturous $8.65/min. On average expect to pay around $3.00/min. Also, be aware that some cam performers include cam2cam in their prices - while others will charge more - up to double the cost of their non cam2cam private session.
Insider Tip: If you're a lucky lad with a VR headset - Stripchat is currently the only cam site that has rooms that offer Virtual Reality (VR) Shows. If your chosen model has the VR icon on her snapshot - buckle in for a wet and wild ride. These shows cost the same as a private cam chat show and will take your online bondage cam sexperience to a whole new level.
Score More: Every hour the site gives away 500 free tokens. That's 50 tokens each to 10 lucky members who are currently logged on to the site. In any chat room, go to the bottom of the message box on the right of the video feed. There you'll see a box that says 50 Free Tokens In Giveaway. Select this and then select Participate in Giveaway. You can do this every hour for as long as you're on the site.
If you're looking for some free fetish fun or simply wanna play with a partner that isn't a pro - then Stripchat is a great option. Don't expect the bondage babes or the sexy subs to be of the level of the extreme exhibitionists on the premium cam sites, but then again what they lack in video streaming capabilities and polished performances, they certainly compensate for in their willingness to up the ante in extreme action. If you're looking for some amateur antics - then Stripchat is definitely worth a wank to.
---
XLoveCam

If you're looking for a mademoiselle to be your mistress or a senorita to be your slave then grab a fetish flight over to XLoveCam. This European based sex cam platform is available in 27 languages and the naughty cam babes on it make it look like the U.N. is in cam chat session. To be brutally honest, it's generally not one of my fave cam sites, (others are cheaper or have better babes on board). But, when it comes to finding a great domme / sub or simply getting schooled in self-bondage, the sexperts at XLoveCam are some of the very best.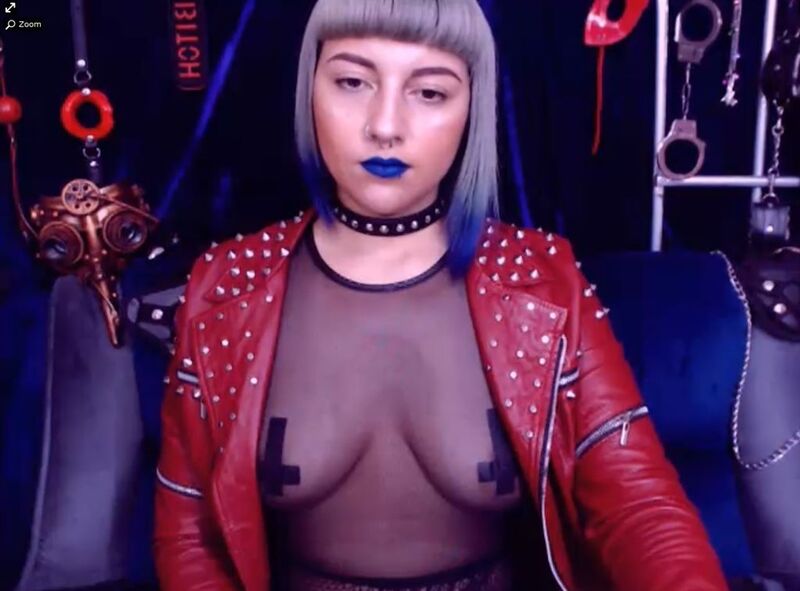 First things first, when you get into the site, the usual gallery of sexy snapshots appears showing online cam cuties looking for a porn party partner... don't get distracted. Go straight to the left hand nav bar and under categories select Fetish Females. These ladies are obviously into the darker side of deviancy. They're not just part-time BDSM babes - these are the hardcore hotties that take pleasure in the perverse and aren't looking for some gentle get-to-know-you cam time.
Even if not many are online (sometimes as few as 20-30) you can scroll through all the models who are XLoveCam fetish femmes (even if they're not online). If one catches your eye and you want to investigate further, check-out her info. Many of them post online performance schedules, so you know when to expect to see her seductive streaming. If you don't want to wait and the fetish-centric sex stars aren't doing it for you - don't ignore the hundreds of broadcasting babes that appear in the general porn population of the site. If you see a chick that's got that certain 'je ne sais quoi', check out her bio. Many of them are still into the rough stuff - but just prefer not to limit their options.
Prices for some one-on-one private cam chat start at just $1.10/min, averaging out though at $2.00/min for a session. A quick heads-up when it comes to streaming, once a video loads it takes a few seconds for the quality to smooth out, so be patient if you see a low quality feed - chances are it will quickly improve. Saying that, not everyone on the site is streaming in HD, those that do, have a small HD icon that appears on the top right of their snapshot when you hover over it.
Insider Tip: So you've found a ma'am that you wanna take to the next step but still aren't 100% sure if she's worthy of your wallet. Many of the models offer a Sneak Peek. This mean you can have a 20 second silent peek into their ongoing private show for just $0.50-$0.70. This is a great and cheap way that'll help you decide if she's a time waster or a timely taster.
Score More: When you sign up to the site you get to watch a VIP X-rated video clip by one of the gorgeous girls for free. Not all cam girls have videos, and those that do, will have them in varying lengths and hotness - so choice wisely my friend.
At the end of the day, XLoveCam is worth checking out if you're into hardcore amateur BDSM babes and English isn't your mother-tongue. After all, you gotta make sure everyone understands and can pronounce the safe word, which can be quite hard if there's a gag and ball muffling the moans. My advice, if you're an experienced extremist - go straight to the fetish category and stay there. Though, if you're taking your first wobbling wanks into the lifestyle, check out the girls on the main page and take a look at their bios to see if any of their pervs correspond to yours - then take it from there.
---
Conclusion
When it comes to bouncing balls with a bondage babe or a submissive slut, you've gotta pick wisely. Are you a hardcore hunk or more of a newbie looking to get your feet tickled (or sucked) into the world of BDSM? Depending on where you stand (or lay) I'd recommend different sites. For those of you that don't need my advice on what to do with the whips and nipple clamps, I'd suggest you drop your pants and flock on over to FetishGalaxy. If you're less of an expert but looking to learn some tricks of the trade - then LiveJasmin it must be. Either way the sites listed here are all discreet, safe and of course as deviant as can be, so find your fetish and have fun, friends.