Top 7 Premium Adult Webcam Sites
Published
January 29, 2020
With so many premium adult cam sites to choose from, you wanna make sure you're getting the best bang for your buck, the sexiest babes around, amazing X-rated extras and of course cam2cam options in hot HD. Read on to find out which are the top 7 premium sex cam sites and how to get the best out of the best.
---
LiveJasmin

Coming in at the number one spot is that perennial favorite - LiveJasmin. This live porn platform is one of the largest and most popular webcam platforms around, and for good reason. With over 1,500 bootylicious babes streaming in HD, day and night, from all corners of the globe, if you can't find what you're looking for at LiveJasmin - it probably doesn't exist.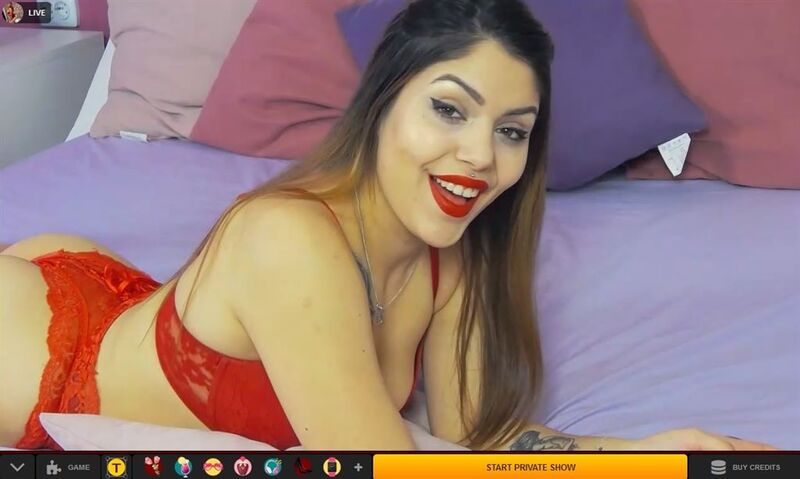 With so many sex sirens online at one time, it can be overwhelmingly hard to choose a fave to focus on. Start off your cam odyssey by narrowing down your results to the type of girl that gets you going. Blondes, brunettes, petite, big tits, hairy pussies, tattoos or piercings - you'll find them all. Once in a free chat room (where things are tame - no nudity or freaky fun stuff here) check to see if the HD icon appears on the left side of the live feed - if so - make sure it's activated so you can get up close and personal in crystal clear quality.
While prices at LiveJasmin can get high, there are many ways to cut the costs to rock bottom if you know how. On average, a private cam show comes in at around $2.40/min but, there are cheaper, and there are way more expensive rooms. One thing to remember is that cam2cam shows are an extra $1.00/min on top of the regular rate and if you want 2-way audio - then add on yet another buck.
Expensive? Nah... not if you know the tips and secrets which you're about to find out.
Insider Tip - To get some hardcore action at a really cheap price - check out a VIP Show. For a few credits (around $2.00-$5.00 a show), you can sit back and watch a no-holds barred live porn performance where everything is stripped off and juices flow.
Score More - Before you purchase a credit bundle, make sure you Spin The Wheel. This game of chance can reward you with up to 100% extra credits on the bundle you've selected. And, don't forget to grab your 10 free credits when you validate a credit card (no purchase necessary).
If you're looking for something with a bit of spice, take a gander at LiveJasmin's wonderful Willingness category. Here you'll find the kinks and the kicks and fetishes of the babes that are into your particular perv.
---
Flirt4Free

Talk about a two-faced site. On one hand you see snapshot after snapshot of angelic looking angels lounging in their boudoirs looking for a play pal to whittle away their time and then, as you delve deeper, you'll discover these angels are missing a wing or two and are actually freaky fetish loving femmes who like to get down down and dirty in a premium private porn performance.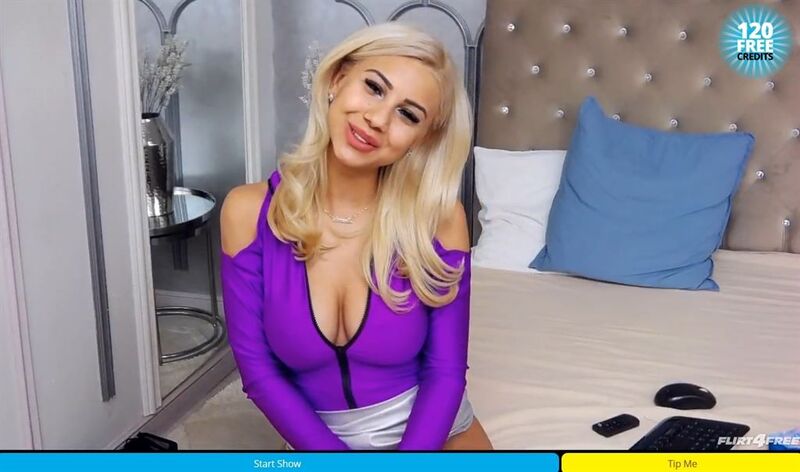 There's normally around 600 plus rooms streaming at Flirt4Free which places it in the middle of the range for a premium live cam site. What makes this site stand out from the rest though is its genteel focus on the kinkier side of life. The site's renowned fetish micro-site features not only 56 categories of kink and the passionate performers that practice them, but it also has a user-powered forum where you can post your deviant desire and see which licentious lady wants to on-cam partner with you in the deed.
So, if you're looking to practice your pegging, bone-up on bondage, flirt with a findom or just wank off and be watched, there's a sexpert at Flirt4Free that's waiting for her (or his) invite.
When it comes to forking out for the fellatio, or whatever it is that's getting you hard and horny, ignore the first pain you'll feel when you hear that on average, cam2cam sessions stand at about $4.10/min. Newbies to the site generally warm up with shows at just $0.45/min and believe me, new to the site they maybe but they sure know a thing or twenty. (By the way cam2cam is included in all rates).
Insider Tip - It's worth upgrading to a VIP membership level ($40/month fee). Among several benefits is the ubiquitous use of your webcam. You can enjoy cam2cam action not only in a private cam show, but also in a girl's public chat room (only the model can see you) as well as Party Chat and Group Chat Shows.
Score More - Whatever you do, don't buy credits or book a private show before checking out the site's ongoing Promos and Deals. These not only give you bonus credits depending on their terms, but the deals can double the amount of time you spend with a specific girl. If you're lucky, you'll end up paying half the price for double the amount of time...Sweet!
Just a quick word of warning though, after all this gushing -- many of the rooms claim to be HD - I have my suspicions about this though.
---
ImLive

ImLive is a premium sex cam site that's so much more than cam rooms. It's an extreme entertainment hub of horniness. Porn-star shows, competitions, XXX videos, sex themed parties - you name it - it's going on at ImLive, But, if it's live porn cams you're after, then these deviant distractions won't even get a second look when you've always got 400-500 streaming rooms to perv through.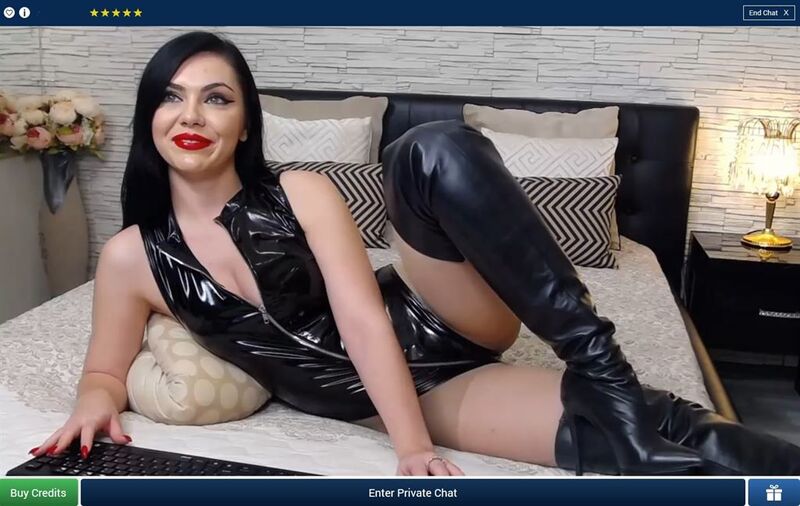 ImLive has some features which I wish more premium live cam sites had. At ImLive you can view six rooms at a time. We've all been there, entered a room and found the rocking red-head of our dreams but she's busy typing to someone else or more interested in touching up her already too heavy war paint. So we wait for a few seconds before reluctantly moving on (tits and ass wait for no man after all). ImLive has a multi-room option where you can cast a pervy eye on six live feeds at once.
Prices at ImLive are low, really low, but so is most of the video quality - I suppose you can't have it all. Another great feature that should be replicated industry wide is that one credit simply is worth $1.00 and you can get some great private chat starting at $1.00/min, but on average you're looking at putting down $2.25/min.
Insider Tip - Keep an eye on those membership levels, they really give you great perks such as discounts on private chat / free access to models' XXX photos and movies, and even free entry to guest pornstars' live shows.
Score More - If you have a wet and wild connection with a particular princess join her Discount Club - this will give you extra discounts on private chat making her cheap and cheerful (but in the best way possible). Also, the site has constant competitions and themed promotions that'll boost up your credits.
Gotta mention a couple other things that makes ImLive a sex-crazed dudes' home away from home. This webcam wonderland really does Fulfill Your Fantasy. This is a great feature where you just write down your fantasy and watch as the offers flood in from eager exhibitionists (between you and me - they compete on prices... meaning you get some kinky action tailor-made to your needs for pennies/min.
Also a quick heads up - the babes tend to stay clothed in the free chat rooms - this is a premium adult cam site after all. But (and yes, there's a nice big juicy but here), check out the naughty nymphos who are getting ready to host a Candy Show. If they're in preview mode, you'll get an eyeful of clits and tits and often some really amazing anal acrobatics.
---
LivePrivates

If you've ever tried to describe to someone what sex on a stick means, just tell the person to head on over to LivePrivates and there they'll see around 1,000 HD streaming sex on sticks. The babes at this site are lethal to the loins. These gorgeous, horny, pervy sexperts take live sex cam shows to a new level with their angelic seduction that transports you into their world of wanton wonder.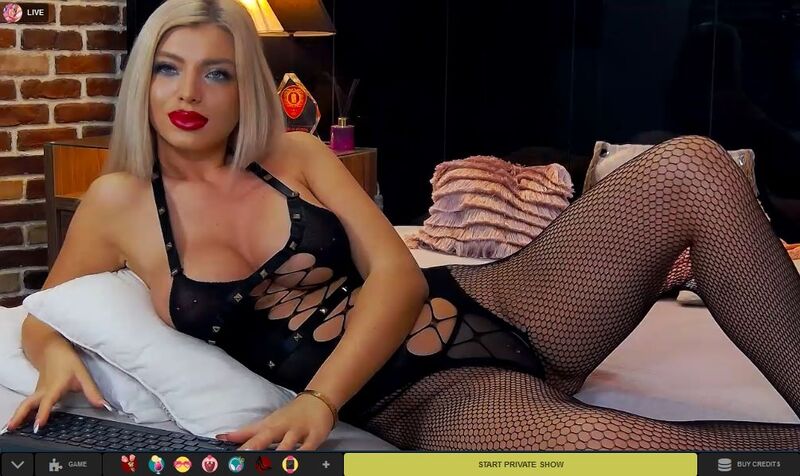 The free chat rooms are amazing in so many aspects apart from one. Every room is professionally lit and laid out ensuring you won't miss a shake or twerk off-camera and like a professional actress, the welcoming host knows just where to position herself for optimum viewing pleasure. The girls themselves look like they've just walked off a photo shoot for lingerie. They play to the camera like the live porn professionals they are, titillating and teasing with hints of what's to come in a private cam session. But that's all folks... If you're looking for a nip slip, some pussy play or some quick ass action you're going to be sorely disappointed. I know I always am.
Onto the really dirty business of money. All of the above doesn't come in cheap (unless you follow my cost-cutting tips). First of all cam2cam and 2-way audio aren't included in a cam girls' chat rates - you have to add an extra $1.00/min for each of them. The cheapest rooms start at just $1.00/min but the average rate is around $2.40/min. Some of the top tits can command a whopping $12.00/min (without c2c and audio).
Now on to my cost-cutting tips:
Insider Tip - Check out the rooms that are on Sale. If things are quiet or the girl's feeling generous, she'll slash her rates to the minimum $1.00/min. There's always a good selection to choose from - so for penny pinchers like me - it's my first porn port of call.
Score More - Whatever you do, make sure you Spin The Wheel before you stock up on credits. You're pretty much guaranteed a win of anything up to 100% extra credits on whichever bundle you're about to buy. And, for first-timers, if you register a credit card (even without making a purchase), the site will comp you 10 free credits as a thank you and more than that, you'll get ten 20-second free Sneak Peeks just for signing-up for FREE membership.
I gotta mention too that the guys and shemales at LivePrivates are just as awesome as their female friends (I don't want anyone calling me sexist!). Back to the ladies, glamor models they may be, but they're also sex kittens and this is obvious from the menu of options on the homepage no less. Hairy pussy, Squirt, Strap-on, Masturbation, Dominatrix, Deepthroat, Lesbian and the list goes on. You can find your angel according to your fave fetish with just one click.
---
Cams

Cams has a bit of everything and in one special case - a lot of something unique and very sexual satisfying. But I'm getting ahead of myself, let's start with the performers of its kinky cam crowd. In this on-screen cast you'll find verified porn super-stars, seasoned cam babes, amateur exhibitionists, horny housewives and even kinky GILFs. And don't get me started on the long list of trannies and guys that are looking for a spot of mutual masturbation.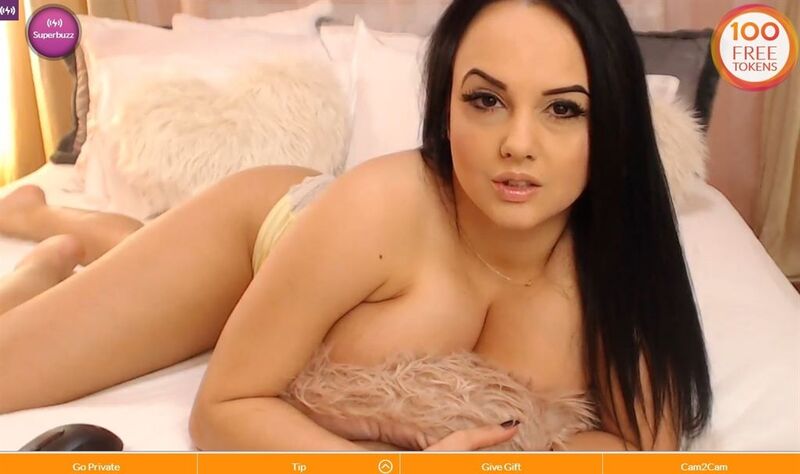 With hundreds of HD live video feeds from around the world and a spicy little game changer called the Connexion, Cams.com covers the live porn spectrum with shows tailored for cam connoisseurs to those dipping their digits into the pervy pool for the first time.
The homepage is a mass of masturbating hysteria making it quite hard to get to the hardcore happenings that suit your sexual taste. First off, I'd recommend taking a look at the snapshots clearly marked with HD. The menu of Ethnicities, Kinks, Specialties and Body Types also helps narrow down the options, but what I like is the site's tag search engine. Just go to the top nav bar, select Tags and you can see a hundred different options including languages, boob size, fetishes etc., and how many models in each category are currently streaming.
When it comes to paying at Cams, the rates aren't that low, On average it's approximately $3.00/min to take a room private, with the cheapest bedrooms starting at $1.00/min - and this doesn't include cam2cam or audio which are extra.
Insider Tip - Check out New Models (you can find these by clicking/tapping on New Models in the top nav bar). Most of these lewd ladies are starting out at the bare bones charge of just $1.00/min and tend to get really freaky and wild in their free chat shows.
Score More - Once you've been on the site for awhile, you'll no doubt have a few fave femmes that rock your cock. You can save up to 70% on private titty time with them and get free access to all their X-rated pics and clips by joining their Fan Club for just $11.00 - $15.00/month.
So, now onto that special sexual something I mentioned earlier. Cams has an interactive two-way vibrator feature. If you have a Lovense Max, you can sync it with the model's Lovense Nora and start throbbing in orgasmic unison finishing with a duel squirt if you're lucky.
---
Streamate

If you're one of those people that find it hard to make a decision then I wouldn't recommend Streamate as a premium sex cam site for your porn patronage. There are over 1,000 cam rooms (most in HD) streaming 24/7, with models ranging from gorgeous glamor girls looking for a break into the business, pornstars past their prime, bored MILFs with passion for BDSM, dildo loving divas looking for someone to watch them squirt and more. But this is a premium, pay-as-you-go site, meaning great site features, stunning sex goddesses and none of above happening for free (unless you know a little secret).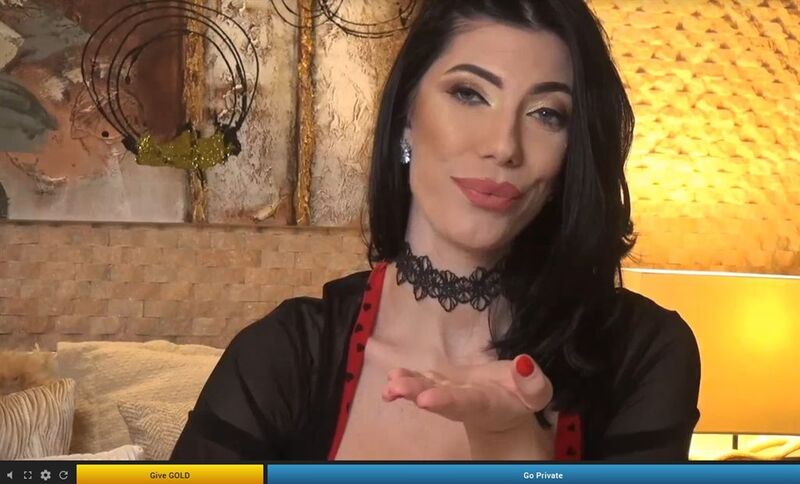 I'm going to be honest here, Streamate has quite a few disadvantages that we cam connoisseurs find annoying and one great advantage that we love. Bad news first, prices are all over the place (and you can't filter your results by private cam chat rates) and apart from XXX cam shows, there's not much else happening at the site.
Now for the goods news, Streamate has a pay as you go system. No stocking up on credits and running out at the most inconvenient time, you just register a credit card or PayPal account and jump right in. At the end of the month you're charged for how much you've used and if you're new to the system, don't worry the site caps novice users at $25/day.
That's good but on the other hand - there are some bootylicious babes that command $15.00/min for one-on-one private porn chat, so I'd stay away from those wowzers. On the other end of the slippery scale, some chicks set their rates at just $1.20/min - on average though it's around $3.20/min for a private 1on1 performance.
Insider Tip - While many of the rooms are HD friendly, they may not automatically stream in the best resolution. On the bottom left of a live video feed is a video settings option. Select it to find the optimum resolution for your screen, otherwise you could be settling for far less than you deserve.
Score More - Free hardcore action can be found (albeit for a minute or so) if you go to a babe that's gearing up to host a Gold Show. Quite often they'll give free previews of what's going to be revealed and performed during their cost-effect Gold sextravangza. Instead of whittling away the expensive wanks on a private porn session, save your bucks, book a spot at a Gold Show and for just a fistful of dollars enjoy a 5-10 min sexscapade.
It can take a while for the live feeds to load when you enter a room, so you'll need a bit more patience than you do on other sites. Streamate is also one of just several sites that lets the girls post a schedule of when they're performing so you can plan your porn play accordingly.
---
XLoveCam

XLoveCam is probably one of the top picks for lovers of premium cam girls with a European flair. This site is an international hodgepodge of hardcore honeys with generally around 500 of them broadcasting in various HD and SD feeds at any one time. If English isn't your lingo - then bless this site for being available in 27 languages and when it comes to chatting with a cam cutie, they've pretty much got the European map covered with performers all across Eastern and Western Europe flexing their fetishes for our viewing pleasure.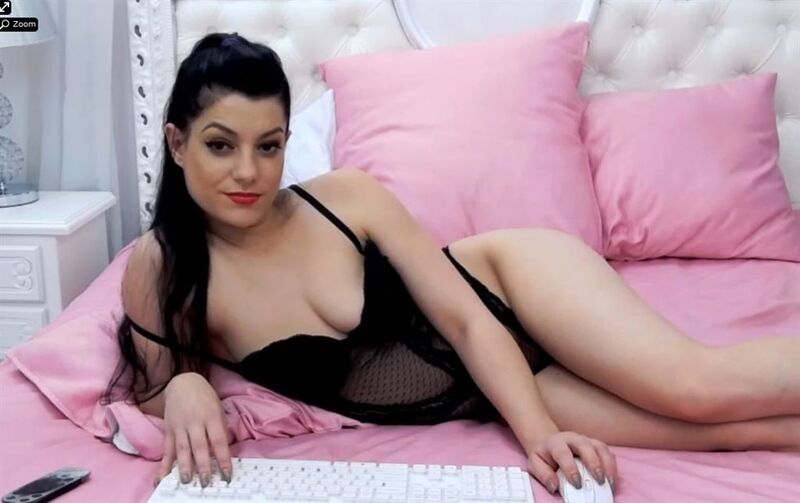 While most of the vamps that stream up your screen are pros at live porn, there's also a strong contingency of amateur pussies looking to practice their horny hobbies with fellow sexhibitionists. Kinks and fetishes seem to be part of these babes lifestyle with everything from spanking and squirting to piercings and pegging.
When it comes to paying for 1on1 webcam fun, prices are pretty decent starting at $1.10/min, averaging out at $2.00/min for a session.
Insider Tip - Once a week the site hosts Topless Mondays. This is exactly what it seems, for 24 hours the babes host a boob bonanza in their free chat rooms wearing very little on the bottom and nothing on the top.
Score More - While there are no free credits to score, you can feast your eyes on some extreme action for under a $1.00/min. Many of the luscious lovelies have a Sneak Peek feature allowing you to get your jollies with a 20 second silent peek into their ongoing private show. My advice, make sure the show is well underway so by the point you perv in, the clothes are off and the action's got to a bawdy boiling point.
Video quality across the site isn't standardized. Some are HD friendly, others have yet to join this broadcasting bandwagon. If you hover over a snapshot a small HD tag will appear in the top right of it indicating the cam babe is streaming in better quality - though, it can take a moment for the feed to smooth out when you click on into the room.
---
Conclusion
The above 7 sites all rock the basic requirements to be a top premium adult webcam platform. They each have a strong selection of sexy live porn models, all offer a wide range of kinks and fetishes to suit practiced practitioners and first-time fellas. All have top-in-class secure, safe and discreet encryption layers making sure your online and offline worlds stay exactly that - worlds apart and all have hot and heavy HD streaming.
One though places at the top (albeit just) in almost every category, and that is LiveJasmin. The girls will have you at 'hello', and it's possible to end up with some of these hot online honnies for a competitively cheap rate. But, don't take my word for any of it. Try them out yourselves and let me know if you agree with my sexpert opinion.