Top 6 Bondage Cam Sites
Published
February 26, 2020
You're not going to get tied in knots with this list of the top 6 bondage friendly cam sites. Whether you're looking for a rope play sub who you can subdue with your skills or a dom that'll tie you up and have you begging for more, these sites are guaranteed to bring you a bondage partner perfect for some live porn play.
---
FetishGalaxy
Coming on in as the number one pick in this bondage edition of top rated cam sites is the fierce fetish-centric world of FetishGalaxy. Every performer on this site is not only a skilled expert in a variety of kinks, but a lifestyle devotee to their deviancy. Whether you're looking to learn a trick or two, taking your first tentative steps with a rope in hand or a professional bondage bloke, the sexperts at FetishGalaxy are hot to trot and are just a one click trip from the homepage.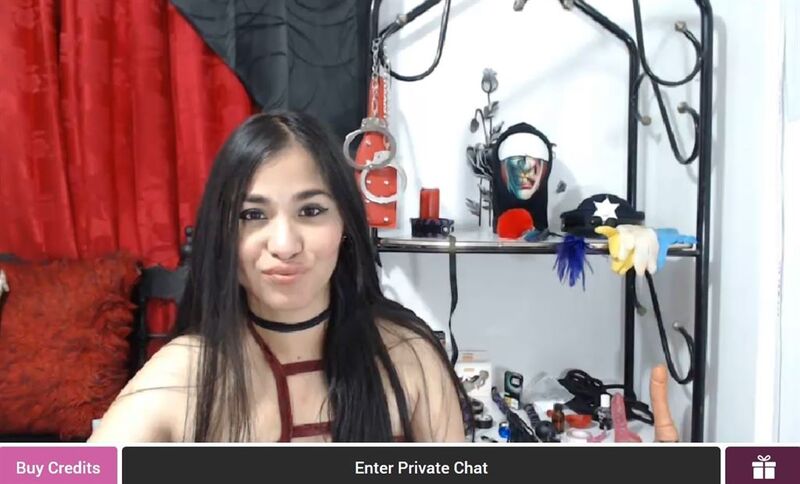 From the moment the site loads, you see you're in the right place as snapshot after snapshot of professional dominatrixes, slaves and expert trainers fill the screen. Each is clearly labelled on the photo so you don't waste even one click going into an unsuitable room for your pervy preferences. When it comes to the bondage babes, the top nav bar features the category and one click brings up all the rooms that are bondage specific and just as importantly, well-equipped.
If you want to be more exacting in your results and want, for example, a bondage sub or dom with blonde hair, in her twenties, big boobs and a hairy pussy - the site's advanced search engine can you find you just that. Simply go the to the far right of the homepage, click/tap on the small search icon (four small lines and dots). In the box that appears, choose the purple Advanced Search button and then narrow down your results by selecting whatever is relevant from the myriad of options that appear.
With prices starting from just $1.00/min for a private cam or cam2cam show and averaging out at the $2.25/min mark, you may think it's too good to be true. It almost is...
The only downside is while the dungeons online are professional, feature all the instruments and equipment needed and the hosts happy to go as far as you want, the streaming quality isn't the best. Not all the rooms are HD enabled and there's no option to filter out the non-HD rooms.
---
LiveJasmin

When it comes to finding a site that's HD friendly, you're not going to find a better option than the caves and dungeons at LiveJasmin. Not only is each room perfectly laid out for some premium bondage booty, but every mistress or sub at this XXX cam site has been vetted and verified to make sure they are the best in the business and perform par excellence in front of a live cam.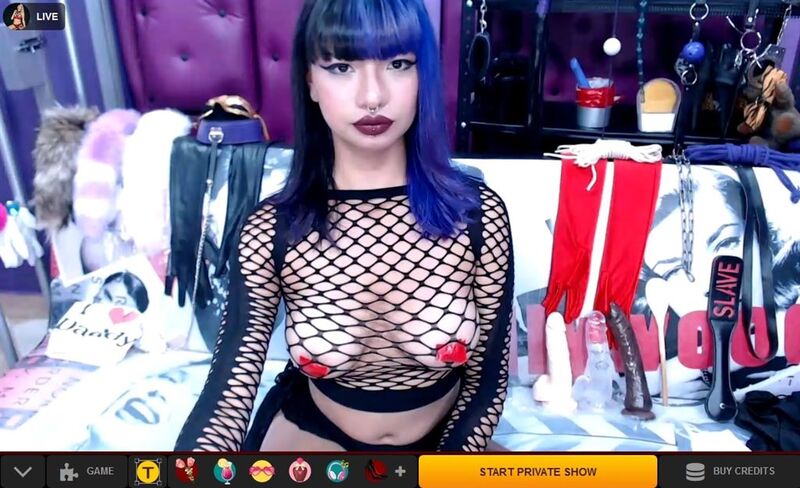 The only reason LiveJasmin hasn't taken the crown as the queen of the cam kink kingdom is that it's not a fetish-centric destination. To find the bondage babes you have to either first click on the magnifying icon on the top right of the homepage and type in 'bondage' in the search box that then appears, or click on the Fetish category on the left hand nav bar and scroll through the results that appear (they may not all be bondage practitioners though).
To find out if the cave you've crept into is bondage friendly you can hover over the live feed that appears once you've clicked into the room. Then select the info icon on the top left of the window. Among other things, it will state whether the live porn performer is a bondage aficionado. A hint here, even if it says she is, confirm with her first before starting any paid private show and also make sure she has all the necessary equipment at hand.
Prices for a one-on-one private cam bondage session may seem cheap at first, but take into account they don't include cam2cam, which for bondage sessions are pretty much a must. You can find some rooms (normally the newer performers on the site) offering some exclusive extreme entertainment for just a $1.00/min, though the average rate is more around the $2.40/min mark.
Before you get too excited dudes, hold the ropes and pay note that if you want cam2cam you'll have to splash out an additional $1-2/min on top of their stated chat rate and the same again if you want a 2-way audio session.
---
Flirt4Free

If Flirt4Free doesn't make a list of kink-friendly live porn cam sites, then that list isn't worth its weight is cuffs and chains. The site not only is a leading premium live sex site, but it also features a strong and active fetish micro-site dedicated to all things sexually spicy. From a community-powered forum to a list of the top fetish models on and offline - it has everything for lovers of the non-vanilla.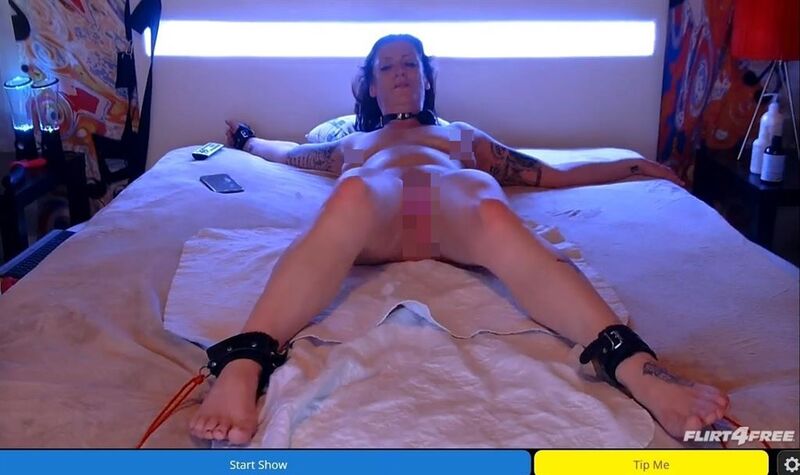 Flirt4Free takes the sometimes misconstrued world of fetish and kinks and gives them credence, and for many people, an understanding of the proclivity they can't get elsewhere. The site's fetish home is just one click from the homepage (under Live Cams on the top nav bar). In this section you'll find 54 sub-categories of a variety of spices including; Bondage / Rope Play / Orgasm Denial / CBT / SPH / Slaves and more.
In each category you can see at a glance which sexpert, of any particular kink, is currently online, as well as those who are offline. If you see a girl that isn't performing but you're interested in having a perv at her abilities, you simply go into her room and check her schedule to see when she's next performing, along with watching video clips (if she has them posted) and a good ole' gander at her X-rated photos.
Once you've found the perfect bondage babe and it's time for one of you to be rendered defenseless to the pleasures that await, there's going to be no barriers due to price. First thing to know - all private cam sessions at Flirt4Free are inclusive of cam2cam and 2-way audio. Second thing to know - you can find some of the newer fetish-friendly cam hosts offering private bondage shows for just $0.45/min (these prices are the exception though), most rooms come in closer to the $4.20/min mark.
A mega-tip here, you can message any model whether she's on or offline. If she's out of your league (price wise, dudes!) - send her a note seeing if she'll be flexible, especially if you're looking to book more than just a few minutes. If you can commit to 10 minutes plus - chances are she'll cut you a price break.
---
Stripchat

With over 2,000 sexhibitionists streaming at any one time there's no chance you won't find what you're looking for at Stripchat. From verified porn-stars to hardcore housewives looking to have fun in their free time, everything goes (and comes) at this adult cam playground. And the real kink kicker at Stripchat, is that HD broadcasts are starting to take over this live porn palace.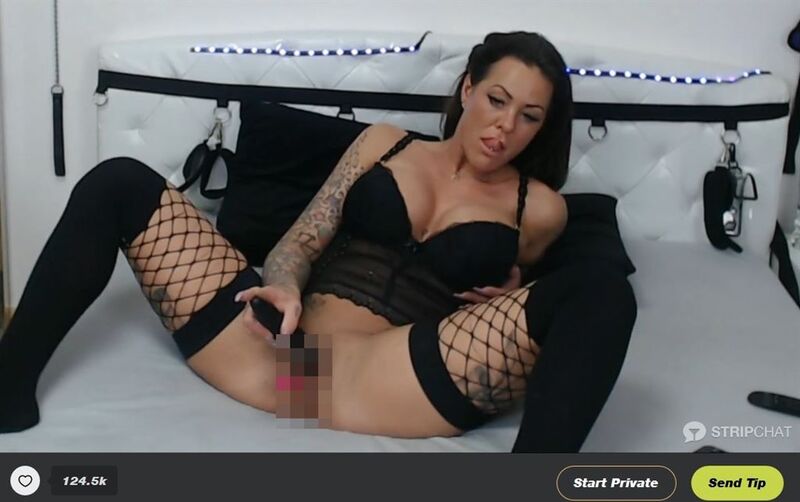 What's great about Stripchat is with so many amateur cam fans performing, especially in the BDSM categories, you know that these ladies are doing it 'cause it makes them wet and wild - just like it does us. They love to go as far as they can and quite often, you're just their toy or master helping them squirt out the love.
Joining these lovers of the lewd are top-notch professional sexperts that know every trick of the trade and show off their pro-acts in HD shows, or, if you're one of the lucky few, in a virtual reality (VR) experience like no other (I"ll get to this in a sec). It's easy to get to the BDSM babes from the homepage - simply go to the left hand nav bar and select BDSM (located in the Popular Categories group). If you wanna be more specific and just see those with the ropes at hand, select All Categories at the bottom of the menu, this brings up an alphabetical listing of every category on the site including bondage, dominatrix, JOI and slaves etc.
Many of the 'at-home' styled cam queens consider performing as a hardcore hobby of theirs and as such, want as many playmates as possible - on the lowest end you'll find many rooms like this coming in at just $0.75/min. If the chick is more of a pro or semi-pro, chances are her rates will stand more at the $3.00/min mark. When it comes to cam2cam - some charge more (even double) - others include it in their rate. There's no way of knowing until you go into their room and check it out.
A quick word about the VR cams mentioned earlier. Stripchat is currently the only adult live cam site that offers virtual reality shows for those fortunate one that have a VR headset. Every room that is equipped for these type of unbelievable next-generation sextaculars is marked with a VR sticker on the snapshot. If you have the equipment - this is the place to go, my friend!
---
ImLive

ImLive is one of the cheapest premium live cam platforms out there - it's also one of the most all-inclusive XXX live entertainment sites online, offering everything from their famed, low cost private cam2cam shows to exclusive live performances by some of the biggest names in adult entertainment. But hey, all this pales in comparison to their beloved, (by me, at least) Fulfill Your Fantasy feature that is guaranteed to give you the ride of your life.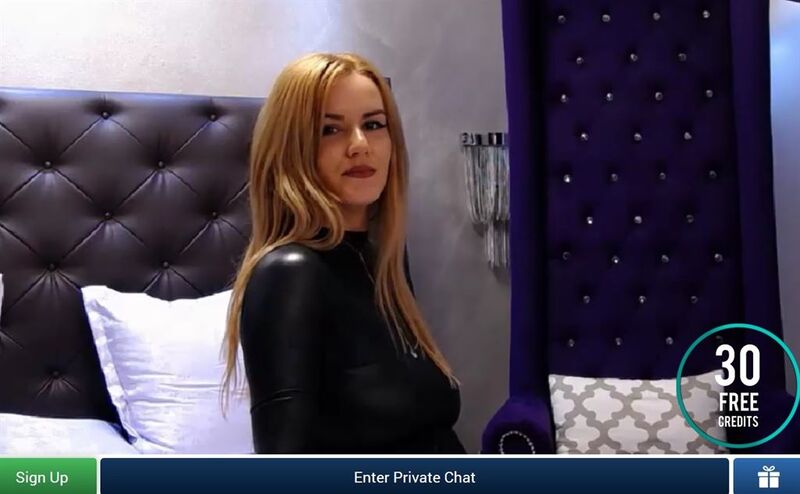 The homepage loads and it may look like a rather bland adult cam site - don't be fooled dudes. All is not what it seems. If you wanna get straight to the rope players, simply select the filter button and from the menu that appears, choose Fetish. This brings up 32 categories - from bondage to whips, discipline to humiliation.
If you wanna play a bit before getting the knots in motion and the handcuffs out, try selecting the Multi-Viewer option on the upper nav bar. This gives you the option to view six live feeds from different rooms at the same time, so you can scroll through rooms - six at a time.
As I mentioned, private cam prices are low - really low for a premium adult cam site. You can easily find a room or several, that'll set you back just $1.00/min (inclusive of cam2cam and audio). These are at the lowest end of the price range - but there are many to choose from. On average (especially for the more sexperienced performers), rates come in at around $2.25/min (still super cheap when you consider it's all inclusive).
Now, time to get deep - really deep and dirty and let's talk about the Fulfill Your Fantasy feature I mentioned earlier. On the homepage, select the Discover ImLive link. Then on the next page scroll down till you see the box inviting you to Fulfill Your Fantasy. Click/tap on this and then write down exactly what you want to do, with what type of model (looks / age / girl alone / 2 girls, etc) and submit. Within moments, hosts will start messaging you with how they can make this come true and how much it will cost. Yep - they're trying to undercut each others' bids and get a chance to make your deviant dream a reality!
---
Streamate

Now Streamate only just made it onto my top 6 best bondage cam sites round-up. While it's not particularly kinky and fetish-centric - it is, for some reason, bondage-centric. Even on the homepage the site shows its love for restraints, with the bondage rooms just a click away.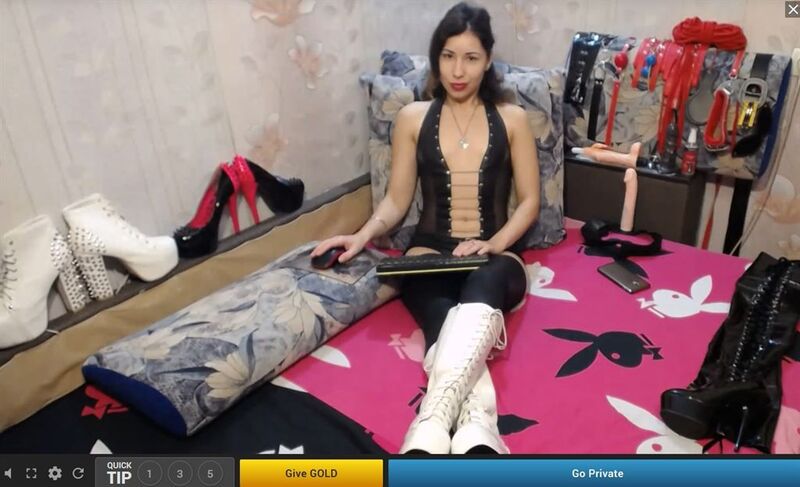 At this site, when it comes to starting a bondage game - you go straight to jail - you don't pass go and you don't have to click and flick to get to a suitable room. On the left hand nav bar you just scroll for a split second until you get to Bondage, one tap and there you are, surrounded by all the Euro-muffs that have ropes at the ready and wanna play.
Cam2cam is meant to be included in the advertised chat rate, though some girls may ask for an additional 'tip' to enable it. It's up to you to agree, or to find a different room. But, saying that, most won't ask for more. On average, expect to lay down around $3.00/min for a 1on1 show, and if you're lucky, you may well have chosen a babe that's asking the minimum $1.00/min.
Another bonus in Streamate's bag of goodies is its payment system which is a pay-as-you go method. When you register you have to put a credit card or PayPal account on file and then you're simply charged at the end of the month for any private sessions or tips you've accrued during the period. No stocking up on site credits and running out of them when you're slap bang in the middle of a slap-up show.
---
Conclusion
Six different sites with six different reasons to visit them. My final words of advice, are to simply be prepared. If you're looking for ropes and cuffs - make sure the girl's got them at hand. You don't want to be paying for dead air as she goes off to 'look' for them for a minute or more. Or even worse, and this can happen, she'll suddenly announce she doesn't have any, and by then you'll have wasted time and money on a no-go show.
FetishGalaxy comes in on top because its choice of bondage devotees on the site is all-encompassing. From teachers and experts to subs and slaves looking for a master - they're just one click away with the ropes at the ready.