Top 6 Best Cam Sites On Mobile
The live cam business, a kind of digital-era peep show, has been around for a few years. As technology has become better and cheaper, the concept is hitting new highs in user numbers, and advancing tech. Models have much more control, and so do the members. Performers can broadcast from a designated location, but more and more choose their own mobiles. Members have also started moving out of their studies and their recliners, and into the world with their mobile smartphones. The six sites below offer superlative mobile versions of the desktop sites, extra features - And even Virtual Reality.
---
LiveJasmin

This premium cam site delights its' members on many levels, one of them being a luxurious feeling of taste and class. These models are no amateurs, they know just how to get you going without taking off their clothes, and then getting down and freaky in the private chats. The site offers excellent HD quality in most rooms. You just need to make sure to click on the HD button when you enter a room to turn it on.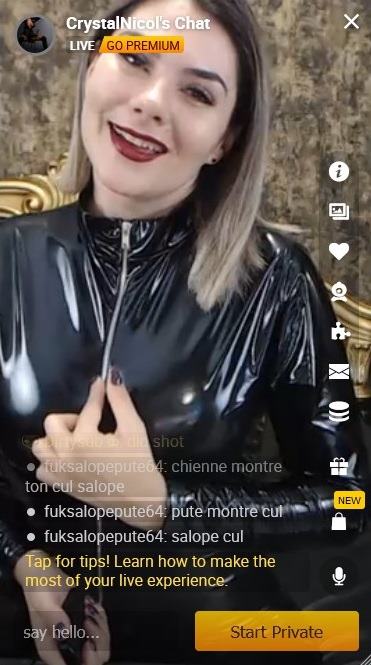 Chat prices start at $1.00/min and the average is set at $2.40/min. If you prefer c2c, it will cost an extra $1-$2 to use your cam, and an extra $1-$2 to use your mic. Models with stickers Newbie and Amateur on their profile pictures will usually offer the best deals. In addition, you can opt for a VIP Show which will be much cheaper, as multiple members contribute credits to reach a goal set by the host to start the show.
Becoming a member of the Elite Club will provide benefits and perks as well, especially when you rise up the ranks.
The impeccable mobile version is a joy to use, very streamlined and works just as well as the desktop site. An added advantage which is usually reserved for few sites, is the option to cam to cam on mobile, which is a delightful pastime while commuting, relaxing in bed, or even in more official locations, where you can secretly get a thrill.
LiveJasmin has a lot to boast about. Customer service (24/7 Live), rooms in 720HD quality, stunning models, and wonderful extra features and content. And of course, a mobile version to make that boring office meeting so much more exciting.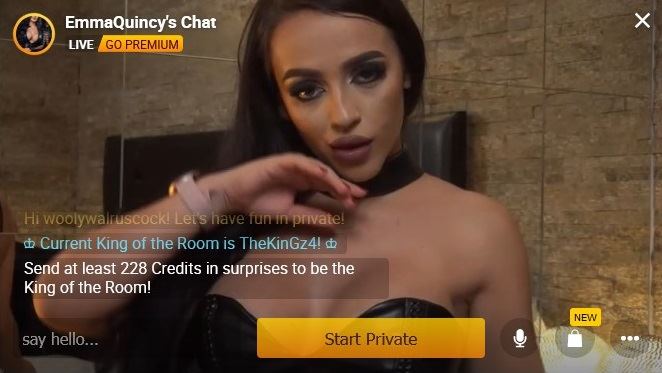 ---
CamSoda

On the other side of the live porn spectrum resides a fantastic freemium site, which I chose as my top site of 2020. With hundreds of models titillating from their respective rooms in a cornucopia of sex and nakedness all at your fingertips - CamSoda is the place to be. If you plan on taking the plunge, prepare yourself for countless rooms, all in live time, displayed for your pleasure on the main gallery page. How to choose? Good question. Without a proper search engine, just pick the tag you like best, and it might just lead you to that special performer with that particular kink you couldn't find anywhere else.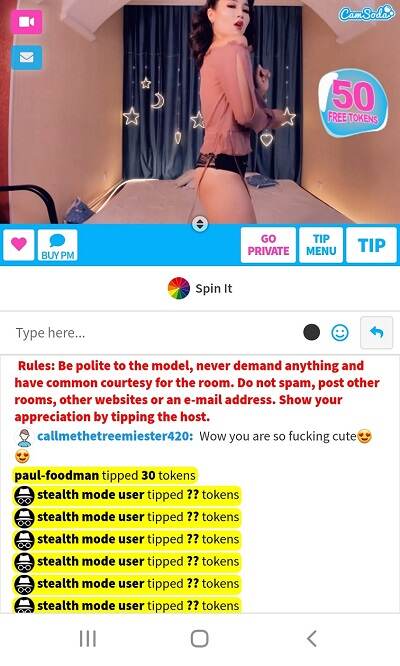 CamSoda is on this list not because it happens to be freemiun, though that is a huge draw, but it's also here because the prices, even for private chats are some of the lowest, anywhere. The cheapest private chats go for only $0.55/min, with the average price per minute being about $2.75/min. You can also cam2cam at no extra cost.
A great way to get the experience without shelling out the cash is to click on the Spy Show tab. Here you'll be able to "join" a private chat someone else is viewing, and peek in like a peeping Tom.
There are plenty of rooms in HD, but you can usually tell from the profile pic/stream what the room looks like. To compensate, CamSoda produces and creates its' own original free content, Exclusive Videos. These fun and sexy full length films are shot beautifully and more than make up for rooms lacking in HD quality.
CamSoda spoils its' members with lots of fun activities - Games, exclusive videos, Reallife Cam Videos broadcasted from all over the world by enthusiastic exhibitionists, and a mobile version with the awesome ability to allow a cam2cam session. Just like the rest of the site, you can find shows and private chats for next to nothing, and enjoy them all in excellent quality from anywhere you feel comfortable.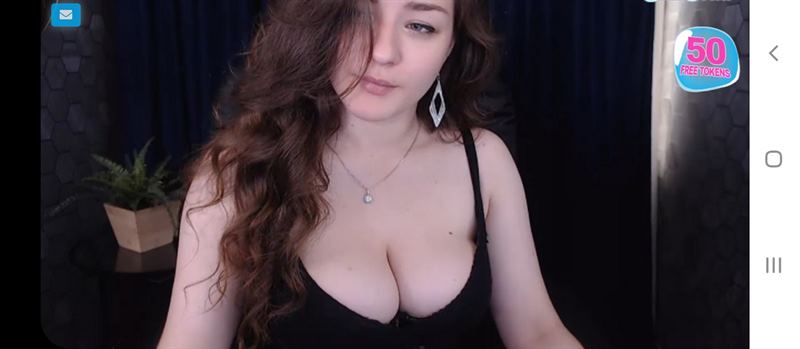 ---
Flirt4Free

A perfect combination of premium features and freemium prices, Flirt4Free always ranks as one of our best live cam sites, for many reasons. The premium feel of the excellent HD streaming, the sleek design and ease of navigation, models from around the world who are known to be extremely friendly on the site, and so much more. The prices of private chats can get high, but that's easily rectified with a number of show types that cost much less, and special model promos.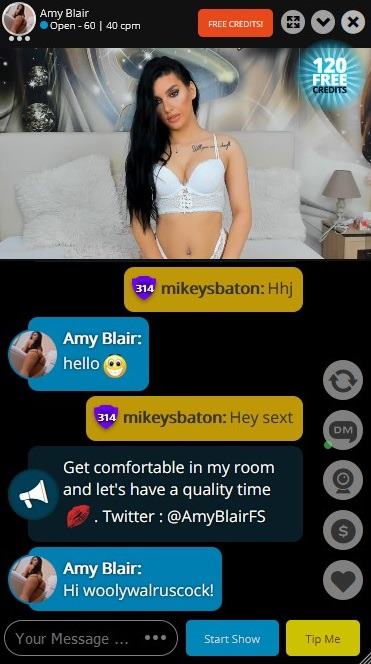 In addition to all of the above, the site loves to spoil its' members with features and entertainment. The Video Library is overflowing with model-made videos, the Blog contains info about the models and promos/deals on the site, there's a Calendar that shows you when your favorite gal will be joining the fun online (with notifications you can customize), and if you join a model's Fan Club the prices get even lower. You can also use the excellent search engine to filter according to credits per minute.
The private shows start at just $0.45/min and the rest of the shows can get pricey, with an average of $4.00/min. This is where the show types come in. Voyeur Mode lets you peep in to another members' private chat at super low rates, and the Party Shows, along with Group shows and Party Chats, are multi-member shows where you pay substantially less, and enjoy the shows/chats just as much.
Flirt4Free also has a great mobile version, which is just as high quality as the desktop, and even includes the option to have a cam2cam session. It's just as impressive as the site, and flows easily and quickly.
There's just a really great easy-going feel to the site, along with plenty of low cost options for more frugal users. You can't go on Flirt4Free and not have a good time, it's simply impossible.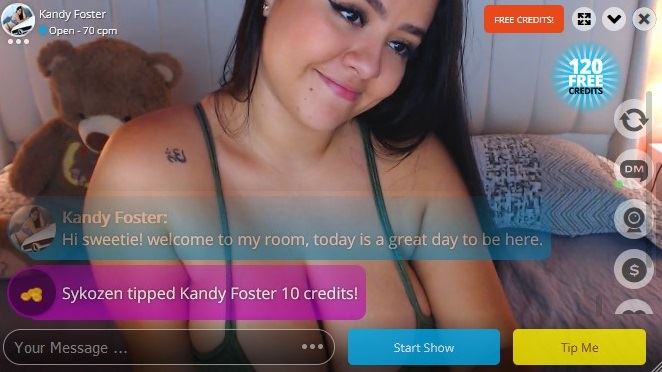 ---
Stripchat

Stripchat is a haven for those who love free live sex cams, and also happen to be extremely fetish-friendly. It's true that you can't engage in cam2cam on the mobile version, but you can accomplish a feat no other online live porn site can offer - Virtual Reality. You need to get the right tech, but once you have the gear it's no holds barred regarding the highs and wonders to experience through your mobile (VR is basically magic).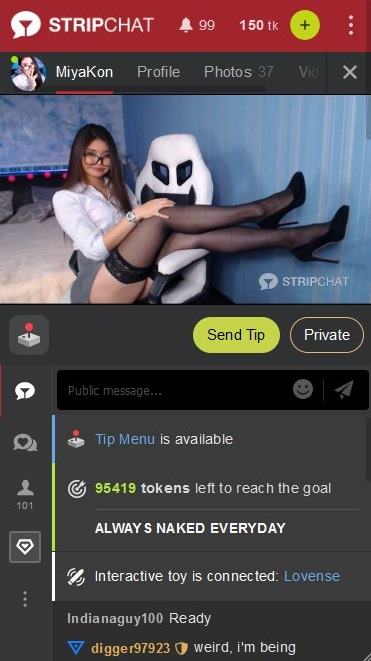 Speaking of taking advantage of the mobile version, it's fantastic, and streams at up to 4K. You also get all the categories the site boasts, which are hard to count. Among them: Cosplay, Granny, Bondage, Lovense (a sex toy controlled by your tipping), Office, Twerk, Teen, and of course - VR Cams. The categories make the site a lot of fun, as freemium sites with free nudity and sex in open rooms rarely have a search engine this advanced, even on mobile.
If you choose to go into a private chat despite the free room bonanza, rates start at $0.90/min with the average being around $2.70/min. you can choose a Spy Show, which is much cheaper and allows you to peek into a private show in session, without interaction with the host. Cam2cam sessions are not available for every model, and when it is the price depends on the model, many choose not to charge extra for it.
Another extra little help regarding payment is the ability to pay with a gift card, another rarity for freemium sites. What's better than a live porn party for Christmas, or any other holiday for that matter?
For those who love kink and fetish for free, and categories involving phrases they might never have heard of before, this is the site. It's free, has a great mobile version, and the only real downside is not being able to c2c from a mobile device.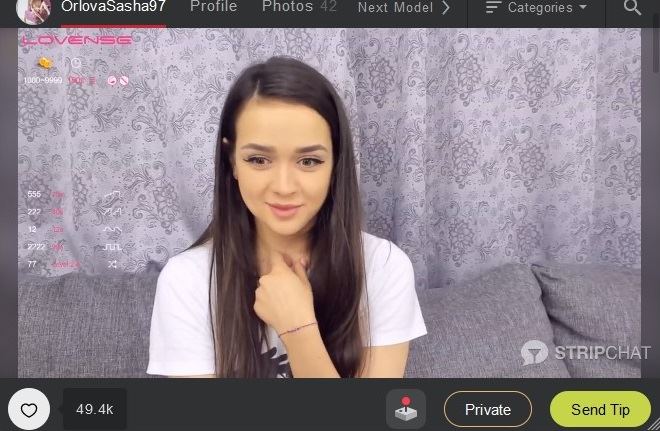 ---
LivePrivates

Another super premium site, LivePrivates boasts all the features expected from it's stature: high quality HD streaming, professional stunning models, a fantastic search engine to narrow your search and find your chosen honey, amazing 24/7 customer service, and plenty of games and giveaways.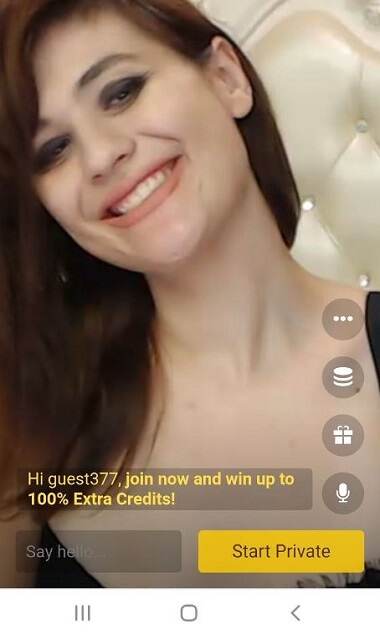 With over 1,000 models online, no wonder the site is translated into 19 languages, and performers that hail from all corners of the globe. It's easy to find hosts of any Ethnicity, Age, Fetish , and even Price. Though there's no nudity allowed in the open rooms, you'll be happy to learn that the HD quality is fantastic, and the private chats start at only $1.00/min.
However, the average price per minute is around $2.60/min, and there's extra charge for C2C chats. $1-$2 extra for cam, and another $1-$2 for audio.
The mobile version of the site, while not offering cam to cam, is great, and offers even better category selection than the desktop. You can clearly see all categories, such as Lesbian, JOI, Striptease, Strapon, and many others. These ladies know their stuff.
With options such as searching by price, going into the Sale category, or choosing a VIP Show, it's pretty incredible this site is premium, as it caters to its members and gives them plenty of options to slash prices and still enjoy the premium feel. Watch out for models who have a little mobile icon on their profile - It means they're streaming from anywhere using their own mobile - And it can get extra naughty.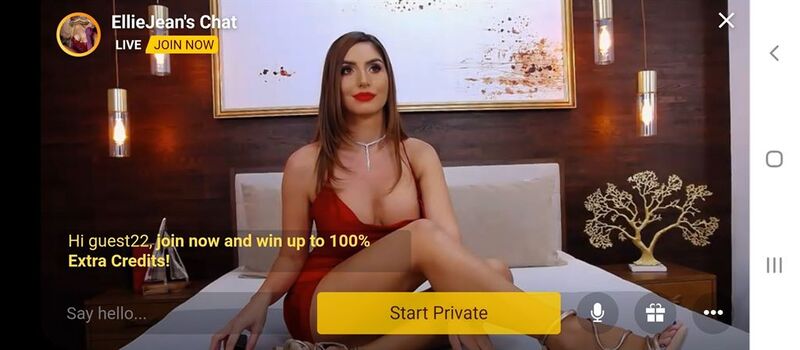 ---
Chaturbate

Chaturbate is the best live porn circus in town. A freemium site with an exhibitionist sensibility, there's almost no need to take out your wallet, or leave your mobile to go to the desktop site, they're both just as good, and stream up to 4K. To find the HD rooms, simply click on Advanced Search Options on the top left of the page and select Prioritize HD Rooms. Once that's done, hold on to your hats.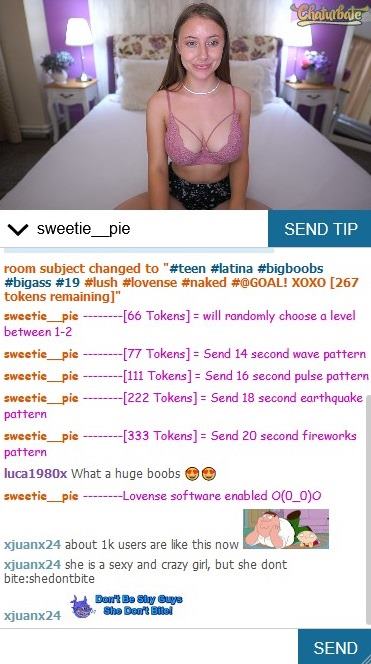 The profile pics show the models' age, sex, different tags, and how many users are in her open room at that time. In the rooms themselves you'll find happy places, full of animation, connections to social media, generous and specific bio pages with pictures and videos, and a real showing of the performers' personality.
On average, if the model hosts private chats, prices get to $2.30/min, but go as low as $0.60/min. The mobile version is just as fun and plentiful as the desktop site, and while you can't cam to cam using mobile, you can enjoy all the wonderful models and their kinky expertise with a 1-on-1 private chat.
Fetishes are all welcome on Chaturbate, and are clearly visible in the tags available to choose from among these worldly ladies: Lesbian, Muscle, Schoolgirl, Foot Fetish, Glasses, and thousands of others.
The only gripe with Chaturbate - Which can also be a huge advantage depending on your career plans - Is that you have to register as a performer in order to activate the C2C option, by clicking on the Broadcast Yourself button on the top of the page.
Chaturbate is a site to let your hair down and go where the wind takes you. It may take you to a young, petite blonde who loves showing off her feet, or maybe a mature mama who wants to teach you a lesson or two in pleasure. Anyway you choose to go, Chaturbate has you covered.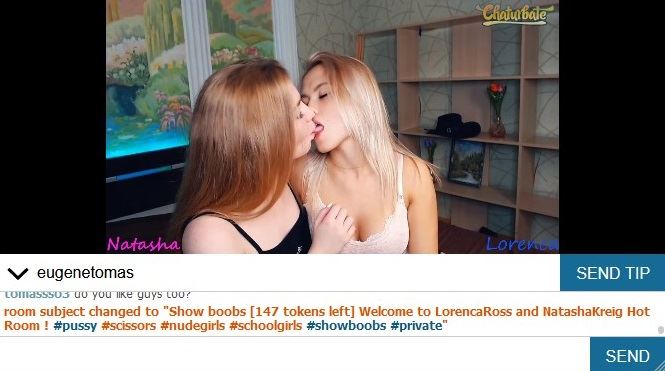 ---
Conclusion
From the six sites mentioned above, all excellent in their own right, three offer mobile cam2cam (LiveJasmin, CamSoda & Flirt4Free), while the remaining sites offer great HD quality, fantastic mobile platforms, and different attributes that work well when accessing from your cellphone.
Out of the six, I recommend LiveJasmin as the chosen winner, not only because of the impeccable quality, but the models themselves, and the multiple low-cost options on this premium site.