Shemale Fetish Review - Trans XXX Paradise
Last updated
February 19, 2021
Premium
Clothed Free Chat
First Purchase Bonus
Pros
Cheap private chats
Free C2C in privates
Discount Clubs
Live chat support
Cons
Tame free chat
Limited HD rooms
Few payment types
Greetings, my lovely friends! And how does this lovely autumn day find you? I don't of course know where you are, but where I am the sunshine is streaming in through my window, and it's put me in a fair frame of mind to tap on the old laptop keys and bring you another lovely site that of course, I think is "top rated" ! Today I am going to take another sideways step off my usual journey through the kingdom of sexy cams by reviewing the site Shemale.com. If you can't work out what the site might contain via that handy domain name then ... I feel a bit sorry for you!
Okay, first of all as ever the facts, ma'am. The Shemale.com domain has been around for a long, long time - since 1997 in fact which is a long, long time ago - last century! It began life as a shemale portal for live chatting (no cams) and a few sexy videos featuring transgender folk, of course. That didn't seem to last long, and it had a very chequered history over the next ten years as either a dead or dormant site, or just a quick re-direct site to other transsexual domains. Eventually (according to Shemale.com) the domain name was snapped up by a group of transgender ladies who built the lovely adult cam site that you can see today! Okay, that's the boring stuff over and done with - let's move on to the juicier stuff!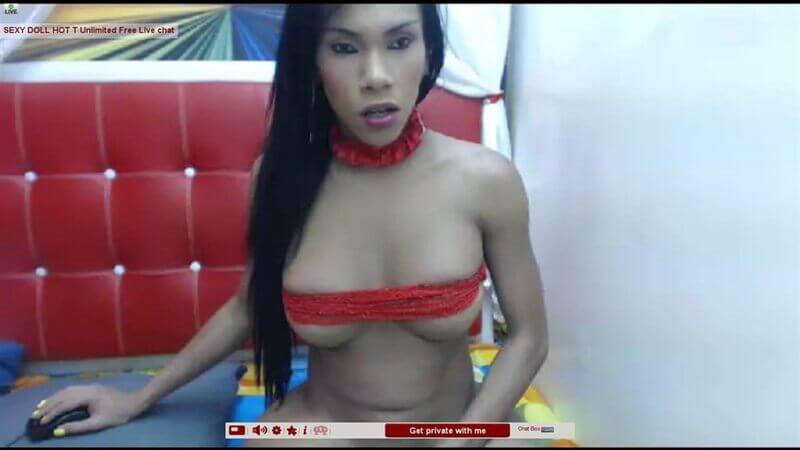 My Initial Thoughts ...
Nice! It certainly seems that Shemale.com does things a little differently, as I was getting bored of every site having exactly the same blocky thumbnail menu. You get the impression that Shemale.com is more than a portal to sexy shemale performers, and it kinda sells itself as an authority on the whole shemale lifestyle. You get access to lots of shemale lovelies of course, but there's also stuff like blogs from transgender porn stars, a magazine section featuring articles about life as a transsexual, some exclusive videos to watch (you have to pay to watch them but they are only about one credit per view), and even a guide to local clubs and nightspots where you can meet shemales in person.
Of course, the webcams remain the main focus, and you can find them all under the "Webcam Hosts" tab. This switches to that normal view of thumbnails featuring all the hot ladyboys sex cam modes. Some of the models have recorded a special welcome video that you see if you do the mouse hover trick, and if the model is currently undertaking a live performance. If your chosen tranny cam girl is currently in free chat, you'll get the usual sneak view of what is currently going down on her cam. You can also pick up her profile and any pics she may have posted, plus a few more important details, such as age, country, and the languages you'll be able to converse with your chosen transsexual model in.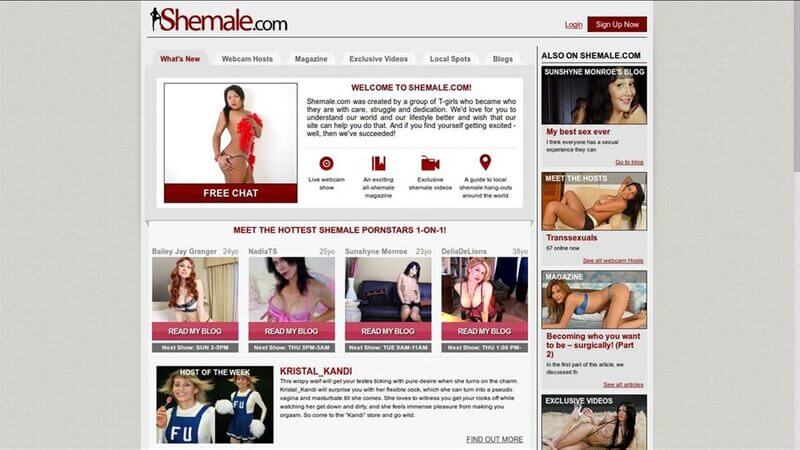 If you want to find out a lot more about the kinds of lives transgendered folk lead, then Shemale.com is the site that will surely provide. There's lots to do around the site if you are waiting for your favourite performer to come online, or if there are not enough sex cam models currently in free chat mode which at times can actually be a factor.
Those Extra Features ...
As I may have hinted upon, this is where Shemale.com really does genuinely excel. You can view the "Host of the Week" and read about the latest scorching hot shemale to sign up as a performer, plus some of the sex cam models at the site are genuine shemale pornstars who perform shows you can watch at a specific time. You can read the articles in the Shemale.com "magazine" or some of the blogs from regular transsexual performers. There's a guide and review of a few of the hottest shemale hotspots - some of which may be near you. It all makes for a wonderful Shemale.com experience!
How To Register ...
You don't have to register with the site to use the free chat, but if you fancy getting a little dirtier with any of the hot transsexual models, then you need to. Registration is a three-step process. First step is the usual username, password and email address fill. Step two is creating your profile, although you can make it as minimal as you want. Step three involves buying credits, and you can't register without buying at least the minimum amount of £25.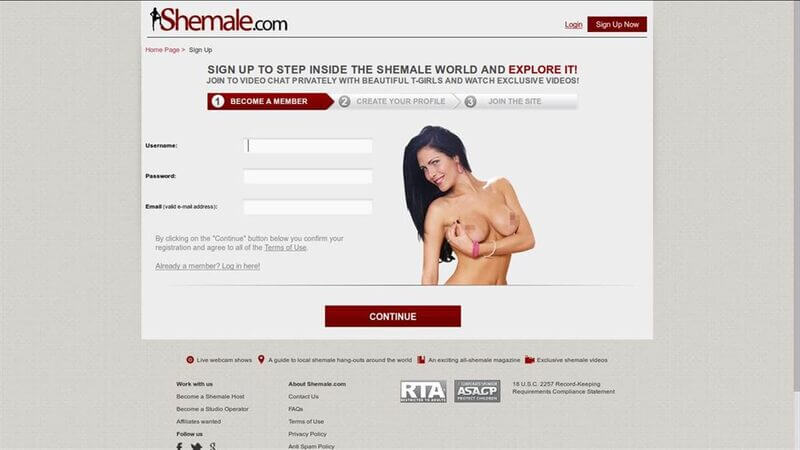 The Ways You Can Chat ...
There's only free chat and private chat. The sex cam models can choose their own rate for 1-to-1 cam action.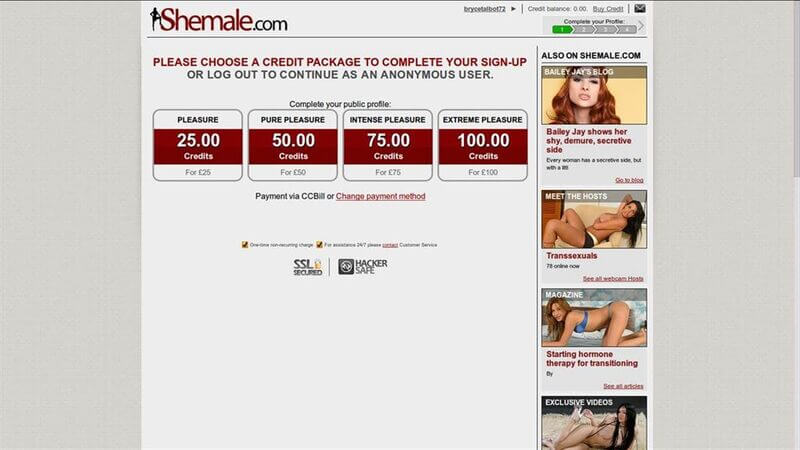 Quality of The Videos ...
This varies depending on the performer. If the model has HD, check it out first as sometimes it's a little grainy, although it is smooth. Some of the cam action is a bit poor, but if you're lucky you will find a sex cam shemale who can meet the bandwidth requirements to stream in HD.
How Much It'll Cost You ...
The pricing structure is so crystal clear that even someone as dumb as me can work it out! You buy one credit for £1, in packs of 25, 50, 75 or 100 credits. There's absolutely zero benefits for buying in bulk - £100 gets you 100 credits.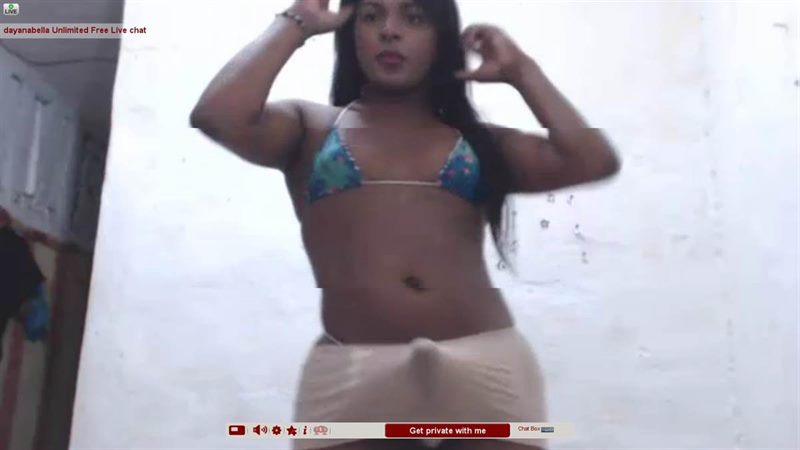 The Ways You Can Pay ...
All leading credit cards are taken, as well as PayPal! Payments are arranged via CCBill or EPOCH.
How Many Models ...
This one is a bit of a surprise, as although Shemale.com has been going in its present form since 2007, there are a mere 400 transgender sex cam models registered at the site. This means sometimes you are not given a great deal of choice with the number of models online.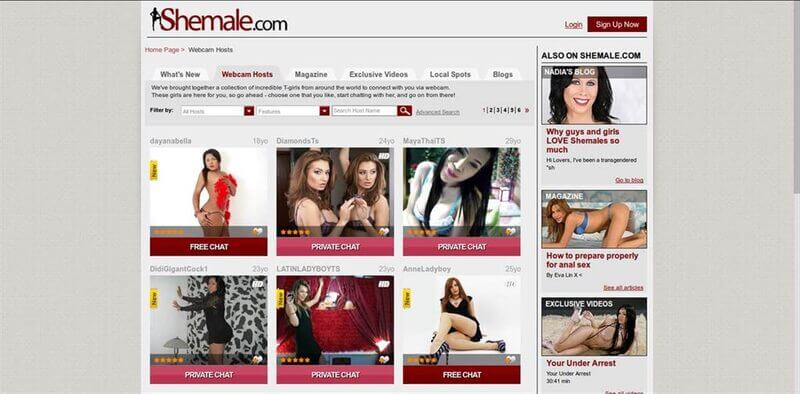 The Support You Can Get ...
... is not very good! It's basically email only, via the site's internal messaging system or via an email address. No telephone numbers are given, and live chat either.
The Pros & Cons
Pros
✔ - There's a lot more to the site than web cams and sexy cam performers
✔ - No registration fees - you simply buy credits and use them as you want
✔ - If you like to read on the net, there's plenty to read at Shemale.com!
Cons
✖ - Support options - there ought to be some!
✖ - Low number of models = low amount of choice
✖ - You can't complete your registration until you've bought at least 25 credits
Winding Things Up ...
You can certainly say that Shemale.com has tried to do things a little differently, but not all that is good. I'm not too keen on sites that make you pay just to register, although of course you get to use those credits normally once you have bought them. I'm also not too fond of sites that don't offer that much support. Shemale.com is going for a community feel, which means you need to have someone to speak to there and then instead of having to wait for an email reply. On the plus side, the fact the site is much more about "just" adult shemale sex cams. If you're more interested in the transsexual lifestyle as a whole, then Shemale.com should very definitely float your sexy boat!