6 Best Tranny Cam-to-Cam Sites
Published
January 15, 2020
If tits and pricks rock your cock - then how about a babe with balls directing your dick in a live cam2cam show where you both get to play starring roles in your own showing of porn paradiso. I've done some deep diving into the top webcam sites to discover which are the Oscar contenders for best cam2cam tranny award. Find out who are the deserving nominees and which heavenly shemale site scoops the golden boy for its cast of angels, basement budget rates, HD cinematography and cam2cam friendliness.
---
MyTrannyCams

And the winner of the best tranny cam-to-cam site is... MyTrannyCams. One thing is undoubtedly obvious at MyTrannyCams, these t-girls are no street cats. Each and everyone of them is drop-dead gorgeous and has invested time and money in making sure they're an A-lister of live cam trans babes.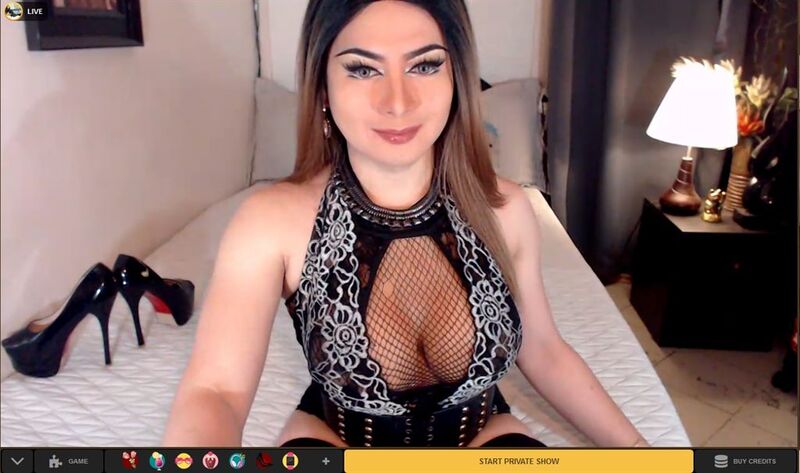 To be honest, you won't find a huge selection of shemales streaming at any one time at MyTrannyCams. This site is all about quality, not quantity. Most of the babes with bonuses are from Latin America or Asia, with a smattering of Europeans.
What I love about this site, is that you're getting the best quality at some really competitive prices. But, a word of warning - the advertised chat costs don't include cam2cam and 2-way audio. For these, you have to add a dollar/min for each of the features. On the lowest end - you can find rooms streaming in hot HD at just $1.00/min, with the average rate standing at around the $2.50/min mark (these prices don't include c2c and audio).
When you buy credits on the site, you get to Spin the Wheel before you make the purchase. This lucky wheel can give you extra credits on your purchase - if you hit the jackpot - they'll double the number of credits in your bundle.
When it comes time to get behind (well in front of) the camera, it's as easy and safe as can be.
Select Start Private Show under her live video feed.
Go to the webcam icon on the left hand side of the video feed window.
Click/tap on the icon to open your webcam and smile - the spotlight's on you.
---
Shemale

Shemale isn't just a trans cam chat site - there's so much more that'll catch your eye. Sure, you'll find sexy babes sitting in front of their cameras waiting to fulfill your trans fantasy, but you'll also find a huge content section featuring everything from trans fetishes to shemale lifestyle info, even tranny porn-star blogs. Shemale is a t-world for divas and dudes and everyone's welcome.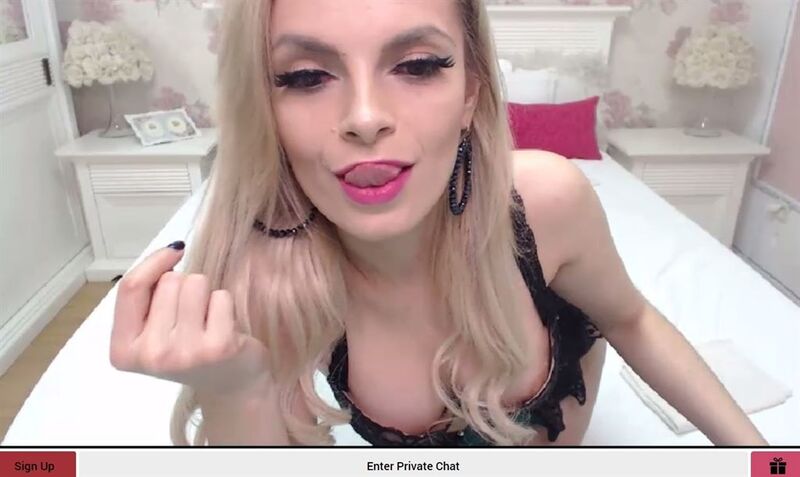 To get to the live action fun, select All Trans Models on the top left of the homepage. This takes you to all the luscious ladyboys' sex cam snapshots. You won't find hundreds streaming here - generally no more than 80 are online and the majority of these babes are usually busy in private video chat mode. The prices here are super-cheap but that also means you're going to have to compromise many of the times on streaming quality. HD tends to be the exception, not the norm.
And while we're on the subject of prices - Shemale keeps things nice and simple, in so much as one site credit equals one dollar. So while a girl's private chat rate appears as credits/min - there's no funky math in involved. Just swap out credit for dollar and you know exactly how much it's going to cost you in real world terms.
Rates for private chat include cam 2 cam and audio - no hidden hikes at this site, but check first that your chosen t-goddess enables c2c shows. If she does, expect to lay out around $2.50/min with the cheapest rooms I found coming in at just under $2.00/min.
Once you've found you fave femme and checked that she's cam-to-cam friendly, the next steps are easy-peasy.
Select the Enter Private Chat link that appears under the live feed in her chat room.
Then click/tap on the webcam and microphone icons in the top left corner of the video window.
Smile - cause she's now looking at her new play pal up close and personal.
---
LiveJasmin

If you've never been tempted by a tranny - you've obviously never seen one of LiveJasmin's luscious ladies with the loads. These babes are goddesses and we're just glad they let us in to their world of indescribable wonder. Yep, I know I'm gushing, but dudes, you gotta see these women and then you'll understand why they make me go weak at the knees. HD streaming, lethal looks and bodies to die, and I haven't even got to their fetishes and kinks that'll have your heart flat-lining with horniness.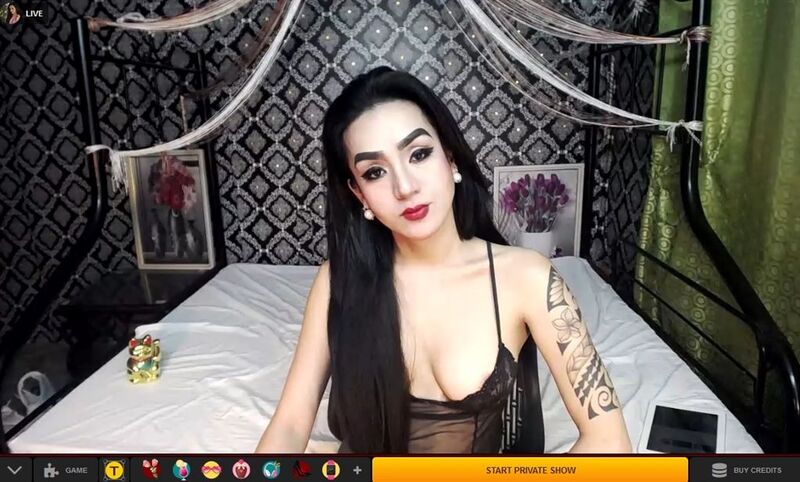 So you're probably wondering if they're that great - why hasn't LiveJasmin taken the top spot on my list of the top 6 tranny cam to cam sites. Well, it's something little - but to me it's important. On the homepage, you have to go to the left nav bar and under the Category section select Transgirl (which appears at the bottom of the group), only then do the angels appear.
When they do come through - it's a heavenly choir streaming pretty much in HD throughout. The site's great search engine makes it super easy to find which babes are kink/fetish friendly to your particular proclivity and the site's ongoing promotions and specials mean with a bit of clicking and tapping you can get your hands on some unparalleled 1on1 shemale cam to cam performances for a great price.
The average rate for a private show (without cam2cam) is around $2.50/min - with the lowest rates I've come across starting at just $1.00/min. These don't include c2c or audio. For each of these features you have to factor in an additional $1.00 - $2.00/min, for each. LiveJasmin also offers you a chance to Spin the Wheel and win some extra credits before you buy site credits. So, before you whip out the dosh try your luck on the winning wheel, you never know, it could be your lucky day.
So you've got the credits to spend. You've found your guardian trans-angel and now it's time to get the party started. All you have to do is:
At the bottom of her live stream click/tap on Select Start Private Show.
Hover over the left hand side of live video feed and select the camera icon.
Click/tap on the icon (and also the microphone icon if you've decided to go all in and include 2-way audio) and party on with your princess.
---
Stripchat

Stripchat is one of the best live sex video chat platforms for those of you looking primarily for kinky amateur shemale sex stars. The majority of these babes are extreme exhibitionists that are looking for horny homies to watch their hardcore talents.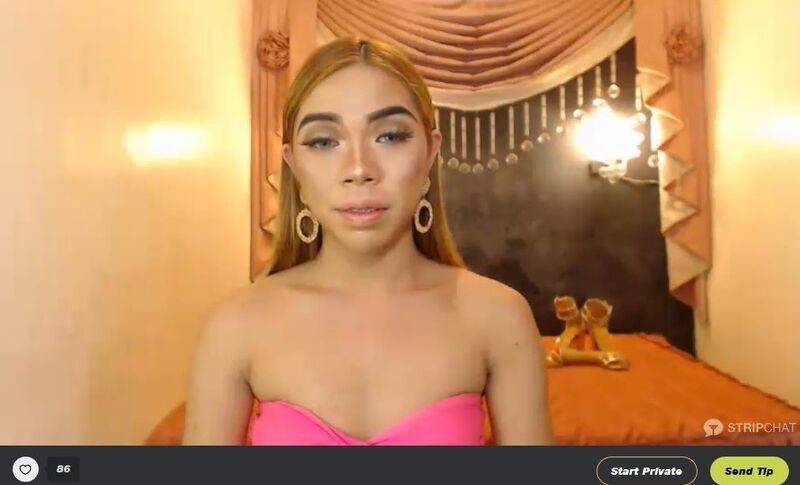 Stripchat isn't a shemale-centric site, meaning like LiveJasmin and Flirt4Free, which have also made it onto the this list, you have to select the trans category on the homepage located on the top nav bar. The babes that appear may not be streaming in HD (in fact most don't) but this is because Stripchat is a freemium site where anyone can set themselves up as a live porn performer and those that do - do it 'cause like us, they have a penchant for the perv and are looking for on-cam play pals to kick up their kinks with.
There's generally around 80 plus chicks with dicks streaming in rooms at any one time, with the majority from Latin America, supported by a handful from across Europe. Although Stripchat is a freemium site, it's got a huge advantage over similar platforms in that its search engine is user-friendly and accurate, and the homepage is thankfully devoid of those annoying pop-up ads.
Just a word of warning before you go into a free adult chat room with a babe - they really are looking for someone to party with, so if you don't like attention this isn't the place to pop into. Quite often, unlike many other sites, the minute they see you enter their room they'll start a conversation. But in all fairness, they're extremely friendly and curious about who is with them and love to chat as much as they love their kinks.
When it comes to paying for your pleasure, prices are all over the place. Some gals charge a symbolic $0.80/min for 1on1 fun - with most hovering around the $3.40/mark. The same 'all over the place' ethos is also prevalent when it comes to having a cam to cam show. Some tgirls include cam2cam in their prices - while others will charge more (even double the rate of a non cam2cam show). The only way you can know who does what is to go into the room and check it out one by one.
So you know how much your babe charges and you're ready to get c2c raunchy.
At the bottom of her live video feed select the Start Private button.
In the pop-up box that appears select Cam2Cam.
Give her a wave cause she's now checking you out in detail.
---
Flirt4Free

The reason Flirt4Free is on this list is not because it has a huge number of trannies broadcasting their boobs and balls (quite the opposite to be honest), or because it's on of the cheapest site out there (though their promotions /sales and deals are unbeatable ), it's because the cam cuties are sexperts in sapio-sexuality and cam2cam is a given - not an extra. Curious? Let me explain further...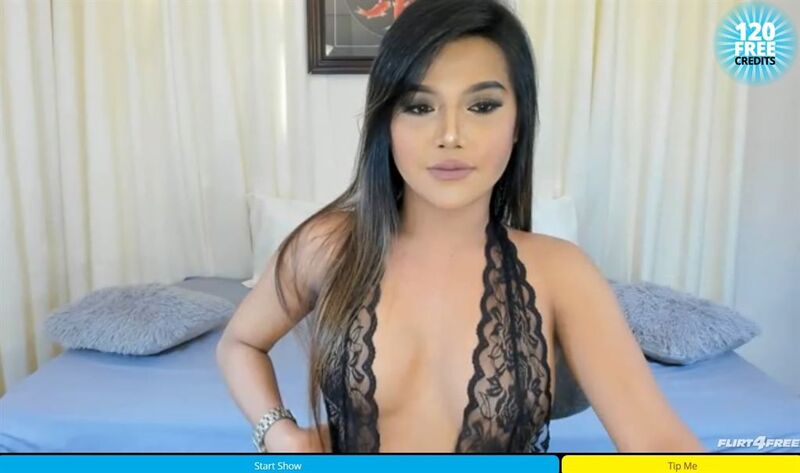 Flirt4Free's princesses with peckers are all stunning sapios - this means they seduce with their mind as well as their rocking bodies. They're sort of professional porn pals that love to you get you turned on with teasing before letting loose with some the most XXX action you'll have the privilege to participate in.
To find the Flirt4Free trans you have to go to the top far right of the homepage and select the Transgender link. The ladies then appear according to their price/min of private chat. But, if money isn't the key to your heart, their fantastic fetish and kinks category will definitely unlock your latent loves.
Big Tom Tip: The site has one of the best promotional/deals options that I've seen on any adult cam site. Go to the very bottom of any page and look at Promos and Deals under the Live Chat group. From mega discounts on credit packages - to getting 100% extra minutes on your private chat show - you can't afford to skip this tip.
The site knows that when it comes to live video chat - it just isn't the same if it's only a one way deal. If you upgrade to a VIP package ($40/month fee) you get to enjoy cam2cam action not only in any private shows you enter, but also in every show type the site offers including public chat rooms (only the model can see you). On average, prices for some trans 1on1 cam2cam fun stand at about $4.10/min, but you'll always find a few rooms coming in at the lowest price of $0.45/min (that really is an unbeatable bargain!) And... don't forget to take advantage of the deals I mentioned earlier.
Starting your cam to cam trans show couldn't be easier.
Go to the far right vertical menu bar of the live video window and select the small webcam icon.
Make sure your browser settings are set to allow the site access to the microphone and camera.
Select Allow from the pop-up alert and enjoy your private party.
---
XLoveTrans

XLoveTrans is a great site for my international pen pals. I'm saying this 'cause it's available to view in a whopping 27 languages. So, if English isn't your mother tongue, this site may just make your tranny trail a tiny bit easier. While it's not the biggest or even the best shemale site out there - it's a great start-out stop for those of you that are taking your first tentative tiptoes into the trans wonderland.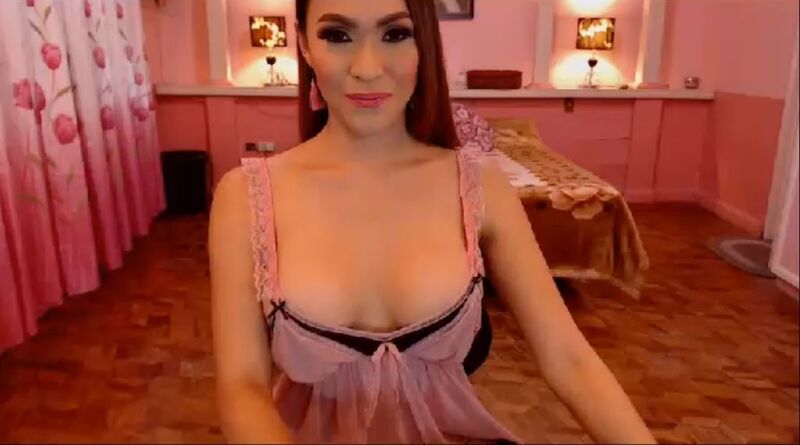 In the free chat rooms the girls remain demure (they keep things covered). The site does advertise Topless Mondays, where for 24 hours they are permitted to go topless in the free chat, but from what I've seen, not many take part in this promotion. Still, it's worth a quick look at rooms to see if there's any titillating titty action going on.
Prices for shemale cam to cam chat are pretty low. On average you're looking at around $2.20/min - but some of the new models on the site start out by growing their fan base by offering rock bottom rates of just a $1.00/min.
When it comes to kicking off a cam to cam trans sex show, just flip the switch.
In her room select Enter A Private Show which appears on the right of her live video feed.
Once you're in a private mode, at the bottom of the message box two icons appear - a camera and a microphone.
Click/tap on these and start broadcasting your webcam and audio.
---
Conclusion
These 6 shemale live sex sites are all worth a visit. Each is verified to be safe, secure and discreet, so whatever goes on in them, stays between you and your gender bending gal. Some have great HD streaming, others are super cheap - some include cam to cam in their costs and others feature only the hottest honnies around. It all depends on what really gets your cock a' crowing and where your priorities lay.
My personal fave, it's the femmes and the fetishes at MyTrannyCams that keeps me perving and perky. With HD streaming throughout and perfect porn princesses batting their over-sized eyelashes in my deviant direction, I know every dollar I spend is going directly into the wank bank for future withdrawal.