How To Save Money At Stripchat
Published
October 21, 2020
Stripchat is one of my favorite freemium sites. It looks like a premium site, in as much as there are no annoying ads cluttering up the screen. It has a great user-friendly layout with an accurate and to-the-point search engine. Many of the models use HD streams (some even have virtual reality capabilities) and all the performers are happy to close their virtual curtains and enter a private show mode.

It also has a few secrets that not many know about. Secrets that can score you FREE tokens, cheap shows and even free recordable shows that you can watch as often as you like. Read on to find out how you can strip down your costs at Stripchat.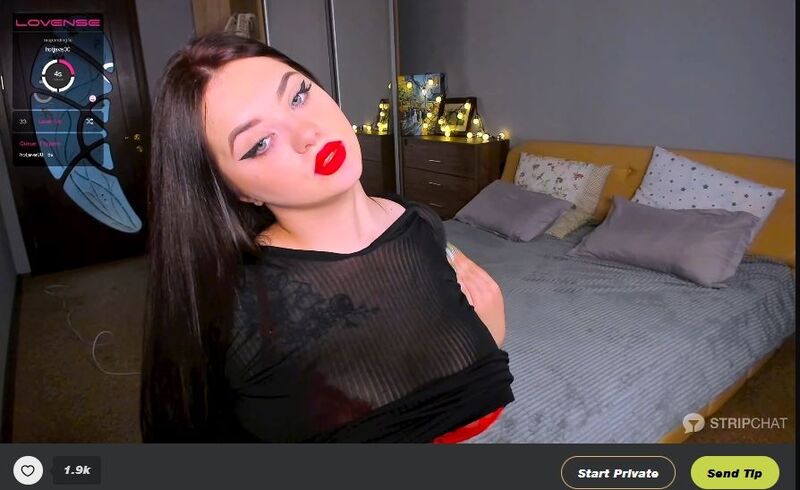 25% & Other Package Deals
Every now and then Stripchat feels generous and gives 25% off new members' first purchase. This special offer isn't permanent, so if you see a big banner on the homepage advertising it, it's always worth grabbing the reduced tokens. Even if you're already a member who has made purchases in the past you can still take advantage of it. What I does is simply create a new account and link the new profile to a different payment method or credit card and stock up big time on those reduced tokens.
Hourly Tokens Giveaway
Stripchat has a couple of great features not available at any other leading live cam platform. Firstly, it's the only site with virtual reality (VR) enabled rooms. So, if you own a VR headset, taking a performer for a spin on a Stripchat live VR cam show is a literal must.
Secondly, it's the only site that gives away FREE tokens every hour. All you have to do to in order to be eligible to get your hands on 50 free tokens is to make sure you're signed into the site as a registered member. Membership is totally free and only takes a few seconds to complete. Once you're in the site, you simply enter a model's open chat room and click on the 50 free tokens link which is at the bottom of the right message bar next to live video window (show in the image below).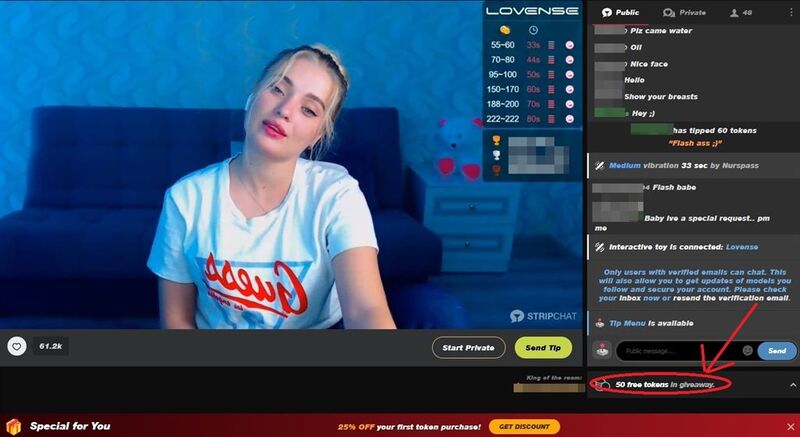 This automatically enters you into the hourly draw where 10 lucky online Stripchat members get a chance to get 50 tokens each. You can enter every hour as long as you're on the site, so it's worth setting a reminder to log into the platform and enter the raffle. While 50 tokens only covers a few minutes in a private chat show, they soon add up over the days, especially if you enter several times a day (off-peak hours give you the best chance of being one of the 10 giveaway recipients).
Free Recordable Shows
If you scroll down the menu bar on the homepage of Stripchat, you'll come across a link for Recordable Privates in the Private Shows category. Do not ignore this group, it's a gift that keeps on giving. These rooms give you the option to record your paid-for private cam show with a hot model for FREE. A copy of the show is stored online at Stripchat in your personal account where you can access it as many times as you want and re-watch your personalized X-rated webcam performance.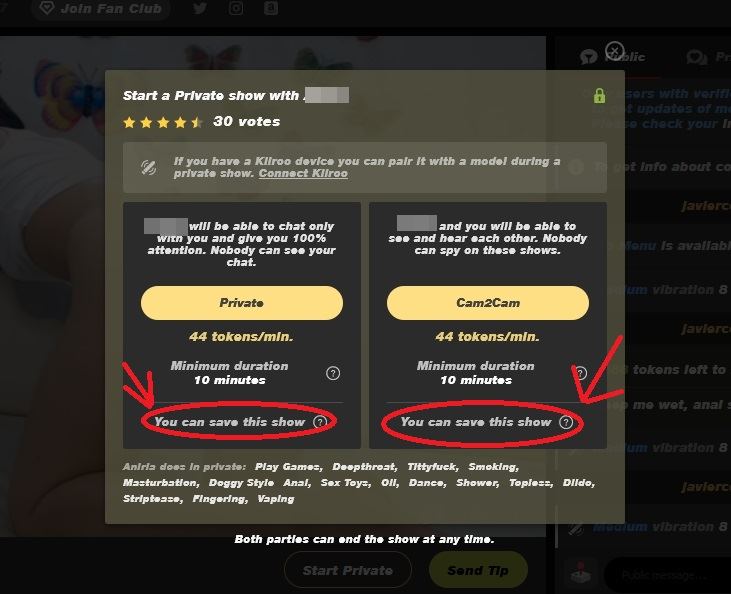 Find The Cheapest Cams & Shows
The Private Shows category also breaks the rooms down by their token per-minute prices. The cheapest live cam rooms start at just 8 tokens a minute. However, many of the performers insist you book a minimum time with them. Some require you spend a minimum of just 3 minutes, while others won't enter an exclusive show mode for less than 10 minutes, at least.
Spy Shows
Not many people know that you can actually have a 10-second glimpse into an on-going private show for free. If a model is already entertaining in a private show mode with another user, you can be a silent voyeur and peek behind the curtain. The first 10 seconds won't cost you a penny, after that you have to pay, but prices are really low, starting at just 4 tokens a minute. Just remember though you can't interact with the host in any way. You can see, but not be seen or heard.
Group Shows & Ticket Group Shows
So I'm going to tease you by explaining how these cheap cam shows work, but in reality, you won't often find them live at Stripchat. If you do come across a model hosting a Group Show, they're well worth checking out but, you'll probably have to log onto the site during the peak hours if you have any hope of catching one.
A Group Show is a multi-viewer show. Viewers can reserve a slot for a model's upcoming live show. Once the show starts you pay a reduced per-minute rate as long as you're watching the sextravaganza. However, the model can cancel the show beforehand if she changes her mind and finish it whenever she wants.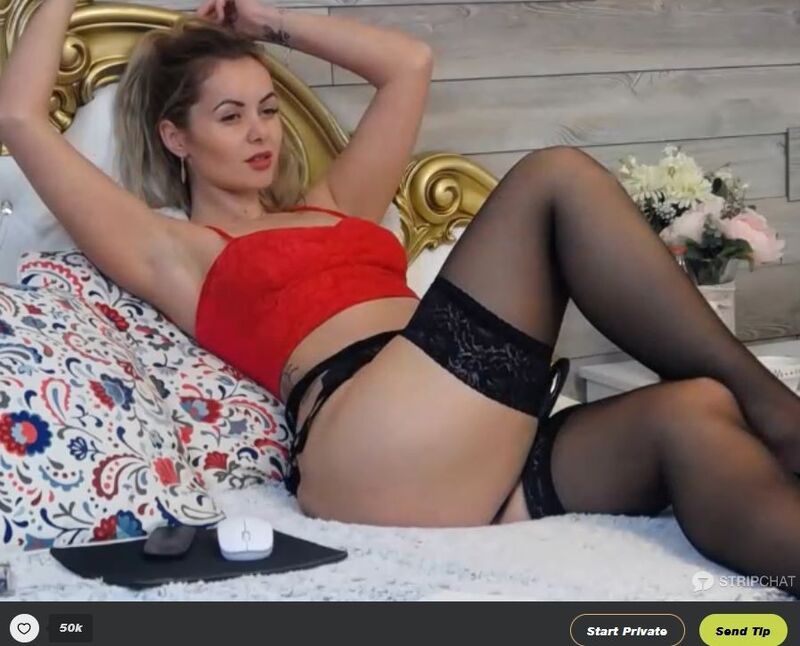 A Ticket Group Show is slightly different. While it's also a multi-viewer show, it doesn't work on a per-minute price. Instead you buy a ticket ahead of time that gives you access to the entirety of the performance. They can last from between 5 to 20 minutes and are super-cheap. A ticket will set you back just pennies, anywhere from 8 to 200 tokens. The longer the show, generally the higher the price of the ticket, but it's all up to the model.
Conclusion
Stripchat is without a doubt the most upmarket freemium live cam site there is. The models range from amateur babes streaming from their dorm rooms to verified porn stars broadcasting in HD or even VR from professionally lit studio settings. It really has something for every taste and at every price point.
But for me, the biggest thrill I get it is stocking up on those free tokens they give away every hour and after a few weeks sitting back and enjoying a totally FREE live cam sex show with a hot babe who's happy to do pretty much anything I want. And even, better, most rooms let me record it for free. Basically, within a few months you'll have a library of free personalized live cam movies that won't have cost you a dime.