PayPal is Your Friend when You're Fiending for Kink
Here are the best fetish adult sites that accept alternative payment methods, specifically PayPal. Live porn sites have embraced many alternative payments methods to credit cards, and PayPal is among the most popular for those who wish to enjoy private sex chats online. So, below you will find an overview of webcam sites that are heavily into fetish and make the most of alternative payment options that comply with the highest security standards regarding both anonymity and money transfer safety.
---
CamSoda

CamSoda is a highly trafficked freemium live porn site, meaning you get loads of nudity for free. The platform is one huge orgy place, with tons of fetish action to cater to any selection. The models are all amateurs, with unbridled desire to please your throbbing cock any way they can. Being freemium, the site enables you to watch a huge amount of hardcore shows without paying a dime. If that's what you want, CamSoda's definitely the right XXX universe for you.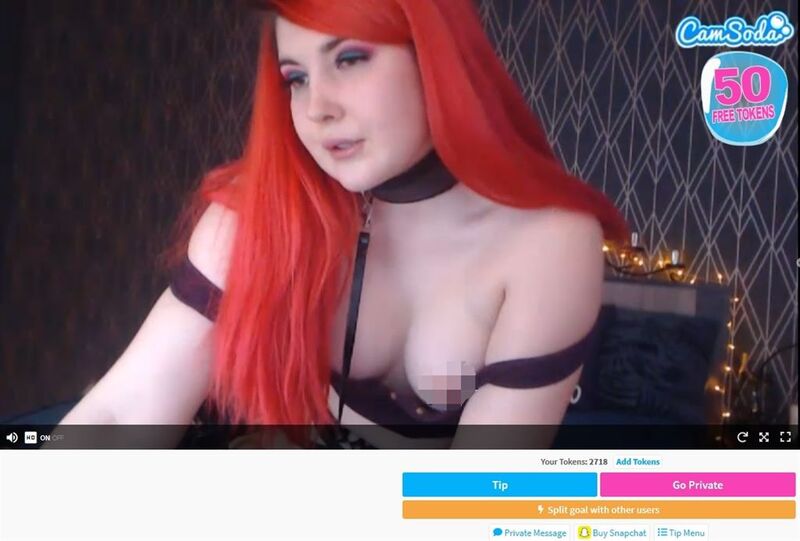 Getting into the fetish action on CamSoda is not easy, because its navigation is not intuitive. It's mainly the upper bar above the main screen and some tags. However, that doesn't mean there aren't some great ones. Actually, there are numerous BDSM, domination, humiliation, toes and fat leather girls who will give just the right treatment for your eager cock. Most cam rooms are streaming in HD.
As mentioned, you don't have to pay to have fun here, but if you want to have a private fuck fest with your chosen girl, some tokens have to be bought. The starting rate for private chat stands at $0.55/min and the average goes for about $2.75/min.
The site is completely secure with regard to transaction transfers and accepts multiple payment options of all major credit cards and many alternative methods. Among the latter: cryptocurrency, wire transfers, checks and PayPal. Of all the newer options, PayPal is the best in my view, because it has become a universal alternative payment means. And it's quick and easy.
Using PayPal:
After you sign up, hit the "Add Tokens" orange button to the right on the upper bar above the screen
The tokens menu opens up with different payment options
Default checked option is on 'credit card'
Second below is PayPal, check that
Then choose the tokens package from the second menu below
Proceed with purchase menu instructions
Tip of the whip: CamSoda is free and unlimited. But, if really click with a particular model, maybe it'll be worth your while to take her private for a personal under-the-heel session. Then, having PayPal becomes useful.
---
LiveJasmin

LiveJasmin is one of the most established and popular premium adult sites. Being premium, the platform won't let you access any nudity for free. But, the moment you purchase your first package of credits, you're enthroned as a worthy paying member and you'll start enjoying the live sex. The ambience of the site is that of a high end escort platform - the models are all pros, sleek and chic. You certainly can see where your buck goes.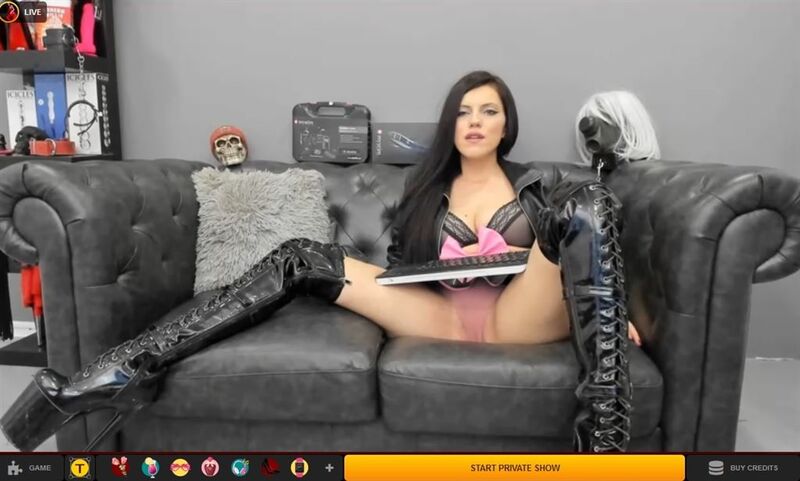 The Fetish category on the site doesn't disappoint as well - all action featured there is superb, what with the girls being pros. The navigation into it is also super user-friendly and easy. Whatever floats your sex boat - BDSM, femdom, SPH, toes - all represented, done to the highest level of your kink satisfaction. So don't you let your little pretty dick worry - it will be massaged or humiliated until it gets as hard as a rock.
The chat rates start at $1.00/min, with the average being around $2.40/min. Cam2Cam will be additional $1.00/min (1 or 2 credits) on top of the regular rate and 2way audio will set you back an additional $1.00/min (1 or 2 credits). All streaming is HD.
LiveJasmin steps with the times and understands the importance of accommodating customer's convenience. Hence, in addition to a highly secure transaction system, it accepts multiple payment options, including many alternative ones. So you can pay with all major credit cards, gift cards, about 50 alt-coins and PayPal as well.
Using PayPal:
After you sign up, hit the 'get credits' caption on the upper bar above the screen
Credits packages menu opens up, with two payment methods buttons at the bottom
Click the PayPal button, the menu jumps & refreshes with with PayPal signified in the upper left corner of the window
Select the credit package next and proceed with payment instructions
Tip of the Whip: LiveJasmin wants you to have the best time of your life in its fetish live sex cam rooms. Don't let the payment issue stop you. PayPal is everybody's friend.
---
Flirt4Free

Flirt4Free is a nice and clean premium sex site with a great choice of diverse models, including in its fetish section. Being a premium, it means you must pay to get full access to nudity, but occasionally you are allowed a sneak peek for free. Its navigation is straight to the point - intuitive and easy to get to any action you desire, in this case - fetish. It also accepts alternative payment methods like PayPal.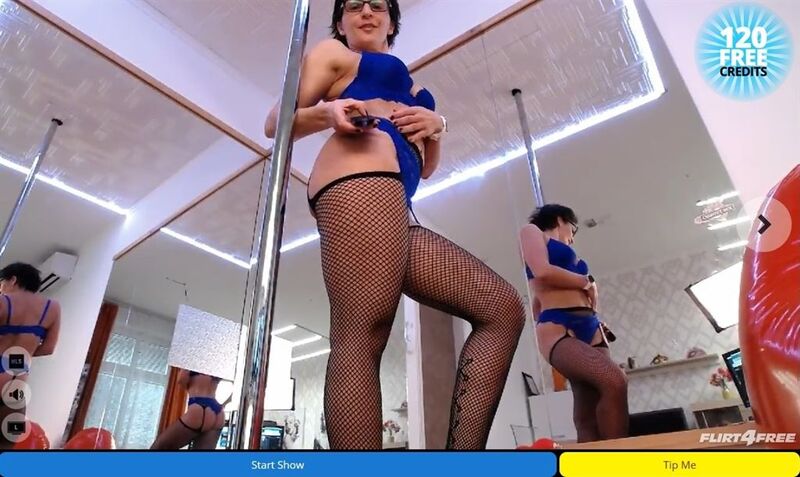 So the fetish action is as amazing as all the rest of the site. It shows the platform has standardized the performers offering the best of genre possible: femdom, chains, heels, BDSM, cock-teasing toes - any kink imaginable is catered to. Just free enough time to spend in its dark leather-clad dungeons. The girls represent all ethnicities and are highly obliging. So, the moment you upgrade to a paying member, the teasing foreplay ends and serious torture will start.
The cheapest chat rates kicks off at $0.45/min and the site wide average comes in at $4.10/min. If the girl's window has a "Premier Chat" icon, it means she's one of the highest rated sex nymphes online and is likely charging significantly more than the average.
Also, the predominance of cam rooms stream in HD, 720p at least, so you are bound to get superb viewing experience for your hard buck.
Using PayPal:
After you sign up you see a big green "Buy Credits" button
Choose a credits package. At the bottom, you have a darker bar signifying paying options
Click Change payment method
New menu opens up. Click PayPal button
Proceed to the process the transaction
Tip of the whip: Flirt4Free offers a comprehensive superb porn content experience - from the hardcore shows and performers to the safest and most discreet payment transaction. What more should one want?
---
Streamate

Streamate is a premium hardcore platform in the porn universe, with a unique - pay as you go - membership model. As generic for this niche, you get close to zero nudity for free. The real sex action starts only after you become a paying member. And here comes its distinctive charging feature - you pay only for the functions you consume. No pre-paid packages here. You sign up, register your credit card and the meter starts ticking only when you go into the private show.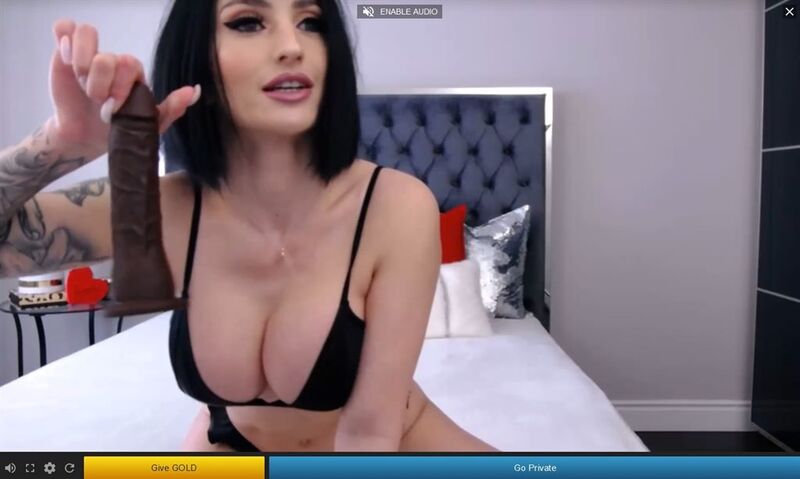 The fetish action here is rampant. The models do all sorts of kinky things with leather, straps, heels, and feet - whatever desire. The performers are professional and obliging and your are bound to get the best dick massage you can imagine. All ethnicities are represented: White, Black, Asians, and Latinas of all shapes and body types. You only have to choose which to park your cock with.
Models have different options of video streaming with the HD option being set at 720p. You can instantly choose a selector to set your own streaming preference.
Prices start at around $1.20/min with an average rate closer to $3.20/min. Each performer has their own show rates and minimal show times, but the site wisely put a daily spending cap, making sure you don't go over-board with fun.
Using PayPal:
After you sign up you get an automatic screen of "Create Your account" with different payment systems displayed
There are 2 options: credit cards: Visa, Mastercard, Discover; Paypal. Check PayPal
The menu then changes with the orange bar displaying "PayPal checkout". That's all - you're all set
Tip of the Whip: Gorgeous babes - check, kinky action - check, user friendly platform - check. Creative business model - that's unique. And actually very user-friendly and responsible.
---
Stripchat

If you wish to have an augmented experience of your porn kink fun, then Stripchat is definitely the place for you. This freemium site offers a unique feature of VR streaming for your private chats, taking the whole sex show to a totally different level of ambience. Being freemium, you do get access to a great scope of nudity for free. But for those special futuristic perks, you will have to pay extra.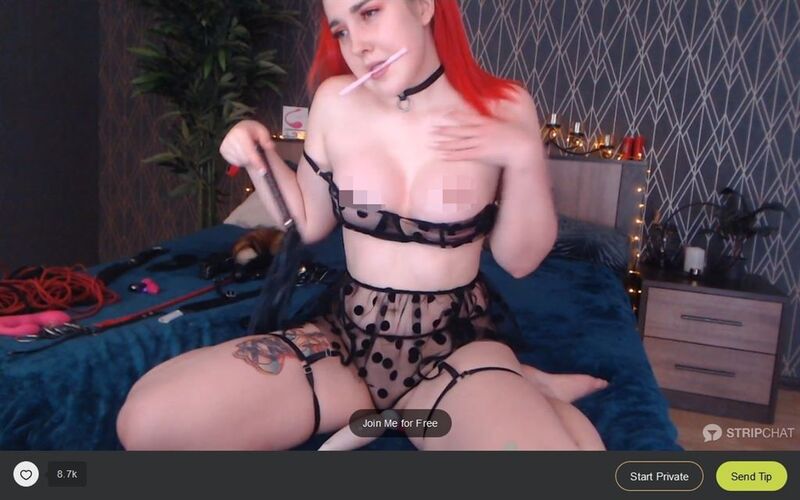 So just imagine your favorite fetish streamed in VR. The choice of kink action on Stripchat is overwhelming and much of it you can get for free. But, if you think to explore those BDSM, heel, whip, femdom dungeons in a private mode, having a VR show brings you to a totally different sphere of experience. However, you also must be equipped (in addition to your dick, of course) with the goggles and download the GizmoVR software.
Private chat starts at $0.90/min, and hover around $2.70/min, on average. That's excluding cam2cam. Some girls may request minimal time of up to 10 min to secure income. There is no surcharge for VR and it costs the same as a standard c2c, but the models who do it tend to be on the higher end of the scale.
A strange downer for this site, which prides itself on VR is a limited choice of HD streaming rooms. As opposed to VR, high definitions shows are not categorized or even tagged, so you will have to get into every room and check its settings to see if the model is broadcasting hi-def.
There are numerous payment options to support your hardcore indulgence. The traditional credit cards accepted are: Visa, Mastercard, Discover, Diners, JCB and in addition, many alternative channels: from gift cards and cryptocurrencies to PayPal.
Using PayPal:
After registering, you can see a small icon of tokens (stack of coins) on the upper bar, above the screen. It says "Buy Tokens"
When you select it, the payment methods & token packages menu opens up. It's set on credit cards
Check the second option - PayPal - which then gets high-lighted
Choose the token package and you are all set
Tip of the Whip: Stripchat's platform is dedicated to gadget lovers. Loads of free hardcore porn, but for that special experience and 1on1 chat, put your Oculus on and off you go to jerk yourself into oblivion.
---
Conclusion
Whatever your preference for fetish porn action - amateur or professional - all live sex sites reviewed here offer a great experience in several ways: cam girls, choice of action and completely secure payment methods. Should you choose to go private even on a freemium site, you are totally safe with regard to both anonymity and security of the money transfer. Especially, if you pay by PayPal, which is an international global safest transaction vehicle.
While I recommend any one of these PayPal accepting cam sites, I do have a special affinity for the easy of use, quality of the webcam streams, and the interesting mix of fetish cam girls found on CamSoda.