Top 5 Cheapest Trans Girls Webcam Sites
Published
September 16, 2020
The live cams world generally has two types of sites - Freemium and Premium. Both have their merits, and both offer features unique to their styles. But in the trans world, which of them are the cheapest - And the best? The answer is not as simple as you'd think. Here are the top 5 cheapest trans sites that offer everything from cheap rates to top notch models and features.
---
Shemale

Shemale is a premium site for those who like things intimate, but playful. In the free rooms there's no nudity allowed, but you're still sure to find different stages of undress, and lots of teasing. The hosts are lovely and are the main attraction, and though the streaming quality could be better, chatting to them even in live chat is light and sexy. With multiple budget-friendly options, this site welcomes you to an unforgettable trans experience.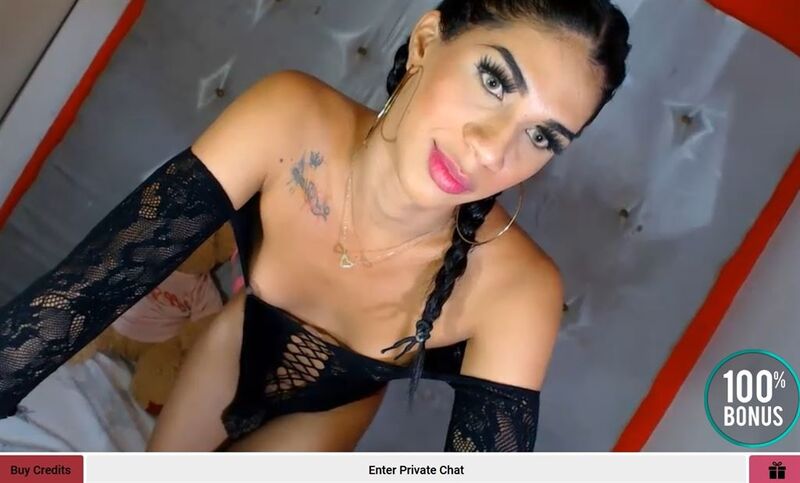 The friendly search engine makes finding your dream tranny easy, with the Advanced Search option on the top right of the main page. To start working on saving those pennies, filter the models by type of show, and even price to suit your needs. You can also filter by New Models, which always offer lower fares than the veteran gals. You can also join a models' Discount Club, which not only allows you free access to her extra media (Pics, videos), but also gives you potential discount codes to shows/events.
In the free rooms you can always have a blast for very few credits by using the Vibe feature, which allows you to control their sex toy from afar. If you also enjoy something to read with your live cam porn, you can thoroughly enjoy the sites' magazine, full of articles about the model lifestyle, entertainment, health, trans issues, and lots of insightful commentary in general. The Blog is from the site to the users, including announcements, promotions and the like.
If you prefer a private experience, the average private show rate across the site is $2.25/min, while many only ask for $1.00/min. Cam2Cam chats are no extra cost.
The singular downside to the site, depending on your watching habits, is the streaming quality, but the mobile version of the site is really excellent, and parallels the desktop site and in some ways surpasses it, as due to the small screen the streaming quality issues are not noticeable. There's no option to c2c on mobile, though.
In short, Shemale has everything you might need to have a sexy, low cost time. Professional and stunning trans models, plenty of ways to save some cash, diversity of ladies in style and show types, 24/7 customer support, a rewarding membership program, a great mobile version you can take with you anywhere, and multiple ways to feel connected to the trans community, models, and even the site itself.
---
Stripchat

Stripchat is a freemium site that includes all categories, one of them being Trans. As such, you can expect to find pros and amateurs, in large numbers, eagerly awaiting to show of what they've got, mostly for free. Even though you can get so much out of the site in free chat, there are multiple ways to keep on saving when you do want private or special shows. It's also fun to note that most of the hosts are from Latin America, and Europe, as you can tell from the cute little flags on their profile pics.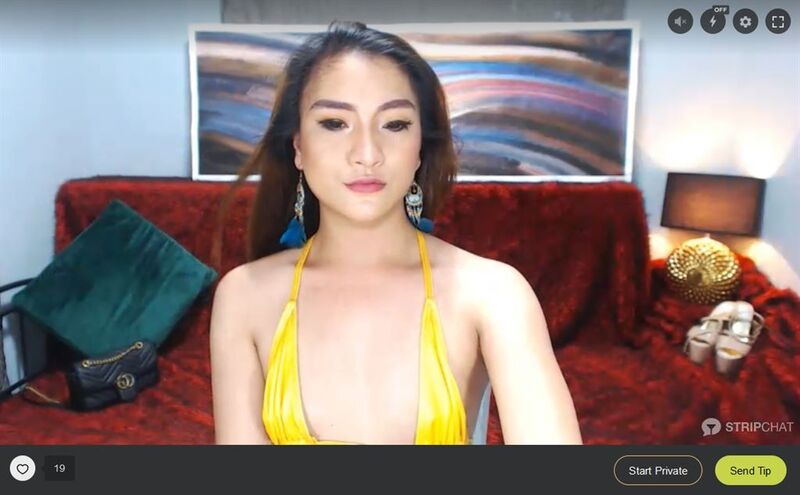 There are many ways to take advantage of the great search engine to maximize your experience with the least amount of money spent. First, you can choose New Models (Who charge less) or Spy on Shows, which show up first on the category list. The Spy Shows allow you to go into someone else's private live cam chat and use your pervy inclinations to watch the action unfold (For a small fee).
Tokens (The site's currency) are worth around $0.10 each, depending on how many you purchase. On average, a private show will cost you $3.30/min for an intimate cam2cam, and only $2.50/min for a regular private chat. It's helpful to filter, using the search engine, by price range of token amounts per minute. If you come to fancy one or two (Or more) special tranny beauties, you can join their individual Fan Club and get lots of cost effective prices, promotions, and also content other members need to pay for like x rated pictures and videos the models created specifically for their fans.
The singular downside to this great site is the subpar streaming quality in some rooms, that don't have HD capabilities. This might be a problem for some users, but the good news is that if you're using the top-tier mobile version you get all the same features of the desktop, without the streaming issues (However, c2c is not possible on mobile).
Stripchat boasts quite a few enticing elements - Worldly models, Virtual Reality (If the member has the right equipment), So many categories it will make your head spin, and countless ways to not only save money, but enjoy the free live x-rated chats with your chosen trannies.
---
XLoveTrans
Another premium site without nudity in the free rooms, XLoveTrans boasts some of the finest looking t-girls in the business, polished and sophisticated yet raunchy in private. It's fun that most of the hosts are non-English speakers and hail mainly from Europe, which is known for being much more open minded and experimental. Not only do you get to talk with these hotties in their live cam rooms, you can also check out the free Videos (Top right of the main page) that they post, available for viewing anytime, and for free.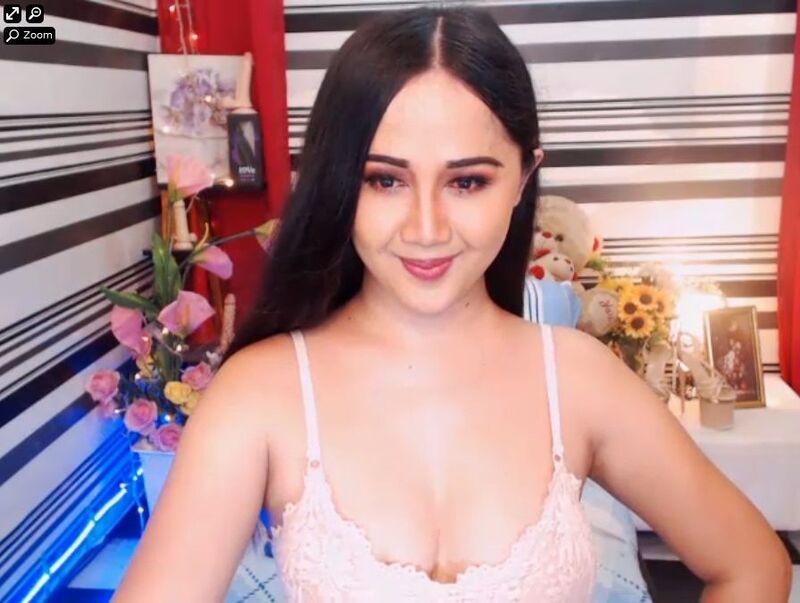 There are two options to take your chosen lucky tranny into a one-on one: A private chat that others can "spy" on, and an Xclusive show that is guaranteed to include only you and that sexy model that tickles your fancy. On average you're looking at just over $2.00/min for a c2c show, with some of the models asking a mere $1.00/min. You can find the budget-friendly models by filtering according to Rates, and also by choosing the New Models, the very first category.
You can also be the one to spy on another members' private show by going into a room where the model is already occupied (A red little square on her profile pic will show her status as in a private show), and for very low rates enjoy the Voyeur experience.
In some ways, the mobile site is even better than the desktop, for its' ease of use and simplicity. The search engine is just as great and specific as on the site, and perhaps the best thing - You can use Cam2Cam on mobile. A great feature for anyone that loves to chat with their titillating t-gal wherever they are. Though the site itself has streaming quality issue at times, on the mobile version the streaming is clear and crisp. To find the HD rooms on the site, look for the profile pics with the HD mark on them.
To sum up XLoveTrans, the focus lies on the superb models and their European, out of the box kinky antics, that serve both the premium high end user, and the careful low-cost user just as effectively. This is a site that lets the models shine in their natural element - Live cam rooms, and leaves behind fancy features and complicated membership programs. But don't you miss out on Topless Mondays, it's an event to behold.
---
TSMate
Full of t-gals from around the world, TSMate is a no brainer destination for live cam tranny porn, not just because of the stunners teasing you mercilessly with their charms and bodies, but fantastic HD quality streaming, 24/7 customer support, nudity and sex in the free rooms, and perhaps most notably - A pay as you go system, unique and hard to find in the live cam world.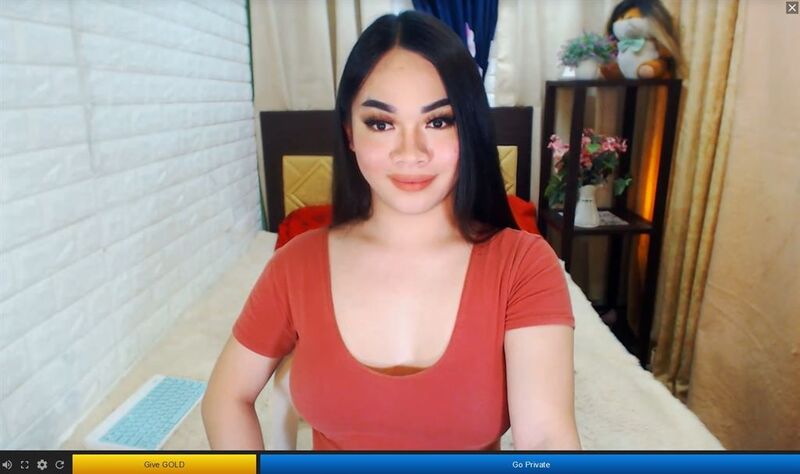 The models are pretty spectacular, and very inventive in expressing themselves using outfits, costumes, makeup, lingerie, and multiple languages. You can use the super friendly search engine to filter all these attributes, by Regions, Age, physical attributes, and Features - Such as Phone, Interactive Vibrator, and Fan Club. The Fan Club is a great way to start saving, as it gives you special promotions for a specific model, discounts, and free access to all her media (Pictures and xxx videos).
Another way to save is visit a Gold Show. A Gold Show is one that sets a minimum goal of credits, and the members who wish to participate give an amount they feel is appropriate until the goal is reached. It's cost effective because some shows go for very little gold, so you contribute much less and get to see a whole lot more. During the show, feel free to control, by tipping, the models' sex toy.
On average, a private chat will go for $3.00/min, but plenty also go for as low as just $1.00/min. Keep in mind that the more you spend, the higher rewards you can get - Up to 10% return on your gold spent, according to how many consecutive days you've spent on the site. If you'd like to use the mobile version of the site, it's just as good as the desktop version, however in landscape mode with the full display you won't be able to text, only view the model. There are no other features, but still excellent HD streaming quality in most rooms.
The pay as you go system is important to expand upon, because besides the many ways to save on the site, and the multiple regular payment options (Credit Cards, PayPal, and others) this system is a fool-proof way to save and limit your spending. You can simply connect your account to your prepaid card (A card that is not connected to your bank account - So that's extra security, too), and place a daily spending limit.
TSMate is an excellent site for the low-cost user as well as those who love extra features and great streaming quality. It blends freemium prices and premium amenities well, with the only downside being pricier rates for exclusive chats that other members can't spy on.
---
Chaturbate

Chaturbate is a magical site where you can spend hours on end, in free live cam rooms showing nudity and all manners of sexy activities - And you won't need to spend a single dime. With countless rooms full of excited amateur trans hosts, many of which use sex toys you can tip to control, great streaming quality and fun features like connections to social media and personal lengthy bios for the models, this is a unique, and super fun site to go with the flow and enjoy.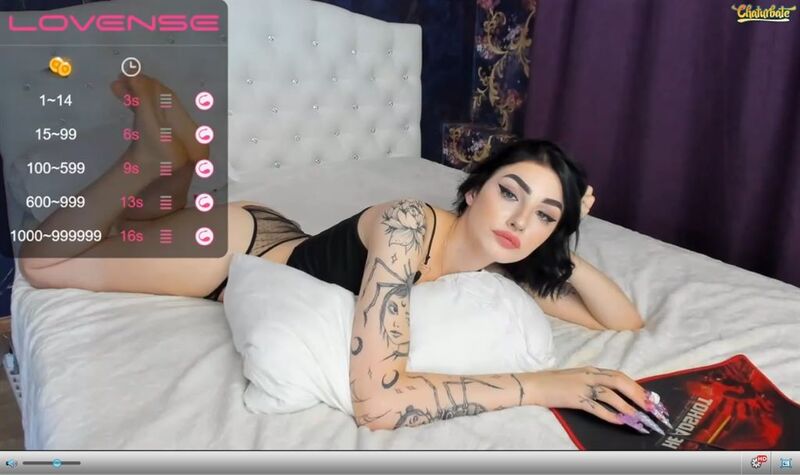 One particular feature that sets the site apart is one that speaks to the nature of Chaturbate - A communal experience encouraging exhibitionism - Broadcast Yourself. Though you can become a model yourself on any site, this site places this button on the very top of the page, and not only does it show you how to do it, it posts special articles and blogs to help you become a great model, and make the most out of your broadcasting experience. It's important to note that while modeling is not for everyone, if you'd like a Cam2Cam session, you'll have to set yourself up like a model anyway, because it's the only way to activate your cam and mic.
When you enter a room, click on the HD button on the bottom right of the chat to choose which resolution fits your system the best, with many rooms boasting 1080p quality (Some even stream in 4K). The models' rooms are extremely friendly and inviting because they use lots of fun graphics, animation, you can connect to any trannys' social media accounts, and even - If you're so inclined - Shop around Amazon for a gift, using her Wishlist. Don't forget the due to the amount of hosts, there are countless categories, such as BDSM, Anal, Interactive, and countless others.
The cheapest private chats starts at $0.60/min with an average being $2.30/min. To lower costs, you can go into a Spy Show and get an even lower rate for being a fly on the wall while another member has his private chat. You can also join a model's Fan Club and enjoy free pics and videos, along with other promotions. The mobile site is just as good as the desktop, same quality and features, however there is no option for c2c.
Chaturbate is a different kind of site, which allows you and the models to fully express yourself. Not only with the possibility of your very own modeling career online, but with countless categories and attractions, fun-loving t-gals that are looking for a laugh, and streaming quality to watch every single pixel clearly - You're sure to have a blast.
---
Conclusion
The choice was not an easy one, but the cam site, Shemale, takes the cake. The site is not only bustling with the best models in the biz, it manages to create an intimate, premium environment coupled with decent prices that most folks should be able to afford. The site covers all the bases: The hot, friendly t-gals, the features that allow for a much closer encounter, a great mobile version, fun extras (The magazine is excellent), and of course low prices.