Top 5 Cheapest Mature Cam Sites
Published
February 03, 2021
Experience is sexy, and that is what these mature temptresses are all about. If Vogue had an over 50's magazine, these women would be cover stars. So, if MILF, mature, and cougars are your weakness, then read on.
These top cam sites are for those of us spending wisely and still wanting a fantastic show. I explore each site's features, chat varieties, prices, and mature models, so that you have the best options available to you for the cheapest rates online.
---
CamSoda
CamSoda is my top pick for so many reasons. What you need to know is that it is flooded with mature live cams - over a hundred at any time - has multiple chat and show options, and what is not free is cheap, cheap, cheap. Some cams stream in HD and the mobile site experience is smooth, with cam2cam supported on both.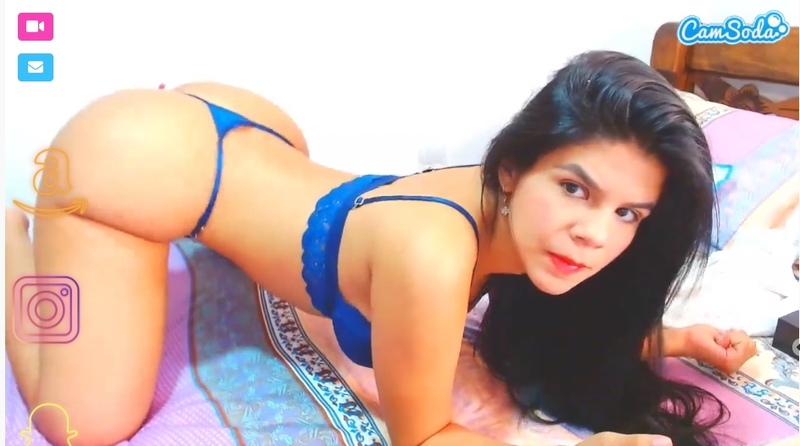 For a salacious live cam site, CamSoda is surprisingly light and bright. What you will first notice when hitting the homepage is the brand's unmistakable pink and blue color scheme. Then, of course, you will notice the hundreds upon hundreds of cam feeds waiting for you. What is great about CamSoda is that the main galleries are interactive, so you do not need to hover over any preview to activate a sneak peak. The mature models on CamSoda are seasoned, raunchy, and easy on the eyes. They can range rather widely in age, so you will need to do a bit of scanning in order to find your personal definition of mature.
CamSoda has lots of categories and filters. To find the MILFs, look for this option in the left-hand Filters bar, under Tags, then check the box. This will instantly take you to the MILFs main cam gallery - usually 3 or more pages worth. Using the same bar, you can also filter by Private Show Price. The reason why CamSoda nabs top spot, however, is because you can see as much skin and sin as you want without dropping a dime. That's right, CamSoda is a freemium chat site where you can watch MILFs to your heart's content, for free.
If you find a favorite cougar and would like to reward her for her entertaining efforts, please tip and even pay her for a private chat. Models on CamSoda set their own rates, but none will break the bank. Private chats can be as cheap as $0.55/min, with the average overall rate being $2.75/min. Here is the one catch to this site: You cannot see a host's rates until you have bought tokens. CamSoda often runs promotions and token giveaways, so keep an eye out for these. CamSoda is definitely one of the best mature cam2cam sites around.
---
ImLive
ImLive is doing a few things that other live cam sites are not, like regularly hosting famous porn stars, and imlive4theblind, free voice-over live webcam shows for the vision impaired. With a host of other great chat and show options, ImLive is definitely a site worth checking out.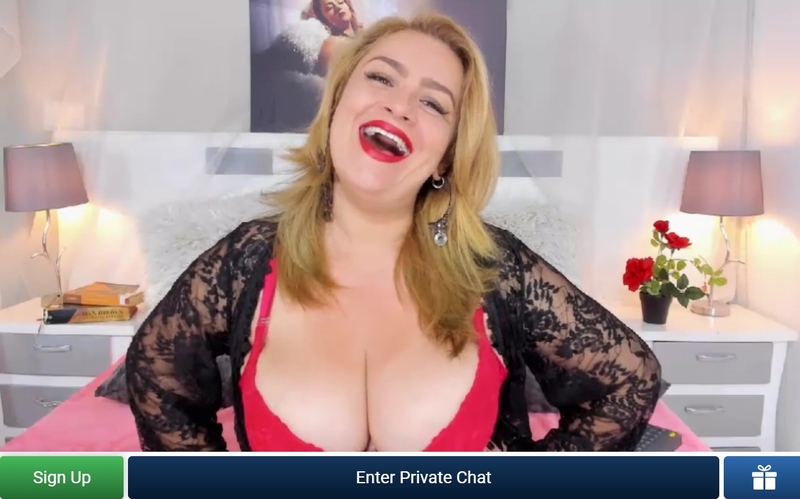 ImLive is a premium site, so clothed chat is all that is on offer for free, and like every other cam site out there, you need an account. New sign ups can receive $50 bonus free credits, which is a substantial gift. Besides that, you will want an account to benefit from ImLive's many other ingenious features, like Multi-Viewer. Located in the second top navigation bar, Multi-Viewer opens 6 live cams at once, so you can view 6 models' shows in one go. There is a drop-down menu that lets you sort the 6 live cams by category. Every page of the site has a red Kill Screen button that will save your butt if you need a quick out, instantly redirecting you to the CDC's homepage (sobering choice).
To find your cuddlesome cougar, use the filter to sort cams by age, and then choose Mature. You can expect upwards of 50 live cams in this category most of the time. The average cost of a private chat is $2.25/min, and as low as $1.00/min. You can also use the site's filter to sort live cams by price. Discover ImLive gives you all the information you need on every feature, show, and chat offered on the site, and if that is not enough, there is 24-hour customer support. ImLive is available on mobile with cam2cam, and the site is mobile-optimized and responsive.
So, how do you save money here, you ask? For starters, look out for the sickly sweet Candy Shows, where strength and affordability lies in numbers. Models propose kinky shows for a large audience with a free short preview to lure viewers in. Members must meet the host's tip goal and only members who pay for a spot get to enjoy the all-out performance when the show starts. It is a shared-cost approach for a masterful act.
---
Flirt4Free
Flirt4Free is a premium live cam site where a lot of models just dish out the carnal action for free, while others will have you going for broke just to get a flash of skin. Flirt4Free's many show and chat options, regular promotions, and flexible pricing has this site ranking high on the list. Most cams stream in HD and you can restrict your search results to HD cams only by selecting this option at the top right of the homepage.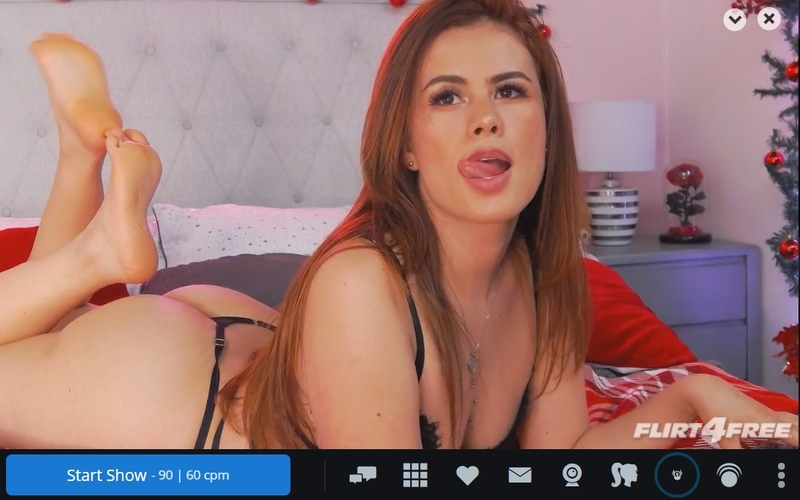 The Flirt4Free site is sharp and smooth and easy to navigate. For mature cam hosts, there are 3 categories - Cougar, MILF, and Mature - located in the site's left-hand Categories bar. Above the cam gallery is a tab entitled Room Type. Here, you can sort models according to the shows on offer, as well as by Highest and Lowest Price. You can add multiple filters from both menus to any search. When you find ones you like it is a good idea to add them to your favorites (❤) so they are easy to find again. You can also turn on notifications to receive an email whenever your besties come online.
Private shows at Flirt4Free can set you back an average $4.10/min, with the cheapest costing $0.45/min. As this article is all about the most affordable mature chat options, here are three hot money-savers that this site offers:
Members are welcome to use the forums and open chat rooms to post their desired show details and $/min, and then have models bid for their deal.
The feature called Show Offers lets you negotiate a private show's length and $/min with the model of your choice. Look out for models offering this by way of a Show Offers tab inside their chat room.
Party Chat, offered by models at their whim, is a multi-viewer show experience where tips keep the twists coming. As it is a group effort, you do not have to drop nearly as much you might for a private show. But keep the tips coming, or the show will end. Look out for the distinctive purple bar on cams offering this show.
Flirt4Free is always offering promos and deals, the details of which you can find at the bottom of the homepage in the sections by the same names. You can also earn 120 free credits by validating your credit card at no cost to you. Flirt4Free is all about you, the viewer, and public participation is encouraged. The site has dedicated Community Forums and a Blog.
---
Stripchat
Stripchat is a freemium cam site and one of the only sites currently offering live VR sex chat. That's right. If you own a pair of VR goggles, you can enjoy the most in-your-face 3D live cam shows on Stripchat. Just look out for models offering this feature by way of the VR icon top left of their cam preview, or simply search VR from the homepage.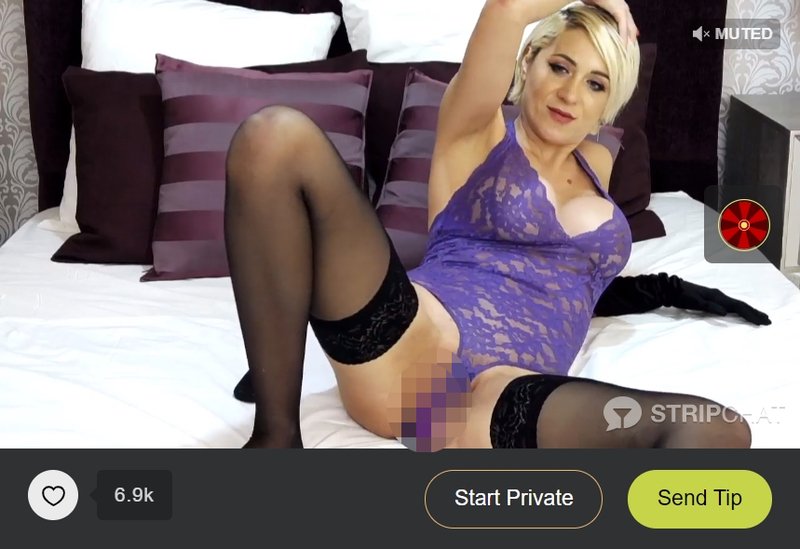 Stripchat is really easy to navigate with a left-hand categories bar full of choice. The options here for mature models are Mature, MILF, and Granny, and you will usually find over a hundred online in these categories. At the bottom of the categories bar you will find All Categories. This opens up an A-Z world of fantastical choice, like Best for Private Mature and Blonde Granny. Each option has a number next to it for how many models are currently online in that category. On StripChat, the average cost of a private show is $3.00/min and the cheapest is $0.75/min.
Now, because Stripchat is freemium, it is a very cheap option for viewing live MILF cams. You can see as much naked action and chat as you like, but you will need to register an account first. This is also free, and no personal information is required. What's more, new sign ups receive 50 free tokens. For more money-saving, you may want to consider Stripchat's Ultimate Membership for $19.99/month. This gets you unlimited private messaging, special privileges in chat rooms, like being able to ban other members who go too far, and Invisible Mode so that no one else can see you online. You can also get a once-off 7-day free trial of Ultimate Membership when you purchase tokens, just be sure to check the box at checkout.
With plenty of free live action 24/7, it should be no surprise that Stripchat makes the list of great cheap cam sites for live MILFs. The only things lacking are live customer support and HD streaming as standard across the board. Other than that, Stripchat is a super site for penny pinching mature live cams.
---
MaturesCam
MaturesCam is a premium live cam site dedicated to kinky cougars and mesmerizing MILFs. Models range in age from 30 to 60-plus, so it is easy to find your preference of mature. There are a range of categories to use, from Blonde to Strapon, and models are rated by user experience.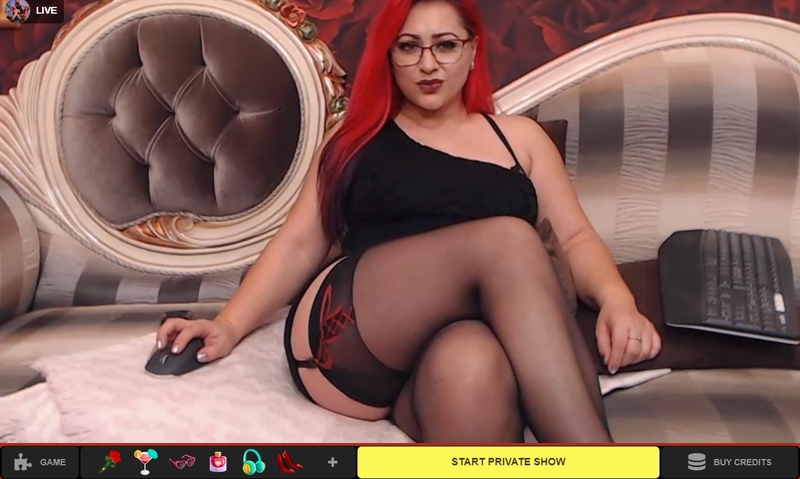 Being a premium site, you will not see much, if any, nudity without paying, and to engage with models in any way you must register an account. Of course, sign up is free, easy, and anonymous, and if you validate your credit card (no cost to you), you get 9.99 bonus credits. Models on this site set their own rates, anywhere from $1.00 to $2.50/min. To see a particular cougar's price tag, pop into her chat room and then Start Private Show. MaturesCam is a premium site, so it does cost to get any real action, and private shows can get pricey.
So, to the all-important affordability part. One way to save is to use the VIP Show category. Here, cam models offer a crowd-funded joyride where eager viewers must jointly meet her payment target (in credits) within a time limit. If the target is met, the show goes on, and her clothes come off. If the target is not, whatever you pledged to the show is refunded to you. A lot of models offer Games, where you can win free raunchy acts or reduced private rates. MaturesCam also often has a Spin the Wheel promo when buying credits that awards you extra bonuses and up to 100% off.
MaturesCam features streams in full 1080p HD and 720p HD, with a few bringing up the rear in high-quality SD. Cams streaming in HD have this icon on the left of the live stream. To turn it on, simply hit the icon so it turns yellow and voila. MaturesCam is one of best cam sites for HD streaming. Cam2cam and 2-way audio are both available on desktop and mobile, but will cost you extra.
---
Conclusion
Mature live cam models are in a luscious league of their own, and these top sites for cheap, mamalicious MILF shows is where they are at, so be sure to check them all out.
CamSoda secures top spot because, in the world of cheap, you can get all the action you want without dropping a dime. Plus, the mature, MILF, and cougar models are sensuous and numerous. You will always find cams worth watching, no matter the time of day.